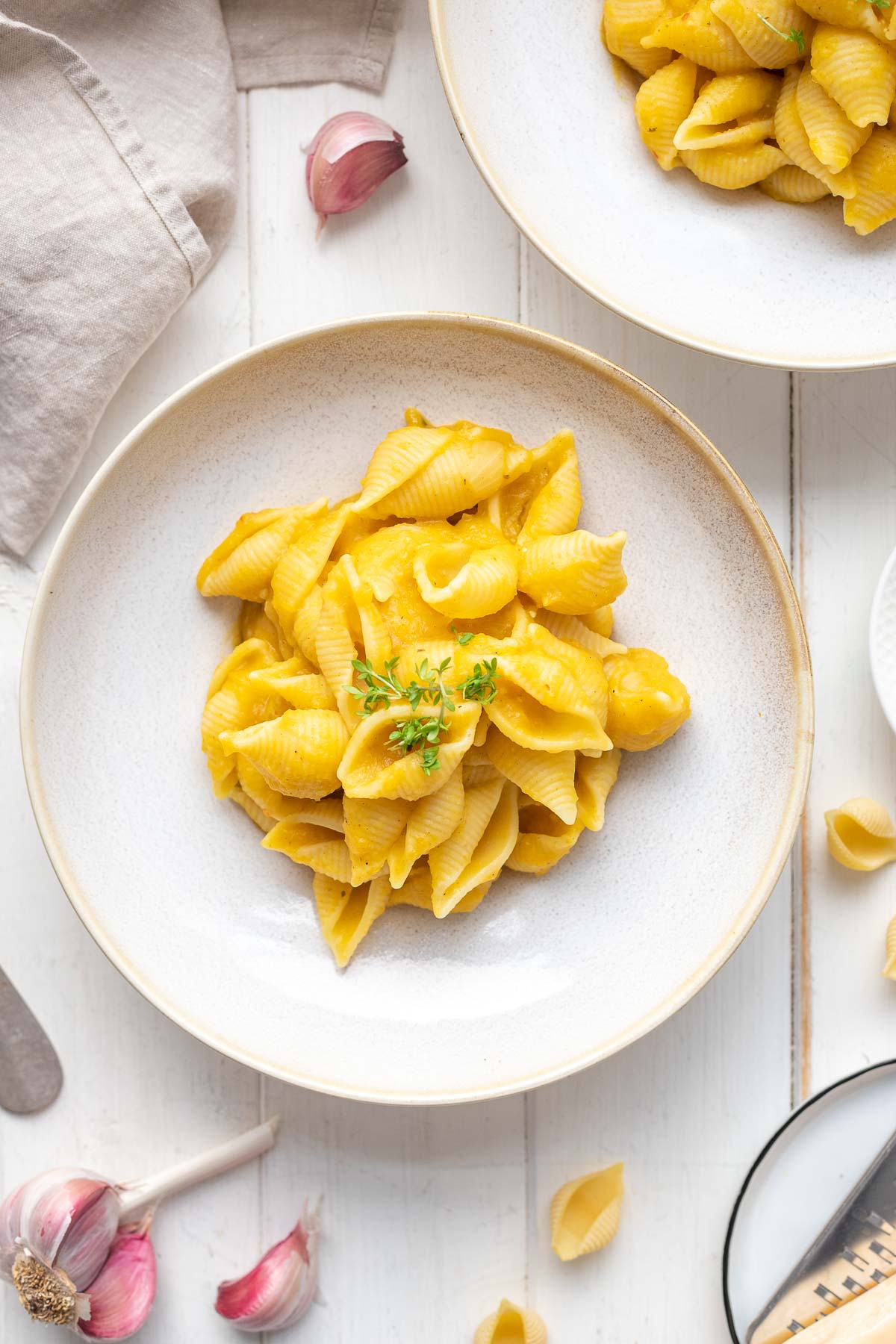 If you are looking for a butternut squash pasta that's dairy-free and still packed with flavor — then you are in the right place! This creamy (yet cream-less) sauce is made from puréed squash which is luxuriously rich, creamy and flavorful. Simple and straight forward this butternut squash sauce has a special little twist. Instead of going for the classic sage and pumpkin route, this sauce is flavored with one of my favorite new spices "ras el hanout" and chili flakes, for a little extra pep. And it's good. Good enough that I could skip the pasta and eat the sauce on it's own.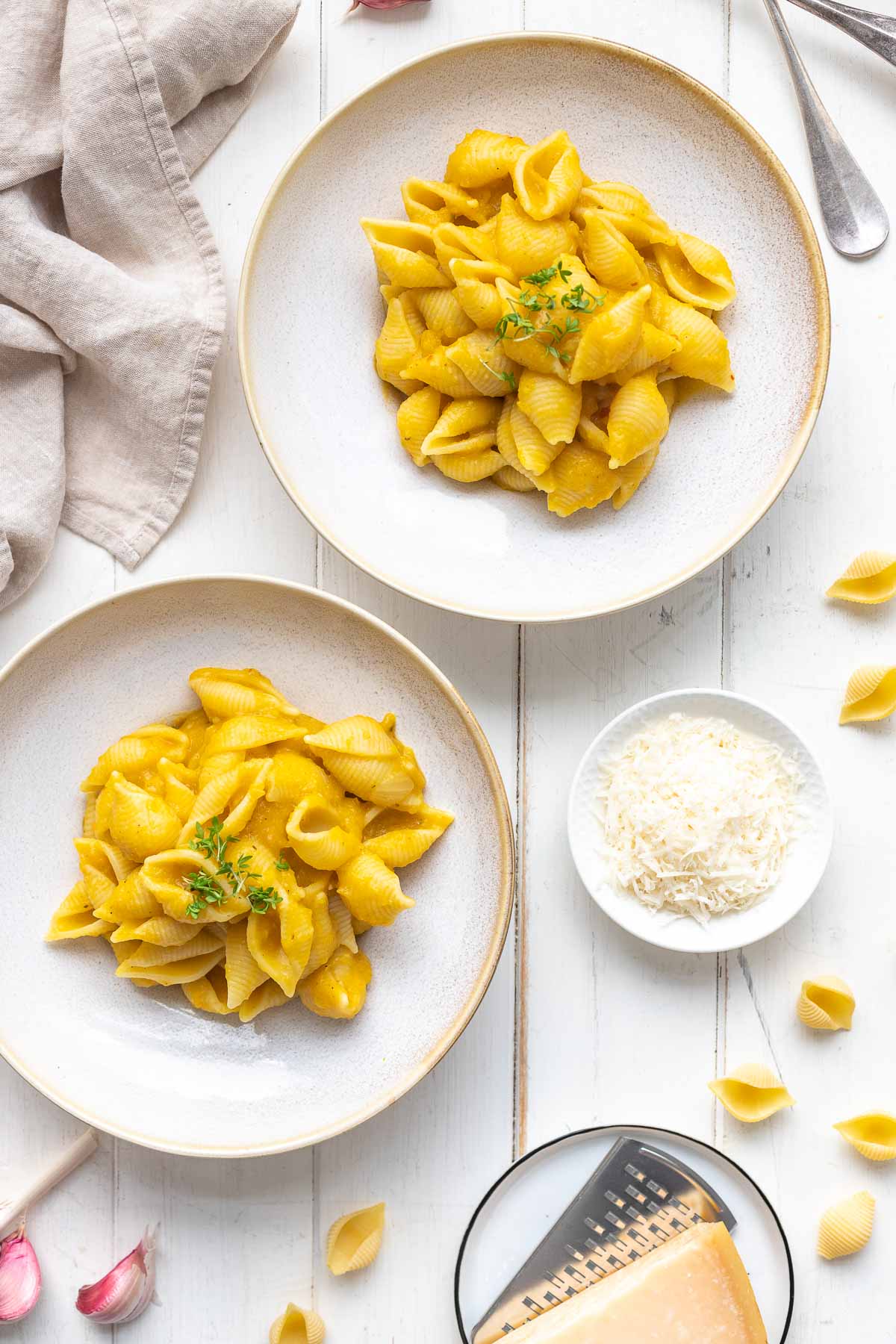 Ras el hanout – a genius Moroccan spice
Ras el hanout is one of those spices that I thought was reserved for Moroccan tagines and couscous. But it is so much more versatile than that. The name itself which translates to "top of the shop," meaning it's the best the shop has to offer, which for me means why not add the best to more than just a few select dishes. It's terrific in soups and with vegetables, and actually a great addition to curries instead of garam masala. Versatile.
Of course, with many spice mixes every shop or producer has their own special blend, more of one thing, less of another. And the list is long. But that is also the magical thing about it. This North African spice adds amazing, warm and complex flavors to dishes. Which makes it easily the perfect spice for the lazy cook — it can be added to anything and everything for an extra oomph of flavor.
So thanks to this special spice mix, here is an easy and delicious pasta recipe made with 8 simple ingredients.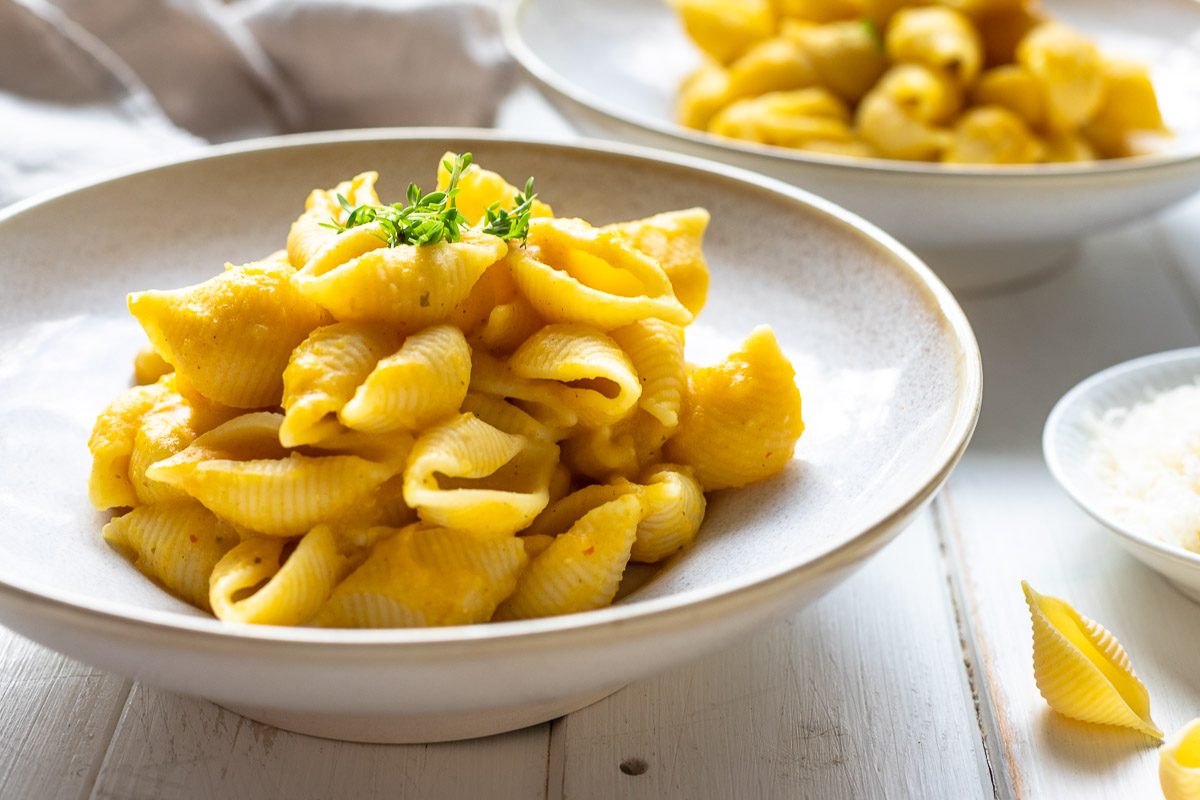 How to make the vegan butternut squash sauce
For the recipe, I like to use a dutch oven and it heats up really well, plus it retains and distribute heat evenly. A heavy bottomed pot, also is a good choice.
I start with heating the olive oil, and then I add the onion, garlic, pumpkin and seasonings and saute them all together. Yes, from the start. This gives the pumpkin a chance to brown a little while the onions soften.
Then I add the vegetable broth. It gets brought to a simmer and then kept at a light simmer until the butternut squash is fully cooked. I like to think this is what also melds all though delicious flavors together.
And finally, to make the sauce, I use my immersion blender to puree the mixture into a creamy sauce. You could also half puree the mixture and have some extra textures in the sauce. And of course, you could also use a high powered blender. This would produce an even silkier sauce.
Toss it with your favorite pasta, and voila, dinner is served!

Looking for other pumpkin and winter squash recipes?
Try one of these delicious fall favorites: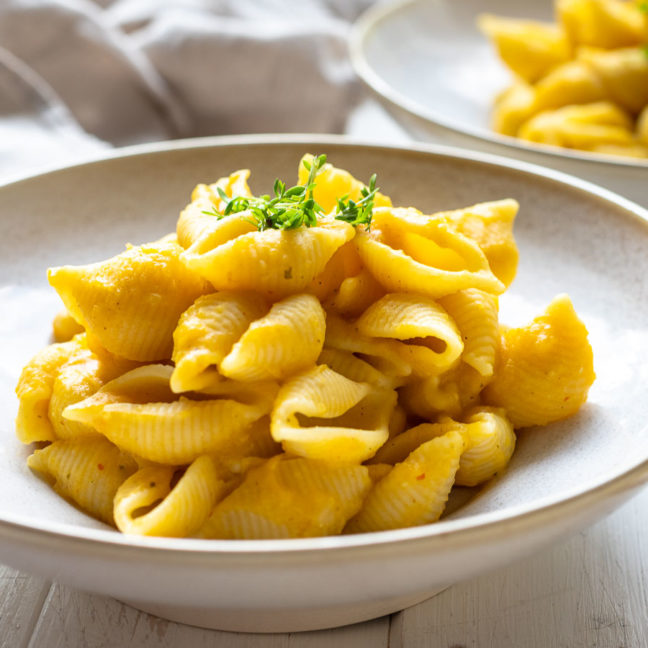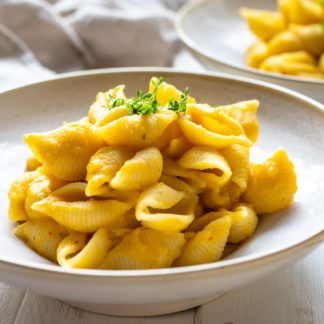 Creamy Butternut Squash Pasta (vegan)
A creamy butternut squash pasta recipe made with chili flakes and ras el hanout which gives it warm and complex flavors. Tossed with your favorite pasta it makes a healthy, comforting main dish. Serve with salad or crusty bread. Or on its own for 4 smaller servings.
Ingredients
2

tablespoons

extra-virgin olive oil

1

medium yellow onion,

chopped

2

large garlic cloves,

minced

700

g

butternut squash,

peeled, seeded, and cut into 1 1/2 to 2 cm pieces (1 small pumpkin or half a large pumpkin)

1

teaspoon

ras el hanout

1/4

teaspoon

red pepper flakes

(decrease to 1/8 teaspoon if you prefer it less spicy)

sea salt and freshly ground pepper,

to taste

1 1/5

cups

vegetable broth

(375 ml)

350

g

dried pasta

(or more)
To garnish:
Freshly grated parmesan or vegan/vegetarian alternative
Method
In a a Dutch oven or heavy bottomed pot, heat the oil over medium-high. Add the onion, garlic, squash and season with ras el hanout, red-pepper flakes and salt. Cook, stirring every minute, until onion is tender and squash becomes lightly browned in spots and starts to tender around the edges, 6 to 8 minutes.

Add the broth. Bring the mixture to a boil, then reduce the heat to medium and simmer, uncovered, until the squash is soft and some of the liquid reduces, about 15 to 20 minutes.

In the meantime, bring a large pot of salted water to a boil and cook the pasta until al dente according to package directions. Reserve 1/2 cup of the pasta cooking water before draining.

Once the squash mixture is done cooking, use an immersion blender to blend the butternut squash mixture until it's completely smooth and creamy. If your sauce is too thick, you can add some of the pasta cooking water. Season with salt and pepper, to taste.

Add the cooked pasta to the pureed squash and toss well to coat. Adding more pasta cooking water, if needed. Season with more salt and pepper, if desired.

Serve the pasta in individual bowls topped with freshly grated parmesan, if desired.

Enjoy!
Notes
This creamy butternut squash pasta recipe is also great with a little spinach of Italian kale.
For this recipe, I recommend Ral El Hanout from Lebensbaum (unpaid mention!).
For VEGANS: I like to use nutritional yeast as an alternative to parmesan, but there are also various vegan parmesan cheese substitutes. Otherwise, make your own like I did in this vegan bolognese recipe.
For a relaxing atmosphere in the kitchen I recommend my personal Elle Republic: Chilled Out Kitchen Tunes Playlist auf Spotify.