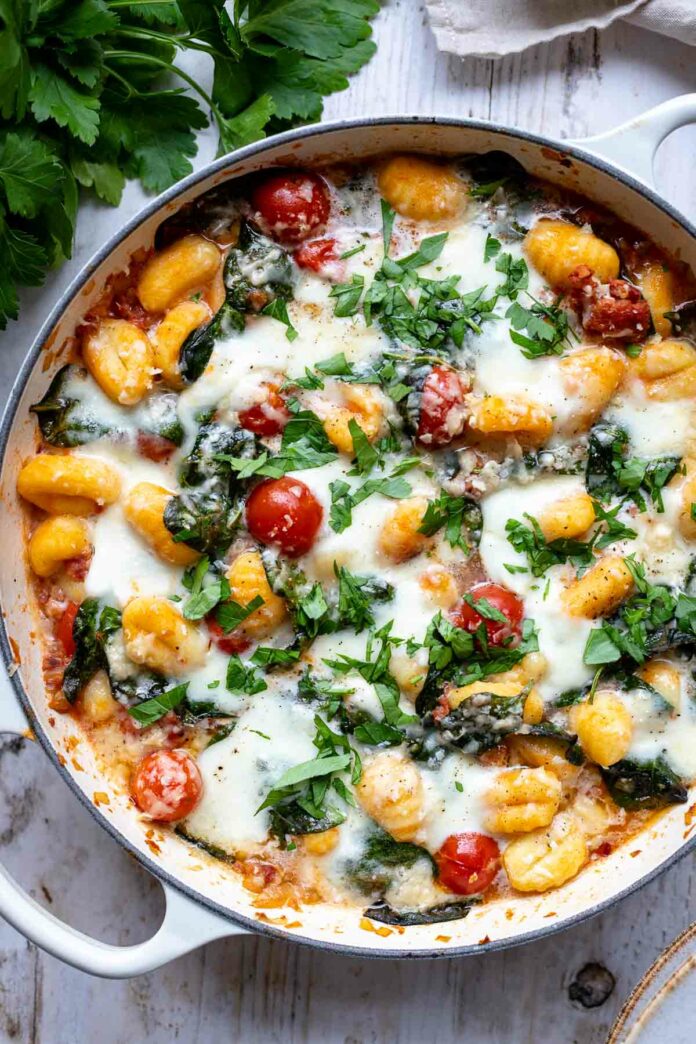 This baked gnocchi with tomato and salsiccia is hearty, delicious and easy enough for weeknights. It's comfort food one-pan meal that comes together in no time at all!
Simple, easy, delicious. Store-bought fresh gnocchi, canned cherry tomatoes, Italian sausage, and spinach are a winning combination, especially when given an extra dose of flavor from fresh rosemary, and sautéed shallots and garlic. All of which is topped with fresh mozzerella and parmesan and baked until bubbling and perfection is achieved. You're in for a treat with this delicious baked gnocchi recipe!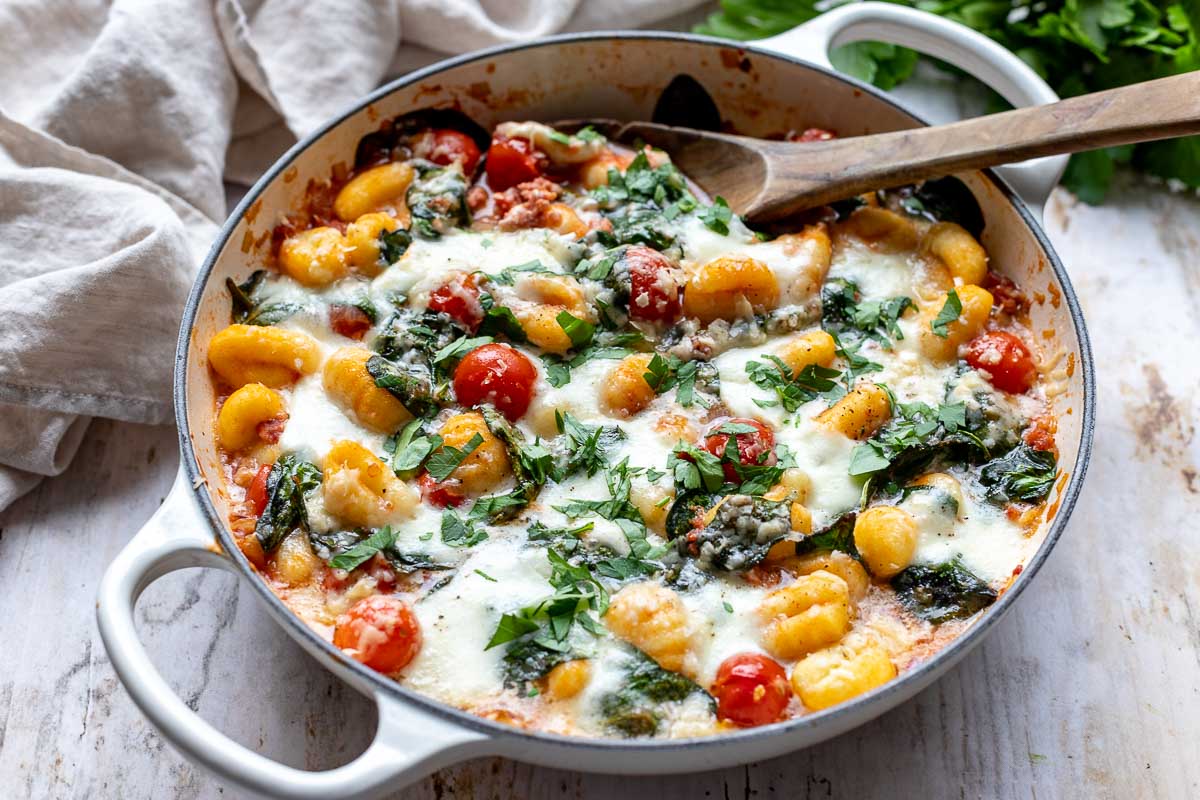 Gnocchi casserole — a one pan meal
This one-pan, baked gnocchi is super simple to make. It's prepared using an oven proof skillet or my favourite new enamel-plated cast iron casserole, which makes serving it directly out of the pan very appealing. The shallots, garlic and Italian sausage are prepared on the stovetop and the rest of the magic takes place in the oven. Fresh gnocchi cooks right in the sauce, making clean-up a cinch!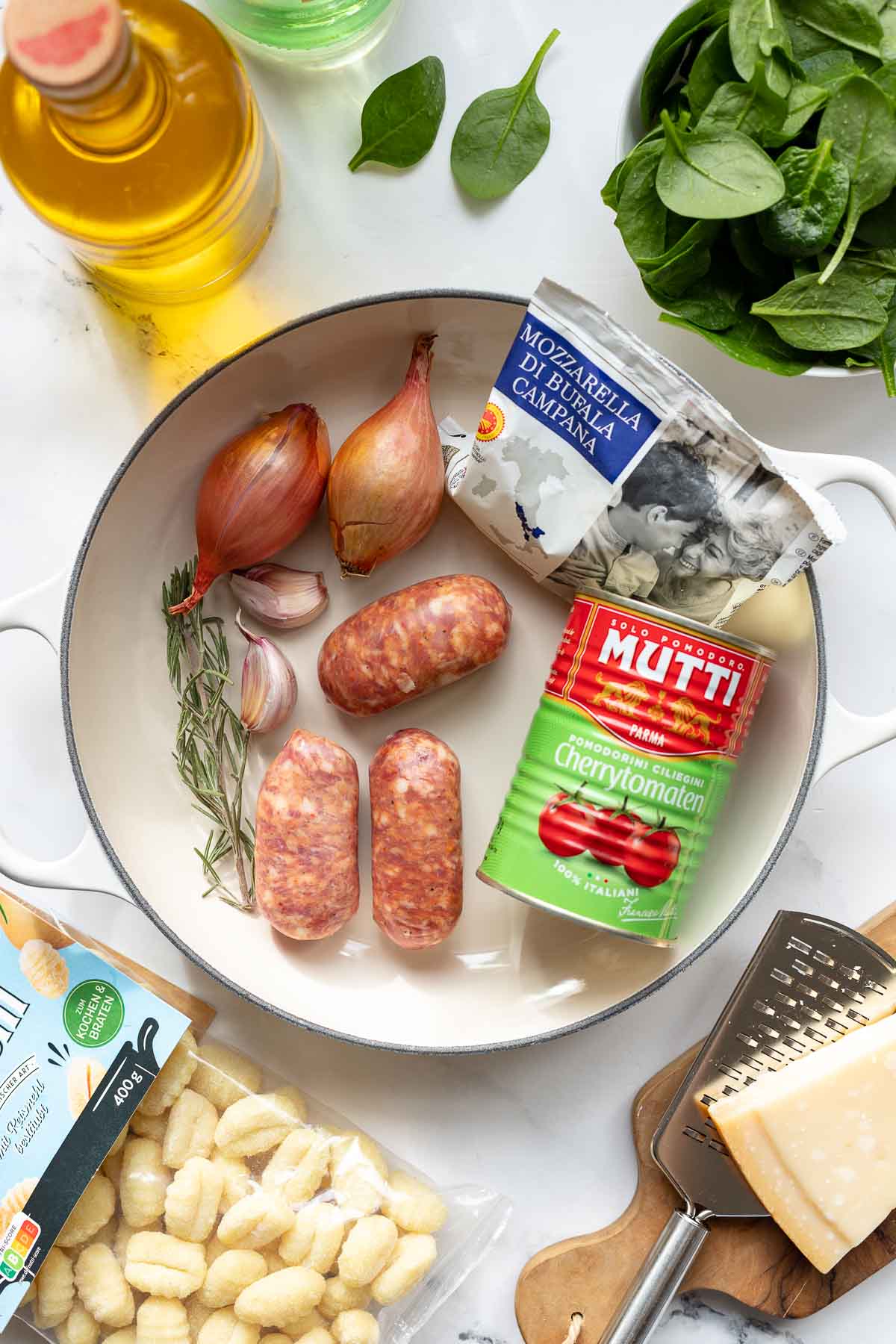 Key Ingredients for baked gnocchi
Salsiccia Italian sausage: typically salsiccia is seasoned with big flavors which is what gives this sauce depth of flavor and its delicious taste. You'll find it sold as spicy or mild. I tend to prefer the spicy version, called "Salsiccia Piccante" which is adds depth of flavour without overpowering the dish with spicy heat. All you have to do is remove it from the casing and brown it before baking the gnocchi.
Canned cherry tomatoes: Ultra sweet, ripe and juicy, canned cherry tomatoes add so much flavor, freshness and and texture to the sauce. I love to use Italy's number one brand; Mutti (unpaid mention!).
Store-bought fresh gnocchi: fresh gnocchi is key here, as it doesn't need to be precooked. And of course homemade gnocchi also would be a grand choice!
Mozzerella & Parmesan: Fresh Italian mozzarella or mozzarella di Bufala (buffalo mozzerella) is the way to go; avoid pre-shredded processed cheese. Same goes for parmesan, freshly grated is best since pre-grated, dry parmesan cheese, is also more difficult to melt.
Aromatics, wine and spices: Shallots, garlic, dry white wine, rosemary and chili flakes all add extra flavor to an otherwise simple sauce. Of course, salt and pepper too!
Spinach: a great way to add a pop of flavor and extra goodness to this gnocchi casserole. Both baby spinach or stemmed and chopped leaf spinach work well.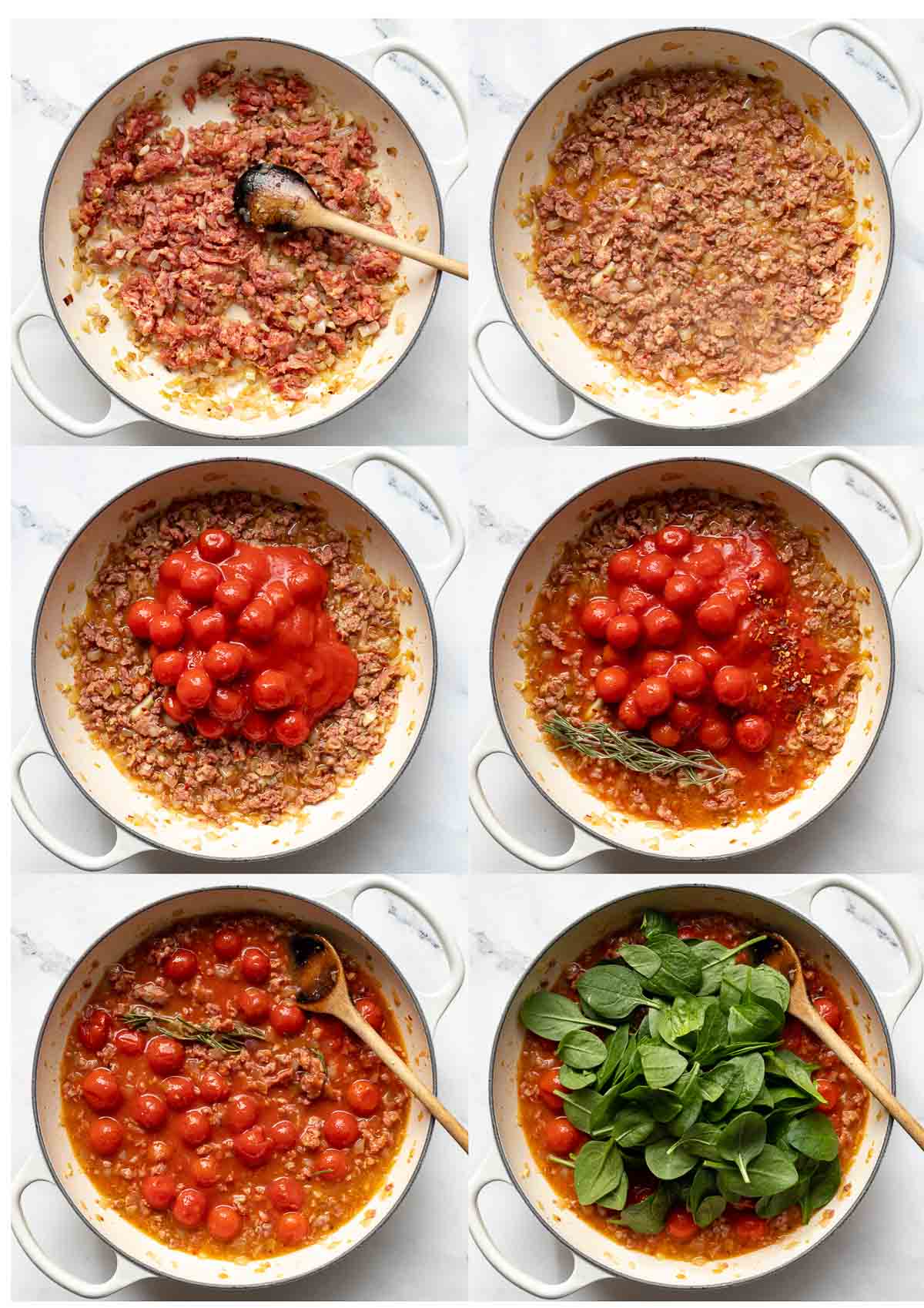 A quick gnocchi casserole in three easy steps!
Step 1: Sauté!
The base of the sauce all starts with sautéed shallots, garlic, Italian sausage and a little white wine for flavor. These flavours marry together and set the stage for the sauce. The sausage will bake a little more in the oven, however it should be fully cooked beforehand to avoid undercooking.
Step 2: Assemble!
Add the tomatoes, rosemary, spinach, gnocchi to the oven-proof skillet; stirring to combine. Top with slices of fresh mozzarella and a sprinkling of parmesan.
Step 3: Bake!
Bake until the sauce is bubbly and the cheese has reached melty perfection.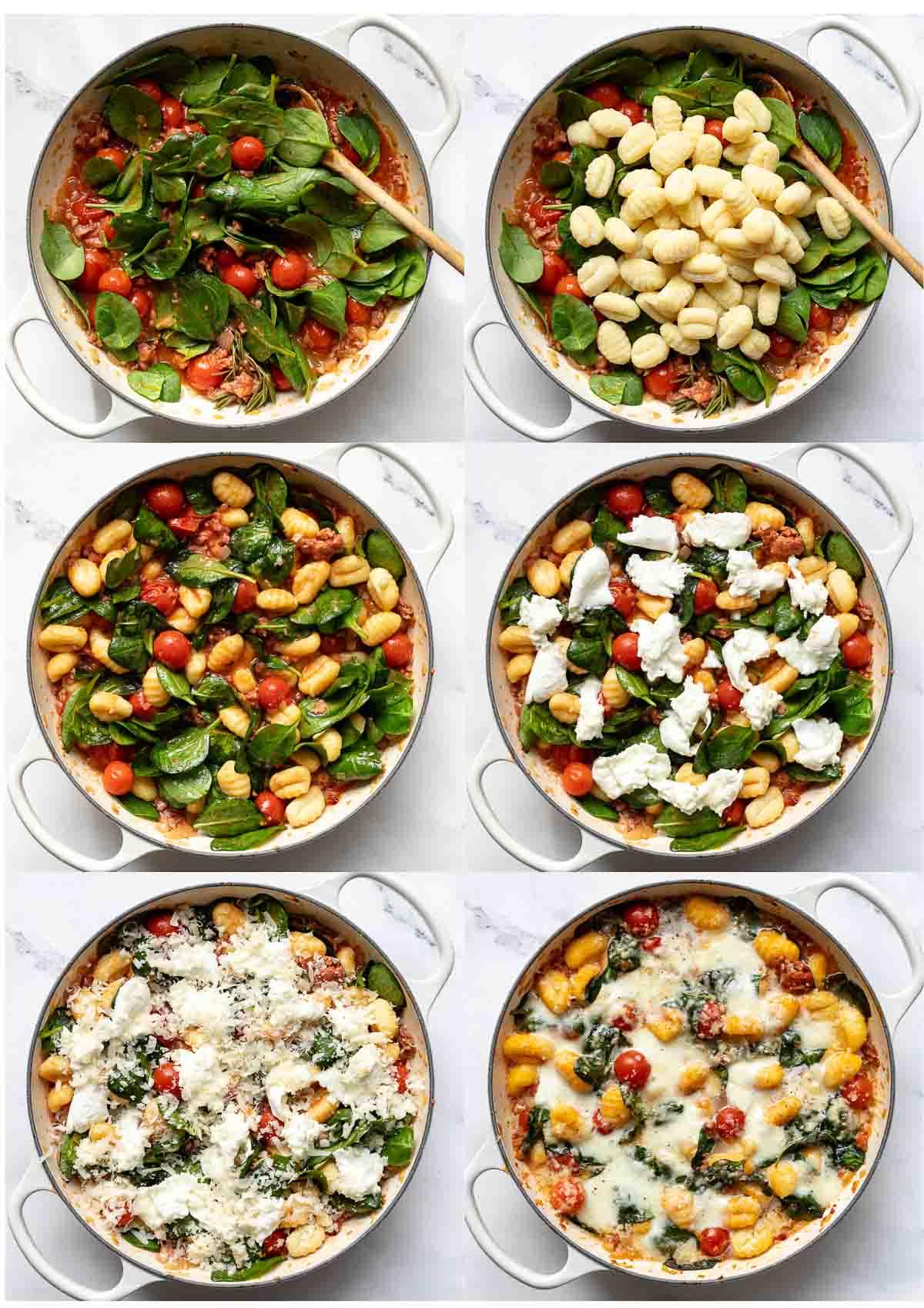 How to adapt this baked gnocchi with tomato and salsiccia recipe
This simple, flavourful gnocchi recipe is easy to adapt to suit the ingredients you have on hand. The cherry tomatoes can be subbed out with a can of chopped tomatoes. And although the white wine adds flavour, if you prefer to cook without alcohol, it can also be omitted. Simply use chicken or vegetable broth instead of water to add a little extra flavour. Try ricotta instead of mozzarella or add dry Italian herbs instead of rosemary. As for the greens, spinach can easily be replaced with heartier greens, which can be braised with the salsiccia until tender.
No oven proof skillet, no problem
Although this is meant to be a one-pan dish, it can also be prepared using two. One for preparing the sauce and one to bake the gnocchi casserole. Simply prepare the sauce in a regular skillet, mix it together with the rest of the ingredients and then transfer it to an oven proof casserole to bake in the oven. Easy peasy!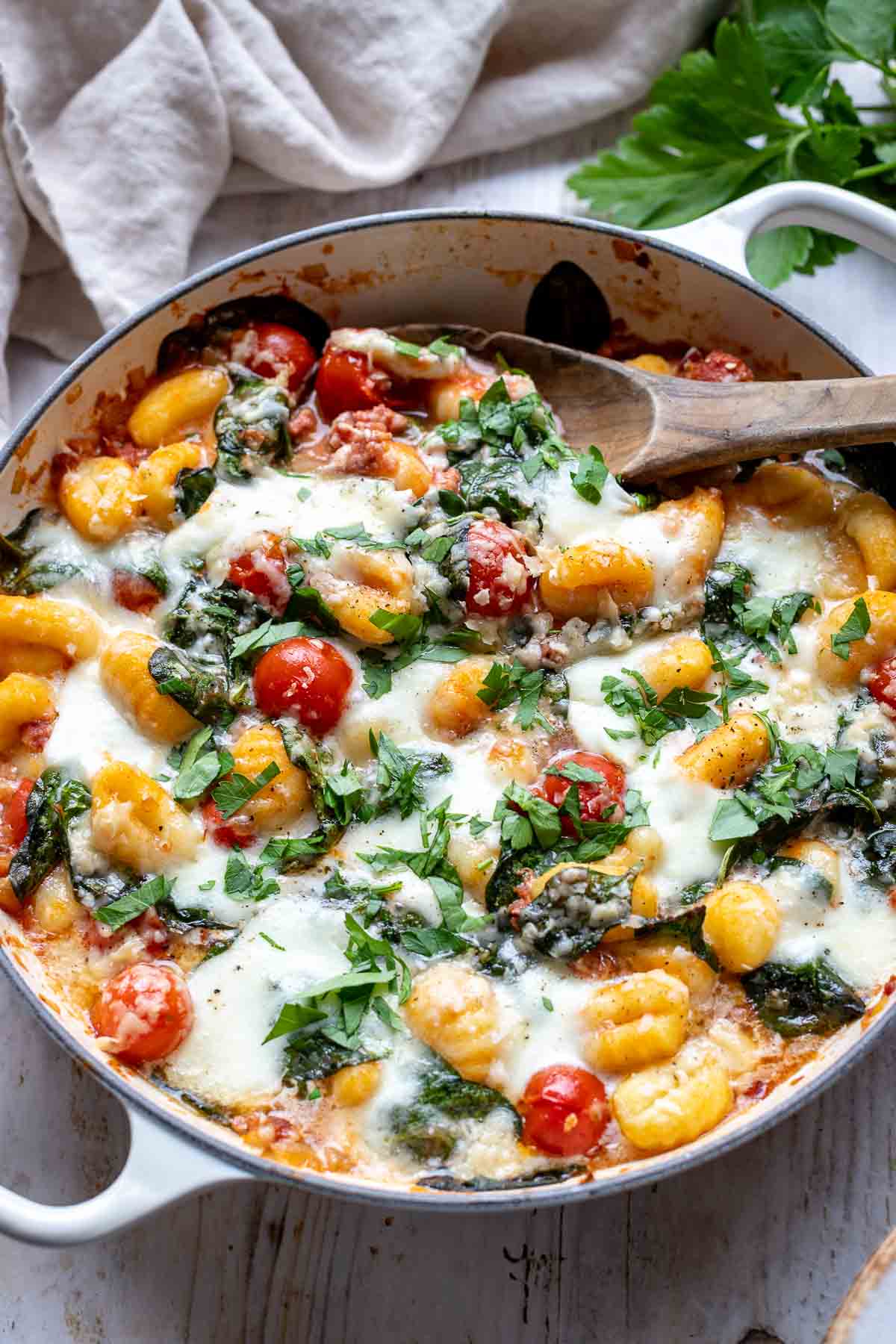 Looking for other one-pot/pan recipes?
Then try one of these delicious meals: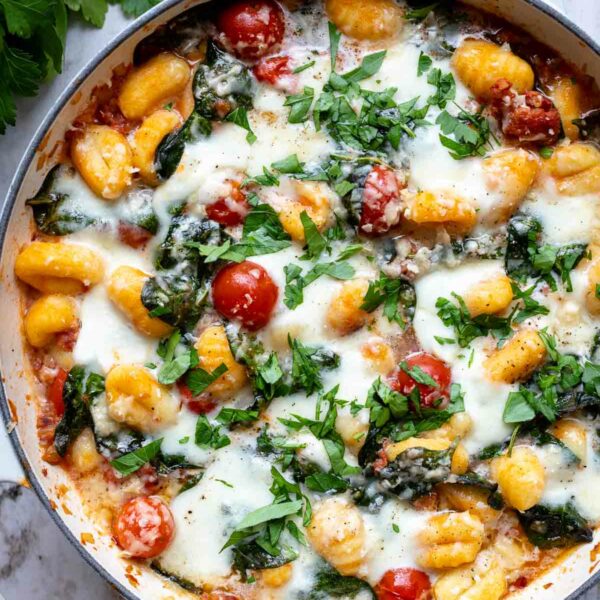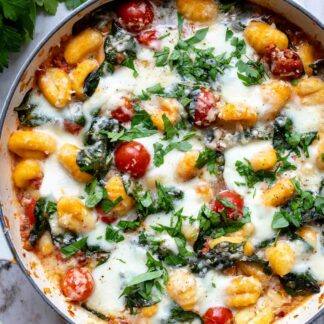 Baked Gnocchi with Tomato and Salsiccia
This baked gnocchi with tomato and salsiccia is hearty, delicious and easy enough for weeknights. It's comfort food one-pan meal that comes together in no time at all! Simple, easy, and delicious combination.
Ingredients
1,5

tablespoons

olive oil

2

shallots,

finely chopped

2

large garlic cloves,

chopped small

200

g

salsiccia Italian sausage (2-3 links),

removed from casing and coarsely chopped

100

ml

dry white wine

1

x 400 g can

cherry tomatoes

(e.g. Mutti)

50

ml

water

1/2

teaspoon

salt,

or to taste

Freshly ground black pepper,

to taste

1

sprig fresh rosemary

pinch

of red pepper flakes

1

x 400 g package

fresh gnocchi

2

handfuls baby spinach

1

x 125 g ball

fresh mozzarella or burrata,

thinly sliced or torn

1/3

cup

parmesan,

grated (30 g), or more

Fresh chopped flat-leaf parsley,

to garnish
Method
In a 24-26 cm oven-proof skillet (or enamel-plated cast iron casserole) heat the olive oil over medium heat. Add the shallot and garlic and sauté until softened 5-6 minutes.

Add the sausage, increase the heat slightly, and cook for 6-7 minutes, using a wooden spoon to break up the meat.

Meanwhile, preheat oven to 350°F / 175°C (155°C fan-assisted).

Add the wine to the skillet, and cook, stirring often, for 3-4 minutes, until reduced. Reduce heat to medium, then add the canned cherry tomatoes, water, red pepper flakes, and rosemary; season with salt and pepper and stir to combine.

Remove from the heat and stir in the baby spinach, followed by the gnocchi.

Top with mozzarella slices and grated parmesan.

Transfer to the preheated oven and bake for 20 minutes, uncovered, until bubbling and the cheese is melted.

Garnish with parsley and serve immediately. Enjoy!
Notes
Important: if you are using cast iron for this gnocchi casserole it is important to only use a enamel plated cast iron as the acidity of the tomatoes will make the dish taste slightly metallic when using a standard cast iron pan. 
I like to use Salsiccia Piccante for this recipe. It is seasoned with paprika and chilli. It is flavourful without being overly spicy.
This recipe for baked gnocchi is also great for feeding a crowd — simply double the recipe and and prepare it using a Dutch oven, which easily goes from stove to oven.
Spinach can be substituted with heartier greens such as curly kale, Lacinato kale or savoy cabbage, however they will need to be braised first. Simply add them to the sausage when adding the wine, and simmer until tender before continuing with the rest of the recipe.
Fresh gnocchi is found in the refrigerated section of the supermarket that also sells fresh pasta.
For a relaxing atmosphere in the kitchen I recommend my personal Elle Republic: Chilled Out Kitchen Tunes Playlist on Spotify.
Did you try this recipe?
Then tag @ellerepublic on Instagram and hashtag it #ellerepublic
How did you like it?
Please let me know how this baked gnocchi casserole recipe turned out for you! I would love to hear how you liked it. Simply rate it with the stars above ⭐ or leave me a comment and rate it below.
Did you make any changes to this recipe?
If you have tips for other readers, let me know! It helps me and other readers so much. Sharing is Caring :-).
This post contains affiliate links. If you decide to make a purchase through my link, Amazon will pay me a commission for it. This doesn't cost you anything additional and the price remains the same. More about advertisements on Elle Republic.