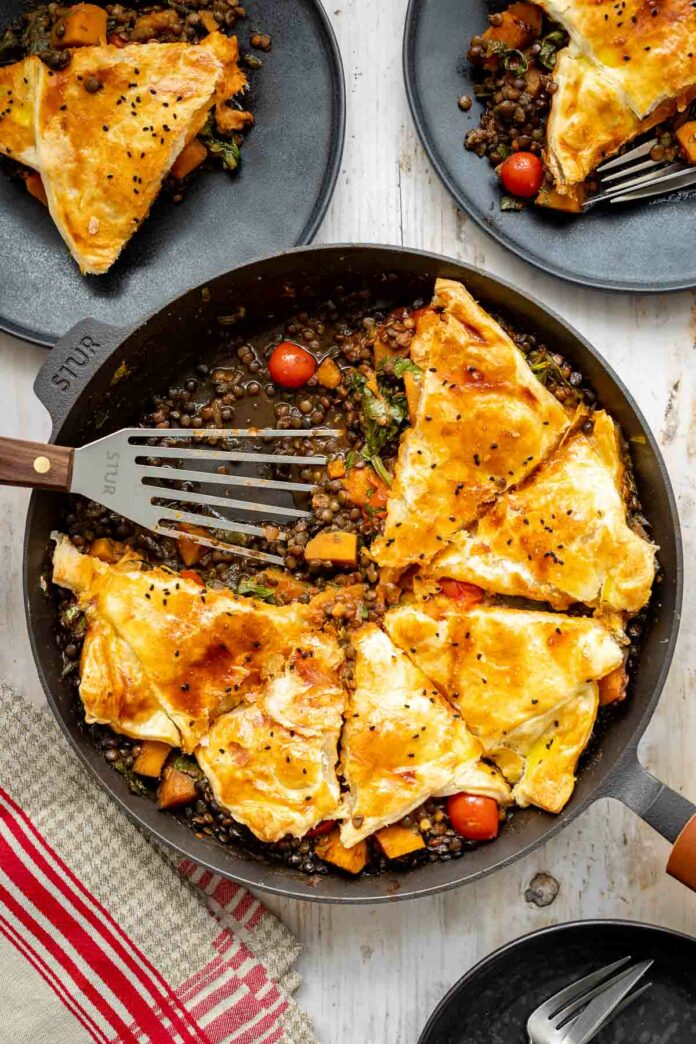 This Moroccan Spiced Lentil Pie is classic comfort food with a Middle Eastern twist. French green lentils, sweet potatoes, cherry tomatoes and spinach are spiced with harissa, cumin and ras el hanout, then topped with puff pastry and baked to until golden brown. The result, a simple and absolutely delicious recipe for vegetarian pot pie with a Moroccan touch.
A one pan recipe
I am so excited about this Moroccan spiced lentil pie recipe! It is prepped, cooked, and served all in one skillet. It's healthy, hearty, comforting and oh so satisfying. It's perfectly spiced (feel free to add more harissa if you like it spicy) and full of good for you ingredients. Vegetarian and even vegan friends will love this recipe (yes, make it vegan by using a vegan puff pastry and skip the egg wash — it's that simple!). It has all the makings of a perfectly balanced meal. Plant-based protein, a colourful range of vegetables (red, green and orange) and above all flavor! And as an extra bonus, it's perfect for feeding a crowd while also saving time on dishes and clean-up.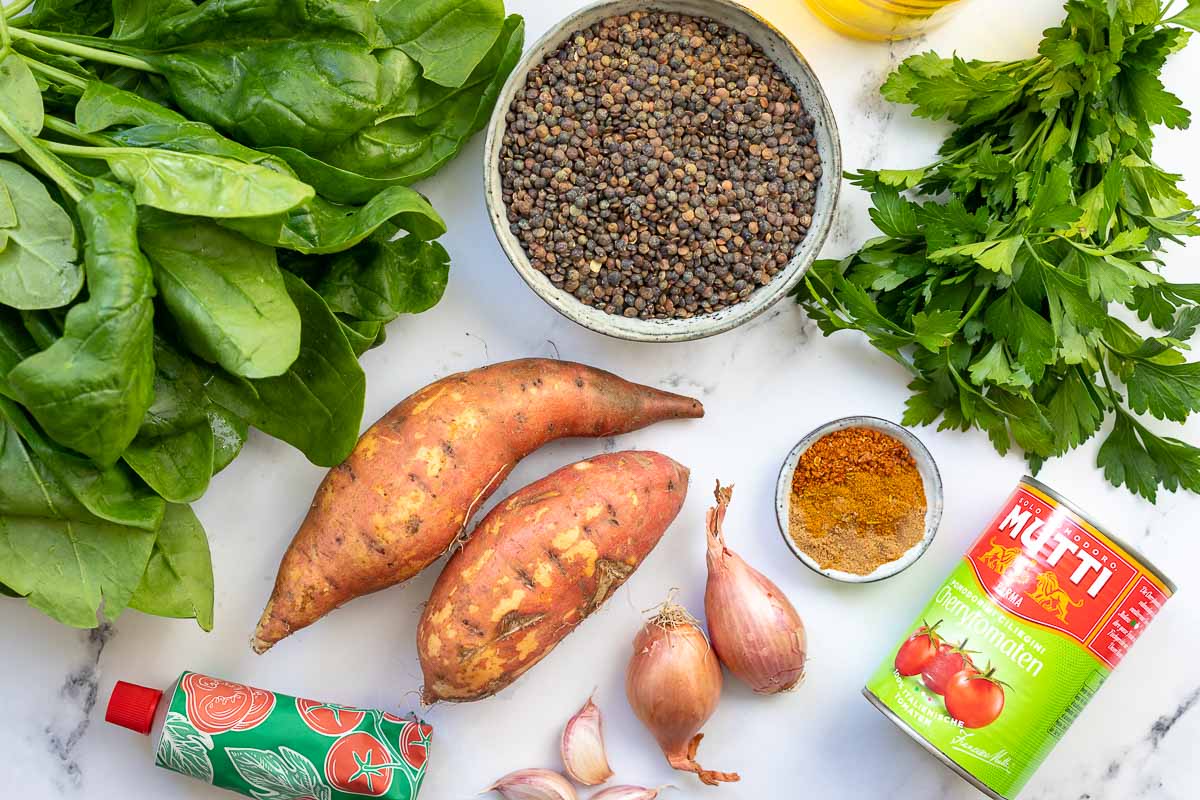 Lentil pie ingredients tips
Onions
for this particular pot pie (Auflauf) recipe, i like to use shallots, but yellow onion is a great alternative, or even red onion.
Tomatoes
canned cherry tomatoes elevate this dish to a new level. Their sweetness and texture are such an amazing alternative to standard canned tomatoes. I love to use Italy's number one brand; Mutti (unpaid mention!). They are incredibly fresh tasting and deliciously sweet in flavor.
Spices
I like to use harrisa spice mix rather than a paste. Either is fine, just be sure to choose a brand you know and love. Ras el hanout makes this lentil pie recipe really special. Ras el hanout contains a mixture of different spices, and every brand is different, so once again choose a brand you love. I particularly love the one from Lebensbaum (unpaid mention!) which is a blend of 18 different spices!
Lentils
French green lentils are my first choice for a lentil pie. When cooked, they hold their form well and have a terrific "al dente" texture. On the taste side, they have a slightly peppery flavor and earthy undertones, which is considerably milder than brown lentils. Black beluga lentils would be my second choice for this vegetarian pot pie.
Sweet potatoes
choose organic, they are better for you and simply taste better. And best part is that they can be scrubbed clean and the skin can be left on, if you like.
Spinach
I like to use leaf spinach, rather than tender baby spinach. As an alternative, you could also use other greens, such beetroot leaves or mangold. Kale is also a great choice, however if the leaves are tough you may want to blanch them lightly first.
Puff pastry
I recommend an all-butter pastry, as it simply tastes best. There are options for vegans as well, or puff pastry made with spelt. Check out your natural food store or well-stocked supermarkets for these options.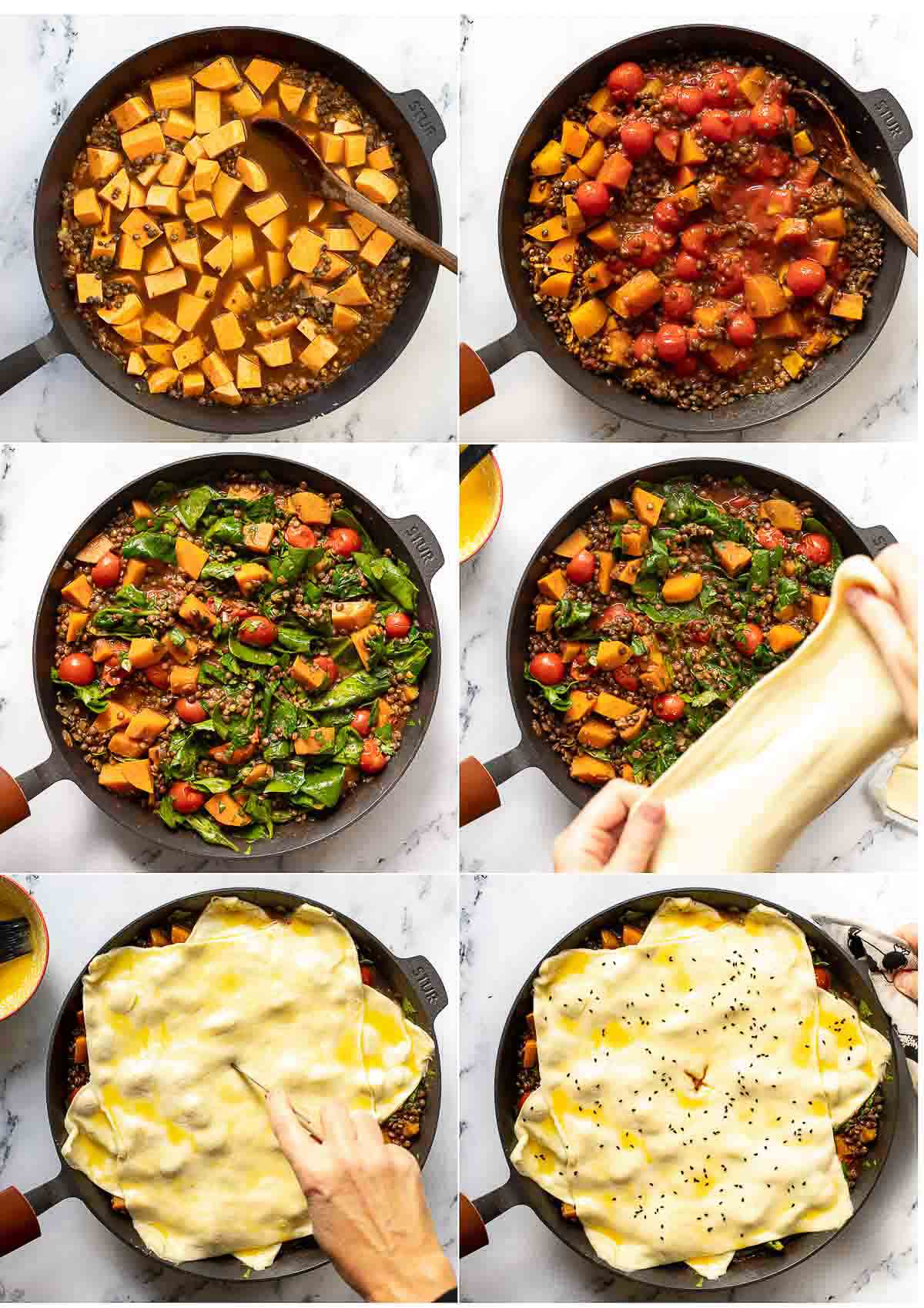 A kitchen essential: the ovenproof skillet
If you haven't invested in an ovenproof skillet yet, get one now! My personal favourite is a cast-iron skillet. They are the workhorses of the kitchen, are a staple for one-pan meals. and you'll have them for life. You can make everything from frittata's, to pizza and bread, to breakfast dishes like Shakshuka or Dutch Baby. All you need is one pan and you're all set for breakfast, lunch or dinner.
If you don't already have one, I can recommend STUR cast iron skillets. Long time readers will already know that I only recommend brands that I stand behind and love to support brands that are 100% made in Germany. STUR is one of those brands and I can only say that I am super excited about their products. This crowdfunded start-up produces cast iron skillets that are are pre-seasoned, lighter than most others on the market, and have an incredibly smooth surface. The latter two, along with their design, really separate them from the rest and it's no surprise that they successfully became the third largest campaign ever launched on Kickstarter from Germany.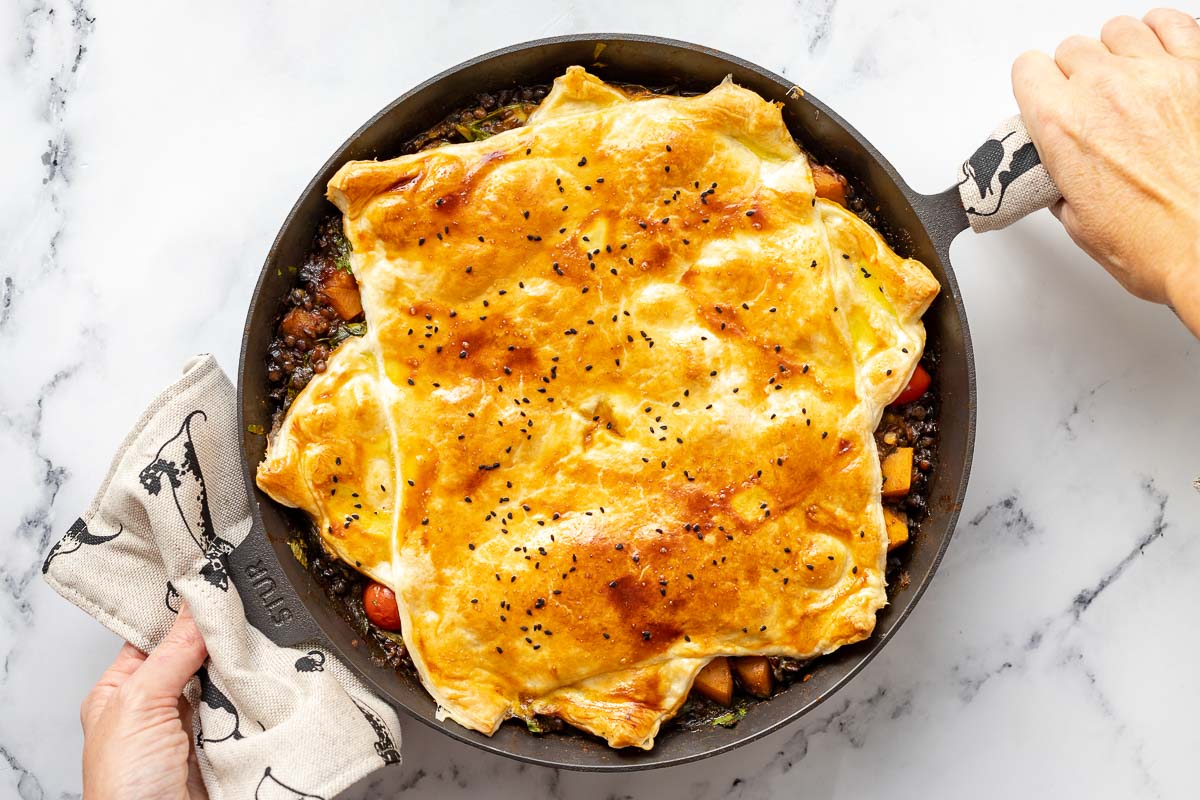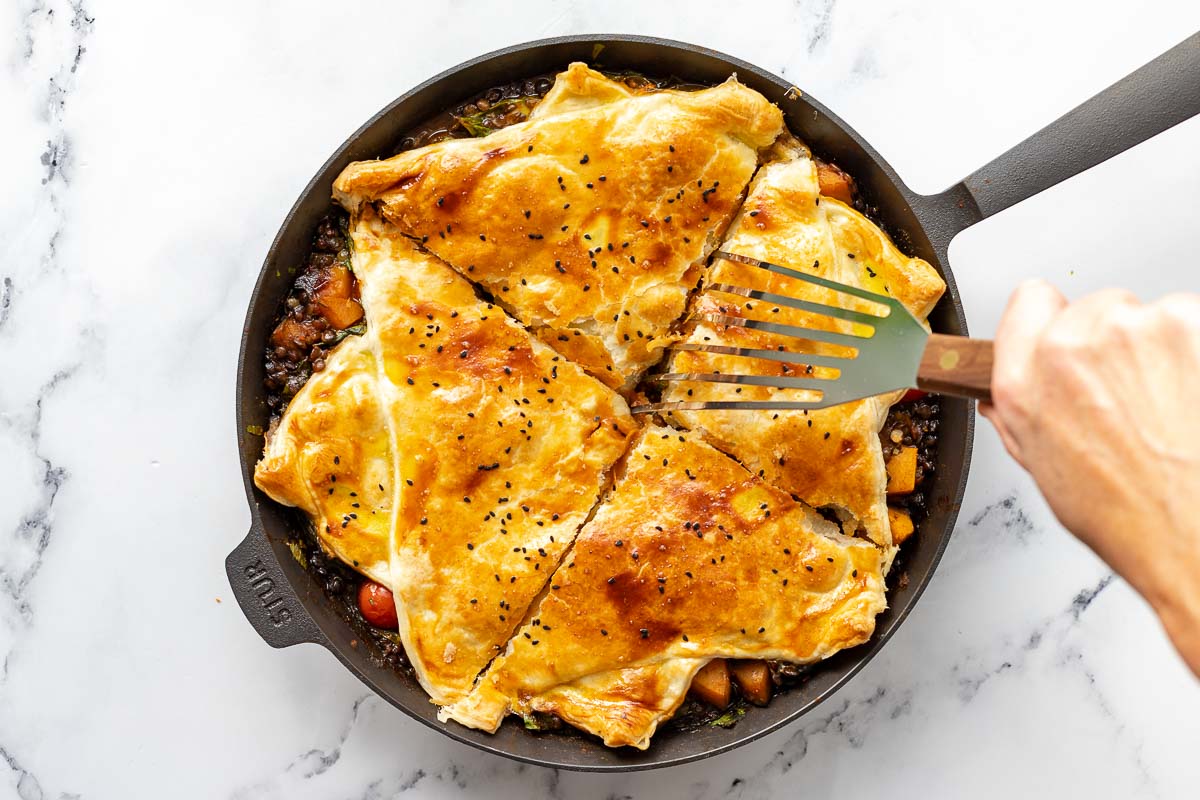 How to make this recipe without an ovenproof skillet
If you don't have a cast iron skillet (or you are patiently waiting for yours to arrive!) You can easily prepare this Moroccan spiced lentil pie recipe by cooking the filling on the stove, then pouring it into a deep dish pie plate or casserole, then top it with the puff pastry, and then bake it in the oven. I use a 28-cm cast iron skillet, so a 28cm deep dish pie plate is a great alternative, or you can use a casserole dish with a volume of at least 2 litres.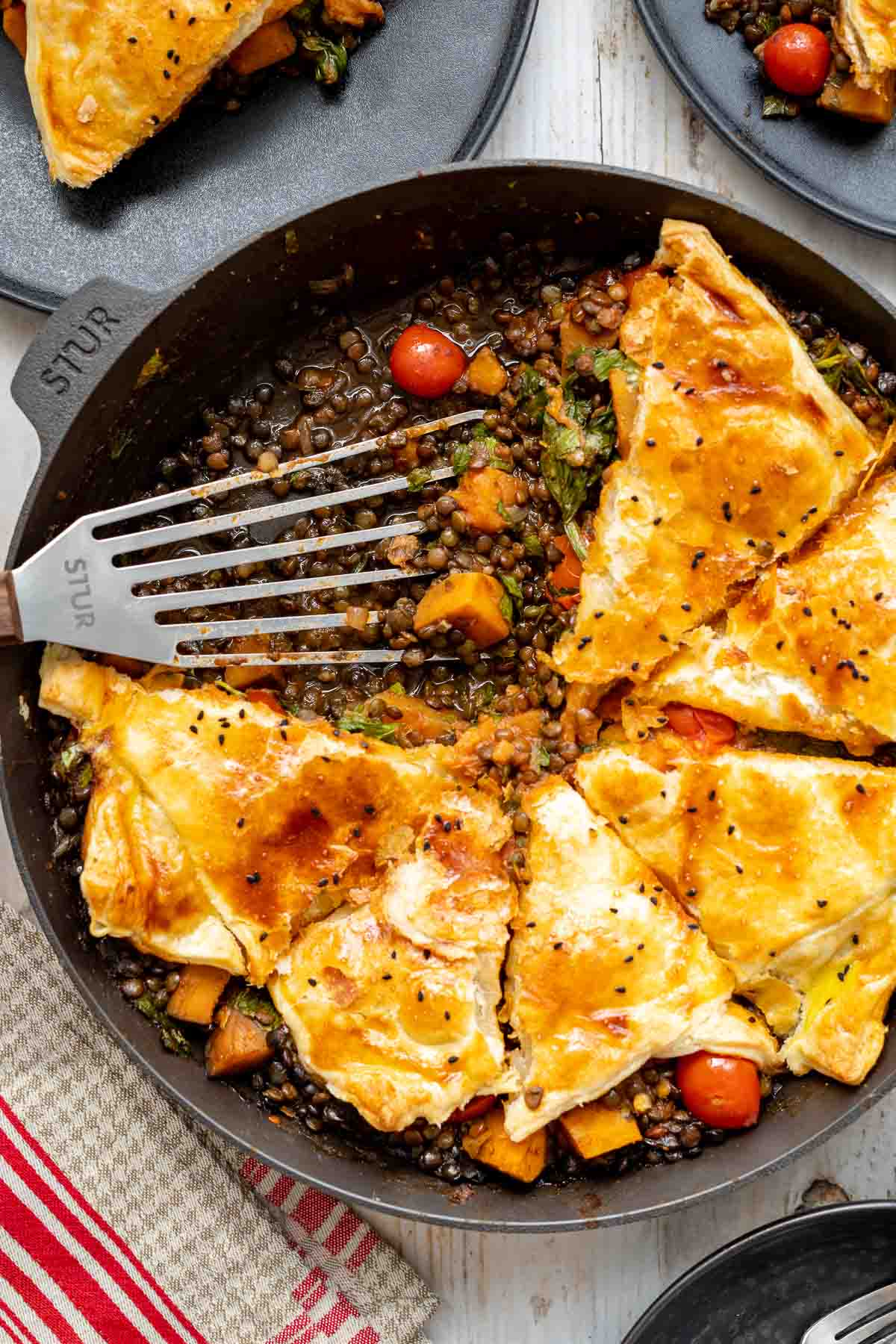 I think you will love this vegetarian pot pie, as it is:
Savory and comforting
Filled with plant-based goodness
Warm and satisfying
A one-pan recipe that goes from stove to oven
& every bite is seriously delicious
The lentil and sweet potato filling gets bubbly and warm in the oven, and the puff pastry crust creates the perfect topping. The combination of the two is downright delicious.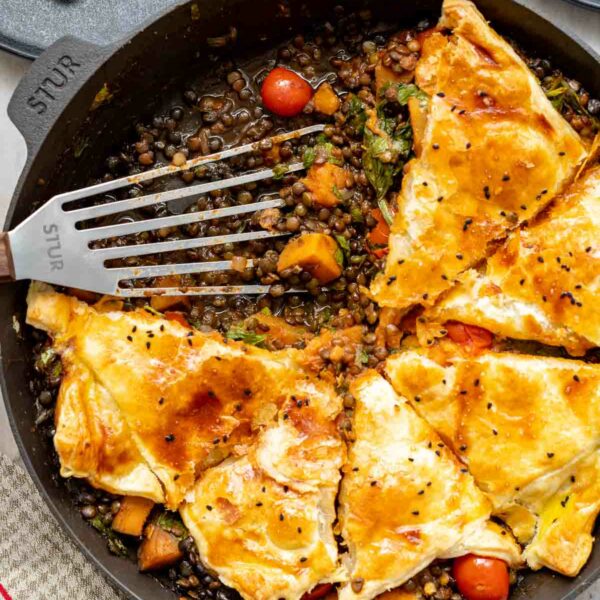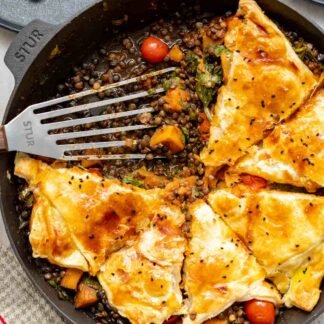 Moroccan Spiced Lentil Pot with Sweet Potato
This Moroccan Spiced Lentil Pie is classic comfort food with a Middle Eastern twist. A vegetarian one-pan dish that goes from stove to oven.
Total Time
1
hour
20
minutes
Ingredients
2

tablespoons

olive oil

2

shallots,

chopped finely

3

cloves

garlic,

minced

1

tablespoons

harissa spice

1

teaspoon

ground cumin

1

teaspoon

ras el hanout

1/2

tablespoon

tomato paste

2

cups

french green lentils

(puy lentils, 400 g)

2

small sweet potato,

peeled and cut into 3cm pieces (400-500g)

2

cups

vegetable broth

(500 ml)

½

cup

water

(125 ml)

1

x 400 g can

cherry tomatoes

(Mutti brand)

2

generous handful spinach leaves,

stems trimmed

1

small bunch fresh flat-leaf parsley leaves,

coarsely chopped

1

x 280 g roll

fresh puff pastry

 (ca. 24 x 40 cm)

1

egg,

beaten lightly

nigella seeds (black cumin),

to garnish (optional)
Method
Heat the oil in a large, deep ovenproof or cast-iron skillet over medium heat; cook onion and garlic for 5 minutes or until onion softens. Add the spices and tomato paste and cook, stirring, for 1 minute or until fragrant. Add the lentils, sweet potato, broth and the water; bring to the boil. Reduce heat, simmer, covered, for 25 minutes, until lentils are al dente and sweet potato is tender.

Add the cherry tomatoes, plus a little water to rinse can (50 ml) and return to a simmer, cook, uncovered, for 5 minutes. Stir in spinach, parsley, season with salt and pepper, to taste; set aside.

Meanwhile, preheat oven to 400°F / 200°C (180° fan-assisted).

Carefully place the puff pastry over the top of the skillet and fold over any long edges, then, working quickly, tuck and fold in the edges of the pastry so it sits just inside the rim of the skillet, to create a rough border.

Alternatively, cut the puff pastry in half, then layered it diagonally on top of each other so that it covers most of the pan (see pictures).

Brush the pastry with egg wash, garnich with nigella seeds (optional) and carefully score the top with a few slits to allow air to escape during baking.

Transfer the skillet to the preheated oven (middle rack) and bake for 20 to 25 minutes, until the pastry is golden and the filling is bubbling around the edges.
Notes
I use a Ø 28 cm cast iron skillet for this vegetarian lentil pot pie recipe.
Any leftovers can be stored in the refrigerator for up to 3 days. Leftovers can be reheated in the oven at 350°F / 175°C for 10-15 minutes or until the middle is warm.
Caring for cast-iron skillets: In recipes that include some acid ingredients, it's important to season your skillet with oil after use to protect the patina. This recipe is a little bit acidic since there are some tomatoes in it, so it definitely shouldn't be skipped. It's a good habit to get into anyhow, as seasoning is something your pan with love every time. When I prepare dishes that are primarily cooked in a tomato sauce, I use a different type of skillet. For more tips on how to care for cast-iron check our my article: Cooking with Cast Iron — Caring, Cleaning & Seasoning
Find more recipe tips above.
For a relaxing atmosphere in the kitchen I recommend my personal Elle Republic: Chilled Out Kitchen Tunes Playlist on Spotify.
Did you try this recipe?
Then tag @ellerepublic on Instagram and hashtag it #ellerepublic
How did you like it?
Please let me know how this Moroccan Spiced Lentil Pie with Sweet Potato recipe turned out for you! I would love to hear how you liked it. Simply rate it with the stars above ⭐ or leave me a comment and rate it below.
Did you make any changes to this recipe?
If you have tips for other readers, let me know! It helps me and other readers so much. Sharing is Caring :-).
This post contains affiliate links. If you decide to make a purchase through my link, Amazon will pay me a commission for it. This doesn't cost you anything additional and the price remains the same. More about advertisements on Elle Republic.
Many thanks toSTUR Cookware for sponsoring this recipe.