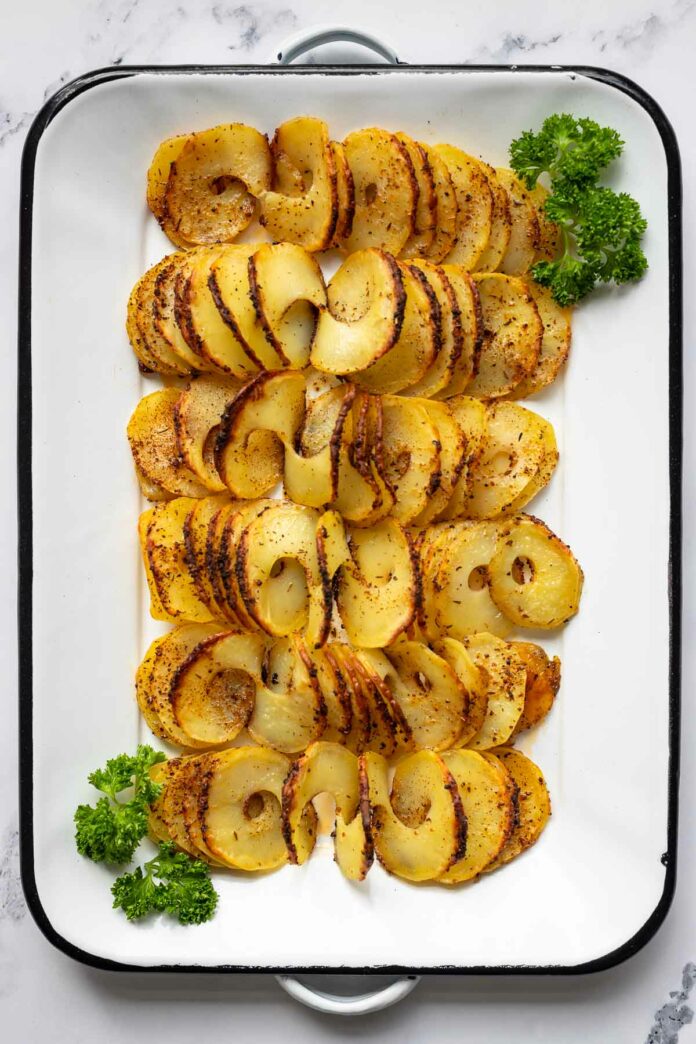 Spiral potatoes (also called tornado potatoes) are an easy and tasty way to prepare oven baked potatoes in a new way. You can use a spiralizer to create spiral-like potato rings (if you have one) or prepare them by hand. As for seasonings, you can use your favourite spices, whether it be a chili spice mix, smoked paprika, or simply salt, pepper, a dash of rosemary and maybe a sprinkle of parmesan cheese. Whatever variation you choose, it's bound to be delicious.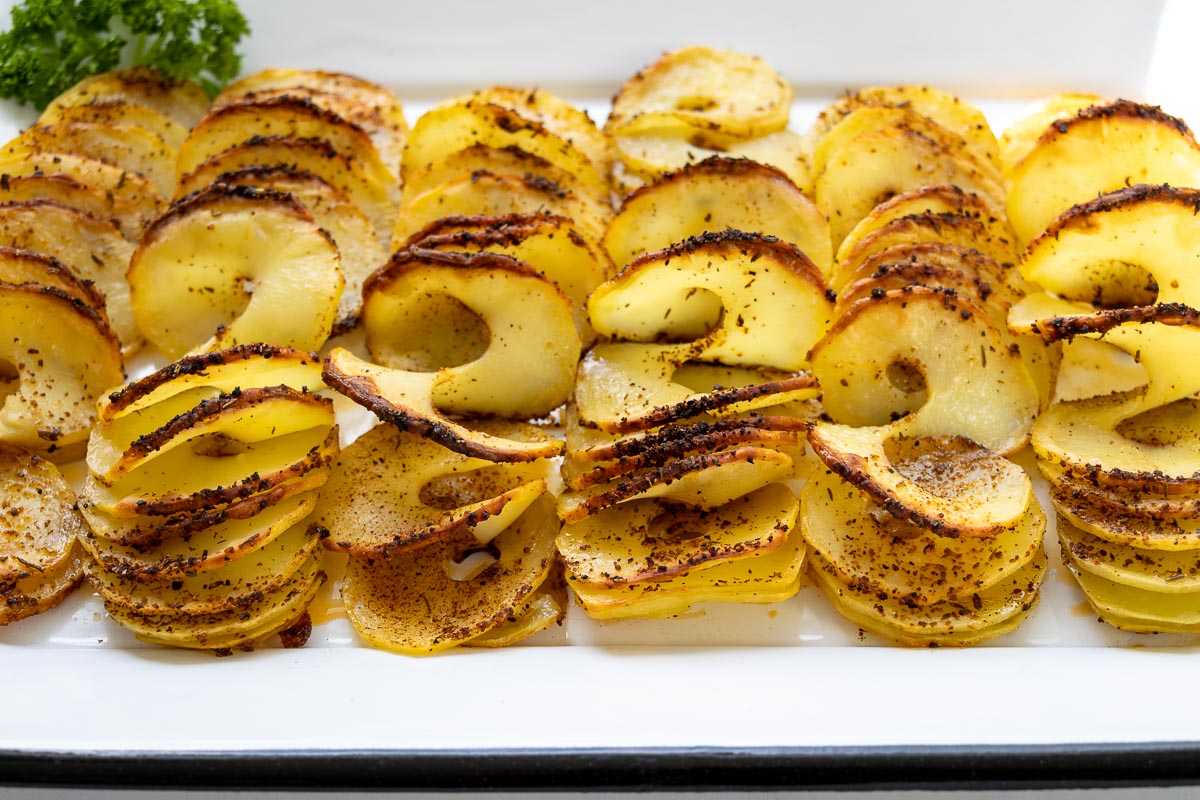 How to spiralize potatoes by hand
The method is quite simple. Insert a skewer lengthwise through each potato, and using a small knife and carefully cut through the potato, until you reach the skewer, turning the potato while cutting. Keeping cutting, in thin slices, to create a spiral the entire length of the potato. Carefully pull apart the potato along the length of the skewer until you have even gaps between the slices. Repeat with the other potatoes. Sound complicated? Then check out this video which shows you how it is done.
Using a spiralizer to make tornado potatoes
This method is super easy and fast. Of course, you need some extra equipment though. I use my stand mixer with a spiralizer attachment and the core slicer (which creates the spiral-like rings). It gets the job done in mere minutes, meaning you can make lots of tornado potatoes! If you don't have this special attachment you could also use a regular spiralizer and make curly fries instead. Also delicious! Either way this is a great way to jazz up oven baked potatoes.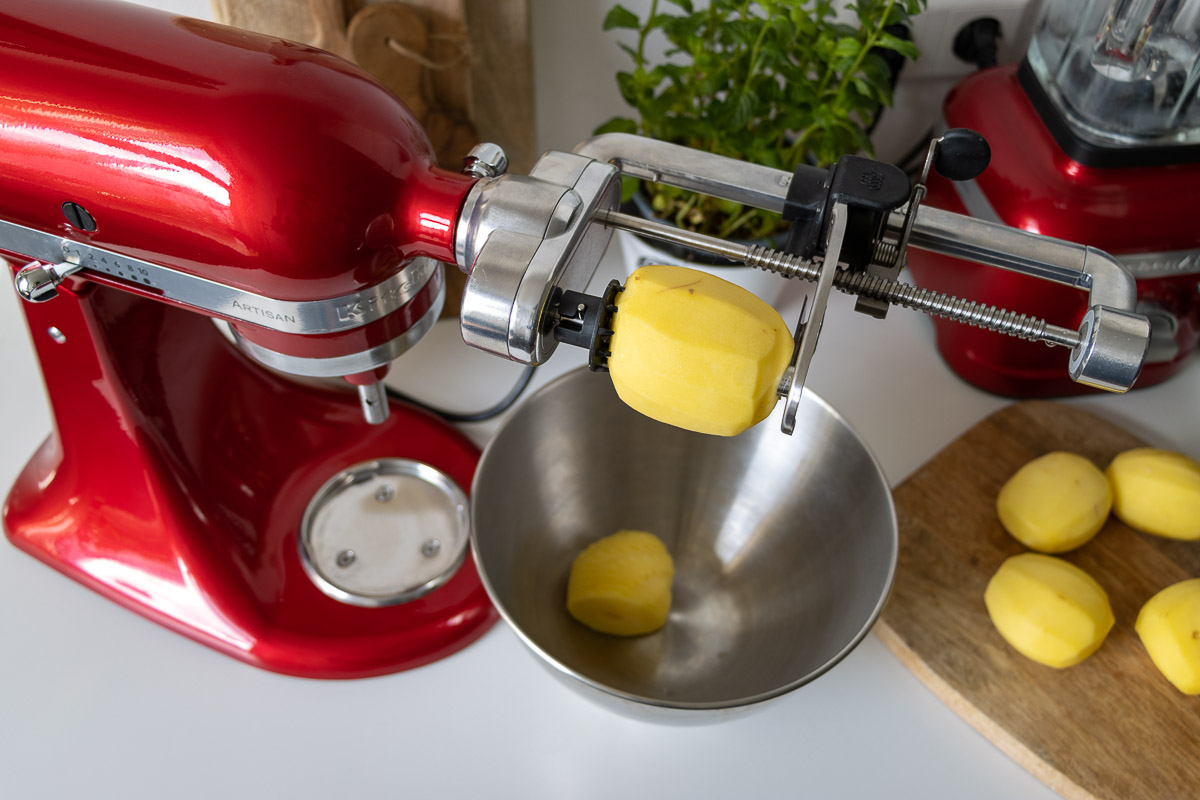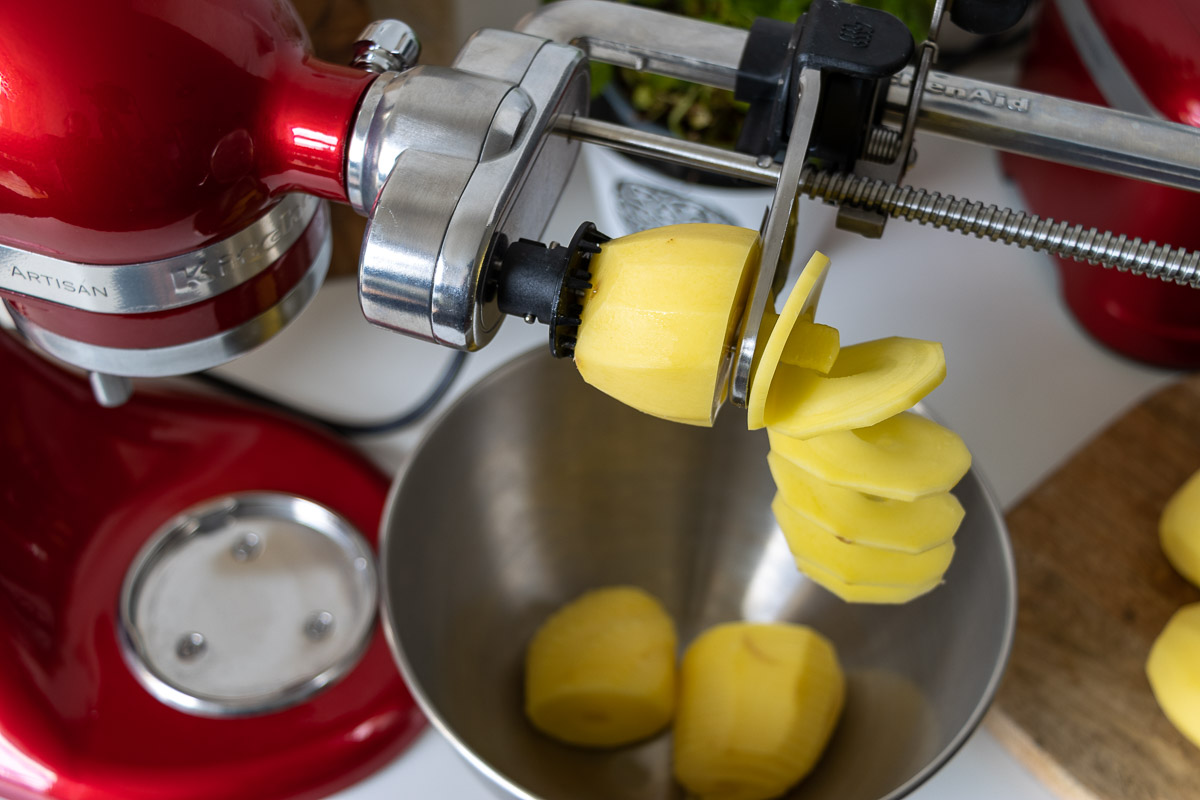 Use your favourite spices for spiral potatoes
I like to use my very own TexMex chili spice mix or a Veggie spice which is particularly delicious with potatoes. It's made with Kalahari salt, paprika, toasted onion, rosemary, thyme, nigella, garlic). It makes spiral potatoes absolutely irresistible and a little bit addictive. So yes, we want more, more, and more! But if you have your very favourite mixture of spices you like to use for French fries, then here is where you want to put it to use! Otherwise, feel free to go classic with just a sprinkle of salt and pepper.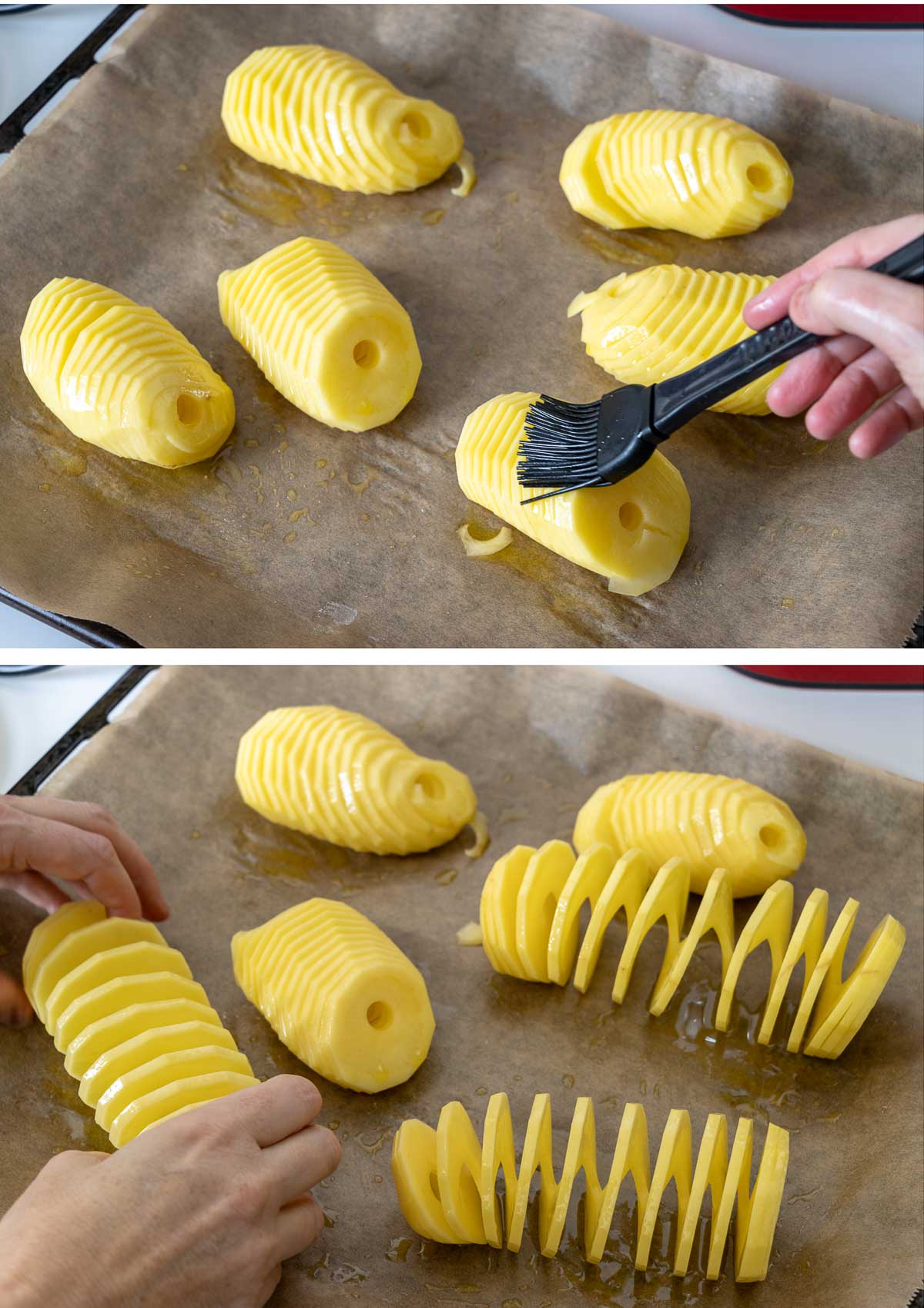 Looking for other recipe inspiration?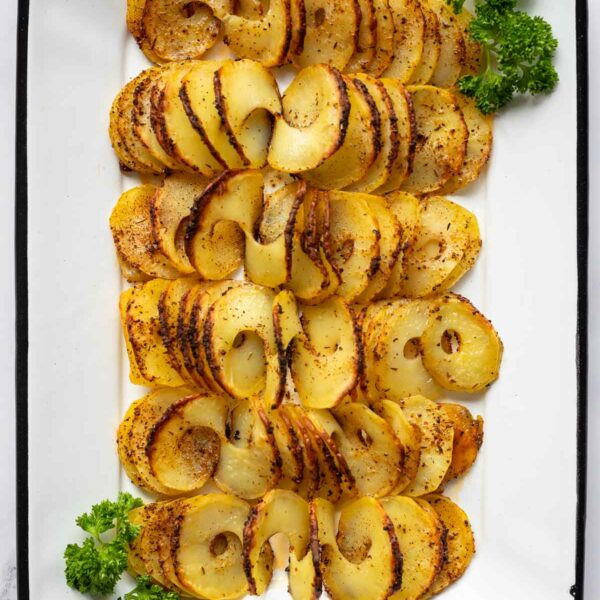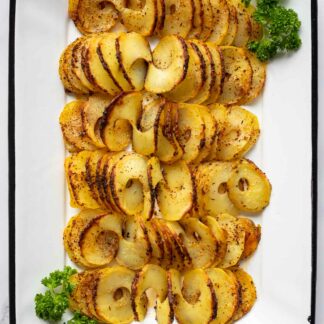 Baked Spiral Potatoes
Spiral potatoes (also called tornado potatoes) are a great way to make oven baked potatoes exciting. An easy to make family favourite made using a spiralizer or by hand.
Ingredients
6

medium potatoes,

peeled (about 1k g)

Extra-virgin olive oil,

to coat the potatoes
Seasoning options:
Veggie spice

TexMex Chili Spice

Sea salt, pepper, thyme or rosemary

1

teaspoon

each of paprika, cumin, garlic powder, plus salt and pepper, to taste
Method
To prepare the potatoes by hand:
Insert a skewer lengthwise through the center of each potato. Using a knife, cut at a diagonal into the potato, in a spiral motion, and turn the potato around the knife until you reach the end. Carefully pull apart the potato along the length of the skewer to until you have even gaps between the slices. Repeat with the other potatoes.
To prepare the potatoes using a spiralizer:
Attach your spiralizer with the small core spiral slicer to your stand mixer according to your machine's instructions. Secure your potato and and spiralize on speed 2.

Meanwhile, preheat the oven to 375°F / 190°C (170°C fan-assisted) and line a baking sheet with parchment paper.

Place the potatoes on the prepared baking sheet, without crowding, and using a silicon brush, gently coat the outside of potatoes with olive oil, as well as some of the gaps between the slices.

Sprinkle the seasoning over the potato spirals. Bake for 45 minutes, or until cooked through and edges crispy. Rotate baking sheet, front to back, halfway through for even cooking.

Enjoy while warm!
Notes
For a relaxing atmosphere in the kitchen I recommend my personal Elle Republic: Chilled Out Kitchen Tunes Playlist on Spotify.
Did you try this recipe?
Then tag @ellerepublic on Instagram and hashtag it #ellerepublic
How did you like it?
Please let me know how this Baked Spiral Potatoes (Tornado Potatoes) recipe turned out for you! I would love to hear how you liked it. Simply rate it with the stars above ⭐ or leave me a comment and rate it below.
Did you make any changes to this recipe?
If you have tips for other readers, let me know! It helps me and other readers so much. Sharing is Caring :-).
This post contains affiliate links. If you decide to make a purchase through my link, Amazon will pay me a commission for it. This doesn't cost you anything additional and the price remains the same. More about advertisements on Elle Republic.