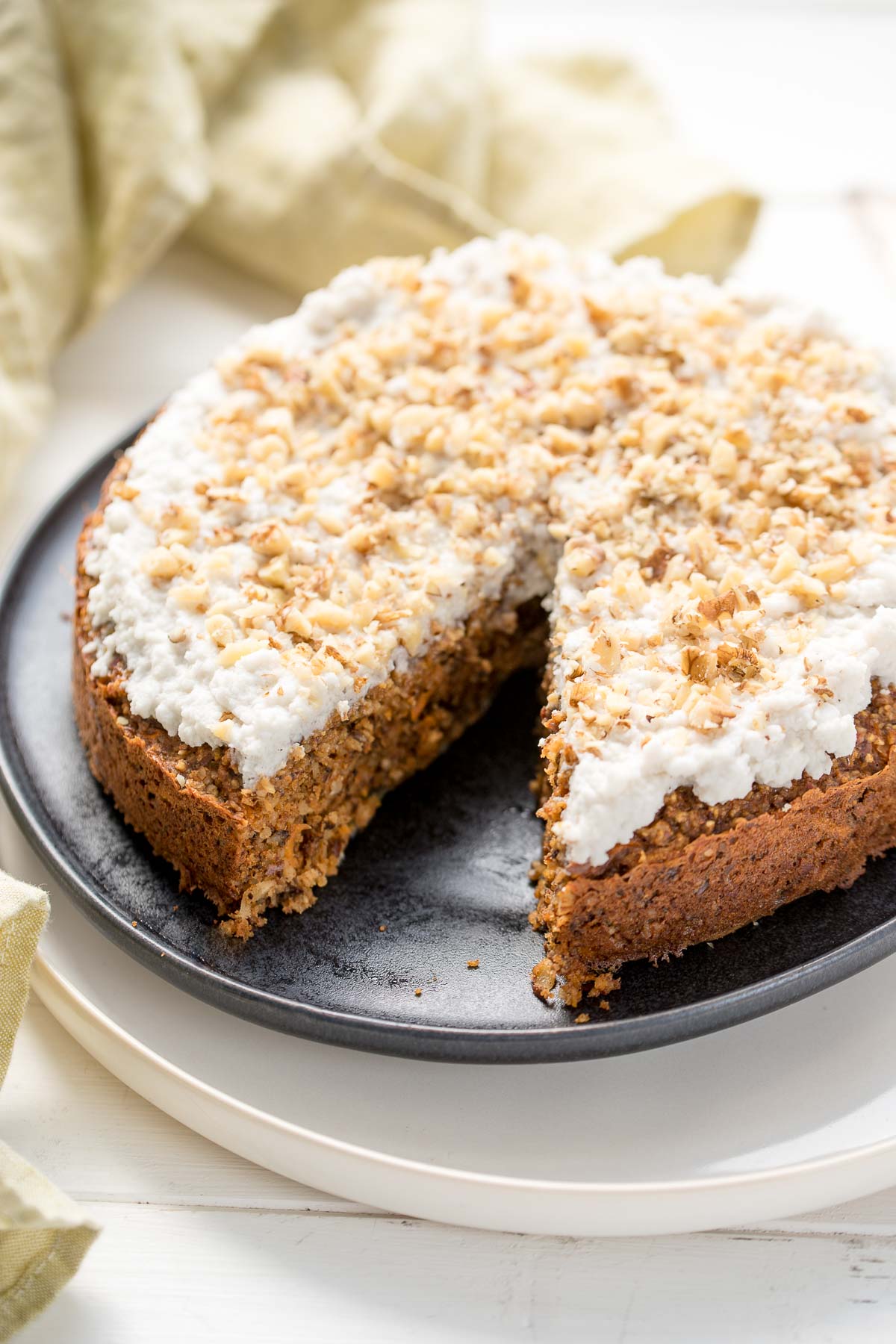 I finally made a cake that I can get excited about. A simple carrot cake that is refined sugar-free and gluten-free…and most of all delicious! It's naturally sweetened with Medjool dates and a little pure Canadian syrup, so, sweet but not so sweet. Let's say flavorful…and moist…and perfectly dense. There's ground oats and almonds, plus finely chopped walnuts to give it that tasty, nutty flavor that goes so well with carrots. And the icing on the cake, so to say, is that the icing is actually made with coconut cream, a terrific dairy-free alternative to classic icing. And in my opinion way tastier. Yes, I was the kid who always wanted an angel food cake without icing for my birthday. Icing was not my thing, until I discovered coconut cream icing. I think you'll be so excited when you realize how easy it is to make as well!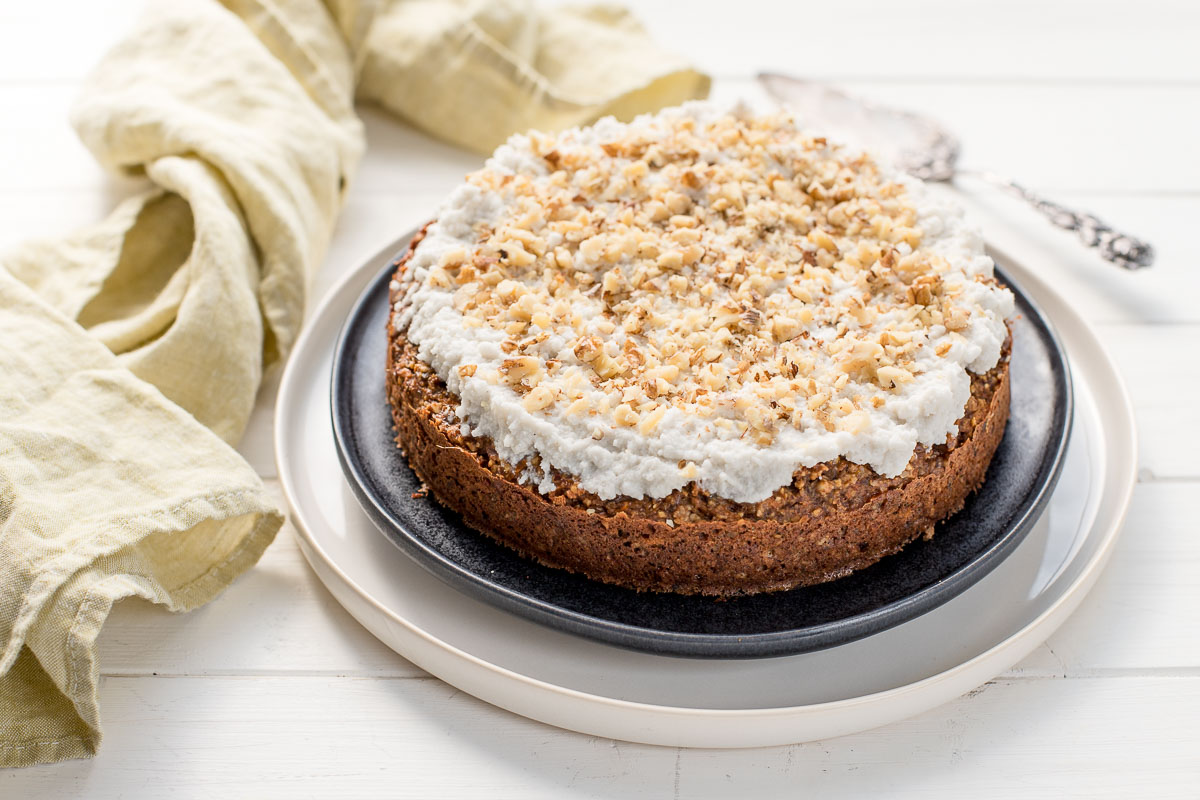 What does this carrot cake taste like?
First of all I would say it sets the standard for all healthy carrot cakes out there. It's deeply moist and most of its flavor comes from the ever so slight sweetness of dates and a touch of maple syrup, spices like cinnamon and ground ginger, carrots and the nutty taste of almonds and walnuts. Ginger adds sounds a nice subtle flavor that really compliments the cinnamon. Neither of which are overpowering. This cake is moist, dense, and every fork full has lots of taste and elements of texture. I love it. The cake itself also has a subtle coconut flavor, thanks to coconut oil (the exact thing that keeps it soft, tender and moist) which is also terrific with the creamy coconut icing. Yes to cake!
What makes this carrot cake healthy?
Unlike standard carrot cake, this is recipe is gluten-free, meaning instead of refined white flour, this is made with oats, a whole grain and ground almonds. Plus arrowroot powder which adds structure and texture to the cake as well as binding abilities together with ground flaxseeds. Apropos flaxseeds…they also contain all kinds of nutritional benefits, from ample fiber, to omega-3s, and so much more.
Coconut oil replaces butter in the cake. And coconut cream replaces cream cheese in the icing.
Real maple syrup and Medjool dates replace refined sugar, so this carrot cake is naturally sweetened.
Carrots! Yes, of course carrots. We all know they are good for us!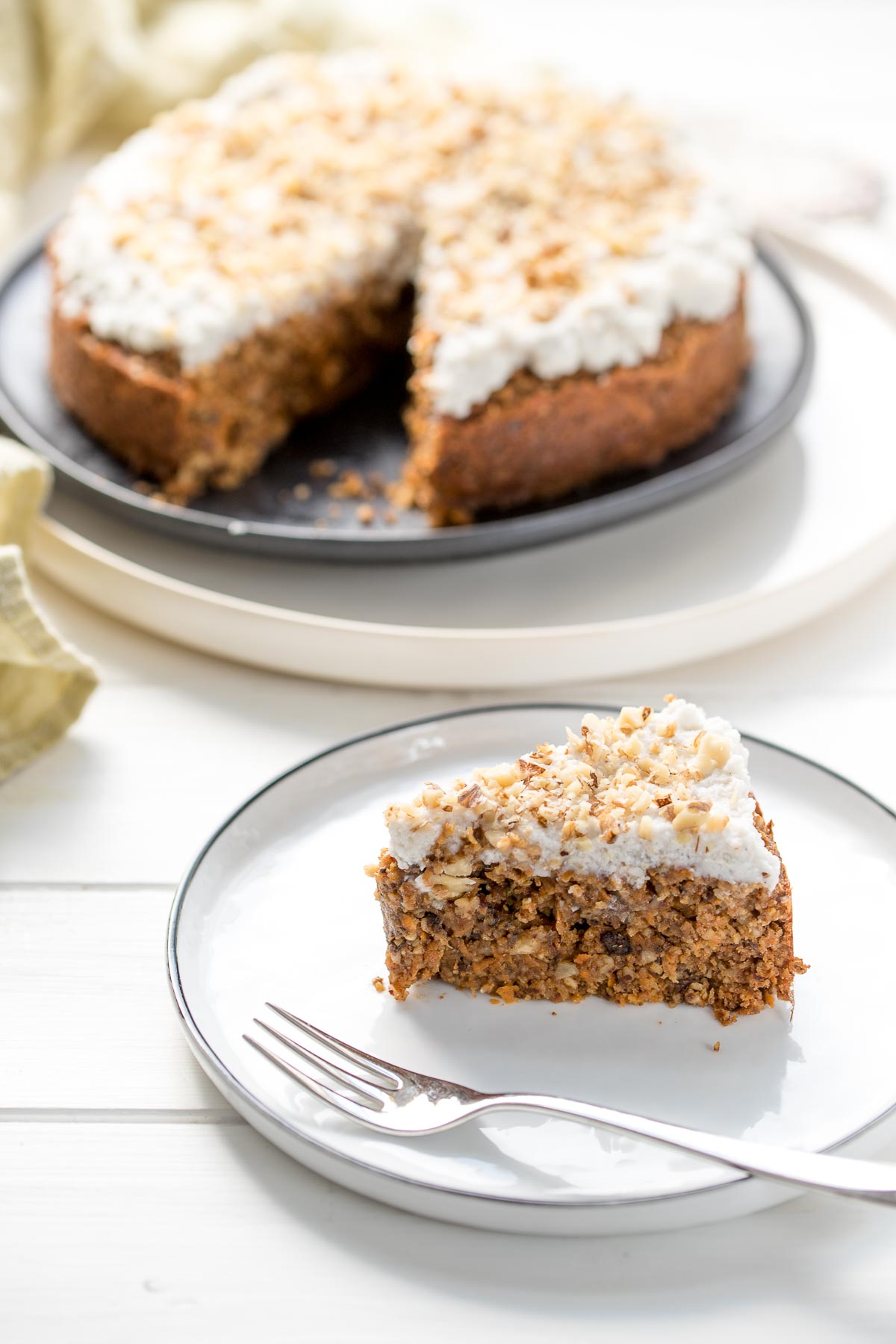 I really hope you will love this simple carrot cake. It's moist, naturally sweetened (perfect for non-dessert and dessert lovers alike!), carrot and nut packed, undetectably gluten-free and insanely delicious! This would really make a great cake your Easter celebrations, Sunday tea, or any kind of summer celebration. If you are hoping for something a little more in the direction of chocolate, I also have a delicious gluten-free chocolate cake recipe. Don't forget to rate this recipe or comment below, would love to hear what you think! Thanks friends!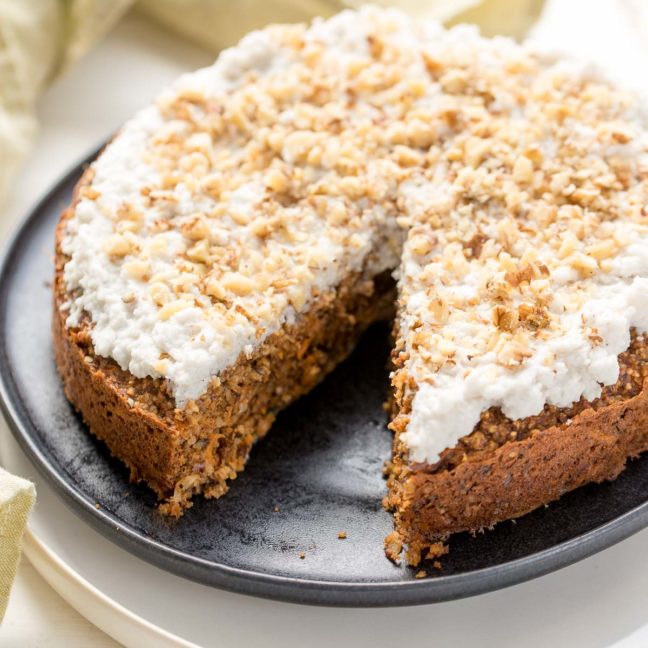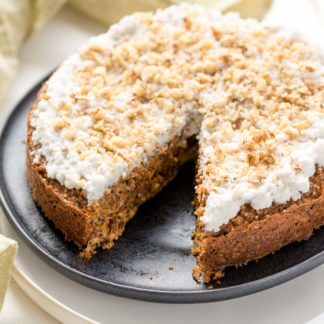 Carrot Cake (Gluten-free, Sugar-free)
A simple, moist and super flavorful carrot cake. Make with whole ingredients, this cake is refined sugar-free and gluten-free. Recipe for one 20 cm cake.
Ingredients
1

cup

fine cut oats,

ground (100 g) (certified gluten-free, if needed)

1

cup

almond meal

(100 g)

1 1/2

tablespoon

arrowroot powder

(or other starch)

2

tablespoons

ground flaxseeds

1

teaspoon

baking soda

½

teaspoon

sea salt

2

teaspoons

ground cinnamon

(Ceylon)

1/2

teaspoon

ground ginger

3

large eggs

2

tablespoons

maple syrup

4

Medjool dates,

pitted and chopped (soaked and drained, if not soft)

1/4

cup

coconut oil,

melted, plus more for greasing the pan (60 ml)

2

carrots,

grated (150 g grated)

1/2

cup

finely chopped walnuts

(see notes) (50 g)
For the frosting:
1

x 400 ml can

full-fat coconut milk,

refrigerated overnight

1

tablespoon

maple syrup

1/8

teaspoon

vanilla powder
Method
Preheat the oven to 350°F. / 165°C and grease a 20 cm cake pan (with removeable bottom) with coconut oil.

To grind the oats, use a high-powered blender. This takes just a few seconds.

In a large bowl, whisk together the oat flour, almond meal, arrowroot powder, flaxseeds, baking soda, salt, cinnamon and ginger.

Add the eggs, dates, maple syrup, and melted coconut oil to a high-sided container or pitcher and using an immersion blender (alternatively use a regular blender), blend the ingredients until smooth.

A little at a time, add the wet ingredients to the dry, stirring until a batter forms. Stir in the carrots and walnuts.

Transfer the batter to the prepared pan and bake for 30-35 minutes, or until a toothpick inserted into the center comes out clean. Transfer to a wire rack and allow to cool completely.
For the frosting:
Chill the can of coconut milk at least overnight (best is 24 hours). The fatty coconut cream will separate from the water in coconut milk. It will accumulate at the top and harden.

Remove the solid coconut cream that has risen to the top of the can, and spoon it into a mixing bowl. Using a hand beater, beat the coconut cream, maple syrup and vanilla on high speed until fluffy. The remaining coconut water can be added, a teaspoon at a time, if the whipped cream is too thick. Save the remaining for another use (e.g. smoothies).

NOTE: if the coconut cream is super hard, break it up a little before beating.

Once the carrot cake is fully cooled, frost the cake and sprinkle with finely chopped walnuts, to garnish.

TIP: I usually make the icing once the cake is cooled, otherwise store the frosting in the fridge until ready to use.

Enjoy!
Notes
I use organic coconut milk made with 60% coconut. This works beautifully for icing.
Walnuts should be finely chopped. Not quite as fine as the almond meal but quite fine.
Fresh carrots are important here, as they have lots of moisture. So you will want to grate them fresh. This is prime for creating a tasty, moist carrot cake.
I store leftovers of this cake, covered, in the refrigerator. I almost think the cake tastes better chilled. But feel free to bring it to room temperature before serving the next day.
Did you try this recipe?
Then tag @ellerepublic on Instagram and hashtag it #ellerepublic
How did you like it?
Please let me know how this Carrot Cake (gluten-free, sugar-free) recipe turned out for you! I would love to hear how you liked it. Simply rate it with the stars above ⭐or leave me a comment and rate it below.
Did you make any changes to this recipe?
If you have tips for other readers, let me know! It helps me and other readers so much. Sharing is Caring :-).
This post contains affiliate links. If you decide to make a purchase through my link, Amazon will pay me a commission for it. This doesn't cost you anything additional and the price remains the same. More about advertisements on Elle Republic.