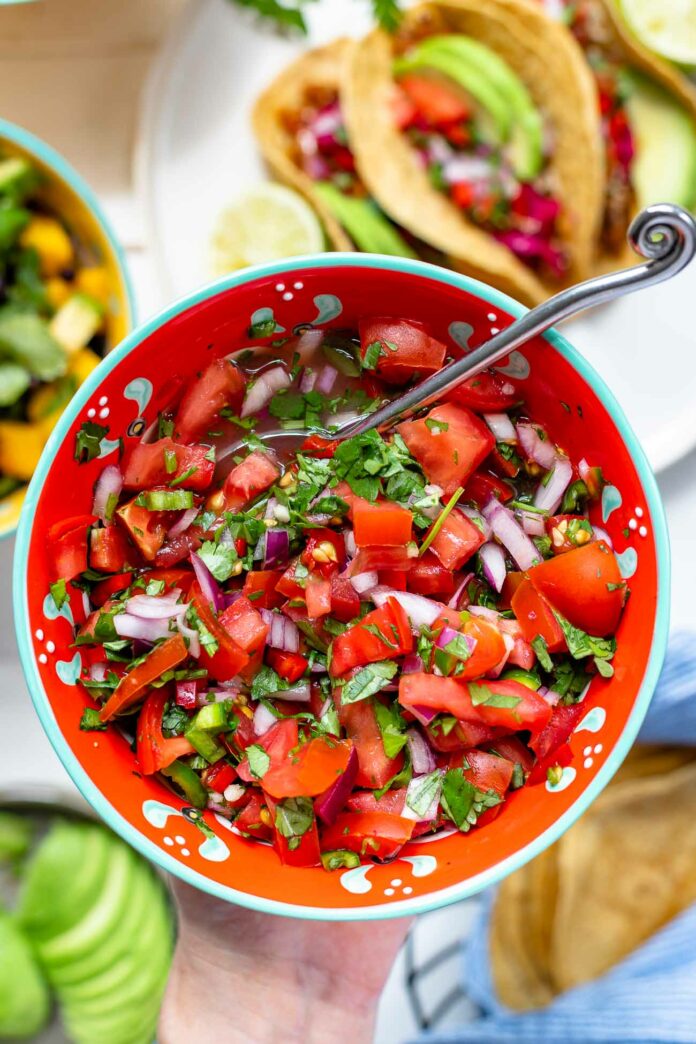 Pico de gallo is best fresh salsa you can imagine. It comes together in under 10 minutes, and it's the perfect fresh topping for your favorite Mexican dishes!
This too is a recipe that brings me back to my west coast Canadian roots. My love affair with pico de gallo began in high school when I took job in an authentic Mexican restaurant. One that made everything from scratch — from the fresh, chunky, and highly addictive salsa called pico de gallo, to the tortilla chips used to dip in it. And it didn't end there. In Vancouver everyone loves pico de gallo — so you won't have to search long or far to find it. We simply love it! Made with 7 simple ingredients, you almost don't need a recipe for it.
What is pico de gallo?
Translated into English, the Spanish phrase "pico de gallo" literally means "rooster's beak." To my recollection, this is because the color of the salsa resembles the roosters feathers and since it is spicy, it pecks at you like a rooster's beak. You will need only 7 ingredients (counting the salt): ripe red tomatoes, onion (white is traditional, but red is also fine), fresh chilis (jalapeño are the best, serranos are also fine), fresh cilantro, lime and salt. And an optional clove of garlic — for us garlic lovers. That's it!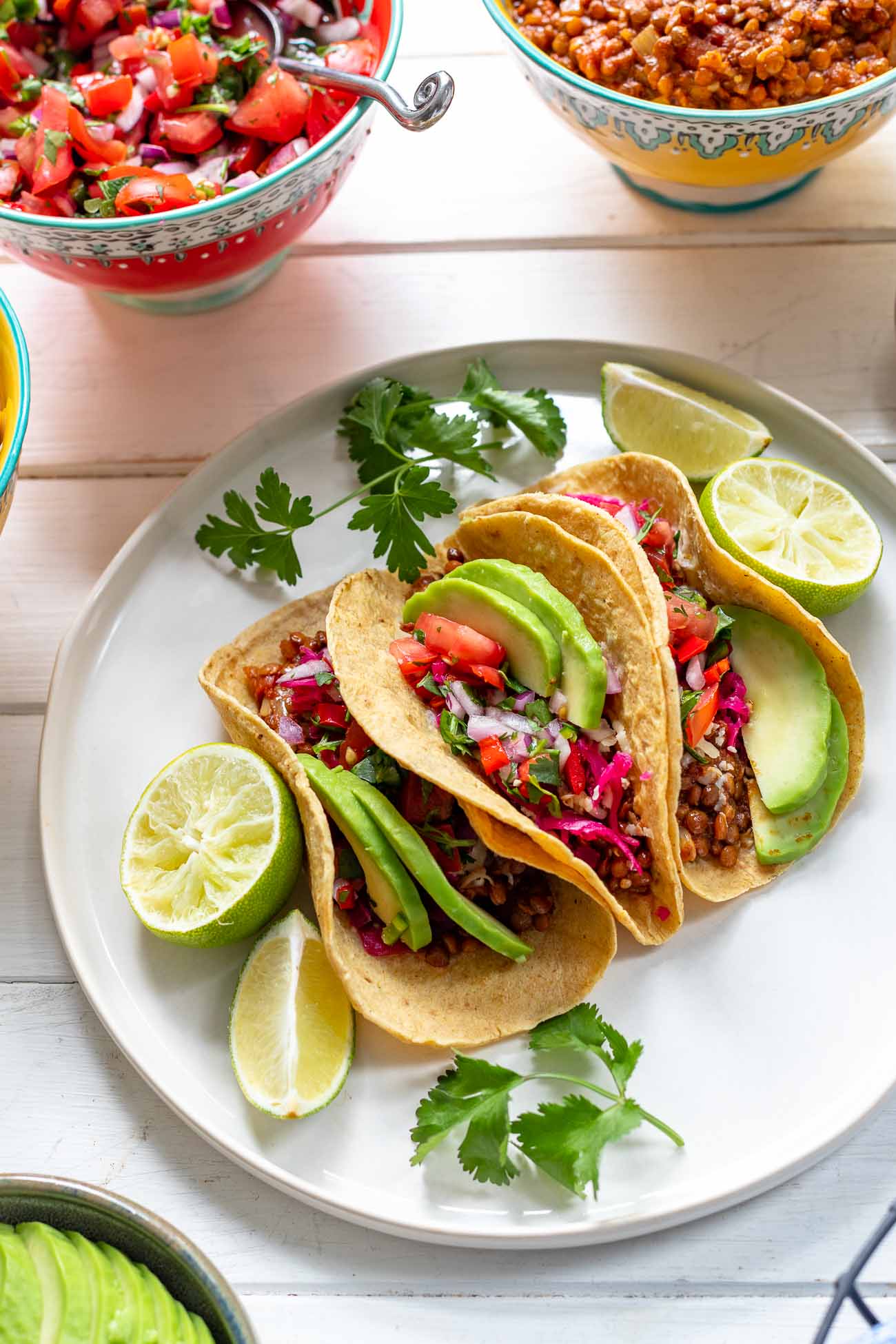 What's the difference between pico de gallo and salsa?
Texture! Pico de gallo (also called "salsa fresca") shares the same basic ingredients as traditional red salsa, but the preparation methods are different. Pico de gallo always uses fresh diced ingredients, which gives it a wonderful chunky texture. Salsa, on the other hand, can be made with stewed tomatoes, is richer tasting and generally closer to a sauce, since the tomatoes are soft.
Both are delicious, both go great with taco, burritos, nachos and co. And either one can be partnered with guacamole and sour cream as a dip or topping. Which tastes better? Well that's a personal choice. But I am all for team "pico de gallo". It's something you definitely want in your repertoire!

How to make the best pico de gallo
It's so simple, you almost don't need a recipe, but there are a few things to keep in mind.
1) Use ripe red tomatoes. In season, ripe tomatoes make the best salsa. Heirloom tomatoes (beefsteak) and Roma tomatoes are great choices as they are less watery, but I sometimes also make this recipe with vine-ripened cherry, mini plum or grape tomatoes (they are a good choice off season). Pretty much any tomato works, as long as they are fresh, beautiful and ripe. If the tomatoes are really watery, just remove the seeds/core before chopping.
2) Chop your ingredients finely. Chopping everything finely will ensure more flavor in every bite. Especially the onion and chili. And this also makes it a better topping for tacos.
3) Traditionally, this chunky salsa is made with mild white onion and jalapeño peppers. I find both hard to find where I live, so I use Serrano chilli peppers (red or a mix of red and green) and red onion with delicious results. So use what is available where you live.
4) Let the pico mix rest for 10-15 minutes before serving. Deliciously melded flavours are the goal. Give it time to be its best!
5) Depending on what you are serving it with, use a slotted spoon. The salt will draw out a lot of moisture from the tomatoes, so for topping tacos and nachos, you may want to use a slotted spoon to avoid them dripping or getting soggy when you eat them. Otherwise, all good, go to town and enjoy!

What to serve with this tasty salsa fresca
As a versatile dip or sauce, you can spoon it on burgers, tacos and burritos, or serve with grilled chicken and salmon, roasted vegetables, scrambled eggs, or scoop it up with tortilla chips. Pretty much any dish that needs an extra dose of freshness and a little extra zing.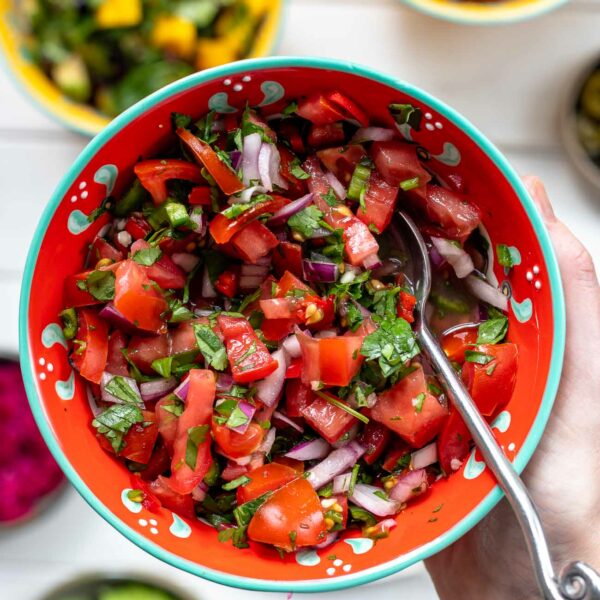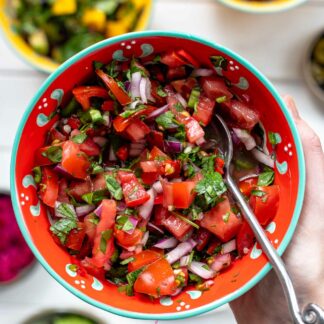 Classic Pico de Gallo
Pico de Gallo (Fresh Mexican Salsa) makes for a tasty topping for tacos, burgers, quesadillas and more. Easy and quick to make!
Ingredients
2

large tomatoes,

chopped (see notes)

1

small red or white onion,

chopped

2

fresh red or green chilli peppers

(serranos or jalapeños), finely chopped

1

small bunch cilantro leaves with tender stems,

finely chopped

3

tablespoons

fresh lime juice

1

small garlic clove,

finely grated (optional)

Sea salt,

to taste
Method
Gently toss tomatoes, onion, fresh chilli, cilantro, lime juice, and garlic (if using) in a small bowl; season with salt. Let sit, uncovered, for 10-15 minutes, to allow the flavours to meld..
Notes
Best tomato choice: choose deeply colored, firm and not overly-ripe tomatoes. I like roma tomatoes or other vine-ripened tomatoes. Hierloom can also work nicely depending on the variety. Off season, vine-ripened mini plum or cherry tomatoes can be used.
Make ahead: This salsa fresca can be stored, covered, in the refrigerator for a few hours. I find it best if used the day it is made.
For a relaxing atmosphere in the kitchen I recommend my personal Elle Republic: Chilled Out Kitchen Tunes Playlist on Spotify.
Did you try this recipe?
Then tag @ellerepublic on Instagram and hashtag it #ellerepublic
How did you like it?
Please let me know how this Classic Pico de Gallo (Mexican Salsa) recipe turned out for you! I would love to hear how you liked it. Simply rate it with the stars above ⭐ or leave me a comment and rate it below.
Did you make any changes to this recipe?
If you have tips for other readers, let me know! It helps me and other readers so much. Sharing is Caring :-).
This post contains affiliate links. If you decide to make a purchase through my link, Amazon will pay me a commission for it. This doesn't cost you anything additional and the price remains the same. More about advertisements on Elle Republic.