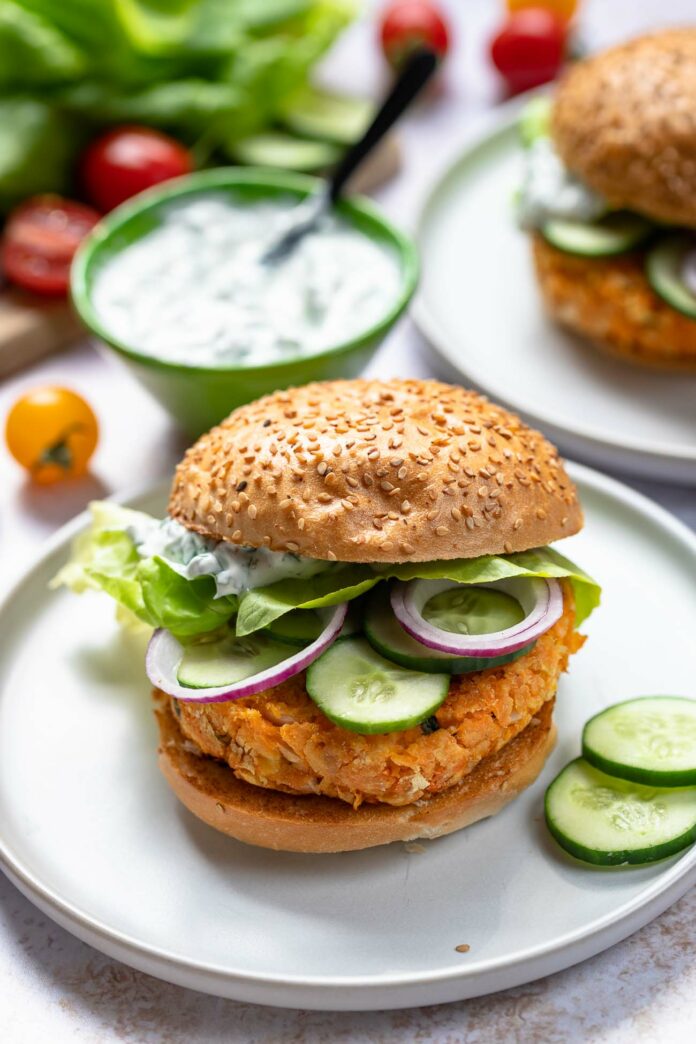 Not only is this a veggie burger—it's a sweet potato burger! A sweet potato veggie burger. One that is packed with lots of healthy ingredients. The base is made with baked sweet potato, red lentils, quinoa and panko bread crumbs. And the flavor is amped up with a fresh mint, lemon juice, chili flakes, onion and garlic, plus a little feta. The result is a veggie burger that is hearty and satisfying, with an irresistible combination of flavors.
These veggie burgers are perfect for serving to friends who are interested in a plant-based alternative to classic beef burgers. They can also be easily adapted to suit a vegan diet by simply omitting the feta cheese. Win Win!
Grilled homemade veggie burgers on the LeMax
As we know, when it comes to grilling, my go-to appliance is my electric glass ceramic grill. The ELAG LeMax grill. And so once again I am putting it to the test for this vegetarian burger recipe. And what I particularly love about it, is that I can prepare a healthy meal, with that served right off the BBQ experience and taste, either indoors or outdoors. And recently, with my LeMax grill station. A grill station that really brings my kitchen outdoors. Something that even as a city dweller makes outdoor grilling and dining an even more enjoyable experience.

Sweet potato burger Ingredients:
These veggie burgers are made with simple, healthy ingredients. Here's what you'll need:
Sweet potatoes: For the best results, weigh your sweet potatoes at the store to ensure you're starting with the right amount. 325 g (up to max 350 g) potatoes is what you will need for this recipe. Ideally, choose thin, long sweet potatoes because they'll cook quicker in the oven. Otherwise, slice the sweet potato lengthwise and bake cut side down on parchment paper.
Quinoa and Red Lentils: We start with raw (uncooked) quinoa and red lentils, and cook them together in one pot, since they take the same amount to cook. Easy peasy and less cleaning.
Onion and garlic: Aromatics are something I like to include in most recipes. If preferred, you can use green onion or red onion. And if you are worried about the onion or garlic being too dominant, I can say that the flavours mellow during the cooking process and produce a delicious result.
Herbs: I like to use fresh mint for this sweet potato burger recipe as it adds freshness and goes nicely with the feta. Fresh parsley or cilantro are also great choices.
Bread crumbs: I like to use panko breadcrumbs (found at your asian food store or well-stocked supermarkets) but you could also use regular bread crumbs, which are finer. Or if you are looking for a gluten-free alternative, then use fine-cut oats. This is to ensure that any excess moisture is absorbed and helps the veggies burgers hold their form.
Lemon and chili flakes: Extra freshness with a subtle kick.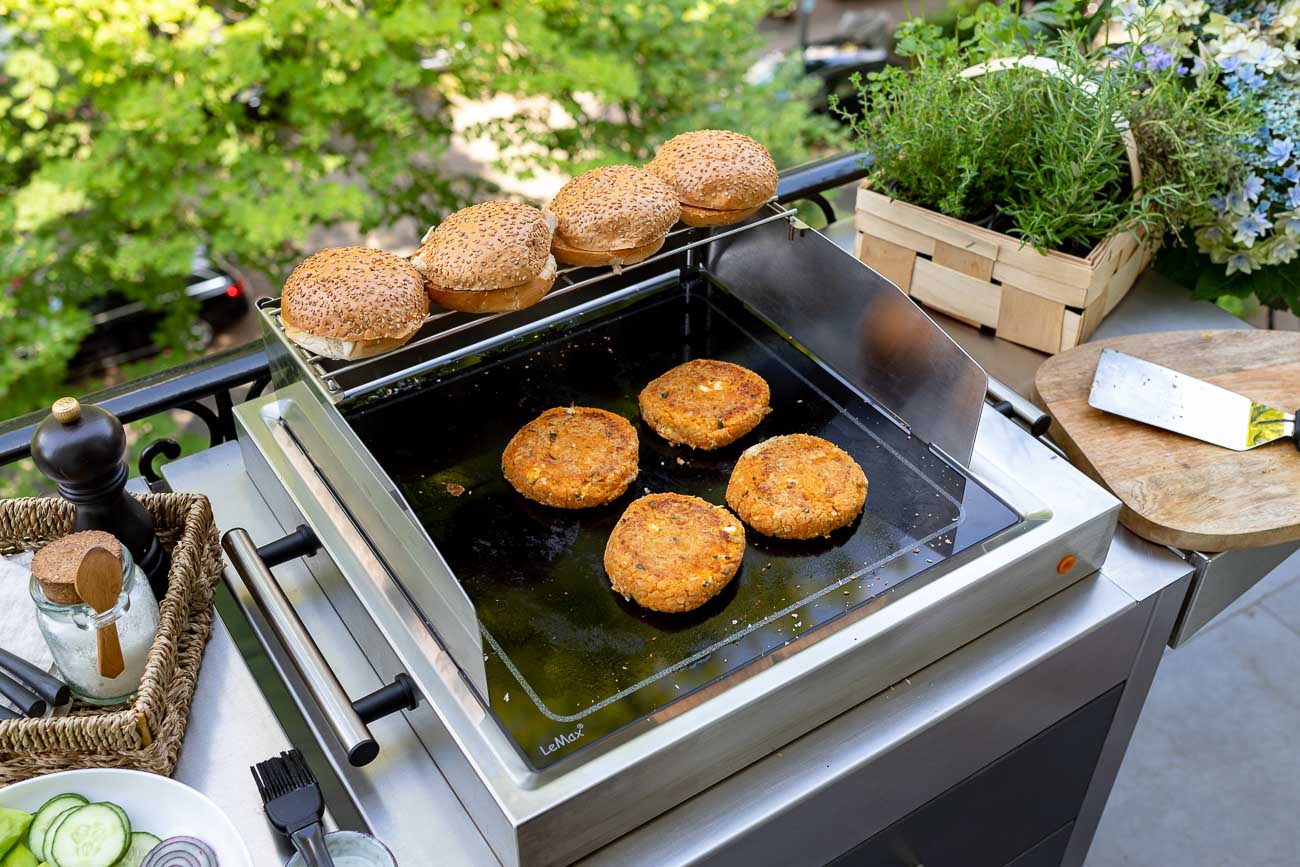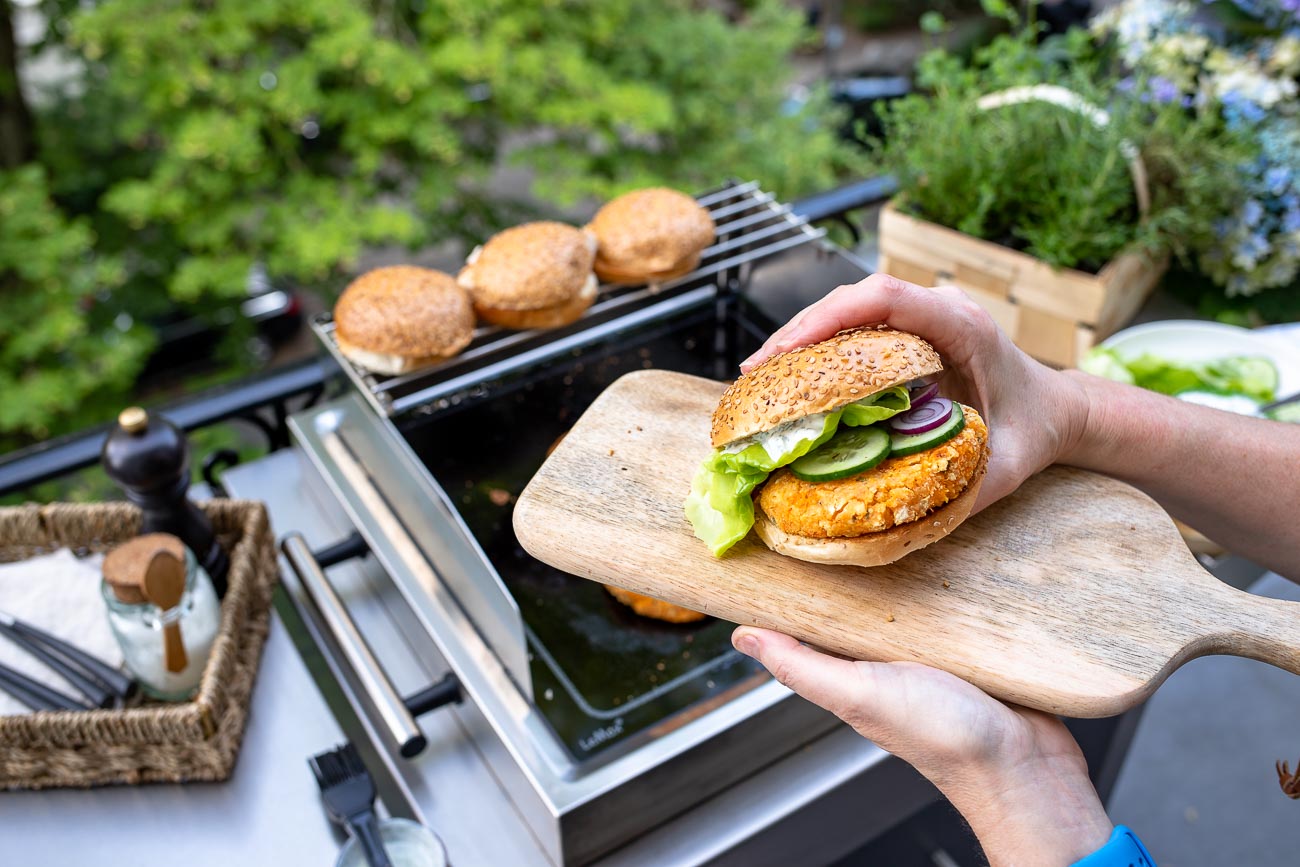 Make ahead veggie burgers
The method is simple however a little planning ahead is necessary. The sweet potatoes, quinoa and lentils are all cooked ahead before forming the patties, and then they are cooled in the fridge so that the flavours can meld and the patties can firm up. Which also means you can easily make them in advance — even the night before the grill party begins. This gives you the absolute best results for homemade veggie burgers that are being prepared in a skillet or on the grill.

What do these vegetarian burgers taste like?
Firm on the outside, while tender on the inside
Hearty and satisfying
Naturally sweet from the potatoes
Subtly spiced, with a hints of minty-ness and briny tasting feta
A tasty plant-based burger patty
Burger accompaniments
Just like any other burger, these burgers love garnish. Find some great buns, or make a low carb meal by serving these sweet potato patties over butter lettuce leaves. Add any of the following:
Ripe, juicy sliced tomato
Crisp lettuce, arugula or alfalfa sprouts
Cucumber, thinly sliced
Red onion, thinly sliced
Avocado slices or guacamole
My herb yoghurt sauce (see below)
A classic combo of ketchup and mustard
Side dish suggestions
These burgers would go nicely with one of these side salads: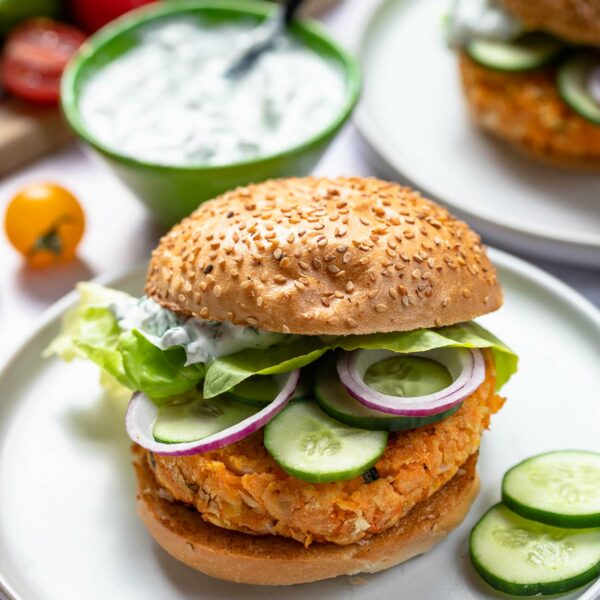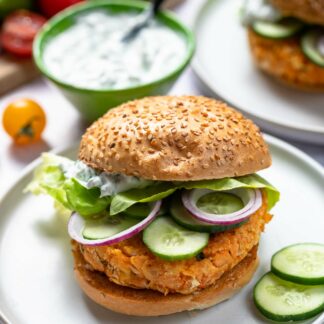 Sweet Potato Veggie Burger
Sweet potato veggie burger made with quinoa and red lentils. Sweet, tender, flavorful, so healthy, and delicious. Served with a herb yoghurt sauce. Makes 4-6 patties, depending on size. Plan ahead: the burger mixture is prepared in advance and chilled in the refrigerator before it's ready for the grill (you can let it chill overnight or longer if you like).
Prep Time
1
hour
15
minutes
Ingredients
For the burgers:
325

g

sweet potato,

baked

1/4

cup

quinoa,

rinsed (50 g)

1/4

cup

red lentils,

rinsed (50 g)

1

cup

water

(250 ml)

1

small yellow onion,

very finely chopped

1

clove

garlic,

minced

1 1/2

tablespoons

chopped fresh mint

Pinch

of chilli flakes

50

g

feta,

crumbled

1

teaspoon

freshly squeezed lemon juice

1/3

cup

panko bread crumbs,

plus more if needed (25 g)

Sea salt and freshly ground pepper,

to taste

chickpea flour (or panko),

to coat the burgers

Heat-resistant oil,

for the grill
For the herb-yoghurt sauce:
170

g

container Greek yogurt

Juice of 1/2 large lemon

1

small bunch freshly chopped cilantro

sea salt and freshly ground pepper,

to taste
Method
Preheat the oven to 400°F / 200°C and line a baking sheet with parchment paper.

Roast the sweet potatoes: Pierce the sweet potato serval time with a fork and place on the lined baking sheet and roast in the oven until tender when squeezed, about 45 minutes to an hour depending on the size.

Alternatively, slice the sweet potatoes down the centre lengthwise. Place the sweet potatoes, cut side down, on the prepared baking sheet. Roast until tender, 30 to 40 minutes.

Meanwhile, in a small saucepan, combine the quinoa, red lentils and water. Bring the mixture to a boil over medium-high heat, then reduce the heat as necessary to maintain a gentle simmer. Simmer, uncovered, until all of the water is absorbed, about 15 minutes. Remove from the heat, cover, and let steam for 15 minutes.

Skin the sweet potatoes and place in a large bowl. Mash with a fork.

Add quinoa, lentils, onion, garlic, mint, chili, salt and pepper and mash to combine. Then add the feta, lemon juice and breadcrumbs and mix until well combined.

Sprinkle chickpea flour (or panko) onto a plate (about 50 g).

Take a handful of the sweet potato mixture and form into a ball and then flatten out to form a patty. Coat the outside of the patty in chickpea flour (or panko). Set on a plate and continue with the rest of the mixture. Refrigerate for 1 hour or longer (the longer the better).

Meanwhile, prepare the herb-yogurt dip. Mix together the yoghurt, cilantro, lemon juice and season with salt and pepper. Cover and store in the fridge until ready to use.

When you're ready to cook, preheat the tabletop grill (or skillet) over medium-high heat (on the LeMax level 8 for 5 minutes, then reduce the heat to level 7).

Brush the surface lightly with heat-resistant oil. Place the sweet potato burger patties on the grill and cook for 4 minutes, until lightly browned. Flip and continue cooking, increasing the heat slightly, for 4 minutes, until browned. During the last minute of cooking, toast the hamburger buns (see video).

Serve with your choice of toppings, such as herb-yogurt sauce, cucumber, red onion and salad leaves. Enjoy!.
Notes
I make 4 larger patties with this recipe. If you prefer, make 6 patties. This also makes them easier to eat if you are not using large hamburger buns.
Panko bread crumbs can be found at your local Asian food store. Alternatively, use regular bread crumbs or fine-cut oats.
The sweet potato can be cooked ahead of time, even a day ahead, before starting this recipe. Also a great way to use up leftover baked potatoes!
This plant-based burger contains feta cheese which is traditionally not vegetarian. If you are following a strict vegetarian diet, look for a feta cheese made with vegetal rennet rather than animal rennet. To make this recipe vegan, simply omit the cheese.
For a relaxing atmosphere in the kitchen I recommend my personal Elle Republic: Chilled Out Kitchen Tunes Playlist on Spotify.
Did you try this recipe?
Then tag @ellerepublic on Instagram and hashtag it #ellerepublic
How did you like it?
Please let me know how this Sweet Potato Veggie Burger recipe turned out for you! I would love to hear how you liked it. Simply rate it with the stars above ⭐ or leave me a comment and rate it below.
Did you make any changes to this recipe?
If you have tips for other readers, let me know! It helps me and other readers so much. Sharing is Caring :-).
This post contains affiliate links. If you decide to make a purchase through my link, Amazon will pay me a commission for it. This doesn't cost you anything additional and the price remains the same. More about advertisements on Elle Republic.
Many thanks to ELAG Products GmbH for sponsoring this Sweet Potato Veggie Burger recipe.