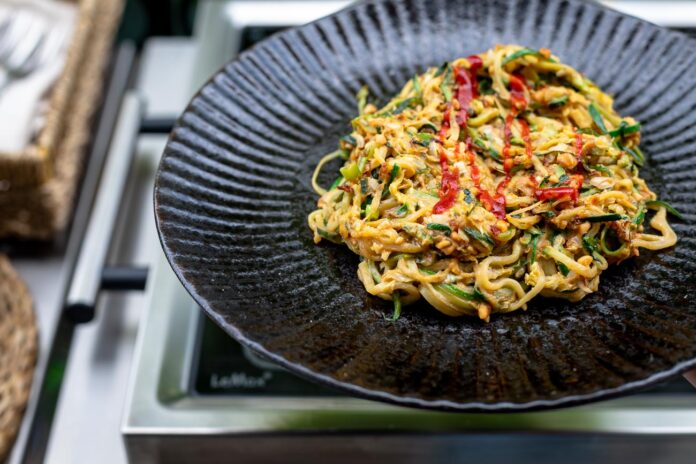 This delicious Asian-style zucchini noodle stir fry-this makes for an easy and healthy dish. Zucchini "noodles" (aka zoodles), green onions and Chinese cabbage are seared then tossed with a wildly flavourful peanut sauce. The result: tastes better than takeout! Plus it's a great alternative to standard noodles if you are looking to curb your carb intake. And as an extra bonus, this recipe is vegetarian and vegan too!
How to make the best zucchini noodles
Before you dump the "noodles" right into a pan after spiralizing or julienning them, you need to get some of the moisture out. This is an IMPORTANT step if you are planning to fry them rather than blanch them (e.g. when making a classic zucchini spaghetti dish). Avoiding this step will only end in a watery mess! You don't need to get every last drop out, just the excess water. Otherwise we risk turning them into mushy and lifeless noodles. We just want to get most of the water out.
After spiralizing your zucchini, sprinkle with a bit of salt and let them sit in a colander for about 15 minutes. This will help draw out some of the excess moisture. Especially important if you are using zucchini right out of the garden. You can either spread them out over paper towels and then pat dry or wrap them in a clean kitchen towel and gently squeeze out the extra moisture.
When julienning, avoid the "seedy" core. Rather julienne all four sides until you reach the seedy part. The very centre of the zucchini with the seeds has a high water content, which can make the rest of your strands soggy. If you are using a spiralizer, it will discard a small part of the core in the process, but you can also sort out some of the extra seedy strands for best stir-fry results.
When making zucchini noodles, it's best to buy zucchini that are thinner and smaller diameter. You will not get as many noodles from each zucchini, but you'll get more noodles with the skin, which are best. So rather than 2 larger zucchini go for 3 smaller, thinner ones. The "outer" noodles contain less water and, as such, hold their shape better.
Tools for spiralizing
For stir-fry or pan-fried zoodles, I like to julienne them. This can be done using a julienne peeler or a mandoline. For something like "zucchini spaghetti", I favour using a spiralizer which gives you extra long strands. There are all sorts, from handheld spiralizers, to ones that look like an apple corer, to attachments for your Kitchenaid. Something for every budget.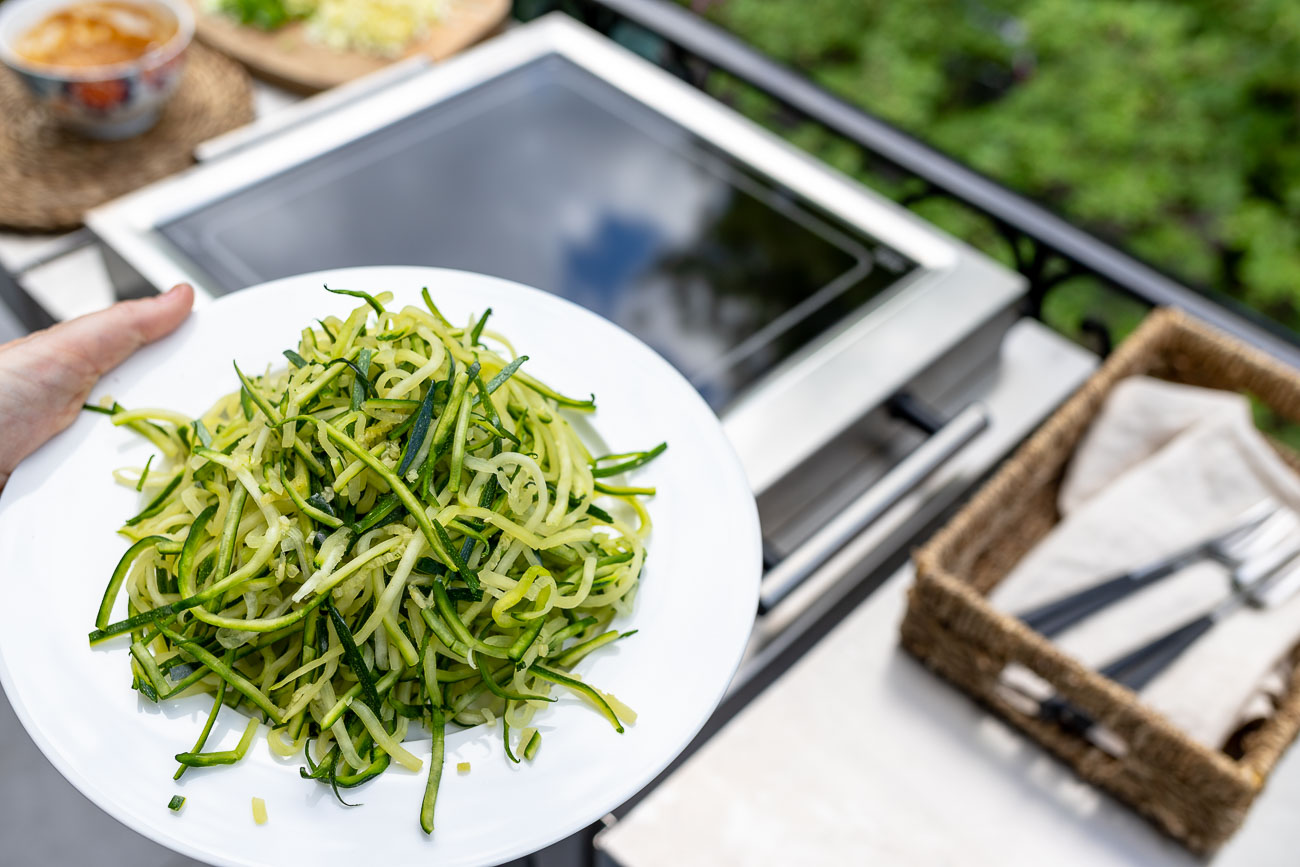 Zoodles test with the LeMax
Who says a stir-fry can only happen in a wok? I tested this zucchini "noodle" stir-fry recipe a number of times and can only say that stir-frying goes beyond the stovetop. In fact, I prepared this dish outside, on my balcony, using my glass ceramic tabletop grill — the LeMax. It's large cooking surface doesn't require a lot of fat to cook with and makes it easy to prepare delicious dishes like this one!



How to adapt this zoodles recipe
Add some crunch factor. I do this by using all natural crunchy peanut butter rather than smooth. But you could also just top it with some roasted unsalted chopped peanuts (or even cashews or a sprinkle of toasted sesame seeds).
There are no hard rules here on vegetable choices. You can use savoy cabbage or napa cabbage. You can add julienned carrots, sliced red pepper, even snow peas.
Although this is a vegan recipe, it doesn't mean it has to stay that way. You can add some cooked and shredded chicken breast or even some shrimp.
Or keep it vegan but pump up the protein by adding some cubed tofu — crisp it up by giving it a fry before you start adding the rest of the ingredients.
If you like this recipe, you might also like one of these: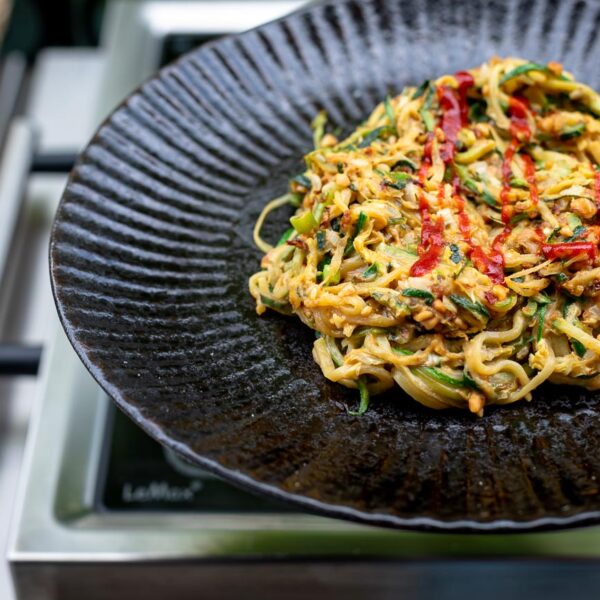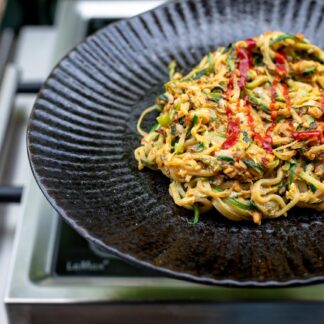 Zucchini Noodle Stir Fry (Zoodles Recipe)
This stir-fried zucchini noodle recipe is a delicious and healthy alternative to Asian takeout. Packed with flavor it's also low-carb, vegetarian and vegan.
Ingredients
For the stir-fried vegetables:
2

zucchini and/or yellow squash,

spiralized or julienned into noodles

1-2

generous handfuls Chinese (Napa) cabbage,

shredded

2

green onions,

chopped

1

teaspoon

sesame oil
For the sauce:
3 1/2

tablespoons

natural unsweetened peanut butter

1

teaspoon

maple syrup

1

garlic clove,

minced

2

tablespoons

soy sauce

Juice of 1 lime

Pinch

of red chili flakes

Freshly ground black pepper,

to taste

Water,

to thin
Method
Transfer the julienned or spiralized zucchini to a colander and toss with a pinch of salt. This will extract any excess moisture. Let them sit for about 15 minutes (just enough time for the salt to extract the moisture). Then place the zucchini noodles on a clean kitchen towel, roll up, and gently squeeze to release the extra moisture. Alternatively, press with paper towels.

Meanwhile, chop the cabbage and green onion. Set aside.

In a small bowl, add the dressing ingredients (peanut butter, maple syrup, garlic, soy sauce, lime juice, chili flakes and pepper). Mix to combine. Add a little water to thin to desired consistency (1-2 tablespoons). Set aside.

Heat the tabletop glass-ceramic grill (or non-stick wok) to medium-high (for the LeMax level 9 for 5 minutes, then reduce heat to level 7).

Brush the surface with sesame oil. Transfer the cabbage and green onion to the grill and stir-fry for 2-3 minutes, until tender. Add the spiralized zucchini and cook for 2-3 minutes until starts to soften.

Gently fold in the peanut sauce, in small amounts until reaches the desired for consistency.

Transfer to a plate and drizzle with optional Sriracha chili sauce. Enjoy!
Notes
I like to use all natural crunch peanut butter for this recipe, since I like the added crunch. Smooth peanut butter would typically used for a peanut sauce. Both taste great!
For a relaxing atmosphere in the kitchen I recommend my personal Elle Republic: Chilled Out Kitchen Tunes Playlist on Spotify.
Did you try this recipe?
Then tag @ellerepublic on Instagram and hashtag it #ellerepublic
How did you like it?
Please let me know how this Zucchini Noodle Stir-Fry (Zoodles Recipe) turned out for you! I would love to hear how you liked it. Simply rate it with the stars above ⭐ or leave me a comment and rate it below.
Did you make any changes to this recipe?
If you have tips for other readers, let me know! It helps me and other readers so much. Sharing is Caring :-).
This post contains affiliate links. If you decide to make a purchase through my link, Amazon will pay me a commission for it. This doesn't cost you anything additional and the price remains the same. More about advertisements on Elle Republic.
Many thanks to ELAG Products GmbH for sponsoring this Zucchini Noodle Stir-Fry recipe.