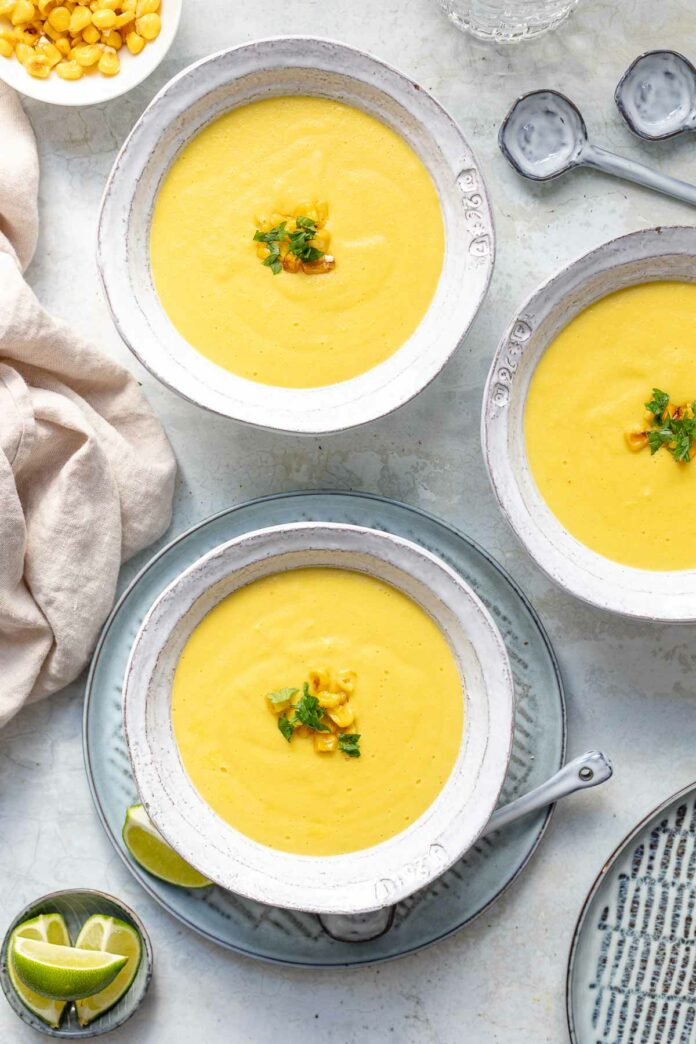 This coconut corn soup recipe is loaded with peak-summer sweet corn and although it's vegan it's deliciously rich and creamy. A few simple ingredients pack this creamy corn soup recipe with loads of flavour making it decadent enough to serve at a dinner party, while being easy enough to prepare on a weeknight. Leftovers are fantastic, making it a great make ahead course as well.
What I really love about this alternative to classic corn chowder is that it is silky smooth and the corn flavor really shines. Aromatics (onion, shallots, garlic and ginger) give it depth of flavor, while coconut milk gives it richness, and finally a squeeze of lime juice balances out the overall flavour. Although it is simple, it really is the best corn soup recipe. Humble corn is elevated to a whole new level!
Selecting corn for this recipe
Buy fresh corn and use it promptly (fresh corn is best eaten within 1 or 2 days). This will will give you the sweetest, most delicious flavor. When buying, look for husks that are bright green and tightly wrapped around the cob. And, also take a look at the silk (the threads sticking out at the top), they should be brown and sticky to the touch. Which is another sign that it is fresh.
If you can't find fresh corn use frozen corn (for a recipe like this I find it a superior choice over canned corn).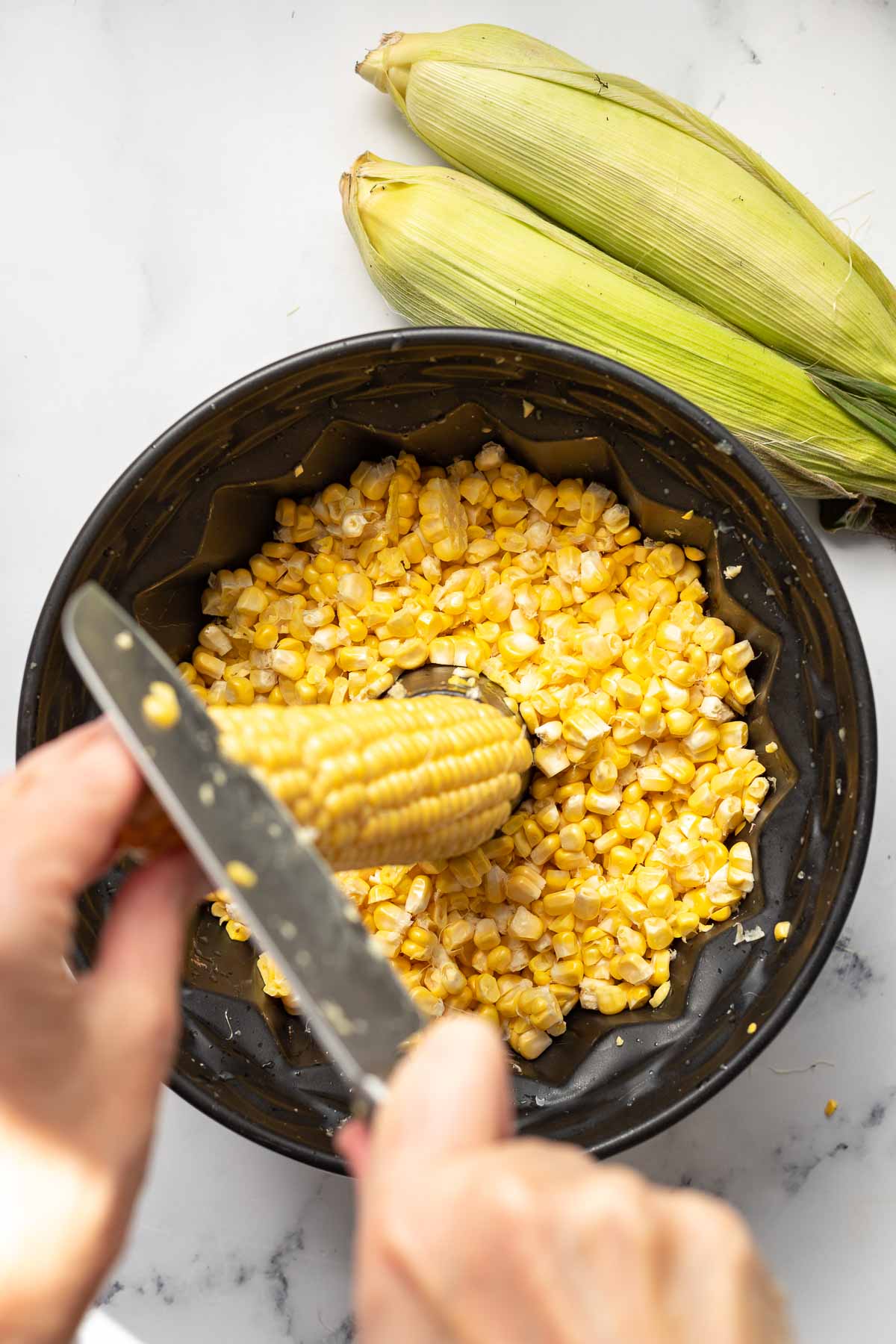 How to cut corn off the cob
Method 1) I find it easiest to use a bundt pan. After you've husked your corn, stand the stem end of the corn cob on the middle of the bundt pan. The hole will hold the corn cob securely in place so you can easily cut the corn kernels off with a sharp knife, while the pan will catch all the kernels.
Method 2) lay the corn down on the cutting board. Slice off a strip of kernels lengthwise with a sharp knife, rotate so the flat side is against the cutting board, and repeat until all the kernels are removed.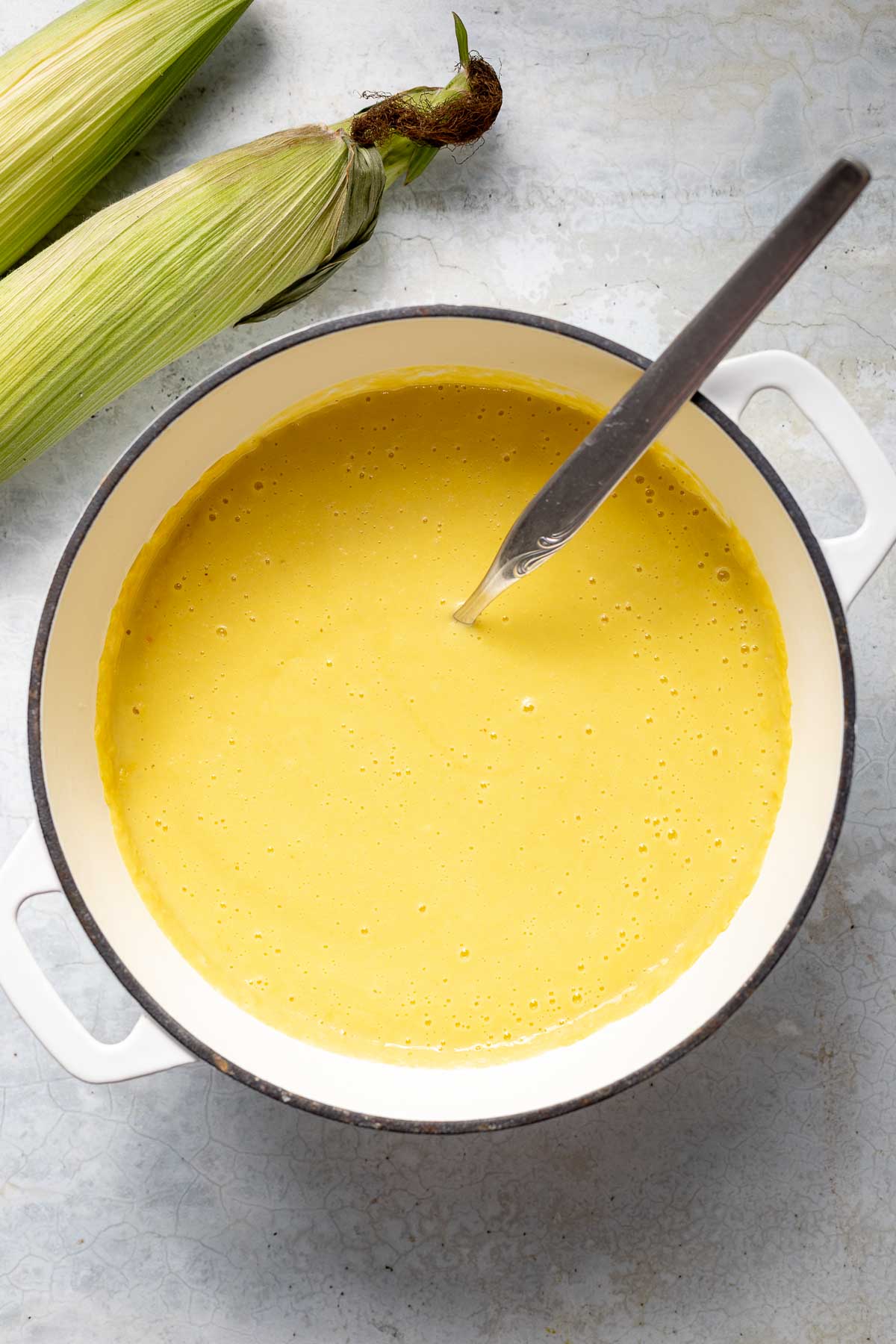 Corn soup preparation tips
Make sure to cook the corn until it is fragrant, darkens in color and becomes more soft before adding your liquid. This will bring out its natural sweetness and enhance the flavour of your soup.
For this corn soup recipe, I recommend using a high-powered blender to cream the soup. This will get it to a fine consistency. Since corn is quite fibrous, I find that using an immersion blender takes a long time and unless you have a really good one, it won't quite get it to the creaminess of a blender.
After blending the soup, I also like to strain the soup using a fine mesh sieve. This gives it even more of creamy, smooth consistency. This is completely optional. And of course, if you prefer a chunkier, corn chowder type soup, then you could puree half (or more) of the soup and leave the rest chunky. This will give you a vegan corn chowder type of soup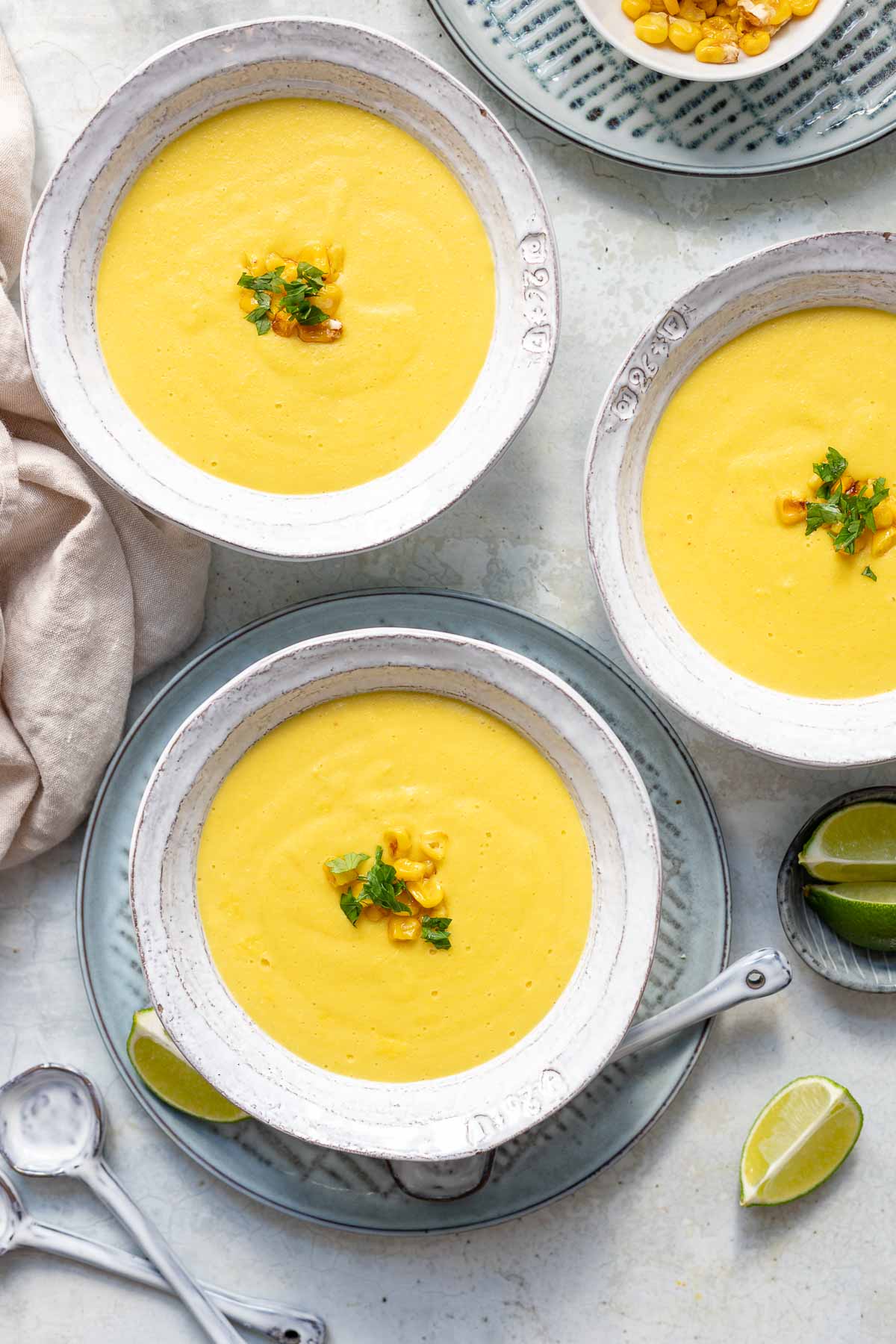 Looking for more corn recipes?
Try one of these delicious recipe ideas: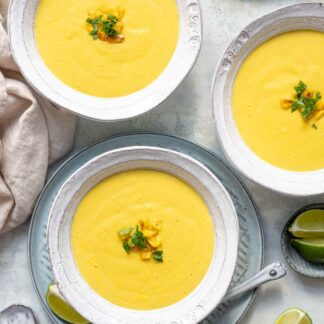 Creamy Corn Soup with Coconut Milk
Creamy corn soup with coconut, ginger and lime. Simple, delicious and elegant enough for dinner guests. Vegan and gluten-free. 4-6 Portions.
Ingredients
For the soup:
6

cobs fresh corn on the cob (ca. 850 g kernels),

cut off the cob

2

tablespoons

olive oil

1

small yellow onion,

finely chopped

2

shallots,

finely chopped

2

large clove garlic,

minced

1

tablespoon

peeled and grated ginger

pinch

red chili flakes

sea salt,

to taste

2

cups

vegetable broth

or water

1

x 400 ml can

coconut milk

Freshly squeezed juice from 1/2 a lime,

or to taste
To garnish (optional):
Roasted or sautéed corn kernels

Chopped coriander, parsley or chives

Sliced green onion
Method
Husk the corn, remove the silk, and slice the kernels off into a bowl with a sharp knife. You should have about 6 cups (850 g) of corn kernels.

In a large pot, heat the olive oil over medium heat. Add the onions and shallots and season with a pinch of salt. Sauté the onions until lightly translucent, about 5 minutes. Add the garlic and cook another 2 minutes. Then add the corn and ginger. Season with a little more salt and cook, stirring occasionally, until the corn is fragrant and becomes a deeper yellow color, about 7-8 minutes.

Add the broth and coconut milk; bring to a simmer, then reduce the heat to maintain a gentle simmer. Cook, stirring occasionally, until the corn is tender, about 15 minutes.

Remove from the heat, and working in batches, blend the soup in a high-powered blender until completely smooth (use caution and do not overfill the blender when blending hot liquids! — see tips below). Alternatively, use a hand held immersion blender to purée the soup until very smooth. It will take a few minutes.

Optional (but recommended): Once puréed, strain through a fine-mesh sieve for the silkiest texture. If you think it is too thick, thin it out with a little broth or water.

Finish the soup by stirring in the lime juice. Taste and adjust seasonings, if needed.

Ladle the soup into bowls, garnish and enjoy!
Notes
When blending the hot soup, do it in batches. Fill the blender 1/3 to 1/2 full, remove OR loosen the centre cap from the lid of the blender. Cover the lid with a folded dishcloth and hold it down when blending. Repeat with the remaining batches. This will allow steam to escape and protect you from splatters.
If desired, you can scoop out a cup of the corn kernels and save them to stir into the puréed soup before serving.
You can make this soup year round with frozen corn.
Refrigerate leftovers in a sealed container for up to 4 days.
For a relaxing atmosphere in the kitchen I recommend my personal Elle Republic: Chilled Out Kitchen Tunes Playlist on Spotify.