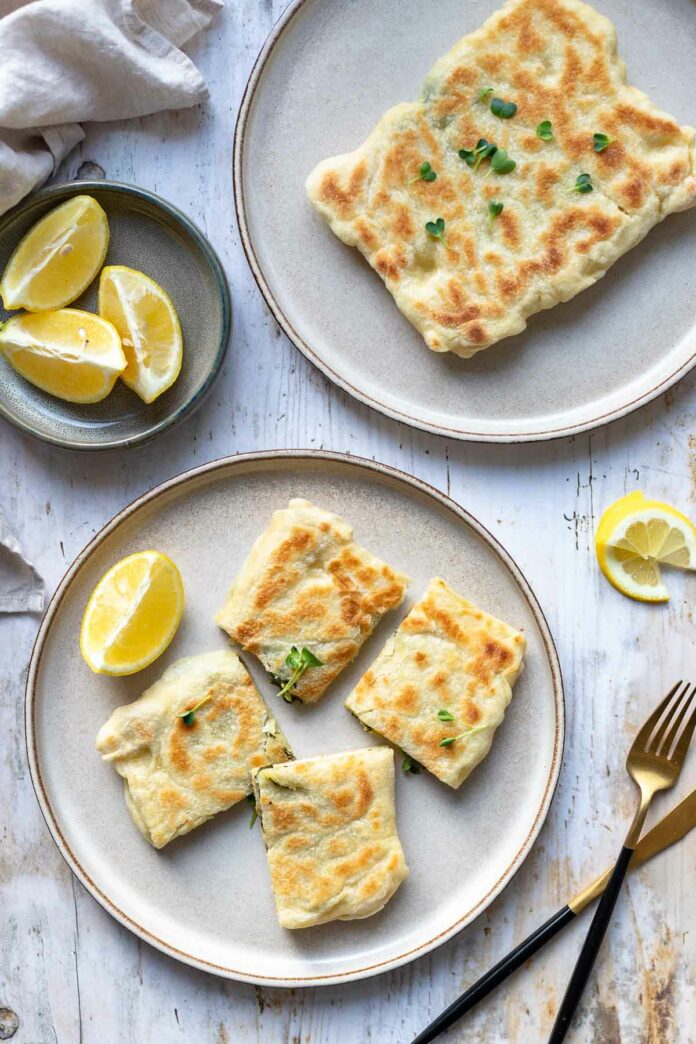 Turkish Gozleme Recipe – easy, homemade, Turkish flatbread that's perfectly crispy on the outside and filled with delicious Mediterranean flavors (spinach and feta) on the inside. It's easy to make and can be made with your favourite type of fillings.
What Are Gozleme?
Gozleme are Turkish street food at its best. It's a traditional savoury Turkish flatbread that is rolled paper thin, and filled with various topping, such as meat, potatoes, mushrooms, spinach, feta and herbs. Actually pretty much anything — even sweet fillings. And then it is folded together (in half or like an even lope) and grilled until golden-brown. It can be made from unleavened or leavened bread.
For my version, I choice to go with a leavened flatbread that is also made with a little Greek yoghurt for added richness and acidity, which I think balances the flavours quite nicely. I also choose to rise my dough twice. I think this makes it a little easier to work with if the dough can rest again after been formed into balls.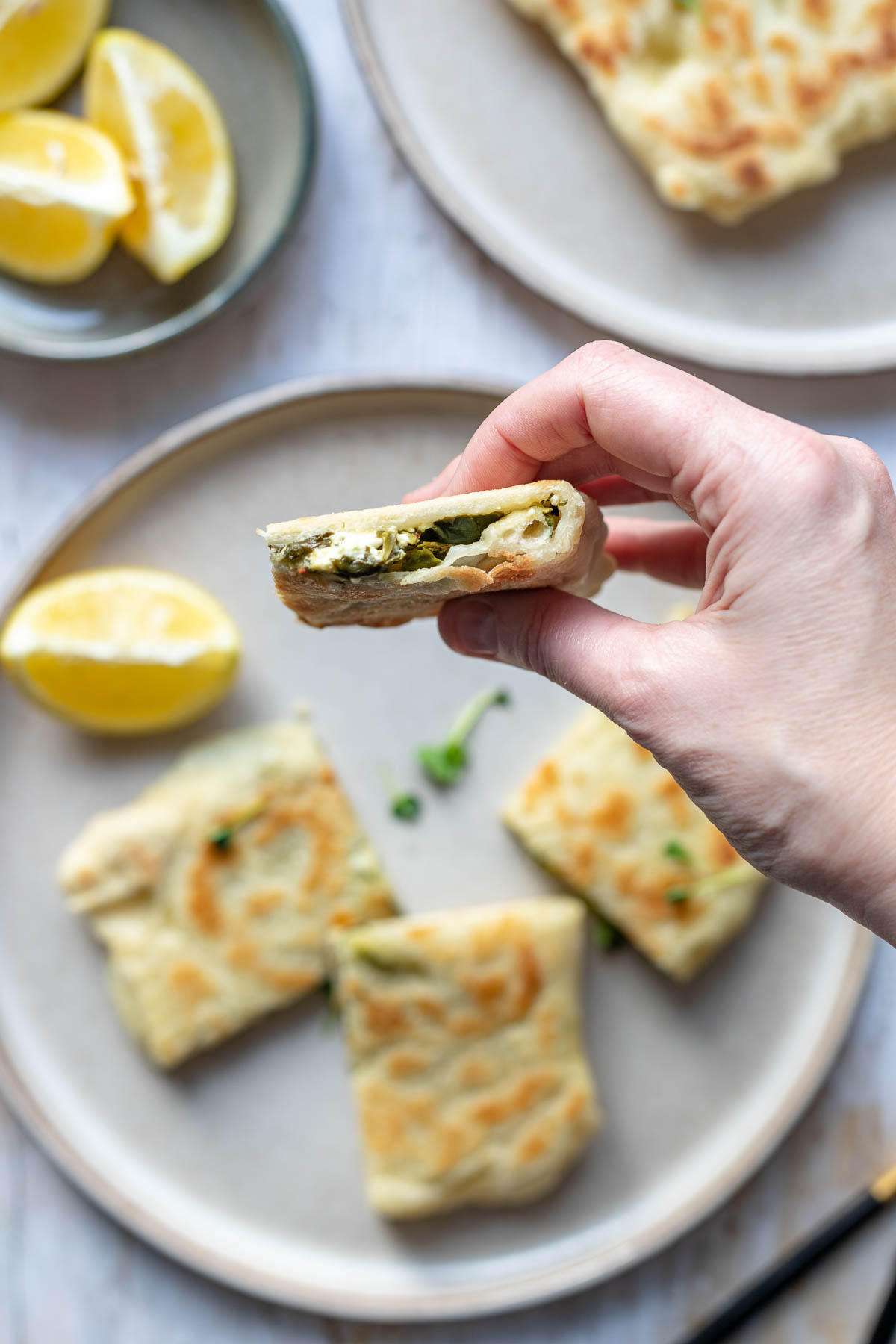 A simple flatbread dough
Like all simple flatbreads, there are only a few ingredients needed.
Flour – all-purpose flour is what is typically used.
Yeast – there is the great debate over whether flatbread should include yeast. I like to include it, as it gives the dough a chewier texture.
Salt – seasoning gives the dough flavour, so not to be skipped. Otherwise, the entire flatbread will taste bland.
Yogurt – I like to use Greek yogurt for it's tangy acidity. Plus it also doubles up as an additional binder.
Olive Oil – enhances the texture, flavour, and moisture of the flatbread.
Water – Key for getting the right consistency.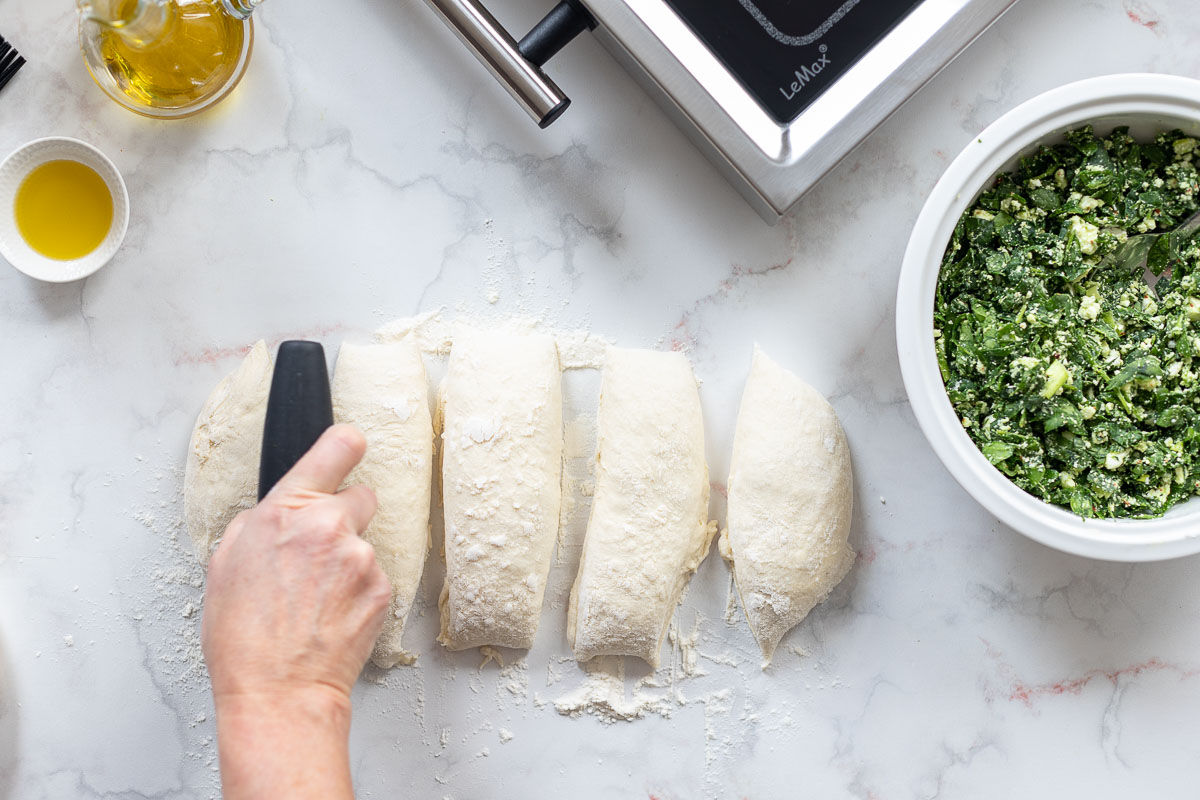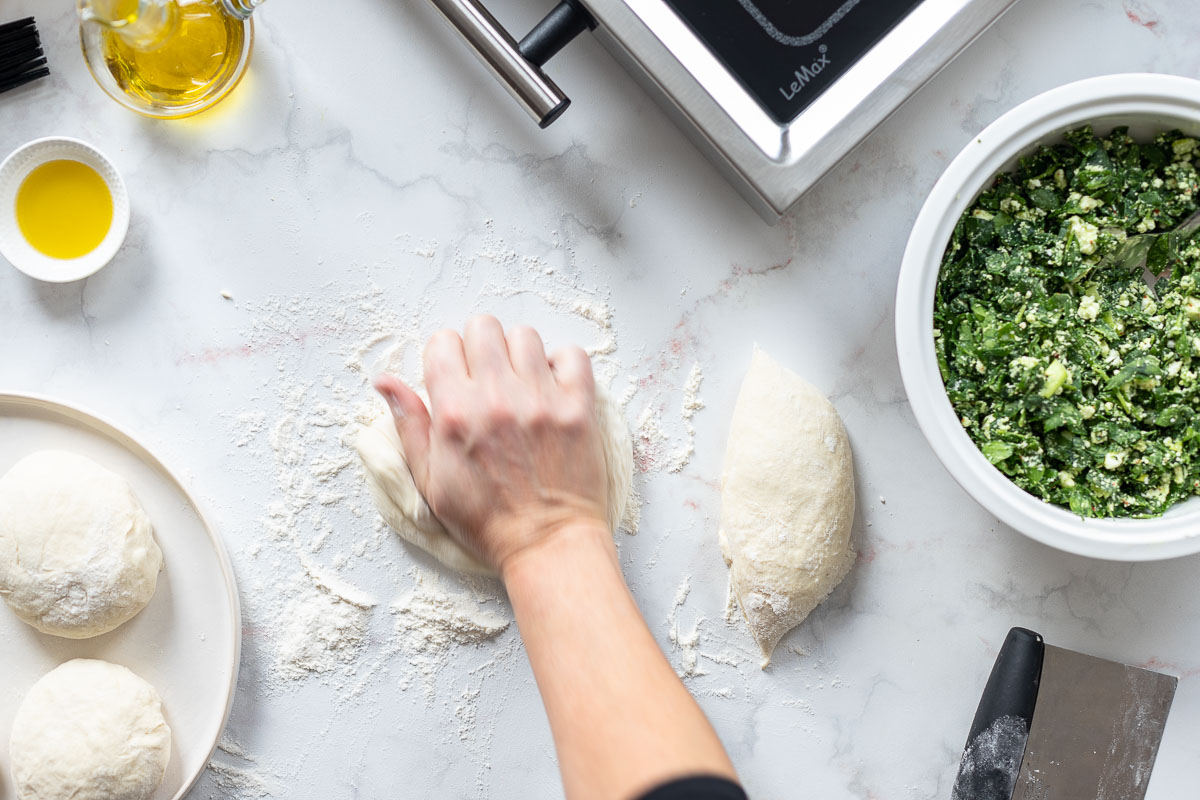 Preparing the dough
The great thing about this simple dough is that you can easily prepare it by hand or using a kitchen machine / stand mixer. Both methods, only take minutes.
With a food processor: Use the dough hook and simply knead on medium for 6-7 minutes, until the dough is smooth. If the dough is too sticky, add a little addiitonal flour.
By hand: After combining the dry ingredients, make a well in the centre and pour in the yeast mixture, olive oil, yoghurt and water. Mix until it forms a shaggy dough, then knead on a floured surface until smooth, about 5 minutes.
Preparing the filling
The great thing about a spinach and feta filling is that there is no pre-cooking needed. We are not packing the flatbreads full, so even though there is a short grilling time, this is enough to warm the filling. Simply chop up the spinach quite fine, mix it together with the rest of the filling ingredients and you're ready to go. For my filling, I choose to use green onion, but finely chopped white onion can also be used in its place.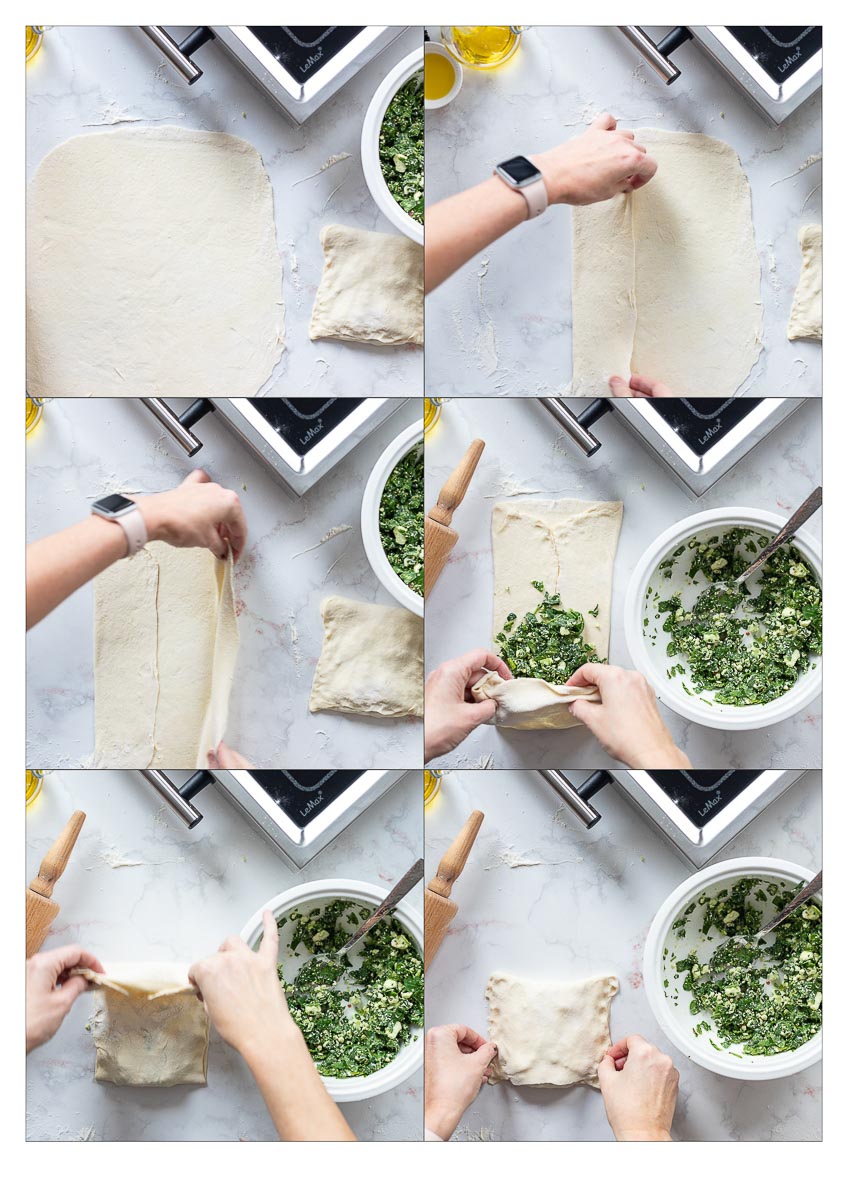 How to cook the Turkish flatbread
My personal choice is to use my LeMax tabletop grill as it allows me to prepare more than one Gozleme at a time. But a regular stovetop skillet is also fine.
Simply heat oil in a large skillet over medium high heat.
Heat a little oil in the pan, or brush one side of the Gozleme before transferring to the skillet. Cook until golden brown (2-3 minutes), pressing it down so that the entire surface, comes into good contact with the pan.
Brush the uncooked side with oil and then flip and cook on the second side, another 2-3 minutes.
Repeat and enjoy!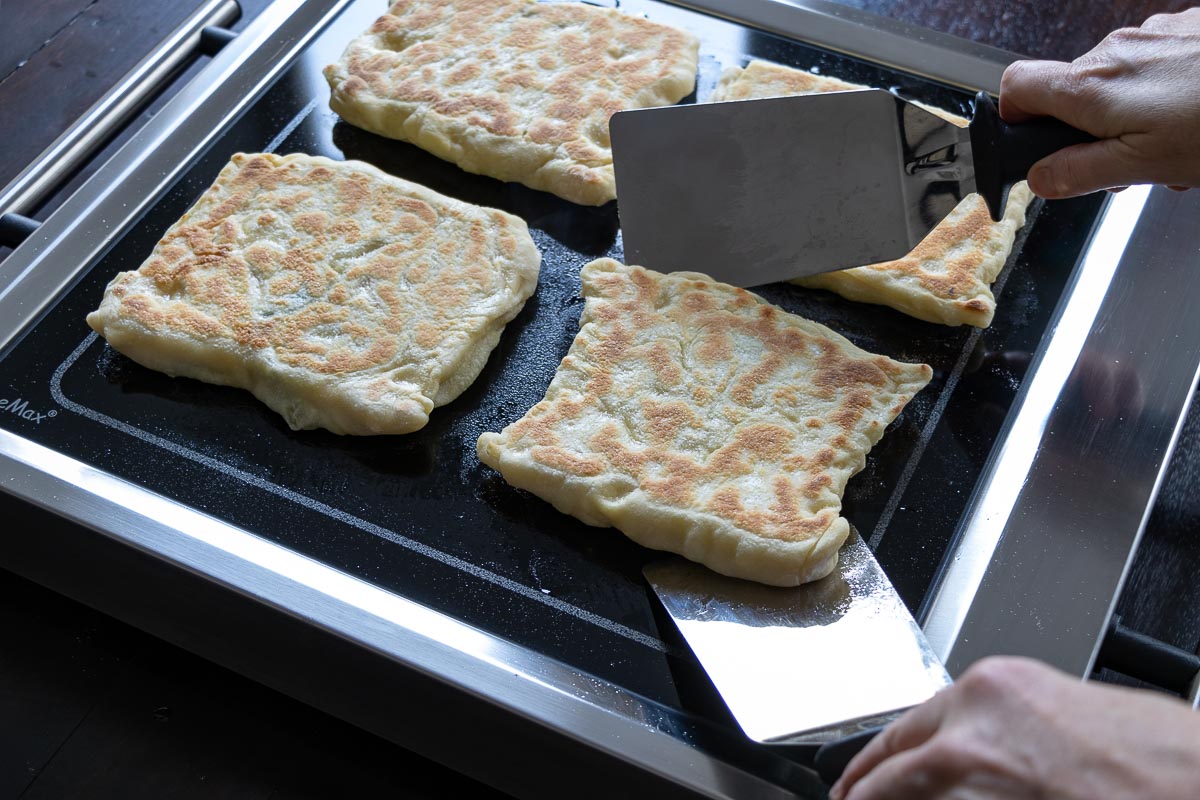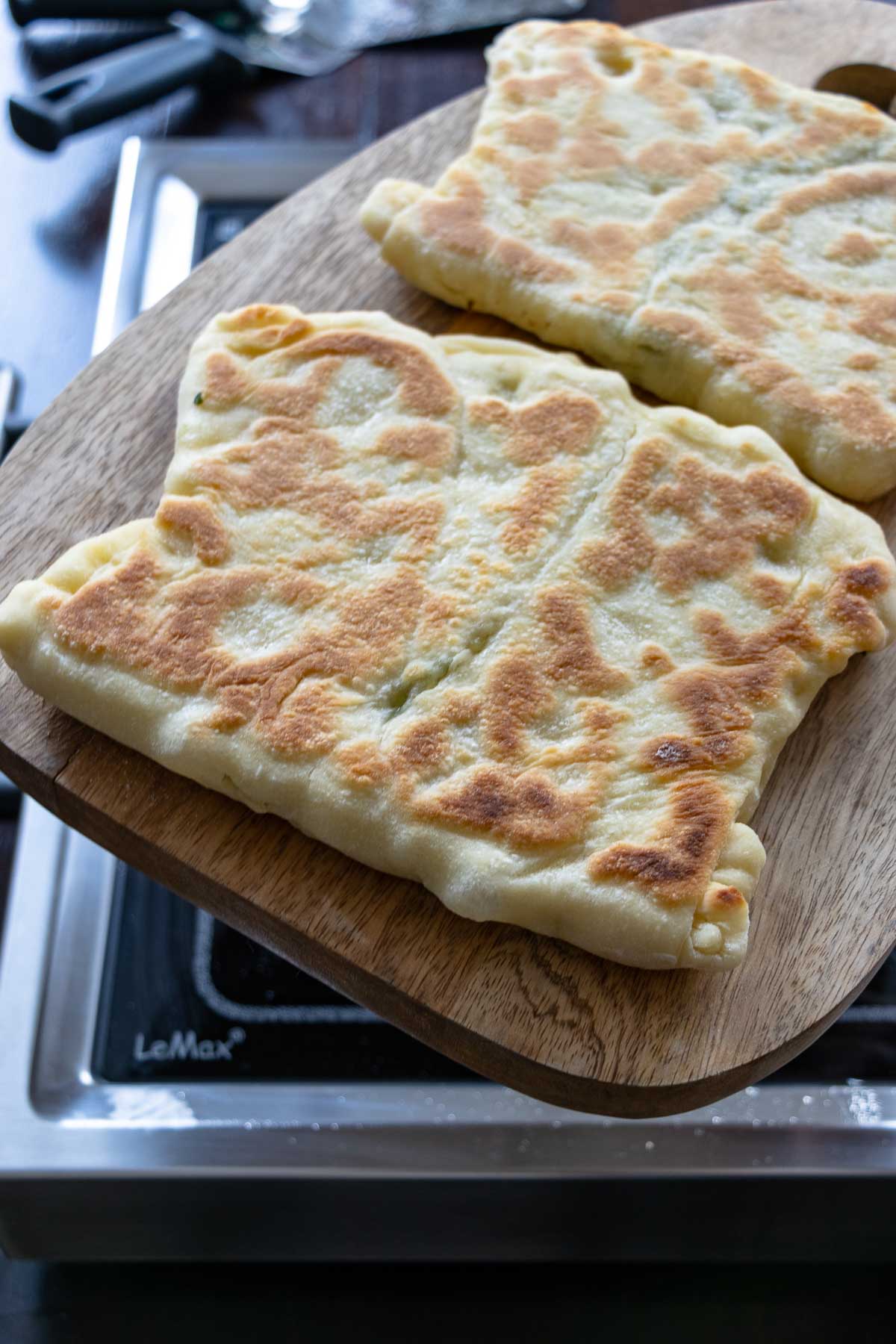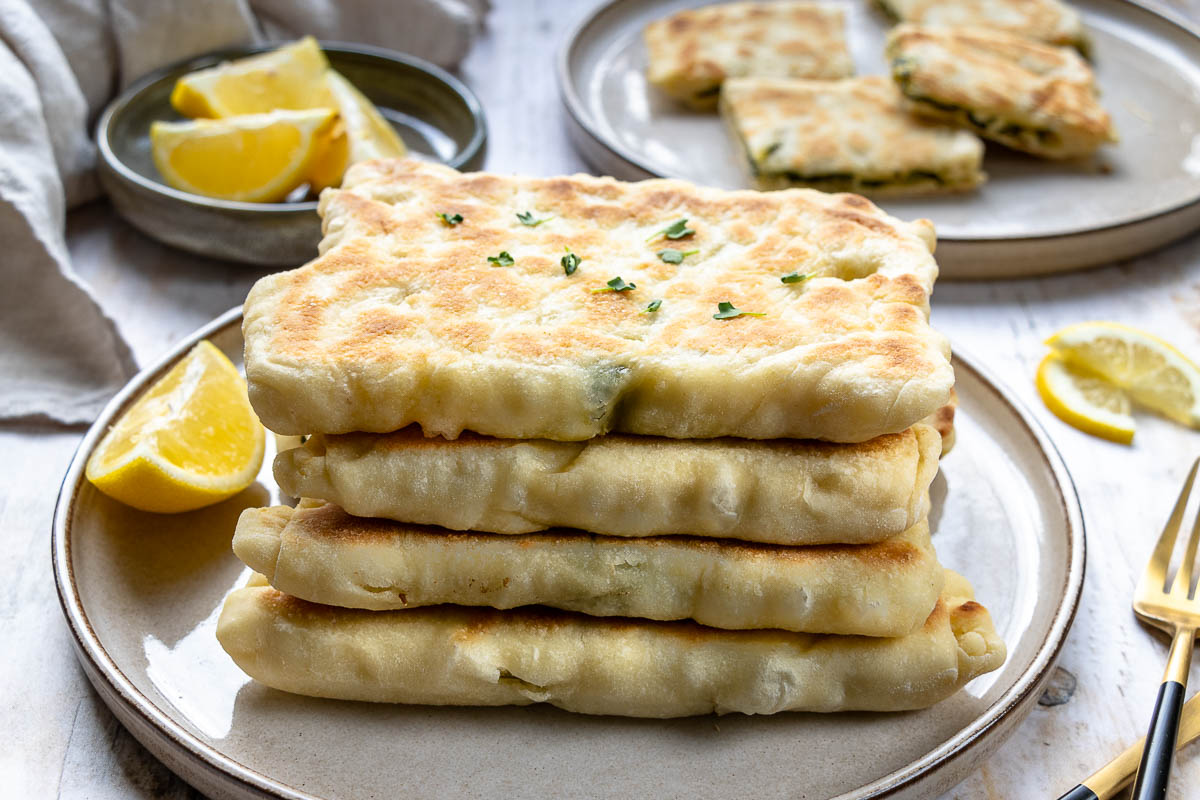 If you like this recipe, then maybe you'll like these too!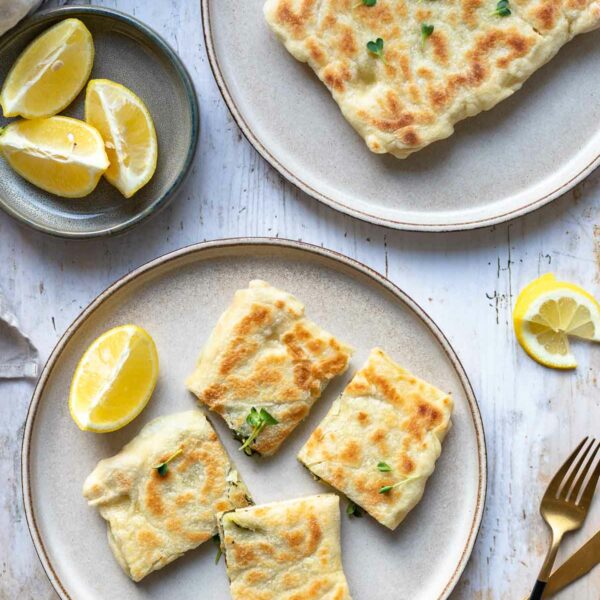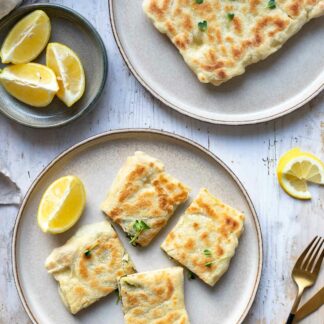 Homemade Gozleme with Spinach and Feta
Homemade Gozleme is simple to make at home. Easy to adapt, this Turkish flatbread can be filled with your favourite choice of fillings.
Prep Time
1
hour
20
minutes
Total Time
1
hour
30
minutes
Ingredients
For the Gozleme dough:
400

g

all-purpose flour,

sifted

1

sachet

instant dried yeast

(7 g)

1

teaspoon

sea salt

3

tablespoons

olive oil

2,5

tablespoons

plain natural yoghurt

250

ml

warm water
For the filling:
150

g

young spinach leaves,

finely chopped

2

green onions,

finely chopped

200

g

feta cheese,

crumbled

1/4

teaspoon

red pepper flakes

olive oil,

for pan frying

lemon wedges,

to serve
Method
In a small bowl, add half of the warm water with the yeast. Stir to combine and let stand in a warm place for 5 minutes or until bubbles form on the surface.

Sift the flour into a large bowl. Make a well in the middle and pour in the yeast mixture, olive oil, yoghurt and the remaining warm water. Using your hands or a spoon, draw in the flour from the sides and work the mixture into a shaggy dough. Turn onto a flour dusted surface and knead for a few minutes until smooth.

Return to the bowl. Cover with a tea towel and set in a warm corner of your kitchen for about 30 minutes rest, or until the dough doubles in size.

Divide the dough into 5 pieces, knead them and roll into balls. Roll each balls in flour to coat, then cover with a cloth and leave them to rest for another 30 minutes.

Meanwhile, in a medium bowl, combine the spinach, green onion, feta cheese, and red pepper flakes. Then using your hands, further combine the mixture by pressing the the spinach leaves, to soften them a little. Set aside.

Roll each dough ball into a large rectangle. Dust with extra flour as needed to avoid sticking.

Roll it as thin as you can without tearing the pastry. Fold the left and right sides of the dough so that the edges meet in the middle. Scatter some of the spinach mixture in the centre of the rolled pastry. Finally, fold the top and bottom ends over the filing, making sure all the filling is covered. Press edges together well to seal.

Heat a grill plate or a non-stick pan over medium-high heat (for the LeMax preheat at level 9 for 5 minutes, then reduce to level 8). Brush one side of the Gozleme with a little olive oil and place in the hot pan or grill to cook for about 2 -3 minutes, or until golden brown. Brush the uncooked side with a little olive oil and then flip it over. Cook for another 2-3 minutes, until golden brown.

Cut into triangles (or squares) and serve while warm with lemon wedges as the side.
Notes
Prepared Gozlemes can be stored in covered in the fridge (separated by baking paper) for up to 2 days. Remove and fry/grill as required.
I don't find it necessary to cook the spinach ahaed of time. If desired you can blanch it, then squeeze the excess moisture from the leaves, before mixing together with the feta. Since the spinach will shrink, you can also increase the amount to 200 g or more.
For a relaxing atmosphere in the kitchen I recommend my personal Elle Republic: Chilled Out Kitchen Tunes or Lounge Kitchen Tunes Playlist on Spotify.
Then tag @ellerepublic on Instagram and hashtag it #ellerepublic
How did you like it?
Please let me know how this Homemade Gozleme with Spinach and Feta recipe turned out for you! I would love to hear how you liked it. Simply rate it with the stars above ⭐ or leave me a comment and rate it below.
Did you make any changes to this recipe?
If you have tips for other readers, let me know! It helps me and other readers so much. Sharing is Caring :-).
This post contains affiliate links. If you decide to make a purchase through my link, Amazon will pay me a commission for it. This doesn't cost you anything additional and the price remains the same. More about advertisements on Elle Republic.
Many thanks to ELAG Products GmbH for sponsoring this recipe.