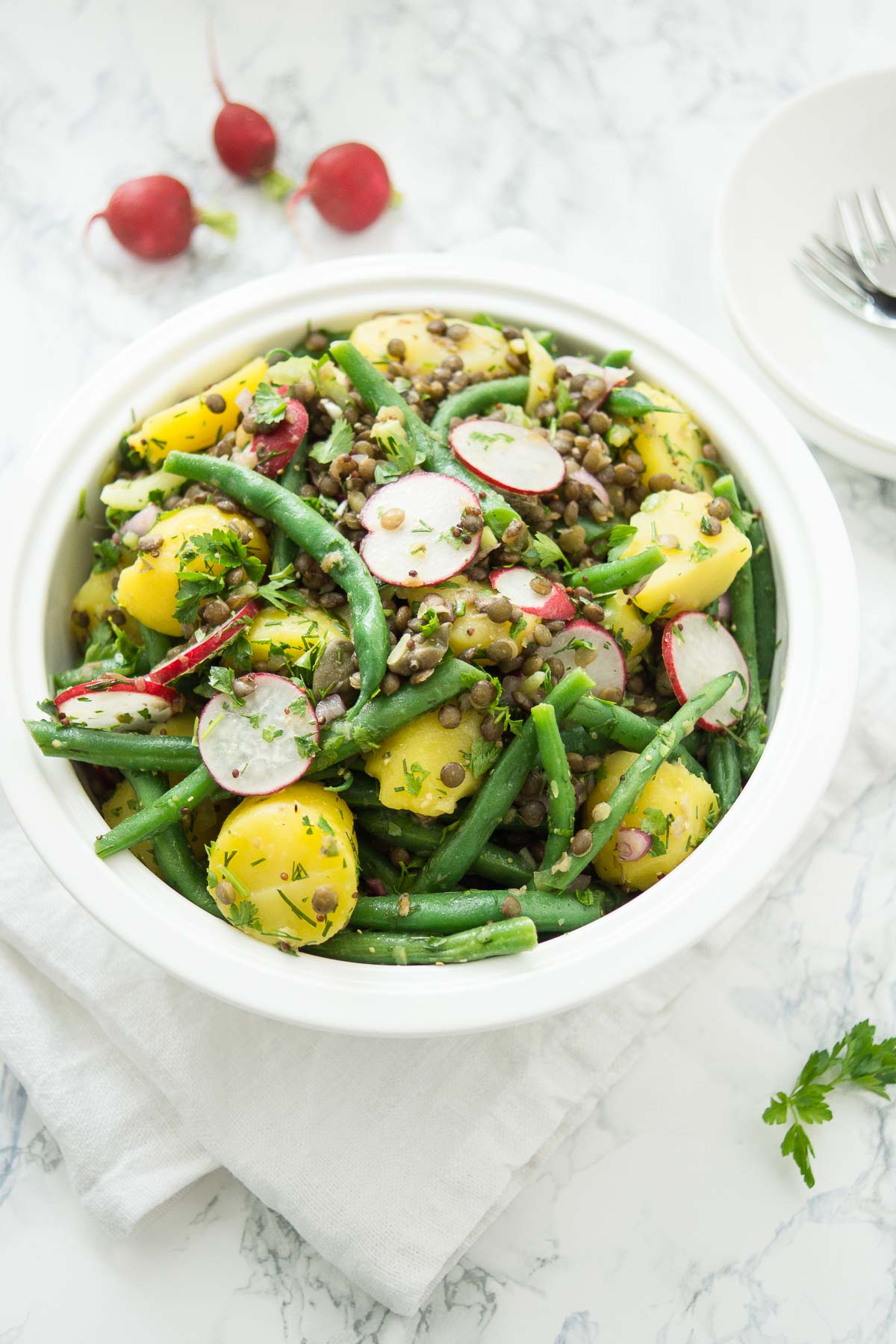 A green bean potato salad is a classic. Though this time, I thought I would mix it up a bit by adding some French green lentils and capers, plus some fresh herbs, celery and radishes to give this salad a boost of fresh summery flavors. The new potatoes are boiled and then tossed with a tasty honey Dijon mustard vinaigrette while still warm. That's the key to making sure they absorb some of the vinaigrette and become more flavorful!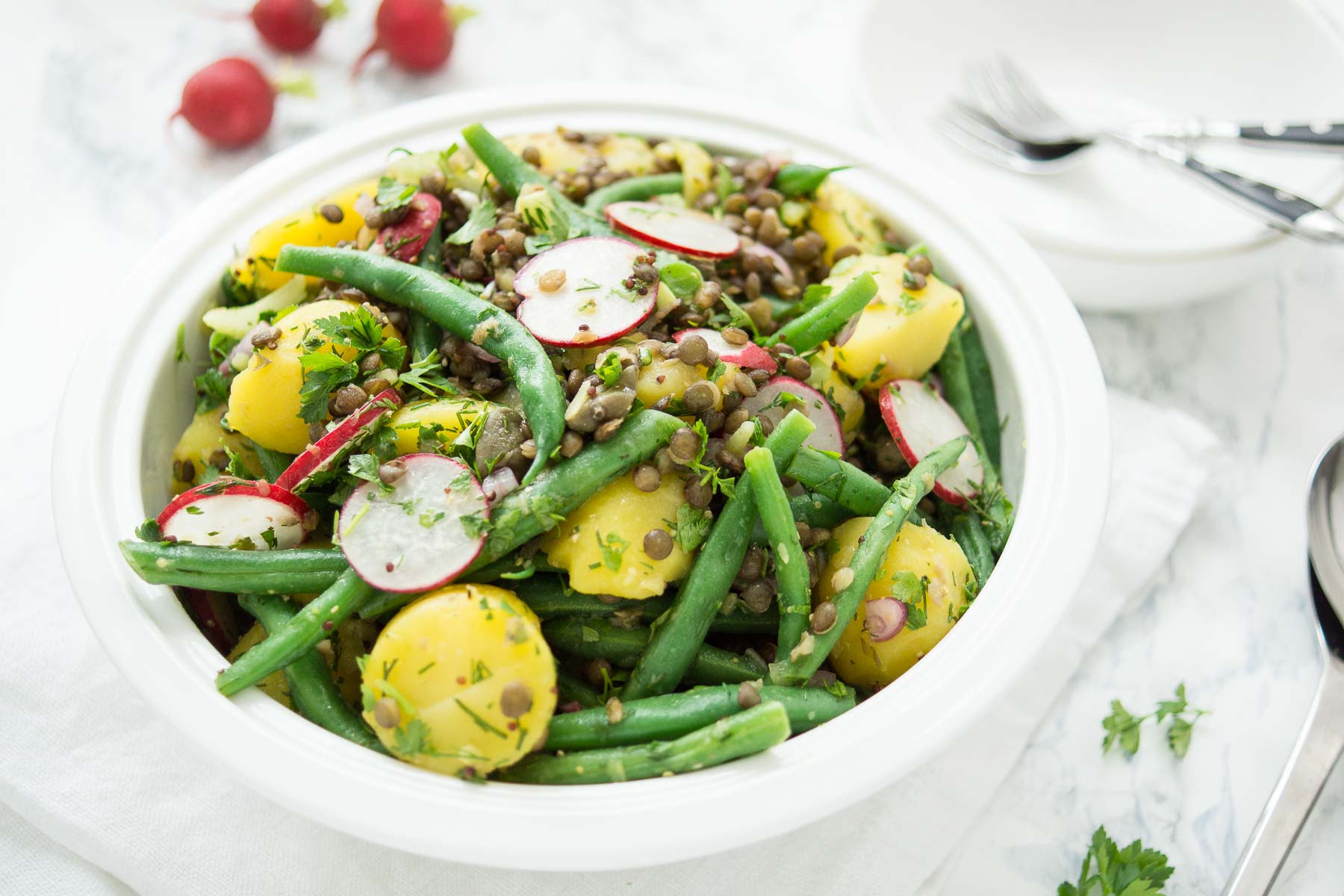 Preparing this Green Bean Potato Salad with Lentils
This salad can be served warm or at room temperature. But it's actually a mix of both. The green beans are blanched and then plunged into an ice bath to ensure that they stay bright green and are crisp-tender to the bite. Then they are tossed together with the warm potatoes and lentils. I choose French green lentils for this recipe, as they stay nice and firm, and integrate seamlessly with all the other elements of this green bean potato salad. Plus, they have a way of making the salad feel hearty without taking away from the potato carb-like quality.

The best way to prepare potatoes for a potato salad
When it comes to potatoes, you want to add the potatoes to a pot of cold water and then bring it to a boil. Adding them to already boiling water can lead to uneven cooking. And who wants a potato salad with potatoes that are mushy on the outside and uncooked in the middle? We also want to create a well-seasoned potato salad. And this is where salt comes into play. Adding salt to the water when the potatoes cook allows the potatoes to absorb a little of it, which helps season and makes them more flavorful. This is especially the case if you half the potatoes (peel on) before adding them to the pot of water — they also cook faster this way!
Looking for other classic versions of a green bean and potato salad?
Then try one of these recipes:
Roasted Corn and Potato Salad with Green Beans
Potato and Green Bean Salad with Crispy Prosciutto
New Potato Salad with Green Beans and Cherry Tomatoes
Tahini Green Beans and Potatoes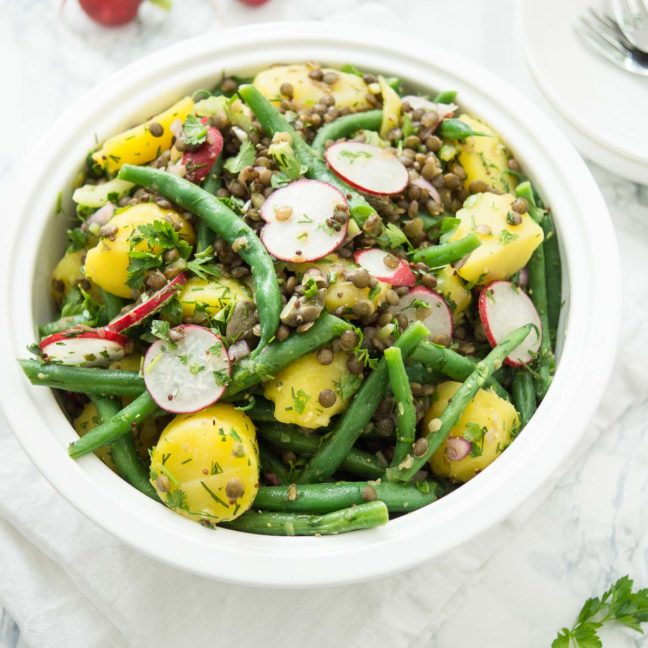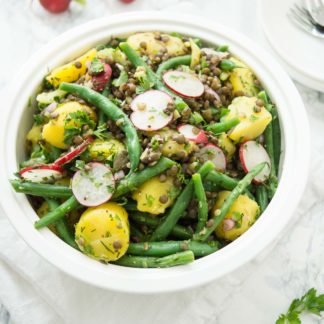 Lentil, Green Bean and Potato Salad
Whether eaten warm, at room temperature or out of the fridge, this brightly flavored and crunchy green bean and potato salad is tossed in a honey-Dijon dressing and makes a tasty side dish or main meal salad and is the perfect pair to your next picnic or BBQ. Serves 4-6.
Ingredients
For the salad:
650

g

baby new potatoes,

scrubbed clean

1/2

cup

dry French green lentils

(Le Puy lentils) (100 g)

2

stalks celery,

finely sliced

250

g

green beans,

trimmed and halved

1 1/2

tablespoons

capers,

drained

4-5

radishes,

thinly sliced

2

tablespoons

finely chopped dill

generous handful flat leaf parsley,

finely chopped

sea salt and ground black pepper,

to taste
For the honey dijon mustard vinaigrette:
2

tablespoons

organic apple cider vinegar

(unfiltered)

1

shallot,

finely chopped

1/2

tablespoon

honey,

plus more, if desired

2

teaspoons

Dijon mustard

1/2

tsp

sea salt

6

tablespoons

extra-virgin olive oil
Method
In a medium saucepan cook the lentils according to package instructions, until al dente, about 25 minutes. Drain and set aside.

Meanwhile, place the potatoes in a medium saucepan and cover them with cold water. Add a some salt and bring the potatoes to a boil. Lower the heat to a simmer and cook potatoes until they are just tender, about 12-15 minutes (depending on size).

Using a slotted spoon, transfer the potatoes to bowl and allow them to cool slightly. Reserve the cooking water (you'll need this for blanching the beans).

Prepare the dressing by combining all of the ingredients into a large serving bowl. Whisk together until emulsified. Set aside.

Once you can handle the potatoes, peel them (if desired), cut them into quarters and transfer them to the serving bowl with the dressing. Add the the lentils and celery. Toss to combine and set aside. NOTE: depending on the type of new potato, I may or may not peel them. Red-skinned and thin, delicate skinned white potatoes are delicious with the skin left on.

NOTE: depending on the type of new potato, I may or may not peel them. Red-skinned and thin, delicate skinned white potatoes are delicious with the skin left on.

Bring the saucepan of water used for the potatoes back to a boil. Add the green beans and boil until crips-tender, about 2-3 minutes (or to desired degree of doneness). Drain and place them in an ice bath or run them under cold water to halt the cooking process.

Pat the green beans dry with a kitchen towel and add them to the bowl with the potatoes. Then add the capers, radishes, dill and parsley; toss well to combine. Check seasoning and add more salt and pepper, if necessary.

Serve immediately or store in a sealed container in the refrigerator for up to 3 days. Enjoy!
Notes
You'll want to add the potatoes to the bowl with the dressing while they are still warm. They'll absorb some of the vinaigrette and become more flavorful.
Did you try this recipe?
Then tag @ellerepublic on Instagram and hashtag it #ellerepublic
How did you like it?
Please let me know how this Lentil, Green Bean and Potato Salad recipe turned out for you! I would love to hear how you liked it. Simply rate it with the stars above ⭐or leave me a comment and rate it below.
Did you make any changes to this recipe?
If you have tips for other readers, let me know! It helps me and other readers so much. Sharing is Caring :-).
This post contains affiliate links. If you decide to make a purchase through my link, Amazon will pay me a commission for it. This doesn't cost you anything additional and the price remains the same. More about advertisements on Elle Republic.