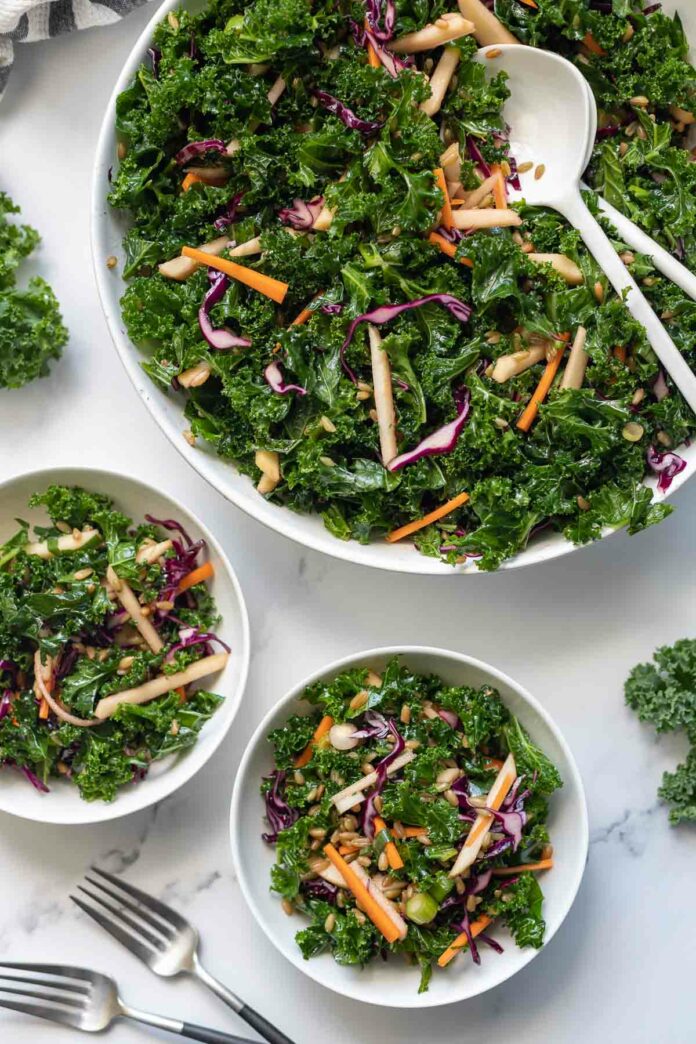 This massaged kale salad is one of my favorite winter salad recipes and is a great alternative to traditional cooked kale. This easy salad showcases tender, massaged kale, which is tossed with carrots, red cabbage and sweet-tart apple. Green spelt (Grünkern) adds some whole grain goodness, and the vinaigrette, which is intentionally zippy, brings it all together.
Massaging kale — the key to improving it's taste and structure
Looking for a way to increase the greens in your diet? Try out this nutrient-dense salad with kale — yes, raw kale. Raw kale, especially curly kale, is kind of tough, which is why we often cook it, rather than eating it raw. So for this kale salad we want to start by giving it a massage. The physical process of massaging the leaves, breaks down the tough structure in the leaves, making them tender enough to eat without cooking. Not only does this help making it more digestible, but it actually reduces the bitterness and brings some of the natural sweetness of the kale leaves.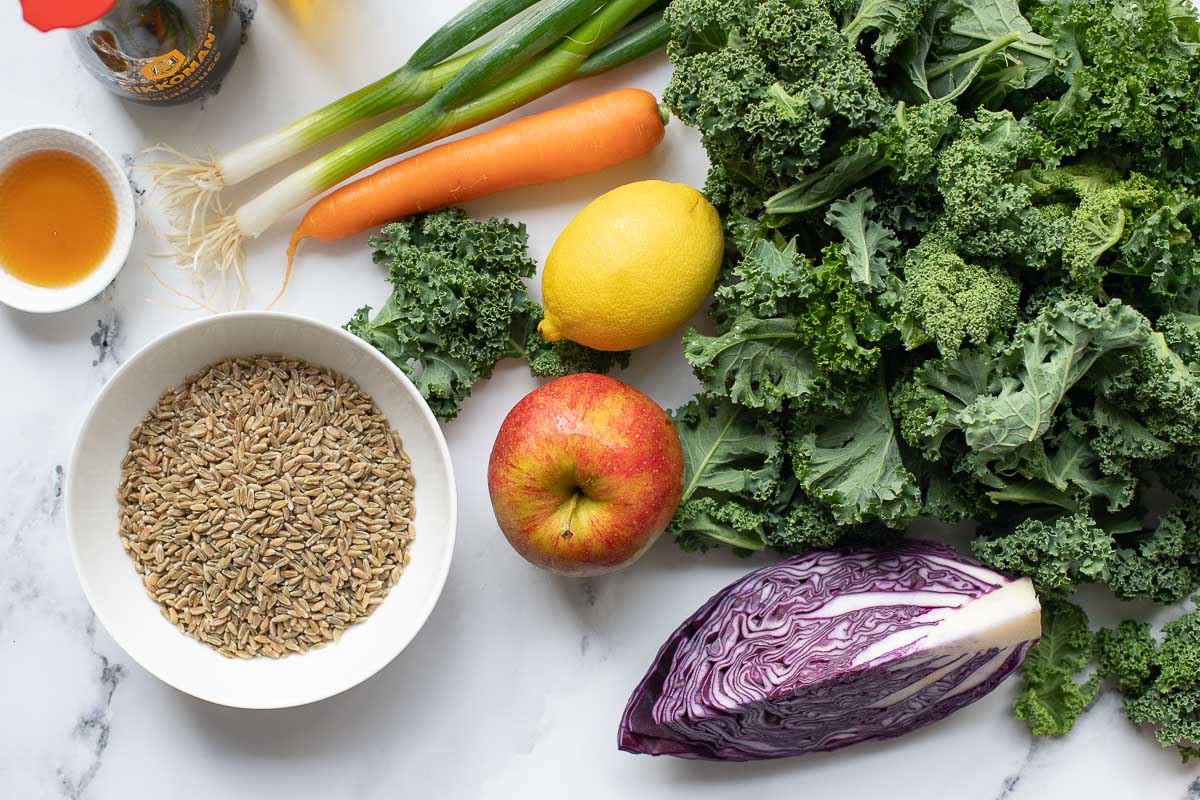 How to massage kale – step-by-step
After washing, removing the thick stems and chopping it, simply put the kale leaves in a large bowl and add a squeeze of lemon or lime juice, or a tablespoon of apple cider vinegar, plus a pinch of salt and drizzle of extra virgin olive oil. Using your hands, rub the leaves together until all the leaves are well coated (about 3 minutes) . You will see the leaves darken, shrink in size and become silkier in texture as they become more tender. This is a terrific way to add more raw greens to your winter diet!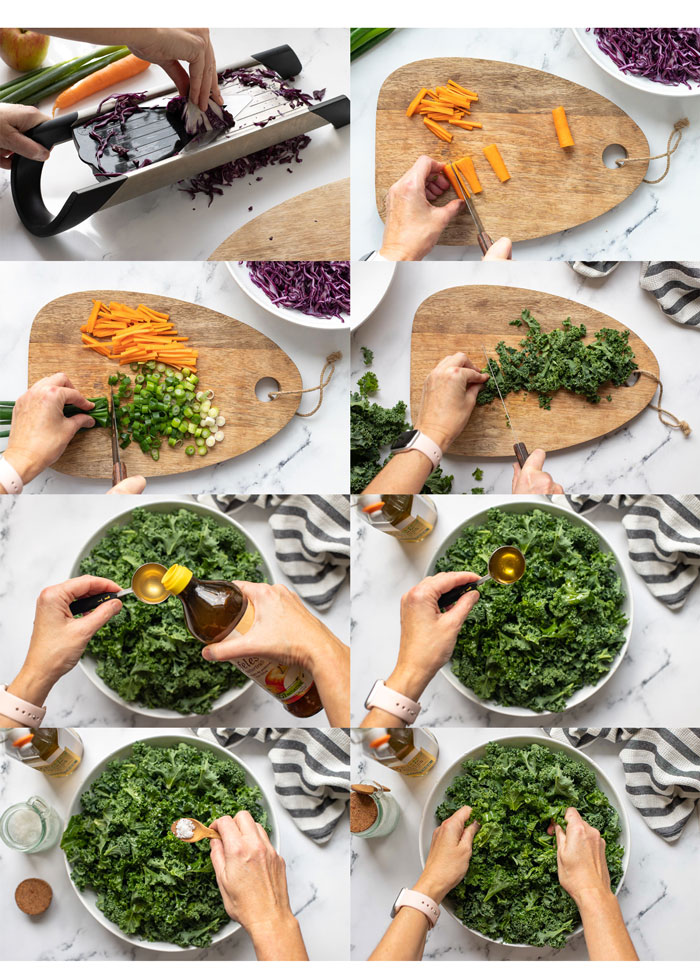 Health benefits of kale
Our local superfood here, kale, is rich in fiber, nutrients, and antioxidants and is incredibly satisfying. Kale is praised for its anti-inflammatory benefits, cancer-protective compounds, cholesterol-lowering properties, as well as flavonoids which ward off inflammation and oxidative stress and support the body's detoxification system. A massaged kale salad serves as a terrific base for adding other fresh ingredients you further boost the nutrient content. And the great thing about a massaged kale salad is that you can make it and store leftovers in the refrigerator, and it's still perfect the next day. It won't wilt or get soggy like other salad greens once they are tossed with dressing.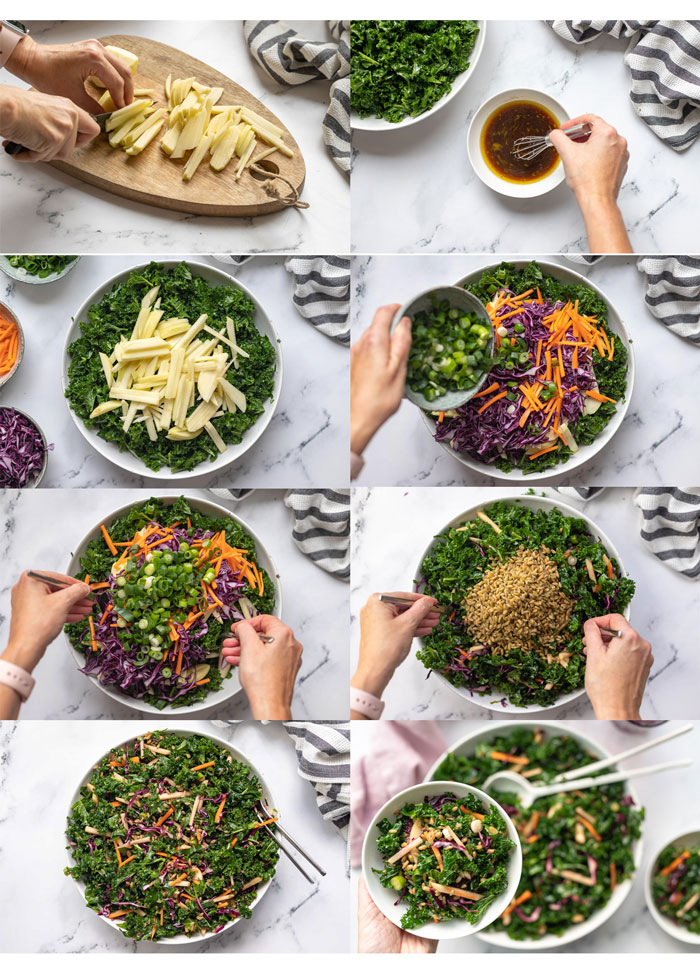 How to adapt this massaged kale salad
This easy massaged kale salad makes a great base and is easily adaptable. You can use your favourite root vegetables, add toasted nuts, grated/crumbled cheese and/or chopped raw fruits or other vegetables. Here are a few ideas:
Use regular spelt or pearl barley instead of green spelt, or skip the grains all together
Add a handful of toasted almonds, walnuts or sunflower seeds
Garnish with some crumbled goats cheese, feta or Parmesan
Add roasted vegetables like beets, parsnip, carrots and potatoes
Toss in some thinly sliced fennel or shaved Brussels sprouts
Add a handful of dried cranberries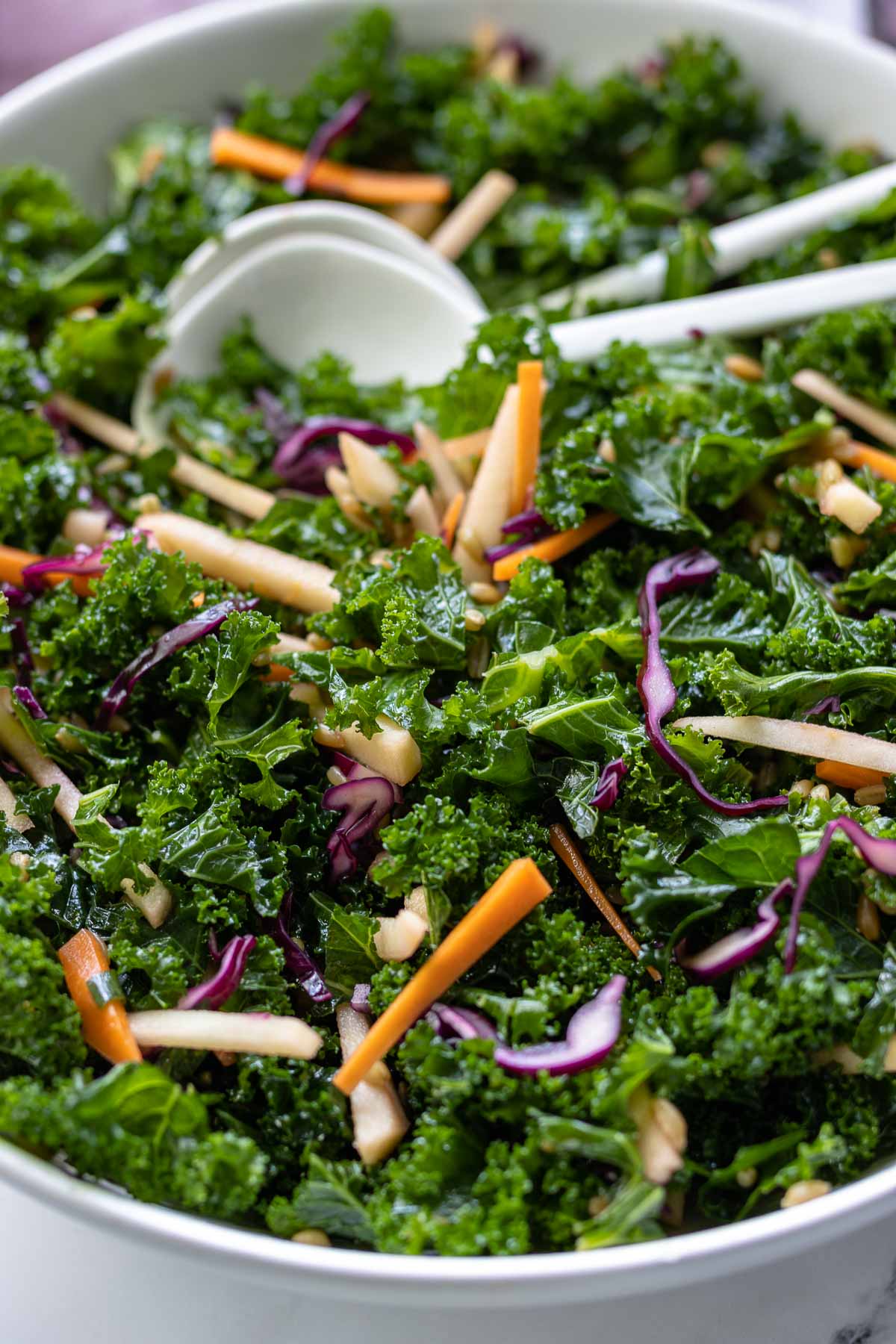 Looking for other salad ideas with kale?
Try one of these delicious recipes: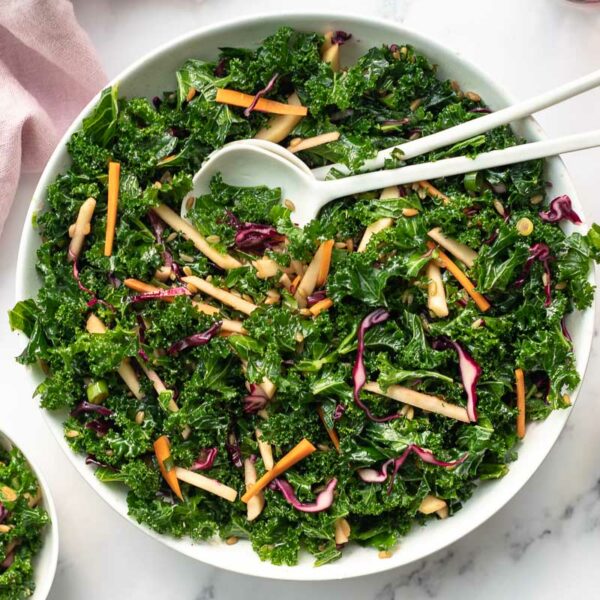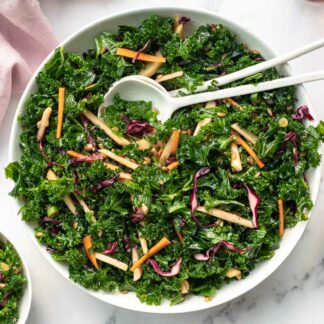 Massaged Kale Salad
This easy massaged kale salad showcases one of winter's superfoods. Together with carrots, red cabbage, apple and Grünkern makes for a hearty and delicious winter salad.
Ingredients
150

g

green spelt

(Grünkern)

250

g

stemmed curly kale,

leaves thinly sliced (1/2 a 500 g bag cleaned and stemmed kale)

2

tablespoons

apple cider vinegar

(unfiltered)

6

tablespoons

extra-virgin olive oil,

divided

coarse sea salt,

to taste

1/2

teaspoon

finely grated lemon zest

(from an organic lemon)

4

tablespoons

freshly squeezed lemon juice

1

tablespoon

soy sauce

1

tablespoon

pure maple syrup

freshly ground pepper,

to taste

1

medium carrot,

peeled and julienned

1

Apple (Boscop, Braeborn or Wellant),

peeled and julienned

1/4

small red cabbage,

shredded (generous handful)

2

green onions,

thinly sliced
Method
Cook the green spelt according to package instructions; for about 30 minutes. Drain well and set aside to cool.

Meanwhile, in a large bowl, add the kale and top with vinegar, 2 tablespoons of olive oil and 1/2 teaspoon of coarse sea salt. Use your hands to massage the leaves until well coated and kale softens (3 minutes). Let stand at room temperature for 15 minutes.

Meanwhile, in a small bowl, whisk together the lemon zest, lemon juice, soy sauce, maple syrup and remaining olive oil. Season with salt and pepper.

Add the carrot, apple, cabbage, and green onion to the bowl with the kale and toss to combine. Add the dressing and toss again. Finally add the cooked Grünkern and toss well to combine. Season with salt and pepper and serve. Enjoy!
Did you try this recipe?
Then tag @ellerepublic on Instagram and hashtag it #ellerepublic
How did you like it?
Please let me know how this Massaged Kale Salad recipe turned out for you! I would love to hear how you liked it. Simply rate it with the stars above ⭐ or leave me a comment and rate it below.
Did you make any changes to this recipe?
If you have tips for other readers, let me know! It helps me and other readers so much. Sharing is Caring :-).