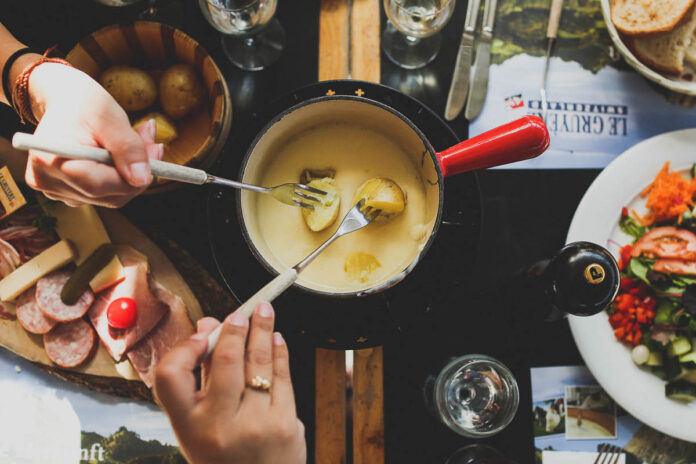 This recipe is based on one from Fromagerie Tea-Room Piller in Semsales, Switzerland. It's the best recipe for fondue that I have tried. I mean really the BEST! So much so, that the Fromagerie also sells their fondue-mix in small supermarkets in the region. What makes it so special is that it is made with Gruyère and Vacherin cheese, which gives the fondue it's notable creaminess. And this classic cheese fondue recipe, is also made with sparkling wine, which not only make it lighter tasting, but my Swiss friends swear it makes it easier to digest. Whether this is true or not, it hard to say, but making fondue with Prosecco does give you the perfect excuse to enjoy a bottle of bubbly along with this delicious Swiss favourite. A small glass of Schnapps tastes good too!
Choosing the best fondue cheese
Like many other recipes, the success of the dish has to do with the selection of the ingredients. In this case, the proper cheese selection. Two factors come into play here: flavor and age. The latter being important as this affects how easily the cheese melts. This original Swiss cheese fondue recipe, originating in Fribourg, is made with two types of cheese and is known as a moitié-moitié, or half and half. Traditionally, it is made up of equal parts Gruyère and a local creamy cheese by the name of Vacherin. If you aren't already familiar with Vacherin cheese, you can find it in specialty cheese shops or potentially the cheese stand at your weekly farmers market. I buy mine from the "Die Käsekiste" at the Isarmarkt in Hamburg.

Cheese variations
Other versions of this Swiss classic, include the variant "Fondue Fribourgeoise", which uses Vacherin as the main ingredient, or yet another which uses 70% Appenzeller and 30% Vacherin. And then there is the variant from the region around Basel, which uses a mix of Gruyere, Vacherin and Appenzeller. My personal favourite remains the most traditional; the Fribourg moitié-moitié version with Gruyère and Vacherin.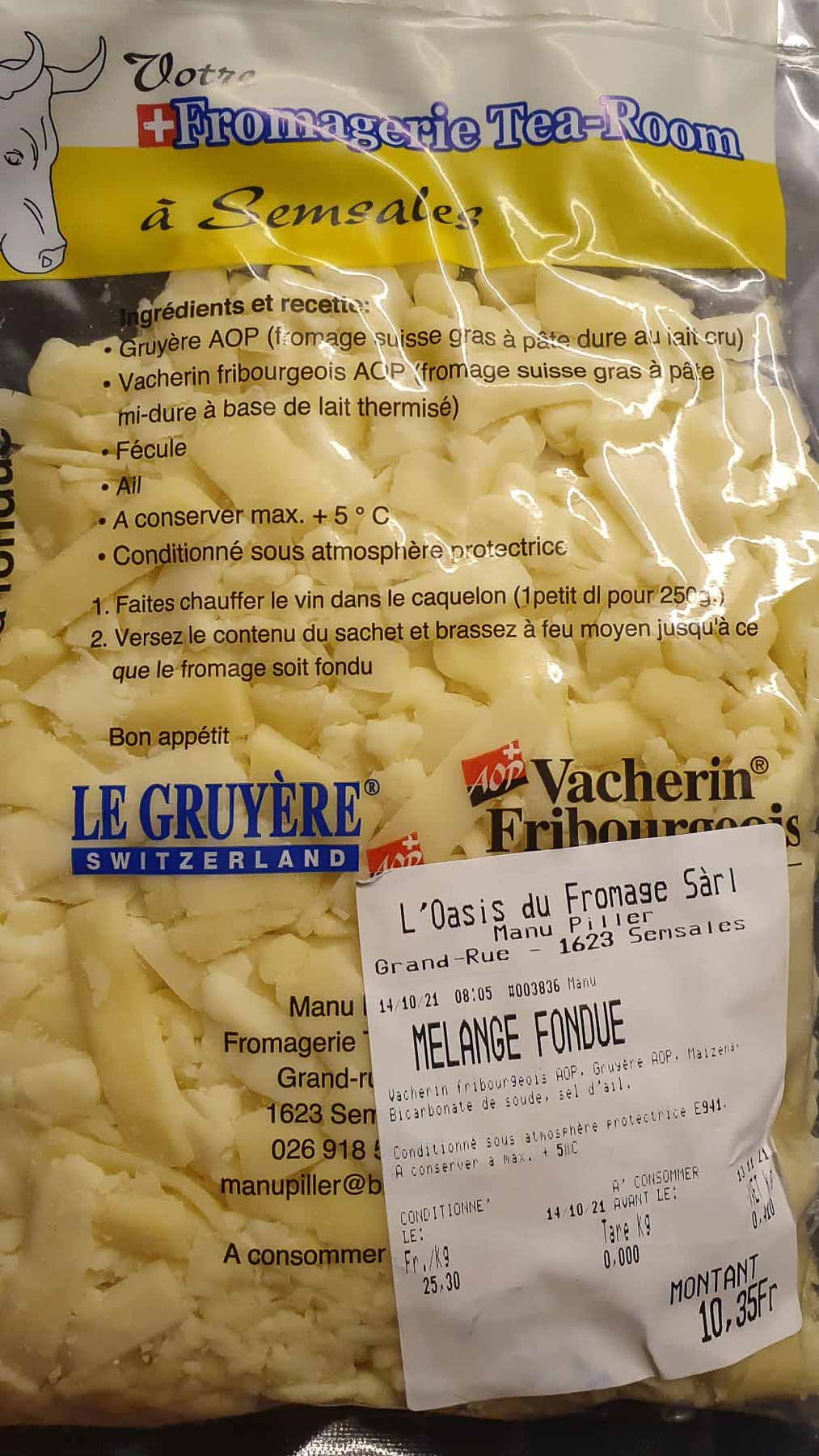 Tips for the best fondue
Grating the cheese
For quicker melting and a smooth fondue, be sure to grate the cheese. This helps it melt faster and more evenly, which leads to smoother results. I use the large holes of a box grater to do so (which takes a little muscle power with so much cheese), but you can also use the grater blade of your food processor if you have one. It's super fast.
Toss the cheese thoroughly with a little cornstarch
Cornstarch helps thicken the fondue and prevents the cheese from clumping. Arrowroot powder also works great and has a neutral taste. Both keep the fondue gluten free for those with dietary concerns.
Use good wine
Use a Prosecco, Cava or Sekt that you actually like. Even a dry sparkling rosé works fine. Or go the classic route and simply use a good Riesling, Chasselas or other dry white wine. The taste of the wine directly impacts the taste of the fondue, so make sure it's a wine you'd enjoy drinking with dinner.
How to serve classic Swiss fondue
Traditionally, all you need to dive in this big gooey pot is pieces of bread and fondue forks. But their are other options besides chunks of bread. Try including boiled potatoes, mushrooms, apples, pears, or even blanched vegetables (such as broccoli or cauliflower). As for sides, you could also serve it alongside a bowl of gherkins and pickled onions or even olives and sun-dried tomatoes.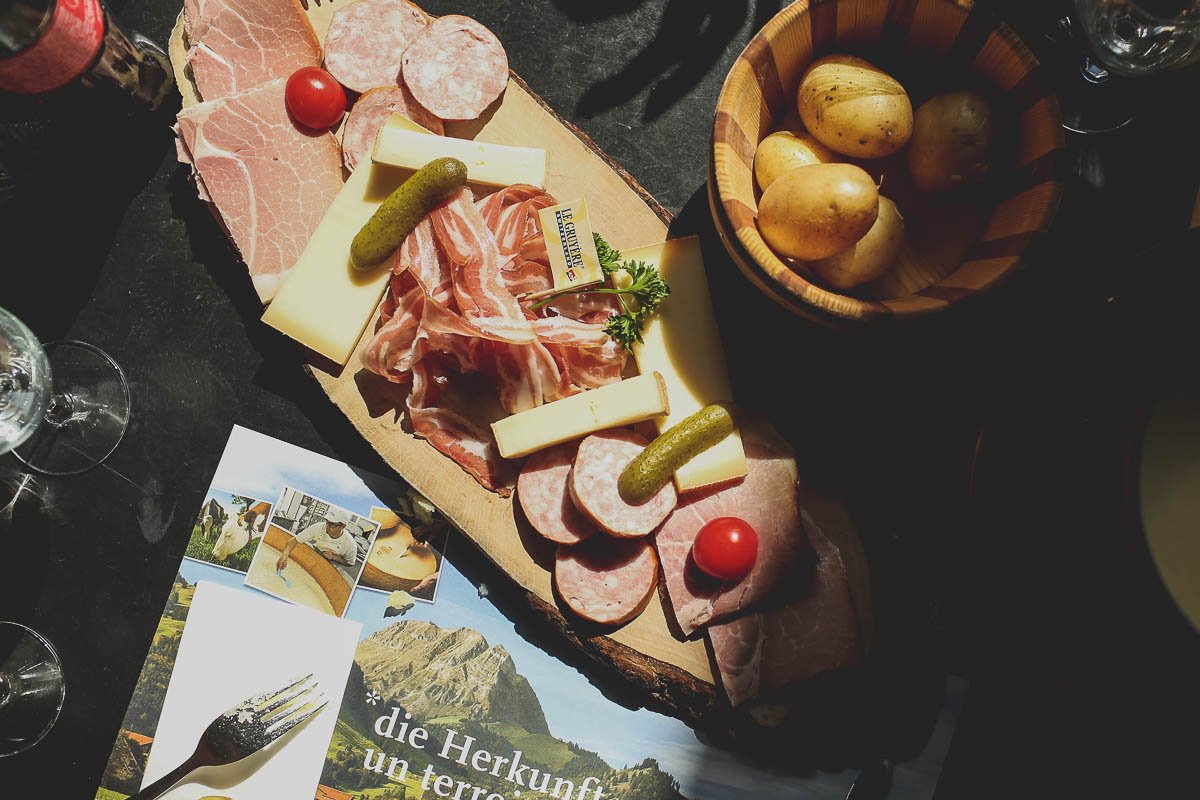 Enjoy a warm pot of silky delicious cheese anytime
Fondue is perfect thing for hosting friends. It's easy to prepare and tastes delicious. You don't need to wait until the holidays to enjoy this classic Swiss recipe. It is welcoming and cozy. Whether you want to enjoy a cozy fall or winter dinner, celebrate Christmas or New Year's Ever, fondue always feels like a special treat. You can even travel to Switzerland in the fall and celebrate the "Suisse Fondue Festival" that is hosted annually in Fribourg.
If you like this recipe, you might also like: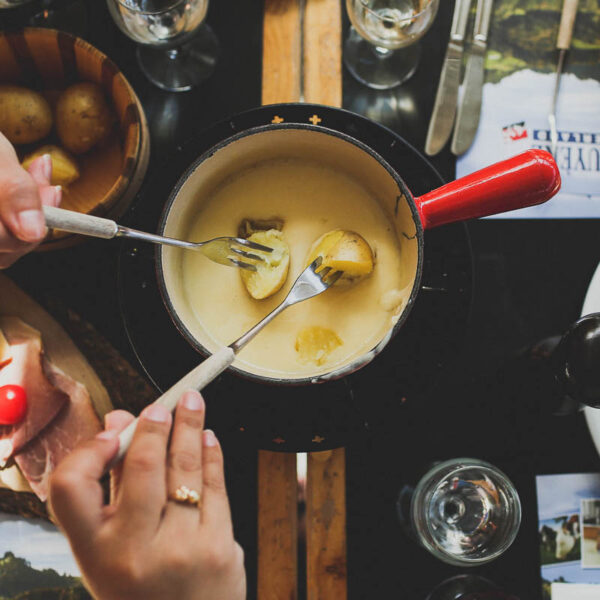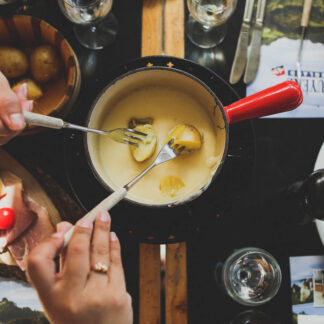 Original Cheese Fondue with Gruyère and Vacherin
Swiss cheese fondue moitié-moitié with a 50/50 mix of Vacherin Fribourgeous and Gruyère. A traditional recipe, that is also made with sparkling wine which makes it lighter.
Ingredients
400

g

Gruyère cheese,

grated

400

g

Vacherin cheese,

grated

1

tablespoon

cornstarch

(or arrowroot powder)

1

large garlic clove,

halved

1 1/2

cups

dry sparkling white wine

(see notes)
To serve:
country bread, ciabatta or baguette,

torn or cubed
Method
Tear the bread into bite-size pieces. Set aside.

In a bowl, combine both types of cheese and cornstarch until well combined. Set aside.

Rub the inside of a fondue pot (caquelon) with the garlic, then add the cheese mixture and wine.

Heat on the stovetop over medium heat, stirring constantly with a wooden spoon, until the cheese mixture is melted, silky smooth, and starts to bubble. Do not let it come to a full boil or it may burn.

Place the pot over a lit fondue burner (or electric fondue stand) and serve immediately with pieces of bread for dipping. Stir the pot and adjust the heat as needed to keep the cheese nice and smooth.

Serve with bread cubes and enjoy!
Notes
Starch will make your fondue thicker, while more wine will make it thinner. You can start with 250 ml wine, and then add more if needed until the cheese mixture reaches your desired consistency. Use a Prosecco, Cava or Sekt that you actually like. Or go the classic route and simply use a good Riesling, Chasselas or other dry white wine.
If the bread is too soft it will be hard to dip, so depending on what type of bread you prefer, you may want to use day old bread.
If everything goes as it should, then you'll notice a brown layer of crusty, caramelized cheese on the bottom of the caquelon pot. This is called "la religieuse" and for some, eating it can be a heavenly experience. Just scrape it out of the pot and enjoy!
For a relaxing atmosphere in the kitchen I recommend my personal Elle Republic: Chilled Out Kitchen Tunes Playlist on Spotify.
Did you try this recipe?
Then tag @ellerepublic on Instagram and hashtag it #ellerepublic
How did you like it?
Please let me know how this Original Cheese Fondue with Gruyère and Vacherin recipe turned out for you! I would love to hear how you liked it. Simply rate it with the stars above ⭐ or leave me a comment and rate it below.
Did you make any changes to this recipe?
If you have tips for other readers, let me know! It helps me and other readers so much. Sharing is Caring :-).
This post contains affiliate links. If you decide to make a purchase through my link, Amazon will pay me a commission for it. This doesn't cost you anything additional and the price remains the same. More about advertisements on Elle Republic.
Fondue photo credit: Angela Pham