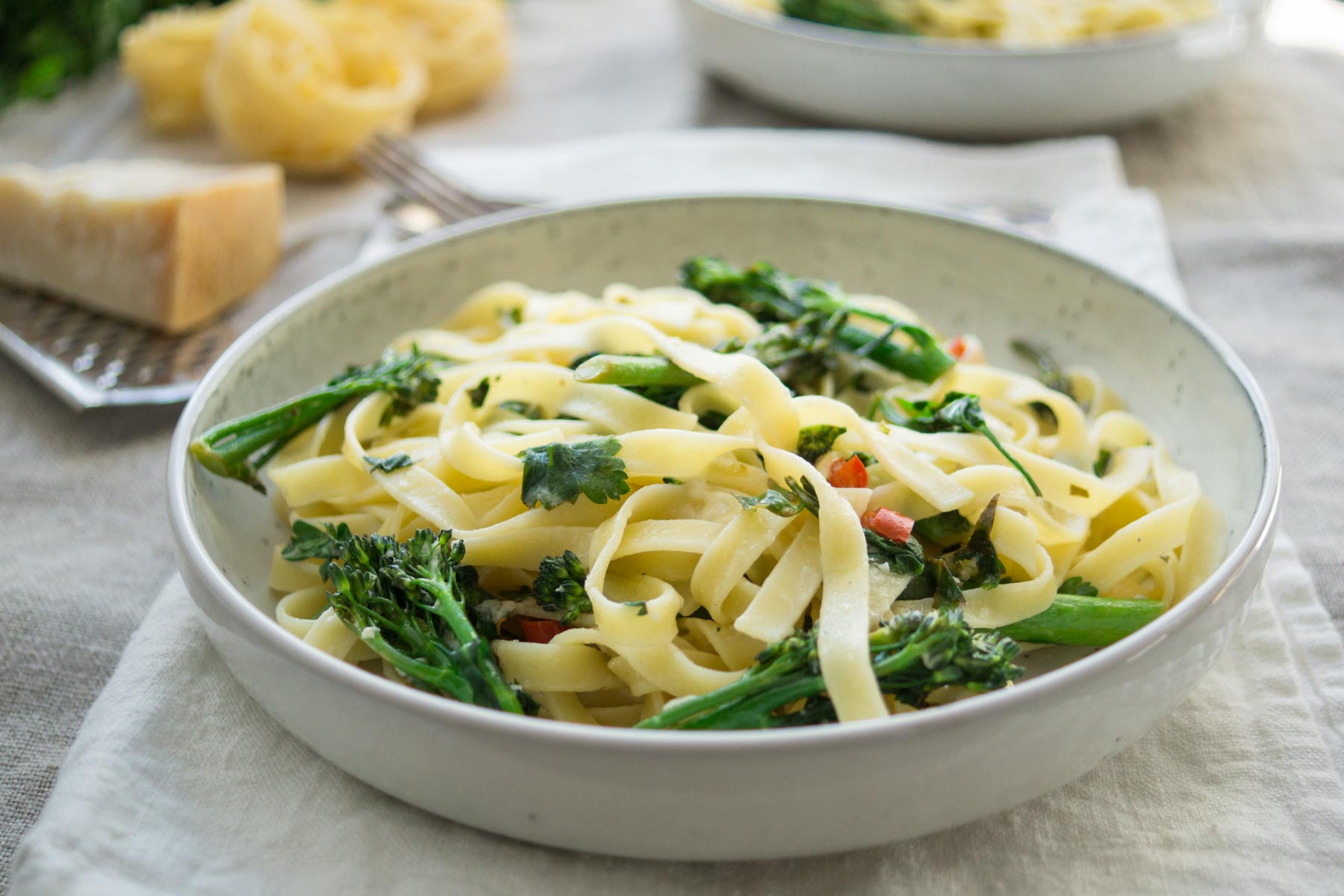 There are those that think pasta should be drenched in some kind of tomato sauce to be delicious. That's actually not the case. This broccoli, lemon and chili pasta is delicious even with as little sauce as it has. Yep, a pasta with "no sauce" can be utterly delicious. The point of the dish is not the sauce but the pasta. Simple is sometimes better. Think of an traditional pasta dish with pancetta, peas and mint. It has only a handful of ingredients. Of course, the ingredients mentioned plus olive oil and parmesan cheese. That's it. And it is utterly delicious. I love simple pastas. Plus they are a breeze to pull together last minute.

Another favorite is very much similar to this recipe but instead of broccolini, I use green asparagus. First I start cooking the pasta, then while it boils I sauté thinly sliced garlic and Prosciutto di Parma in olive oil, add a big glug of dry white wine (one you would actually drink), sauté until the prosciutto starts to crisp up a little, meanwhile, I add the bite-sized slices of asparagus to the pot of water with the pasta – 3 minutes before it is cooked to al dente perfection. Drain and add to the pan with the prosciutto and then toss in about 4 handfuls of baby spinach and juice from half a lemon, stir until wilted and serve it up with a little freshly ground pepper and maybe some red chili flakes. Simple. No recipe required. Just like this broccoli, lemon and chili pasta. It's that simple.
Fresh pasta made from fresh milled flours
If you are really into pasta you may have latched onto the trend of restaurants milling their own flour as they look to perfect the art of bread, pizza, and pasta-making. There is no substitute for handmade pasta, and one of the key elements in achieving the superior flavor found in top restaurants is milling your own grains. Though it may sound intimidating, milling flour and making pasta from scratch is actually easier than most people think. Not that I am an expert at this.
But I do have friends that are patient enough to spend Saturday afternoons making pasta AND milling their own grain using a simple attachment for their KitchenAid. I have only gone as far as making oat flour in a blender. And truly the result of this back-to-the-roots literally from scratch pasta making is spectacular. When you mill your own flours, the result actually smell like flour. And comparably the stuff from the supermarket has no character at all. The flour maintains more of the nutritional characteristics and gives pasta a particular consistency and a unique taste.
So is fresh pasta better than dried for this broccoli, lemon and chili pasta recipe?
There's a disturbing misconception that, because it's just-made and doesn't come in a bag, it is. But that's completely untrue. When to love fresh and when to love dried? Quality of course plays a role, but the rule of thumb comes down to which sauce you're pairing with it. For this broccoli, lemon and chili pasta I go for the dried.
Use Fresh pasta for creamy, dairy-based sauces
Making a delicate sauce that starts with melted butter or cream? Get ready to have your at-home pasta game completely upgraded by pairing your next alfredo, carbonara, or creamy truffle sauce with fresh pasta, either by making it yourself or buying in a store. Fresh pasta is best served with a sauce where the texture of the pasta can take front stage.
Use dry pasta for hearty or oil-based sauces
Dry pasta's calling card is its toothsome al dente bite (that's what you're going for when a recipe calls for al dente pasta). That firm structure will help it stand up to any meaty sauce you throw at it, makes the best pasta salads and providing eaters with both an al dente chew and a creamy mouth feel. If you want the best, choose artisanal dried pastas from Italy.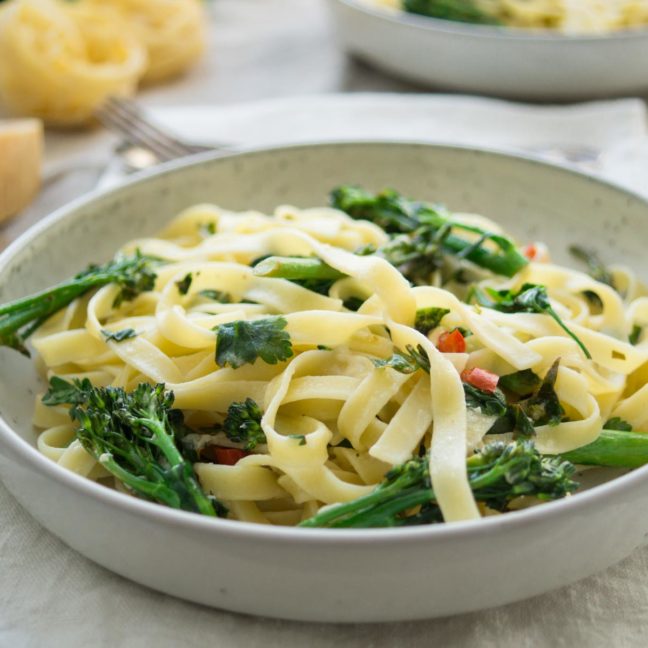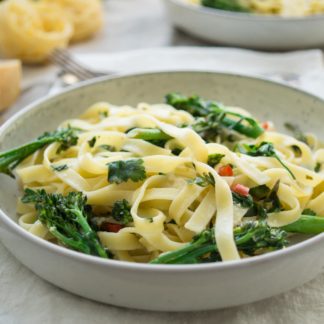 Broccoli, Lemon and Chilli Pasta
A simple and light tasting Broccoli, Lemon and Chili pasta dish made with fresh market ingredients that is pulled together in less than 30 minutes. Serve with a green salad and garlic bread for a hearty dinner.
Ingredients
400

g

dry tagliatelle pasta

3

tablespoons

olive oil,

plus an extra drizzle, if desired

3

cloves

garlic,

thinly sliced

1

fresh red chili,

thinly sliced

Sea salt and freshly ground pepper,

to taste

200

g

broccolini or purple sprouting broccoli,

trimmed and cut in half (alternatively broccoli florets)

zest and juice from 1 organic lemon

1

small bunch of parsley,

coarsely chopped

30

g

grated Parmigiano-Reggiano

Handful pine nuts or slivered almonds,

lightly toasted (optional)
Method
Bring a large saucepan of salted water to a boil. Add the spaghetti and cook according to package instructions, remembering you want the pasta al dente and not overly soft.

Meanwhile, in a large non-stick skillet, heat the olive oil over medium heat, once hot, add the garlic, fresh chilli, and season with salt and pepper. This is what gives the oil the flavor.

Once the garlic becomes slightly transparent, add in the broccolini and sauté until crisp tender. Add the lemon zest and season with a little more salt and pepper.

Drain the pasta (reserving some of the cooking water) and add it into the skillet with the broccolini. Mix together and add the lemon juice, parsley, and cook for another minute, until the broccolini is the desired consistency. Feel free to add a tablespoon or more of the reserved pasta water to thin out the sauce, or drizzle with a little more olive oil.

Remove from the heat and stir in the parmesan. Scatter with pine nuts or almonds, if desired. Enjoy!
Notes
The reserved pasta water is full of starch and flavored with salt and is great for thinning out the sauce without watering down the flavor. Sometimes the starch clinging to the noodles makes the sauce too thick, so adding some of the reserved pasta water is great to thin it out a little.
If preferred, the broccoli can be boiled rather than sautéed, just add it to the pot with the pasta for the last 2 or 3 minutes of the cooking time (I like mine crisp tender so 2 minutes is fine). Drain, together with the pasta and then add to the sauce.
This pasta isn't what I would call a saucy pasta, it is only lightly coated with the chili-lemon-olive oil. If you want a prefer something richer, then feel free to add 1-2 tablespoons of olive oil to the recipe or a dollop of crème fraiche.
Did you try this recipe?
Then tag @ellerepublic on Instagram and hashtag it #ellerepublic
How did you like it?
Please let me know how this Pasta with Broccoli, Lemon and Chili recipe turned out for you! I would love to hear how you liked it. Simply rate it with the stars above ⭐or leave me a comment and rate it below.
Did you make any changes to this recipe?
If you have tips for other readers, let me know! It helps me and other readers so much. Sharing is Caring :-).
This post contains affiliate links. If you decide to make a purchase through my link, Amazon will pay me a commission for it. This doesn't cost you anything additional and the price remains the same. More about advertisements on Elle Republic.