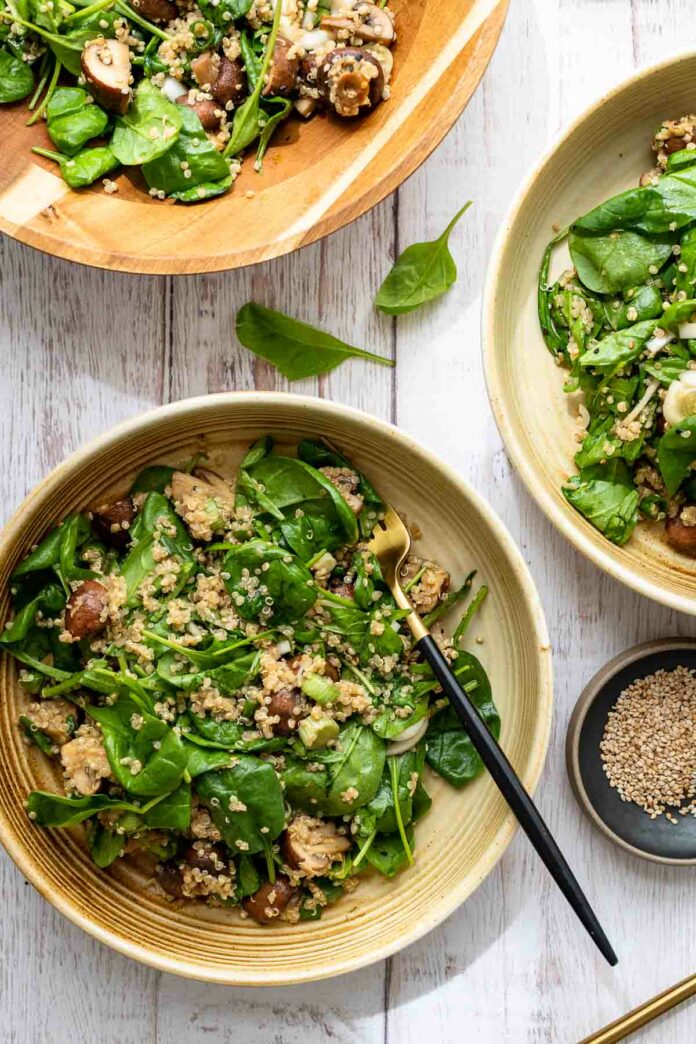 What is this simple and magical quinoa salad! Oven roasted mushrooms, quinoa, spinach and green onions are dressed with a delicious asian-style dressing made with toasted sesame oil, soy sauce, rice vinegar and ginger. This simple and easy quinoa salad recipe is full of plant-based goodness, making it a great choice for anyone following a vegetarian or vegan diet. Full of flavor, this unassuming dish, never fails to satisfy!
Savory roasted mushrooms add a rich umami element
Roasting mushrooms in the oven is a fantastically easy method for preparing mushrooms. They can be roasted like other vegetables at high-heat with a little olive oil and salt. The high, dry heat brings out their umami tasting, savory and meaty flavors making them a pleasure to enjoy as a side dish or added to salads, pasta or other favourite dishes. You can also roast them in the oven prepared in a simple marinade which makes them extra special tasting.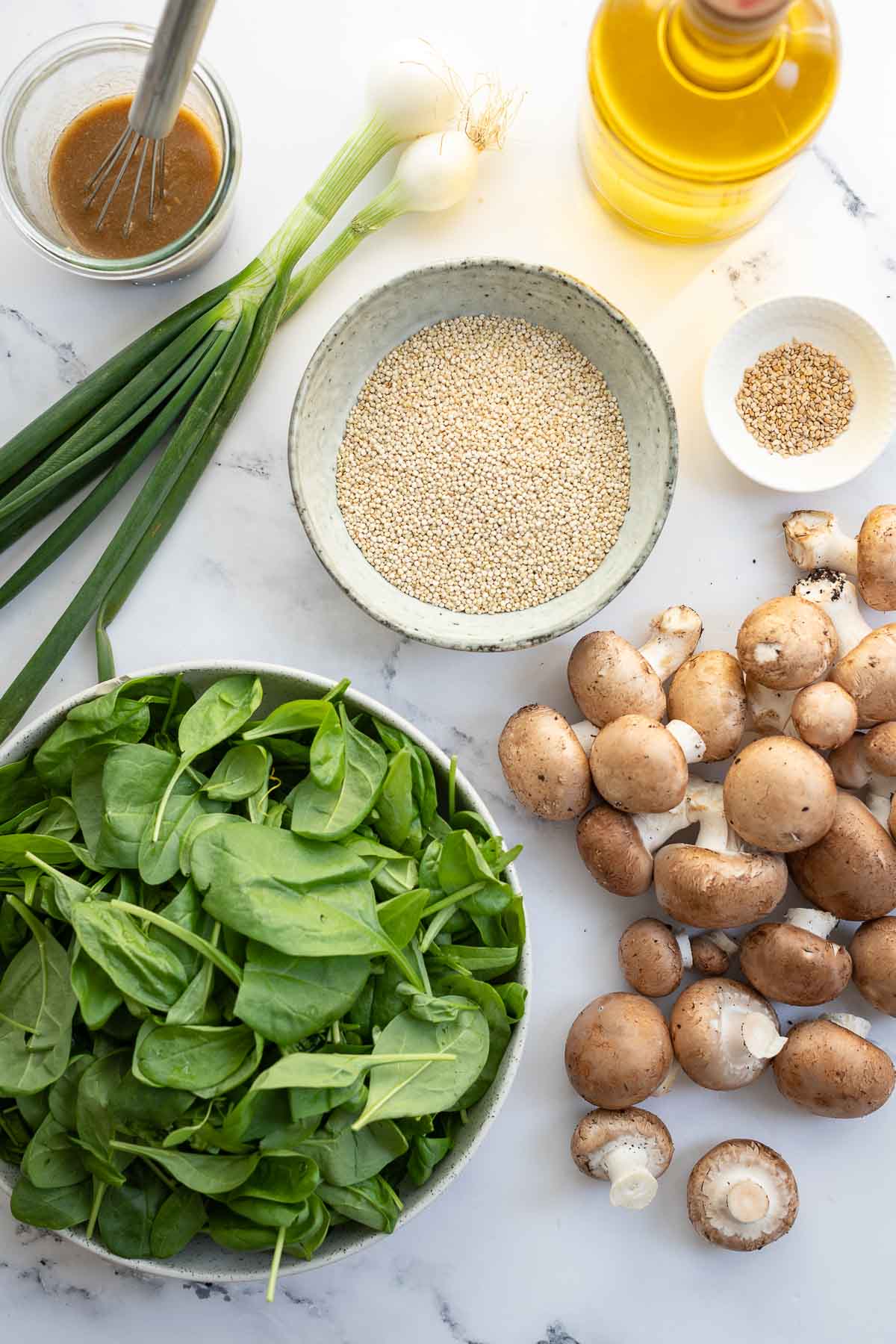 Tips for roasting mushrooms in the oven
Preparing the mushrooms
If the mushrooms vary greatly in size, then it is best to halve the medium mushrooms, and quarter the large ones. Any really small mushrooms can be left whole. This will help the difference sizes cook evenly. Plus they will be perfectly bite-sized for the salad. Note: the mushrooms should be brushed clean before cutting them, but NOT washed or rinsed in water.
Roasting the mushrooms
It's important to use a rimmed baking sheet as the mushrooms will release juices. In addition, I like line the baking sheet with parchment paper for easy clean up, plus this makes it easy to transfer the roasted mushrooms to the quinoa salad in one go (by lifting up the corners and transferring to the serving bowl).
Be sure to spread the mushrooms in a single layer on the baking tray. The mushrooms start to release their moisture in the dry heat after about 10 minutes and their flavour will become more savory as their juices are released. You'll want to roast them at 425-450°F /220-230°C depending on how brown you would like to get them. The high heat drives out the juices and evaporates it, so they brown quicker.
For this quinoa salad with roasted mushrooms recipe, I like to roast them at 425°F/220°C so that they lightly brown while also still retaining some of their moisture. If you like a crisper mushrooms, then increase the heat slightly and roast for an extra few minutes.
How to adapt this mushroom-quinoa salad
This quinoa salad makes a terrific main or side dish that can be served warm or a room temperature. Since it incorporates Asian flavours, it also works really well with smoked tofu (I like sesame-almond smoked tofu best) which keeps it vegan or roast chicken for anyone wanting to add a non-plant based source of protein. Or is you are looking to add a little crunch try adding a handful of roasted nuts, such as cashews. Or try a handful of julienned or shaved carrot. Another great addition is young soy beans (edamame).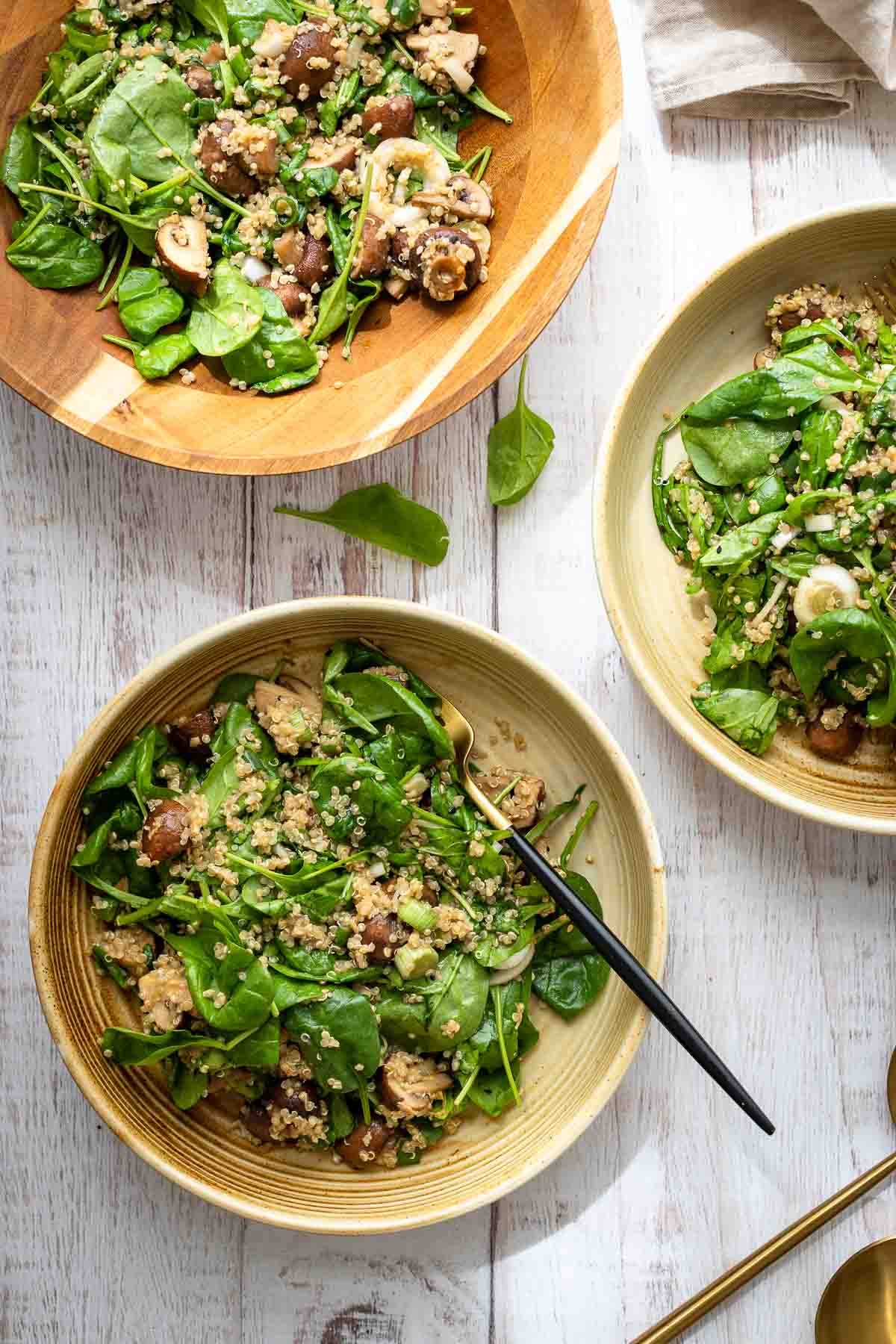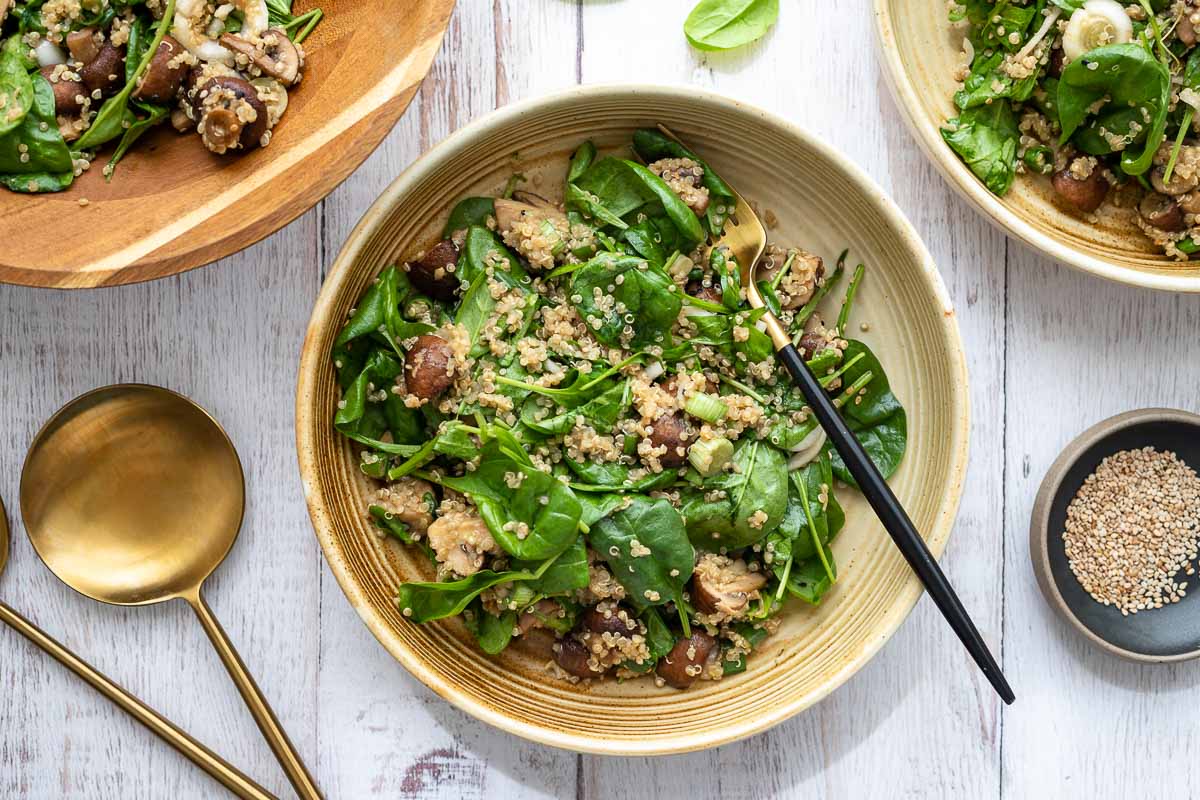 Looking for other quinoa salad inspiration?
Try one of these favourite quinoa salad recipes: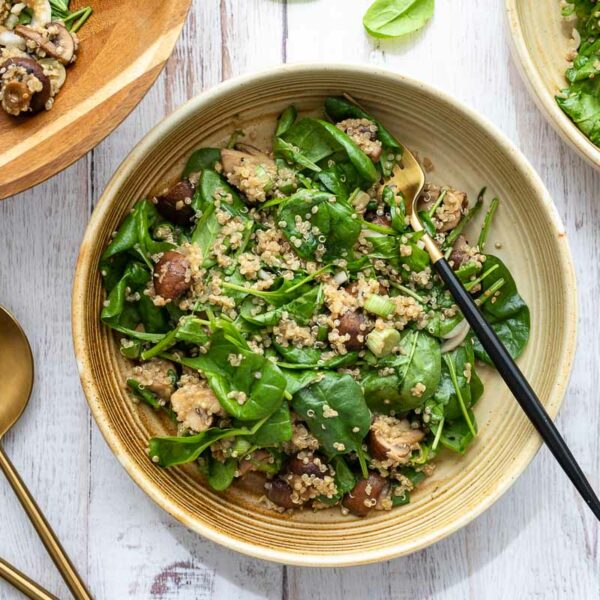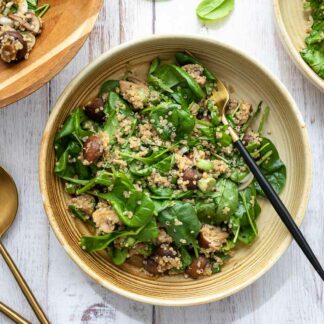 Quinoa Salad with Roasted Mushrooms and Soy-Sesame Dressing
Easy, tasty quinoa salad with roasted mushrooms, spinach and green onions in an Asian-style dressing. Enjoy as a vegan or vegetarian main for two or side for four.
Ingredients
For the salad:
1/2

cup

quinoa,

rinsed (100 g)

1

cup

water

(250 ml)

450

g

cremini mushrooms,

quartered or halved (depending on size)

1

tablespoons

olive oil

sea salt,

to taste

100

g

baby spinach

(3-4 handfuls)

2

green onions,

thinly sliced

Toasted sesame seeds,

to garnish
For the dressing:
2

tablespoons

toasted sesame oil

2,5

tablespoons

unseasoned rice vinegar

(Japanese)

1

tablespoon

soy sauce

(or tamari)

1/2

tablespoon

finely grated peeled ginger

1

garlic clove,

minced

1

teaspoon

freshly squeezed lemon juice

1/2

tablespoon

tahini

(well-stirred)

1/2

tablespoon

pure maple syrup

Sea salt and freshly ground pepper,

to taste
Method
In a saucepan, add the quinoa and water. Bring the mixture to a boil over medium-high heat, then decrease the heat to maintain a gentle simmer. Cook until the quinoa has absorbed all of the water, about 15-20 minutes. Remove the pot from heat, cover, and let the quinoa steam for 5 minutes. Then, remove the lid and fluff the quinoa with a fork. Set aside to cool.

Meanwhile prepare the mushrooms: Preheat the oven to 425°F / 220 °C (200°C fan-assisted) and line a large rimmed baking sheet with parchment paper (the rim is important, as the mushrooms release their juices while roasting).

Transfer the mushrooms to the prepared baking sheet. Drizzle the olive oil over them and sprinkle with a little salt. Toss until the mushrooms are evenly coated. Spread in an even layer, without crowding, and roast until the mushrooms are tender and somewhat reduced in size, about 15 to 18 minutes, tossing after 10 minutes.

Meanwhile, in a small bowl, combine the dressing ingredients (oil, vinegar, soy sauce, ginger, garlic, lemon juice, tahini and maple syrup). Whisk until combined and season with salt and pepper.

In a large serving bowl, add the quinoa, roasted mushrooms and green onions. Pour over the dressing and toss until well combined. Add the spinach and gently toss again until incorporated. Sprinkle with sesame seeds and serve. Enjoy!
Notes
Quarter the large mushrooms, halve the medium mushrooms, leave small mushrooms whole.
For a relaxing atmosphere in the kitchen I recommend my personal Elle Republic: Chilled Out Kitchen Tunes Playlist on Spotify.
Did you try this recipe?
Then tag @ellerepublic on Instagram and hashtag it #ellerepublic
How did you like it?
Please let me know how this Quinoa Salad with Roasted Mushrooms and Soy-Sesame Dressing recipe turned out for you! I would love to hear how you liked it. Simply rate it with the stars above ⭐ or leave me a comment and rate it below.
Did you make any changes to this recipe?
If you have tips for other readers, let me know! It helps me and other readers so much. Sharing is Caring :-).
This post contains affiliate links. If you decide to make a purchase through my link, Amazon will pay me a commission for it. This doesn't cost you anything additional and the price remains the same. More about advertisements on Elle Republic.