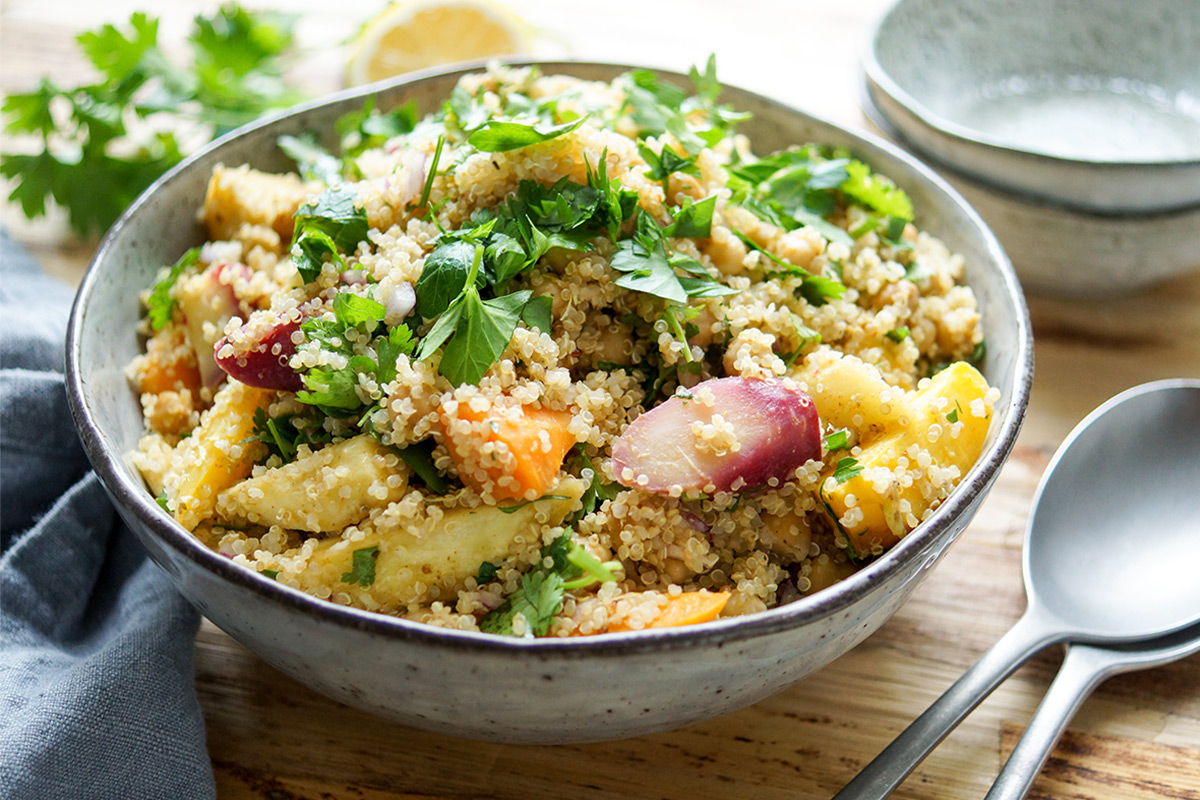 Quinoa with roasted parsnips, carrots and love 'em like no tomorrow…chickpeas. Yep, that's right, all roasted together! But really, this has been one of those midweek meals for when I need to convince myself that carrots are good and not just good for you. Again, here I go trying to hide carrots in food. The focus here is on food with nutritional value that ALSO TASTES GOOD! So here it is, an easy and healthy quinoa salad with a tasty mis-mash of roasted heirloom carrots and parsnips, spiced with all things good — garlic, ginger, cumin, coriander and a pinch of chili (but cayenne pepper would be good too!). Oh yeah and let's not forget the chickpeas that joined the roasting party. I didn't do them crispy, but roasted them half way through just to let them bathe in the spiced mix. The rest is simple. A little red onion, lots of herbs and a decent amount of lemon juice to brighten things up. Voila! Easy-peasy. Serve it up while it's still warm, or what the heck it's just as good at room temperature, or even chilled!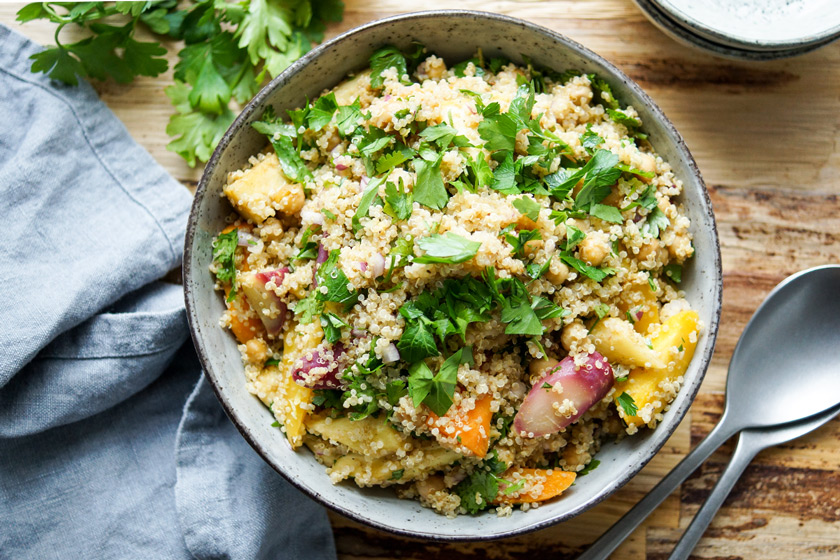 Weekday meal with tasty leftovers
Like I said, quinoa with roasted parsnips and carrots also tastes great chilled. Meaning, it makes great leftovers and a great bring-to-work-lunch yummy meal the next day. I brought mine in my favorite zweck glass of course and added some pomegranate seeds and a sprinkling of feta just to change things up a little. Yum! And HEALTHY, especially for anyone who's following a vegan or vegetarian diet.
Quinoa is all about plant-based protein (and it's complete protein containing all nine essential amino acids) and well carbs too — just because it's a higher-protein grain doesn't mean it's actually low in carbs, but you can consider it a good carb choice — much better than pasta or plain rice. I tried to convince my liebste Schwabe's teenage son who'e really into fitness that he was going want to skip his protein shake and eat this instead (ps: I'm pretty happy that I convinced him that a vegan protein powder is way superior — appeal to vanity — it works). Come on… Chickpeas and quinoa — it's got a lot going on and perfect workout muscle feeding plant-based magic. Not a chance. Quinoa, never heard of it. Hmmm. I went about it all the wrong way. Duly noted.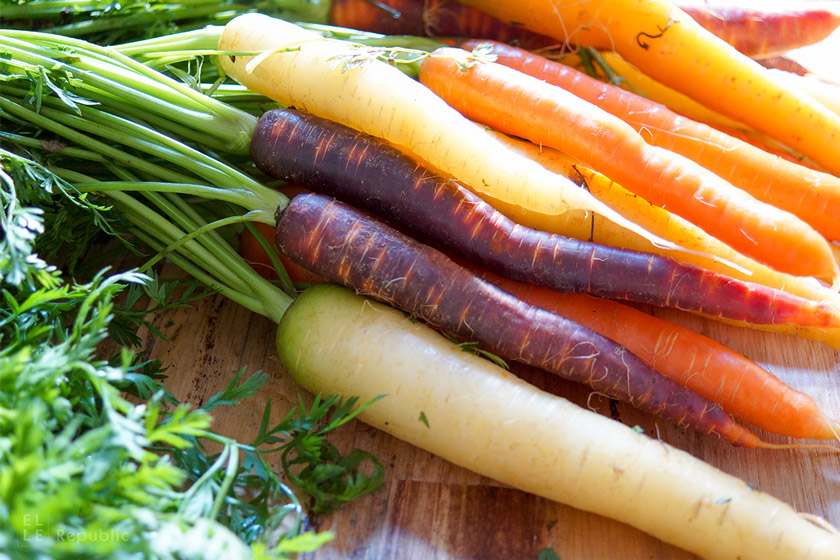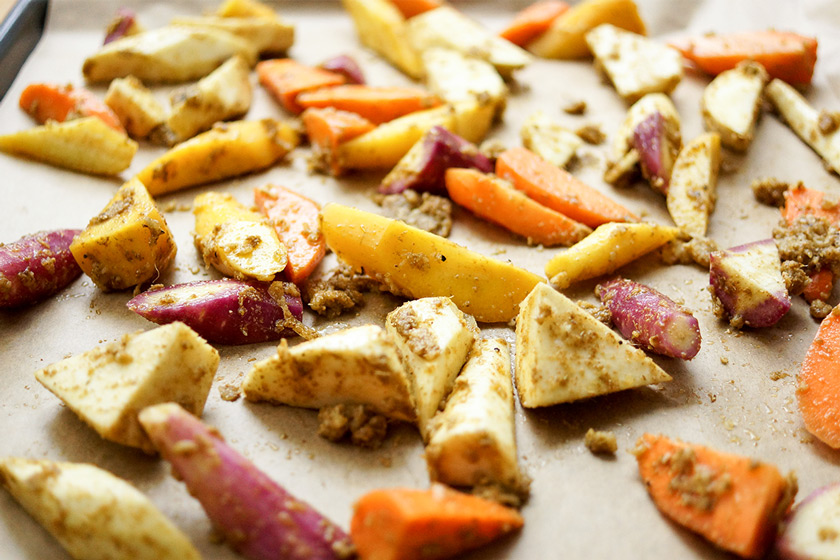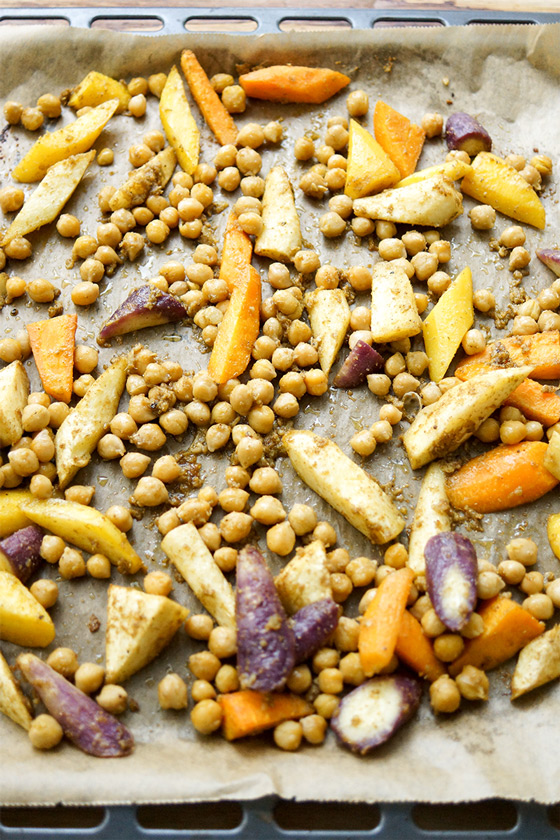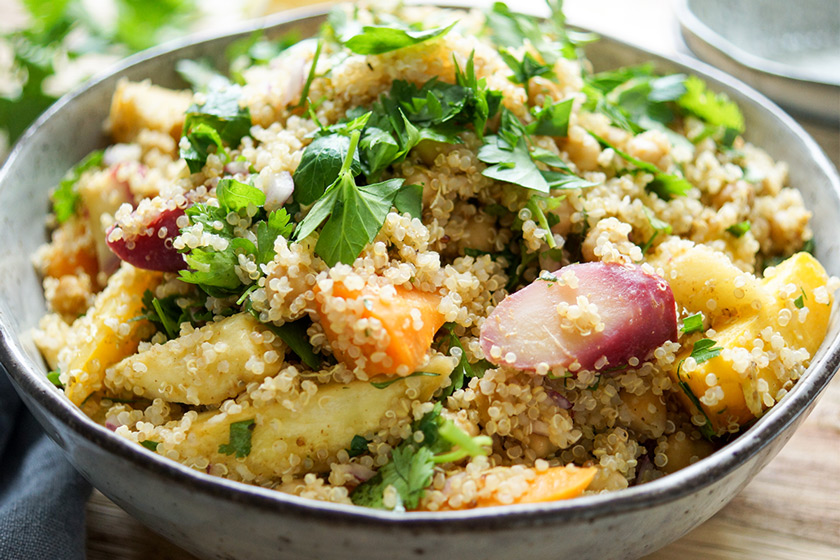 Quinoa with roasted parsnips and carrots — great as a side dish or a meal
I'm a big fan of eating main meal salads, even the ones that make great sides. But a whole lot of us, just want their salad as a side. Meaning, I often get asked, "but what do I serve it with?". Okay, we last had this with leftover lasagna which I can honestly say didn't really go together at all. But what can you do, the kids wanted to polish off the leftover lasagna with the season's first kale (!!). It was so delicious, we couldn't resist. So on any other occasion when it's not served as a main meal salad, then I would suggest serving it with some roasted fish, lamb or chicken and cause I can't get enough veggies… something green. Either a simple mixed salad or some steamed broccoli… better yet, broccolini… now that's tasty! The great thing is, this quinoa salad Quinoa with roasted parsnips, carrots and chickpeas tastes terrific at room temperature, so there is no rush to get everything served "hot" on the table at once.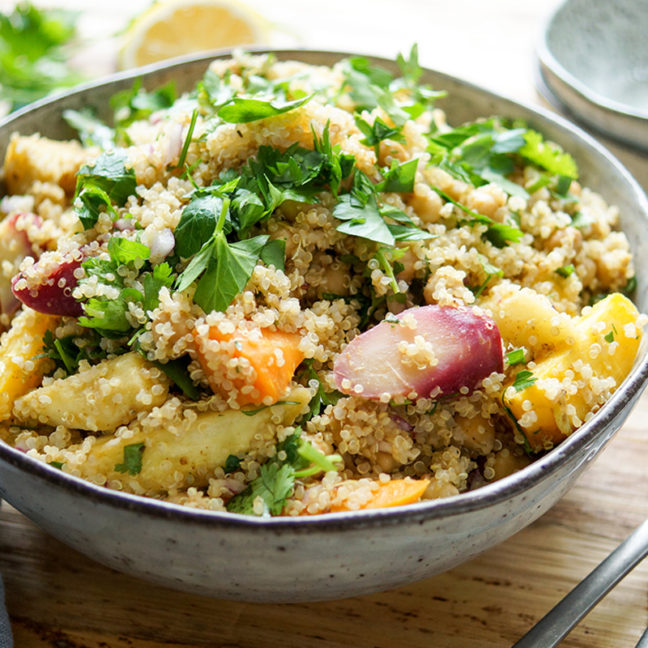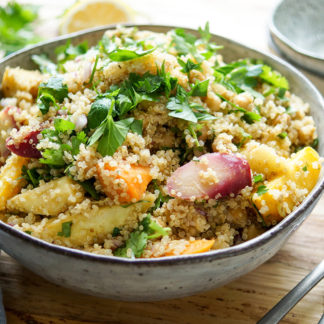 Quinoa with Roasted Parsnips, Carrots and Chickpeas
A super easy and healthy recipe for a midweek meal that is also great for leftovers next day. Naturally vegan and gluten-free. For a vegetarian version feel free to add feta.
Ingredients
1

cup

quinoa

(200 g)

3

carrots,

peeled and cut into even-sized pieces (ca. 350 g)

2-3

parsnips,

peeled and cut into even-sized pieces (ca. 250 g)

1

x 400 g can

organic chickpeas,

rinsed and drained

3

tablespoons

extra-virgin olive oil,

plus more to garnish

3

large cloves garlic,

minced

1

teaspoon

sea salt,

or to taste

1

tablespoon

freshly grated ginger

(or 1 teaspoon ground ginger)

2

teaspoons

ground cumin

2

teaspoons

ground coriander

generous pinch of chili powder

finely grated zest of 1 organic lemon

freshly squeezed juice of 1 1/2 lemons,

plus more to taste

1

small red onion,

finely chopped

1

small bunch fresh flat-leaf parsley,

chopped

1

small bunch fresh cilantro,

chopped
Method
Preheat oven to 375°F / 190°C and line a baking sheet with parchment paper.

Rinse the uncooked quinoa in a fine mesh strainer. Place in a medium saucepan and cook according to package instructions, for about 15 minutes. Once most of the liquid is absorbed and the quinoa is light and fluffy, remove from heat, fluff with a fork, and let stand for another 5 minutes. Transfer to a large salad bowl to further cool.

Place the carrots and parsnips in a large bowl and add the olive oil, grated ginger, garlic and dried spices. Season with salt and pepper and toss to combine. Transfer to the prepared baking sheet, spread in a single layer, and roast for 15 minutes.

Remove the carrots and parnsips from the oven, add the chickpeas, toss well to combine with the spices and juices from the vegetables, return to the oven and roast for another 10-15 minutes, until parsnips and carrots are tender (cooking time depends on the size of the pieces).

Transfer the cooked carrots and parsnips and any juices from the baking sheet to the bowl with the quinoa. Add the lemon zest and juice, red onion, fresh herbs to the bowl, plus a drizzle of olive oil. Season with salt and pepper and toss to combine. Taste and adjust seasoning if desired.

Serve on its own or as a side dish. Enjoy!
Notes
This quinoa with roasted parsnips and carrots can be served warm or at room temperature. If serving warm, then kept the quinoa covered until the vegetables are finished roasting.
Did you try this recipe?
Then tag @ellerepublic on Instagram and hashtag it #ellerepublic
How did you like it?
Please let me know how this Quinoa with Roasted Parsnips, Carrots and Chickpeas recipe turned out for you! I would love to hear how you liked it. Simply rate it with the stars above ⭐or leave me a comment and rate it below.
Did you make any changes to this recipe?
If you have tips for other readers, let me know! It helps me and other readers so much. Sharing is Caring :-).
This post contains affiliate links. If you decide to make a purchase through my link, Amazon will pay me a commission for it. This doesn't cost you anything additional and the price remains the same. More about advertisements on Elle Republic.