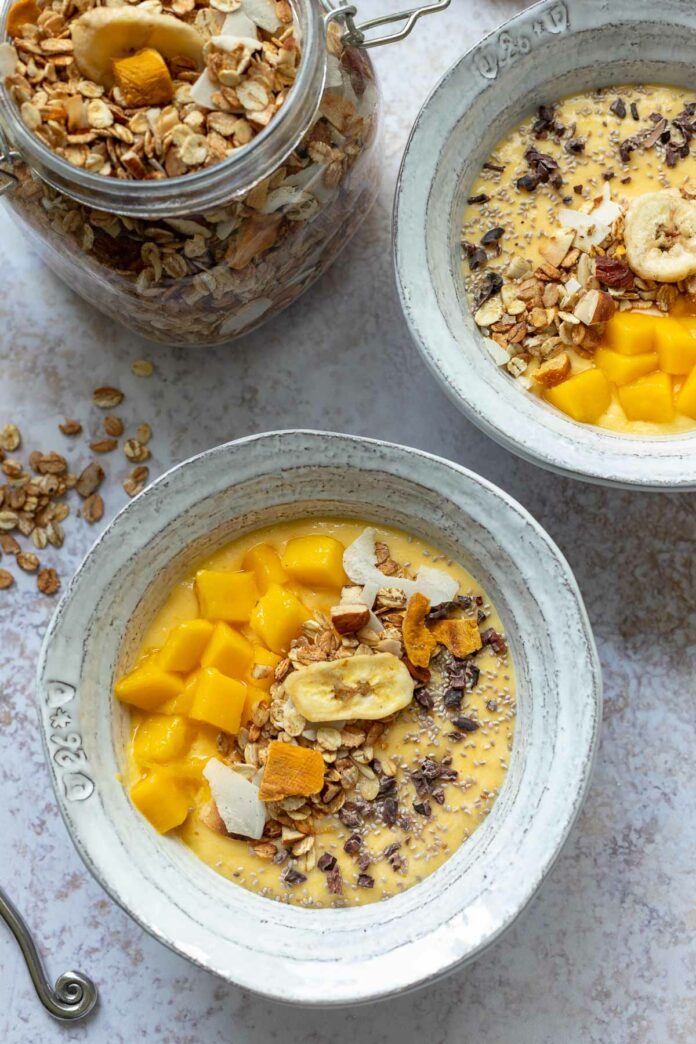 This tropical granola recipe is loaded with flavors of crunchy almonds, sweet mango, banana chips and coconut flakes. Since there is no need to turn on the oven, it makes for a perfect summer recipe. Rather than being baked in the oven , this granola can be prepared in a skillet on the stovetop or using a glass ceramic electric grill, as I did. Both methods are quick and easy!
Choosing the right ingredients for this tropical granola recipe
Oats: Hearty, whole-grain old-fashioned oats are the basic ingredient for most granola recipes. Rather than just plain ole old fashioned oats, I like to use 4-grain flakes which includes oats, barley, spelt and rye. All of which are high in fibre, helping you feel satisfied for hours.
Unrefined Oil: Oil helps create a crispy granola. For this recipe, I only use 1 tablespoon, but you can increase it to 3 tablespoons if you want a really crunchy granola. I prefer virgin coconut oil, which is super delicious. Coconut oil is also available in a mild "deodorised" form, which has less of a coconut flavor, if preferred.
Nuts or Seeds: I used almonds to make this batch. Other options include walnuts (rich in Omega-3s!), pumpkin, or sunflower seeds.
Sweetener: Maple syrup is my go-to choice for sweetener in my granola recipes. Honey works great, too.
Salt and Spices: Salt also comes into play with granola, as it brings out the flavors. I like to use 1/2 a teaspoon either a coarse or flaky salt, but you can also use fine grain salt. Cinnamon and vanilla are go-to flavour enhancers for breakfast recipes like granola, porridge or overnight oats. They add a subtle delicious warmth.
Dried Fruit: Dried fruit lend some extra sweetness, crunch (banana chips) chewy texture (mango) and tasty fruity flavor. Dried apricots or cranberries are also great choices.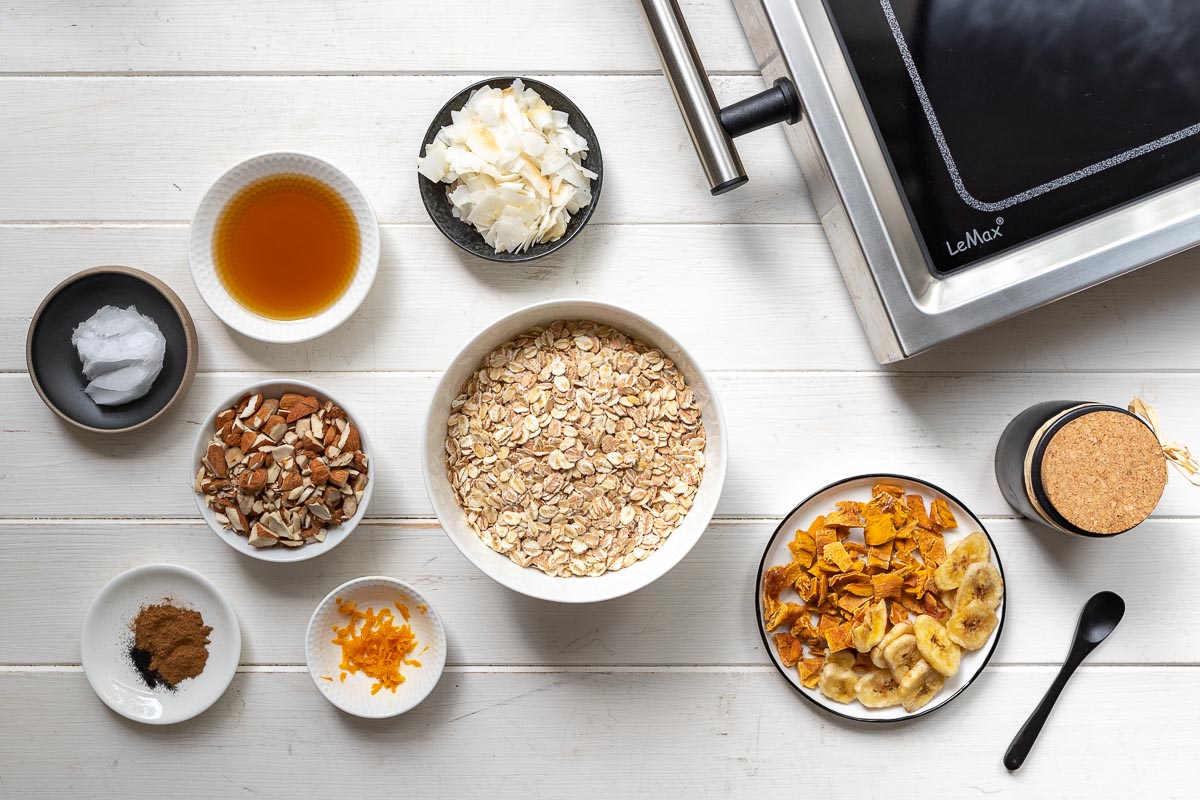 Optional Add-Ins
For a fresh citrus-y flavor, add a little citrus zest from an organic orange or lemon.
Fan of chocolate, then how about adding some raw cacao nibs? They can be added right away, as they won't melt. They add a delicious bitter chocolate flavor with some extra crunch. Or mix in some chocolate chips (or your favourite chocolate bar chopped up) after the granola has had a chance to cool.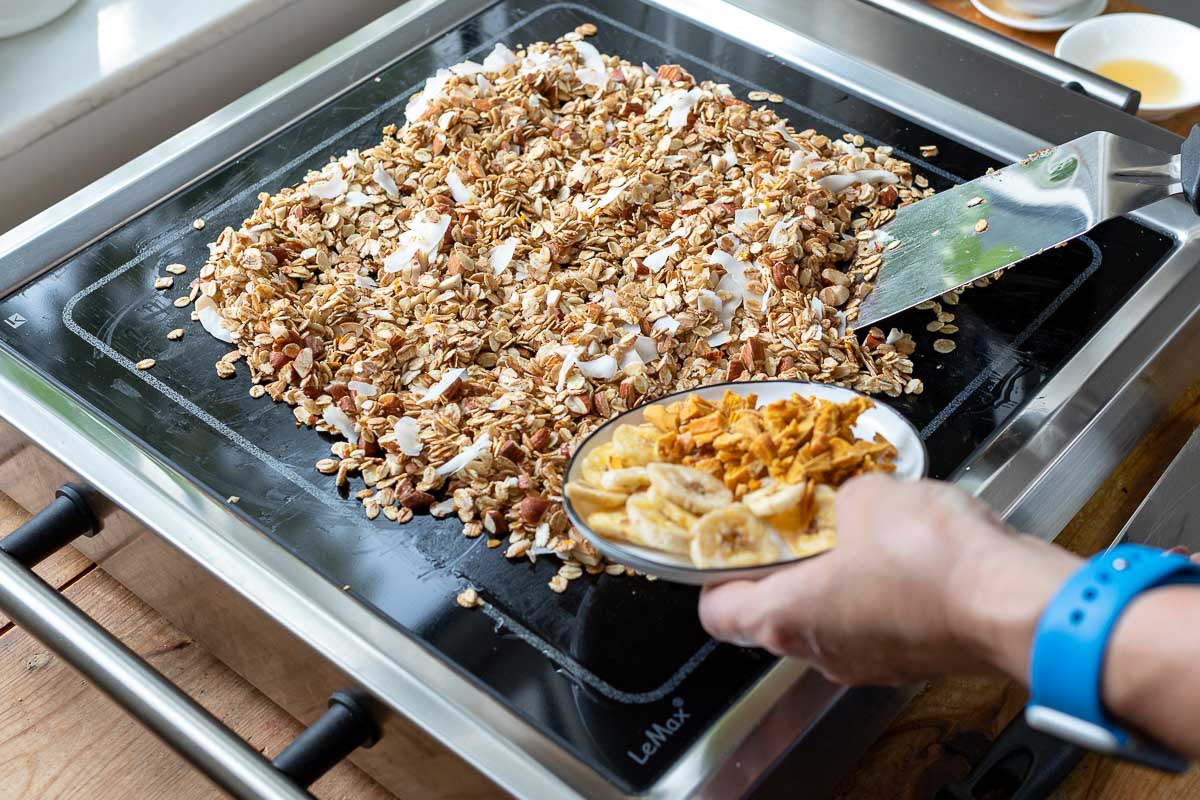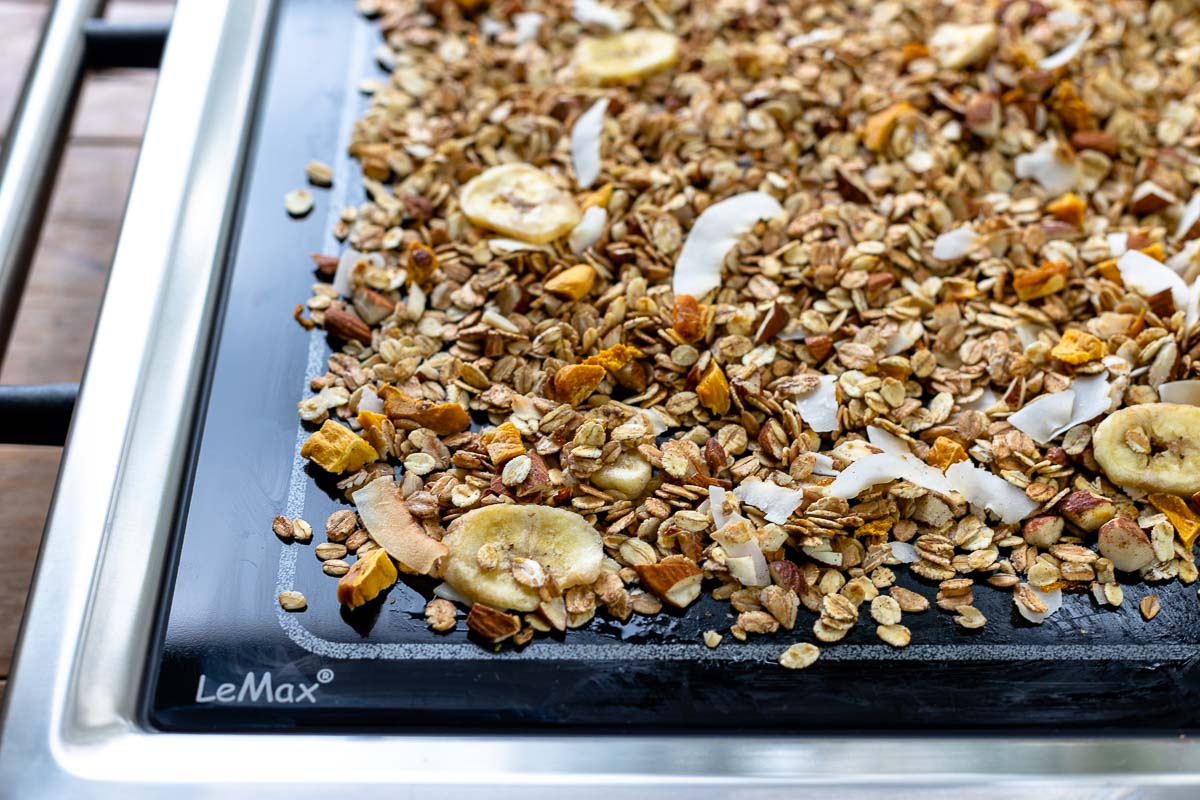 Tips for preparing a stovetop granola
Granola can go from perfectly golden and toasted to burned within seconds, so it's important to watch your granola as you are preparing it. Especially if making it using a skillet or in my case my LeMax tabletop grill. So keep an eye on it and adjust the temperature if you notice it starting to brown too quickly. So keep an eye on it, and stir it often to help it brown evenly.
Fruit should be added at the very end, or stirred in once you remove the granola from the heat. We don't want hardened or burned fruit.
What to serve with this tropical flavoured granola
I like to serve with Greek yogurt, coconut yoghurt or plain yoghurt and fresh fruit. Or make a smoothie bowl and top it off with granola for some added crunch. Or keep things simple and top off a bowl of granola with your favourite plant-based milk.
You may also enjoy these delicious granola recipes: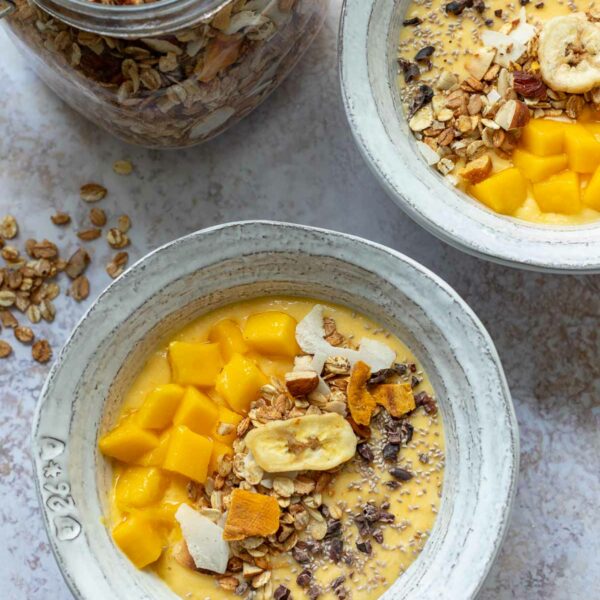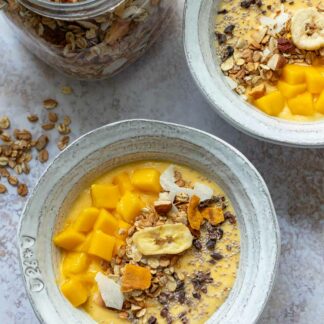 Tropical Granola with Mango, Banana & Coconut
A quick and easy granola recipe, packed with tropical flavors. Ready in minutes using a skillet on the stovetop or tabletop glass-ceramic grill.
Ingredients
1

tablespoon

virgin coconut oil

2

cups

old-fashioned rolled oats

(or 4-grain oats) (200 g)

1/2

cup

raw almonds,

coarsely chopped (60 g)

1/2

teaspoon

cinnamon

(ceylon)

1/8

teaspoon

bourbon vanilla powder

1

teaspoon

finely grated orange zest,

from an organic orange (optional)

Flaky sea salt,

to taste

3

tablespoons

maple syrup

1/2

cup

coconut flakes,

unsweetened (20 g)

1/2

cup

dried mango,

chopped (40 g)

handful banana chips

(20 g)
Method
Preheat the tabletop glass-ceramic grill (or large skillet) over medium to medium-low heat (for the LeMax level 8 for 5 minutes, then reduce heat to level 6-7).

Coat the surface with 1 tablespoon coconut oil.

Add the oats, almonds, cinnamon, vanilla, salt, orange zest and maple syrup. Toss to coat, and cook, stirring often, for 4 minutes. Add the coconut flakes and stir to combine. Continue cooking until toasted, golden and aromatic, another 2 minutes. If you prefer a more caramelised mix, turn up the heat slightly, but watch closely to ensure the grains don't burn.

Turn off the heat and add the dried fruit. Toss to combine and transfer to a large bowl to cool. The granola will crisp up it cools. Once completely, transfer to a glass jar or other sealed container for storage. Keeps in a jar with a tight lid for several weeks.

Serve with yoghurt for a delicious breakfast. Enjoy!
Did you try this recipe?
Then tag @ellerepublic on Instagram and hashtag it #ellerepublic
How did you like it?
Please let me know how this Tropical Granola with Mango, Banana & Coconut recipe turned out for you! I would love to hear how you liked it. Simply rate it with the stars above ⭐ or leave me a comment and rate it below.
Did you make any changes to this recipe?
If you have tips for other readers, let me know! It helps me and other readers so much. Sharing is Caring :-).
This post contains affiliate links. If you decide to make a purchase through my link, Amazon will pay me a commission for it. This doesn't cost you anything additional and the price remains the same. More about advertisements on Elle Republic.
Many thanks to ELAG Products GmbH for sponsoring this Tropical Granola with Mango, Banana & Coconut recipe.