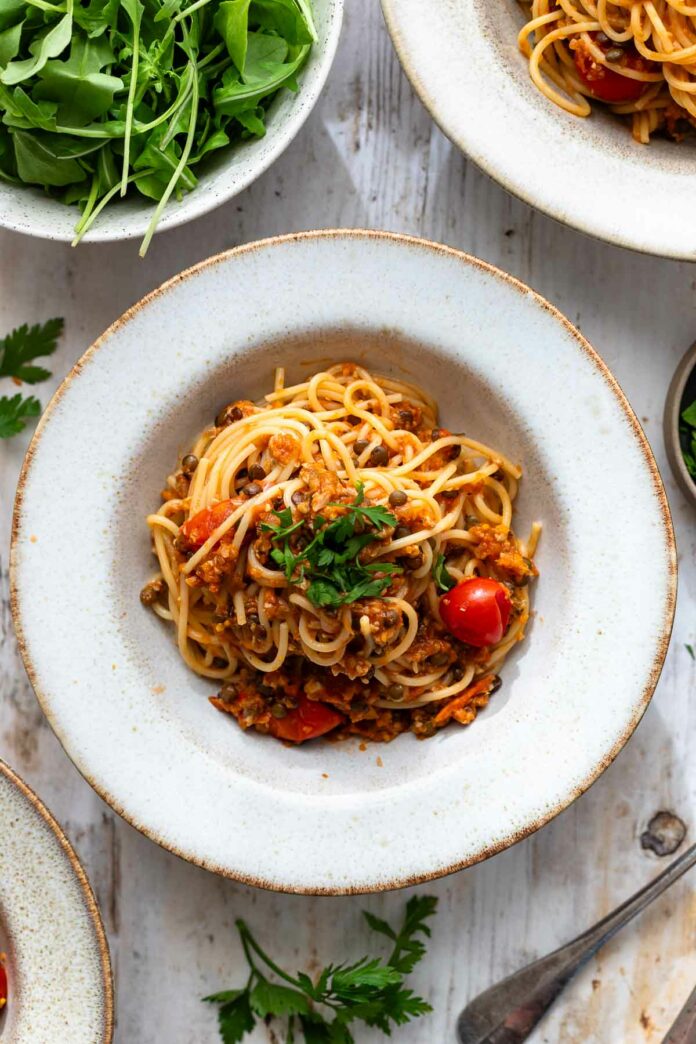 This vegan spin on a classic bolognese combines protein-rich green lentils with toasted sunflower seeds and hearty mushrooms for a rich, "meaty" (but meat-free) sauce. It's a soy-free vegan ragú that is simple, rich in umami and full of tasty, good-for-you nutrients. As with the original, this simple vegan bolognese sauce is made onions, tomatoes, and spices to give it that classic bolognese comfort food flavour.
A hearty bowl of spaghetti bolognese is the perfect thing too cozy up to on a weekend in. And with so many options on how to replace mince meat, it's easy to enjoy a classic Ragú alla bolognese as a vegan dish. Vegan doesn't by default mean that you need to rely on soy products as a meat replacement. There are so many other delicious options, such as lentils, mushrooms, nuts and seeds. And if you are already familiar with my roasted cauliflower and walnut bolognese sauce, you know how delicious a vegan ragú made with everyday ingredients, used in a creative way, can be!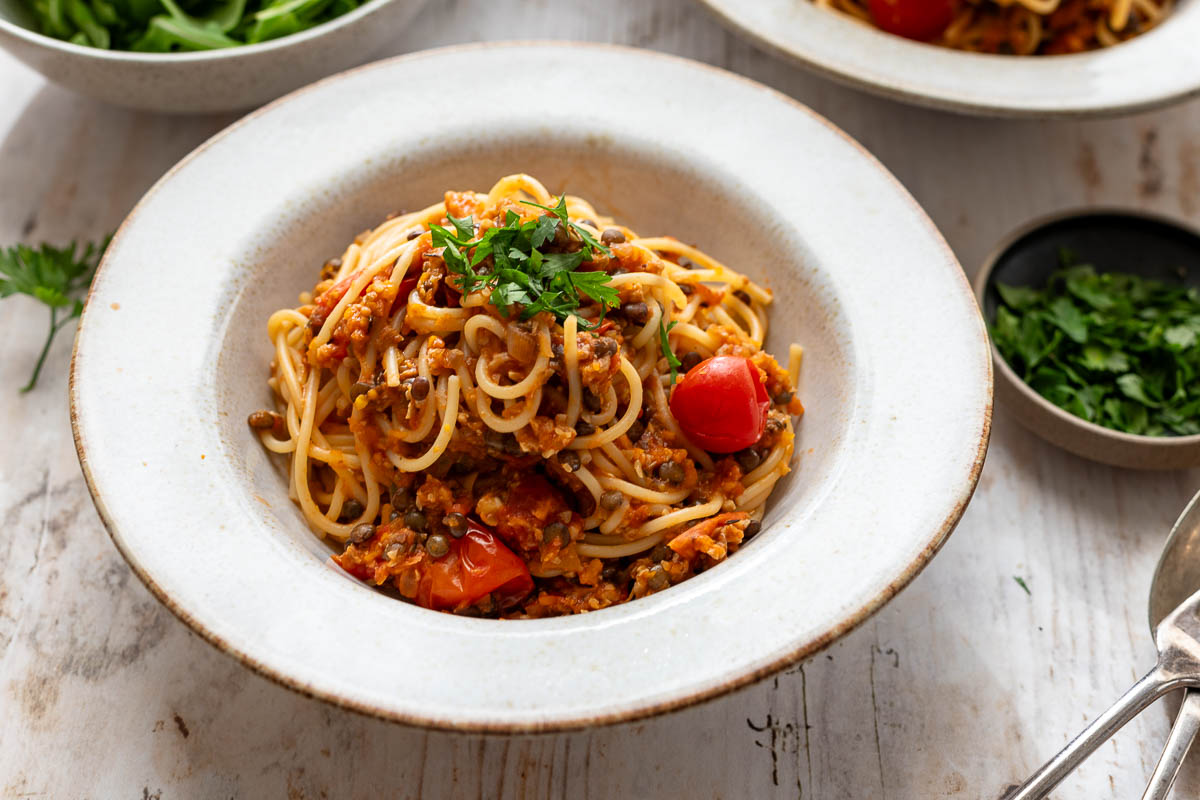 What is bolognese
Bolognese is an Italian sauce, originating from the city of Bologna (hence the name), which typically is made with minced meat. The sauce is often served with a bowl of pasta or as a base for lasagna and is made by cooking the mince with onions, celery, and carrots (referred to as soffrito) and tomatoes to create a thick and rich sauce.
How to make a vegan bolognese sauce
Similar to traditional bolognese, this recipe starts with a base of onions, garlic, carrot and celery. Since we want the flavours of the ingredients to meld with one another, they are blitzed in the a processor until finely chopped. Not only does this save time on chopping, but to also give the sauce a finer texture. Something you can expect when using store-bought sunflower mince or soy granulates.
Once the vegetables soften, the mushrooms and garlic also get to join the party. The mushrooms are also finely chopped in the food processor and then cooked along with the tomatoes and spices until the flavours develop and meld together into a rich and tasty result.
Finally, in the last minutes of cooking, the toasted sunflower "mince" and lentils are added and while the sauce finishes, the pasta can be boiled till perfectly al dente. All that's left is to serve it up, garnished with some fresh herbs.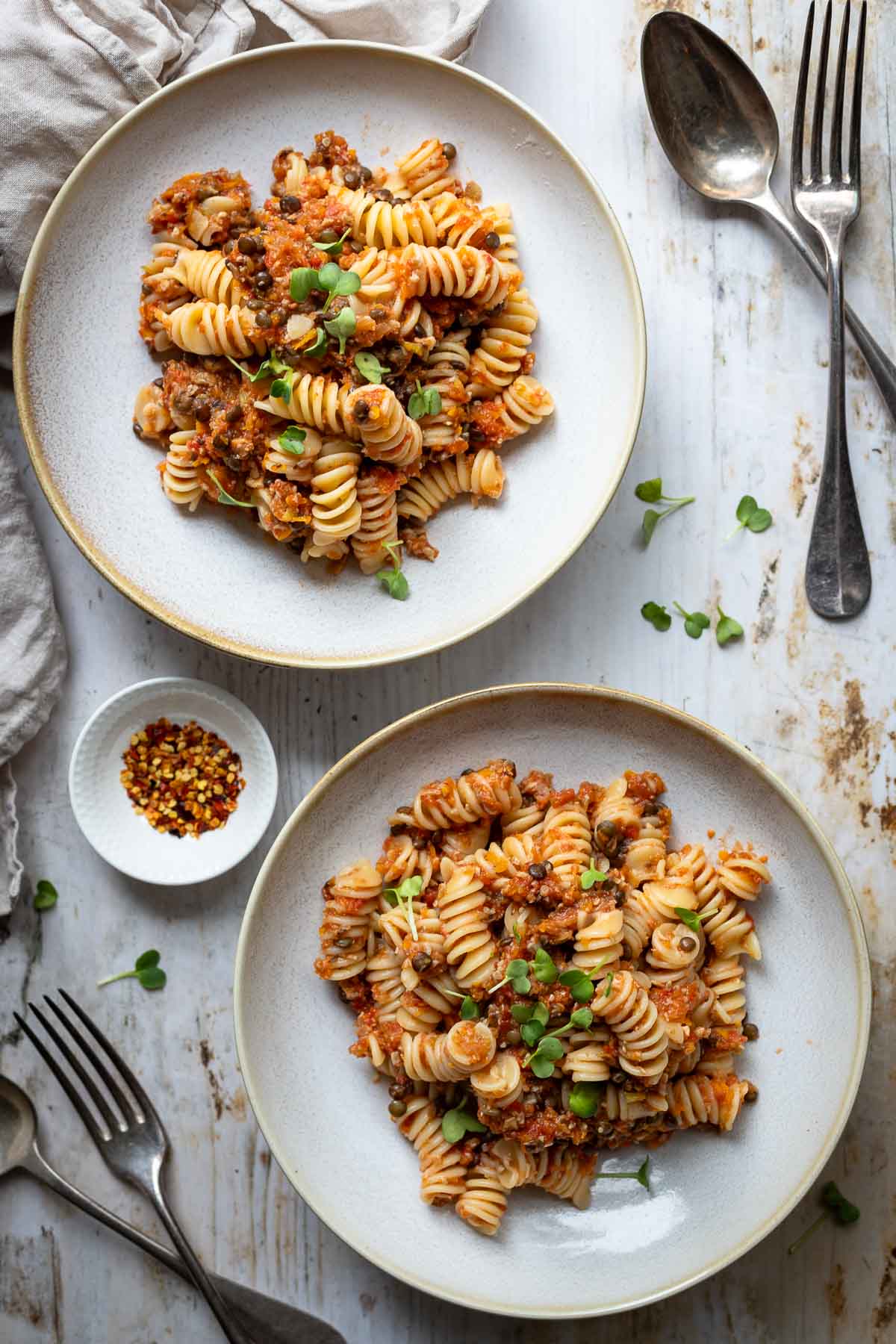 Useful tips for this vegan ragú
Soak the lentils
In general, lentils are relatively easy to digest, thanks to their high fibre content. but if you have any sensitivities, then try soaking the lentils for a minimum of two hours and a maximum of 12 before cooking them. This aids in their digestion, enhances mineral absorption and also speeds up the cooking time. Otherwise, simply omit the lentils in this bolognese sauce recipe.
Use different mushrooms
shiitake have a meaty texture, are rich in umami which adds a touch of complexity to this dish however if you don't have shiitake on hand or can't manage to find them, then you can trade them out for any other type of mushroom. Cremini mushrooms would be my second choice.
Use sunflower seeds as mince
Sunflower seeds aren't just a great topper for salads or homemade bread rolls. It might sound bizarre, but they are the perfect mince replacement when processed into a coarse meal. They are easy-to-find, inexpensive, and rich in protein and vitamins like vitamin E. You can also use them in vegan cream sauces by soaking them for 1-2 hours, then rinsing and draining them before blending with other ingredients. For a seed-free version of this vegan ragú, simply add more lentils.
Use your favourite pasta
Bolognese isn't only reserved for spaghetti! You can use any pasta this vegan bolognese. My personal favourite is spelt pasta, as the subtle nutty flavour compliments the sauce incredibly well. Otherwise, feel free to use any pasta of choice, whether it be durum wheat, whole grain, gluten-free, or even grain-free pasta.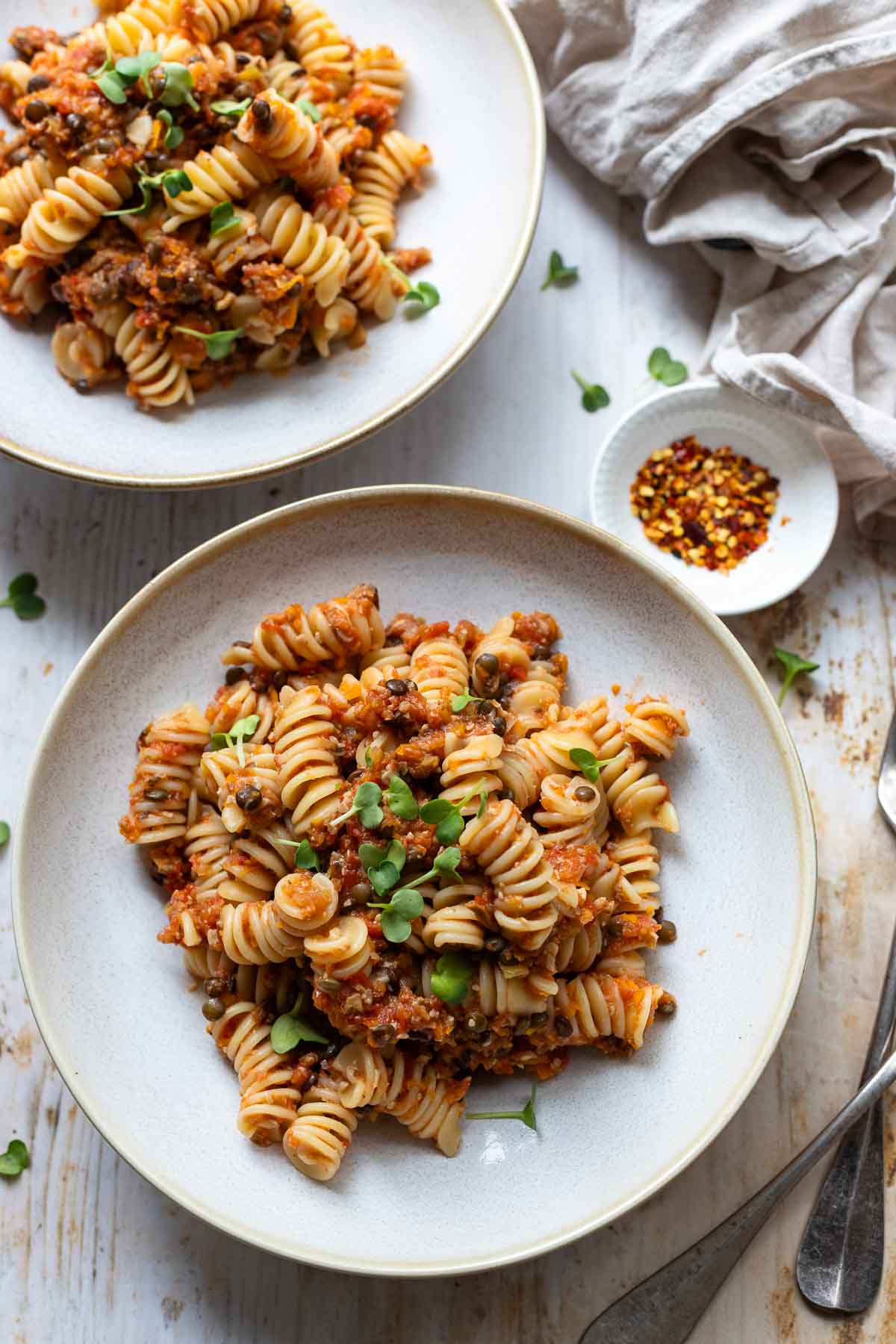 Looking for other vegan pasta recipes?
Try one of these favourites: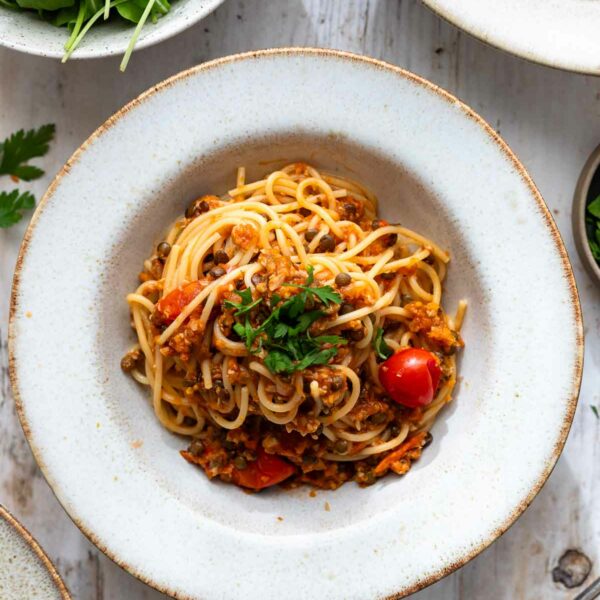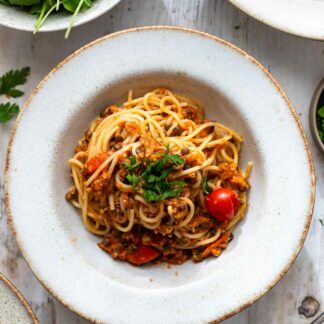 Vegan Bolognese
This easy vegan bolognese recipe combines protein-rich green lentils with toasted sunflower seeds and hearty mushrooms for a rich, "meaty" (but meat-free) sauce.
Total Time
1
hour
15
minutes
Ingredients
for the vegan ragú:
100

g

green lentils

(le puy)

10

g

dried porcini mushrooms

100

g

sunflower seeds

2

small yellow onions,

cut into chunks

1

large carrot,

cut into chunks

2

celery stalks,

cut into chunks

2

tablespoons

olive oil

100

g

shiitake mushrooms,

stems trimmed

3

large garlic cloves

minced

2

x 400g cans

diced tomatoes

(see tips)

125

ml

water

(1/2 cup)

1

tablespoon

tomato paste

1

teaspoon

dried thyme

1

sprig of fresh rosemary

(or 1 teaspoon dried)

1 1/2

tablespoon

white miso paste

(shiro)

sea salt and pepper,

to taste
to serve:
pasta of choice

(spelt pasta is my favourite)

chopped fresh parsley,

to serve (optional)
Method
Cook lentils in a pot of water, according to package instructions (about 25 minutes). Drain excess liquid, if needed. Set aside.

Meanwhile, put the porcini mushrooms into a small bowl and cover them with 250 ml of boiling water. Let them soak for 10–15 minutes, then strain the mushrooms and reserve the liquid. Roughly chop the mushrooms and set aside. You can start this step while you prep the ingredients.

Using a skillet, lightly toast sunflower seeds over medium heat, transfer to a plate to cool.

Add the peeled and roughly chopped onion, carrot, and celery to a food processor. Pulse until finely chopped. Alternatively, chop very finely by hand.

In a large deep skillet, heat the oil over medium to medium-high, add the vegetable mixture along with a pinch of salt and cook for 7-8 minutes, until the vegetables start to soften.

Add the mushrooms to the food processor and pulse again until finely chopped. Then transfer the mushrooms, along with the minced garlic to the pan with vegetables. Cook for 7-8 minutes, stirring occasionally.

Add the soaked porcini and reserved mushrooms soaking liquid to the pan. Followed by the the canned tomatoes, tomato purée, water (use to rinse the cans), thyme, rosemary, and miso paste. Season with salt and pepper, to taste.

Stir to combine, then keep cooking at a gentle simmer over medium to medium-low, partially covered with a lid, for 20–25 minutes. Remove the rosemary sprig.

Transfer the toasted sunflower seeds to the food processor and pulse until reaches a crumbly texture.

Add the ground sunflower seeds and cooked lentils to the pan and cook for another 5 minutes. The sauce will be thick and rich. Taste, and adjust seasoning, as desired.

Meanwhile, cook your choice of pasta according to the packet instructions, reserving a little cooking liquid to thin the bolognese sauce, if desired. Once the pasta is al dente, drain it and divide between serving bowls. Top with your desired amount of sauce and garnish a sprinkle of chopped parsley.

Enjoy!
Notes
Feel free to sub out one can of the chopped tomatoes for a can of cherry tomatoes.
White miso paste adds an extra element of umami to the sauce, as do the shiitake and porcini mushrooms. White miso (shiro) can be found in Asian supermarkets or health food stores.
Für eine entspannte Atmosphäre in der Küche empfehle ich Euch meine persönliche Elle Republic: Chilled Out Kitchen Tunes Playlist auf Spotify.
Did you try this recipe?
Then tag @ellerepublic on Instagram and hashtag it #ellerepublic
How did you like it?
Please let me know how this vegan bolognese sauce recipe turned out for you! I would love to hear how you liked it. Simply rate it with the stars above ⭐ or leave me a comment and rate it below.
Did you make any changes to this recipe?
If you have tips for other readers, let me know! It helps me and other readers so much. Sharing is Caring :-).
This post contains affiliate links. If you decide to make a purchase through my link, Amazon will pay me a commission for it. This doesn't cost you anything additional and the price remains the same. More about advertisements on Elle Republic.