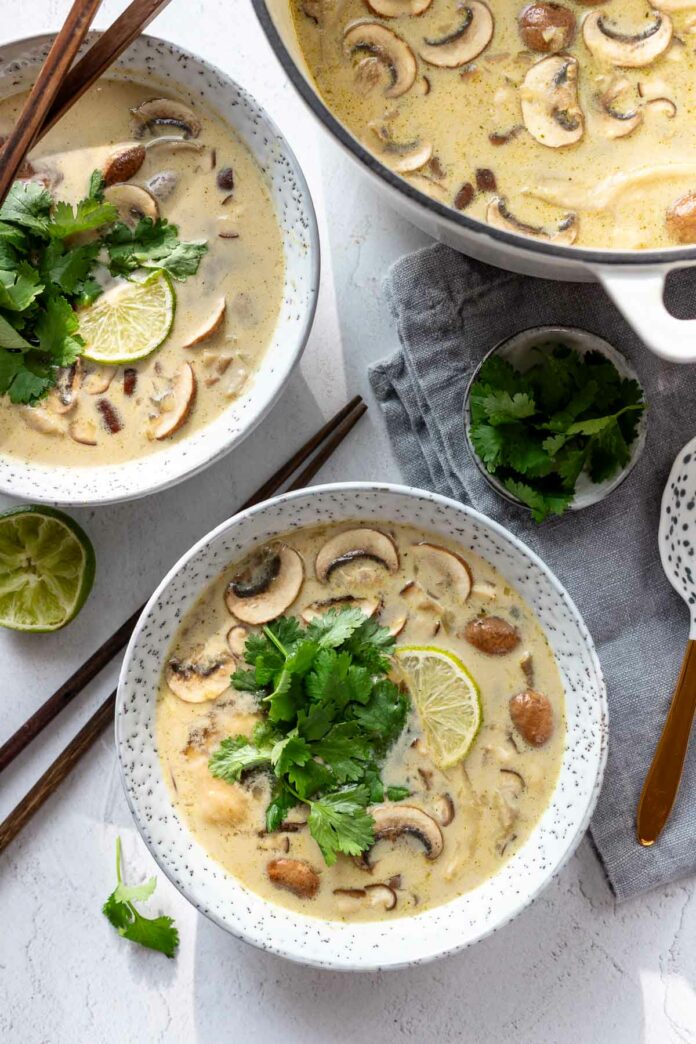 Tom Yum Soup — this popular Thai soup gets a vegan twist. Made with umami-rich tofu and mushrooms it still has that authentic flavor you expect in a restaurant. Best thing is that it is super easy to prepare at home. Lemongrass, lime, chili, and a little coconut milk give it those familiar flavours of creamy, spicy, tangy —- and undeniable deliciousness!
Traditional tom yum soup
Tom Yum soup originates from Central Thailand and can be found made with meat or seafood, however the most popular version called "Tom Yum Goong" is made with shrimp or prawns (it's name roughly translates to "boiled spicy and sour shrimp"). This traditional soup is typically made with a base of makrut (kaffir) lime leaves, lime juice, fish sauce, galangal, fresh chili, lemongrass and sometimes a little coconut milk. Which then may be called "Tom Kha", depending on how creamy the soup is. Although "Kha" translates to galangal, it is a coconut milk based Thai soup, and is a good way to distinguish whether it is a clear and creamy soup. Both have a sweet, sour, and spicy flavor. Though, since Tom Yum is a more popular and well-known term, you will also see many variations of this famous Thai soup also made with a small amount of coconut milk. As in this vegan version.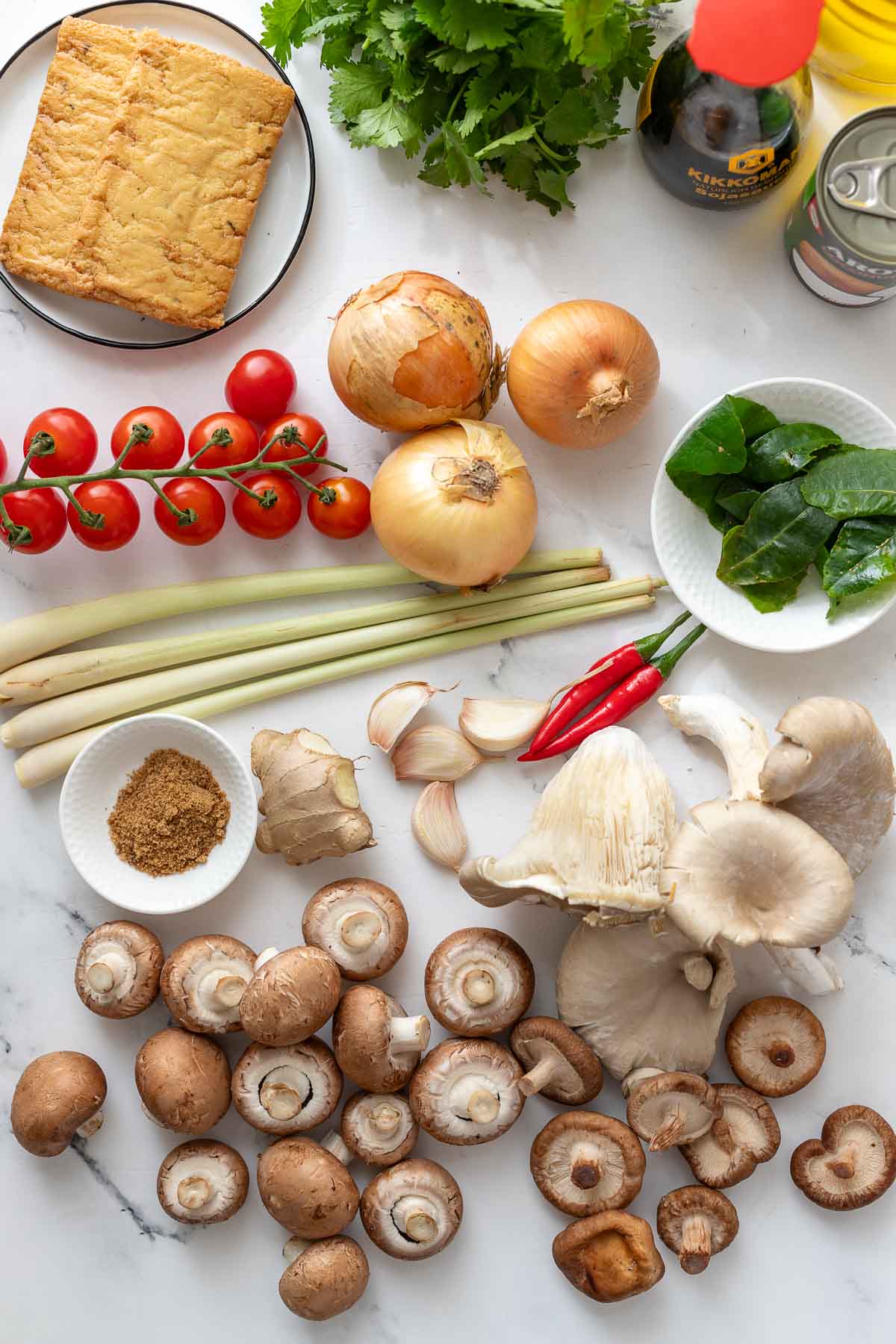 Thai ingredients and their substitutions
This version is not entirely traditional, but is a plant-based version, inspired by the original and includes some easy ingredient swaps and tips for each of the authentic Thai elements. Let's take a look:
Lemongrass
You can buy lemongrass stalks at well-stocked grocery stores and Asian markets. It gives the soup a unique flavour and aroma that's not to be missed. Cutting the lemongrass in chunks and crushing them with the back of the knife helps release the aromatic oils for more flavour.
Kaffir Lime Leaves
Lime leaves add a bright, citrusy flavour. They can be found at Asian markets and are often sold with other fresh herbs or as fresh frozen. Simply ask for them. If you do manage to find fresh lime leaves, simply freeze the extras to save them for later. And, if you really can't get your hands on any, then simply increase the amount of freshly squeezed lime juice. Alternatively, you could add some finely grated lime zest from an organic lime.
Galangal
Part of the ginger family, galangal looks like very similar, except it has a smoother skin and is paler. It is more citrusy than ginger and has a spicy, peppery flavour. It too, lends this Thai soup a special aroma, but it can easily be replaced with fresh ginger root. And to give the soup a little boost of citrus flavour, you can simply add a little lime zest or more fresh lime leaves.
Thai Red Chili
Thai bird's eye chili can also be found at your local Asian market, however you can substitute it with other fresh chili peppers, if needed. A little goes a long way, so you won't need a whole bag of Thai chilies, simply freeze the rest for another use. Yes, Thai chilis are very spicy and when you slice it down the middle you will see that it is full of tiny white seeds. The seeds and the pith are the hottest part of the chili, so if you want to reduce heat, remove the seeds and pith. You can always add more later if you want to increase the heat — as it's easier to add more heat than to take it out after the fact! And word to the wise… wearing gloves while preparing the bird's eye chili is recommended as the spiciness can linger on your fingertips for a few hours.
Coconut Milk
In Asian markets you can find small 165ml cans of coconut milk. This is plenty enough for a creamy Tom Yum soup. You could buy a standard 200ml can and use the whole thing for an even richer, creamier soup. Most traditional recipes only use 60ml (1/4 cup) for a light and creamy soup. If you are worried about wasting the remaining coconut milk, then reserve it for your morning smoothie or use it to make my creamy millet porridge recipe.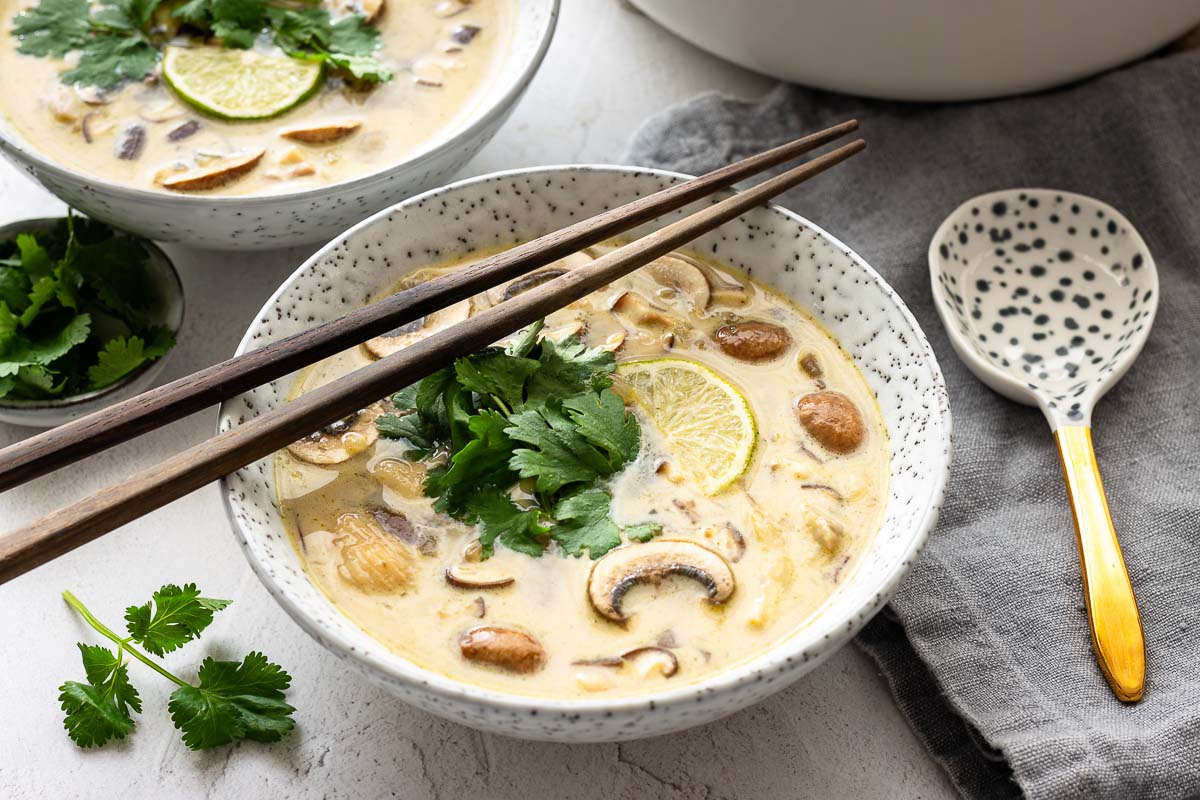 How to adapt this Tom Yum Thai Soup with Coconut Milk (Tom Kha)
As mentioned above, there are a few options on how to trade out speciality ingredients, but you can also make some other adjustments to this delicious Thai soup recipe. Whether you want to keep it vegan, add some carbs, or even meat or seafood, here are a few ideas:
Make it heartier by adding dried soba noodles, vermicelli noodles, egg noodles or instant noodles and a little extra broth or water.
For a low-carb noodle option, simply serve the soup over a bowl of zucchini noodles.
Reduce the amount of mushrooms and add in some baby corn and broccoli.
Or try a mix of other vegetables, such as Chinese cabbage, julienned carrot, cauliflower, snow peas, green beans, mung bean sprouts – or simply use your favourite vegetables.
If you want a little more control over the heat, leave the Thai chilies whole (or use a mortar and pestle to lightly bruise them) then remove them when you take out the lemongrass. Add your own level of spice by using sriracha Thai chili sauce.
Increase the amount of coconut milk. With more, the Tom Yam soup becomes what is known as Tom Kha soup. Or if you are calorie conscious and want to lighten things up even more simply decrease it to 60ml (1/4 cup).
And of course, you can also try adding some cooked chicken breast or peeled and deveined prawns for flexitarians.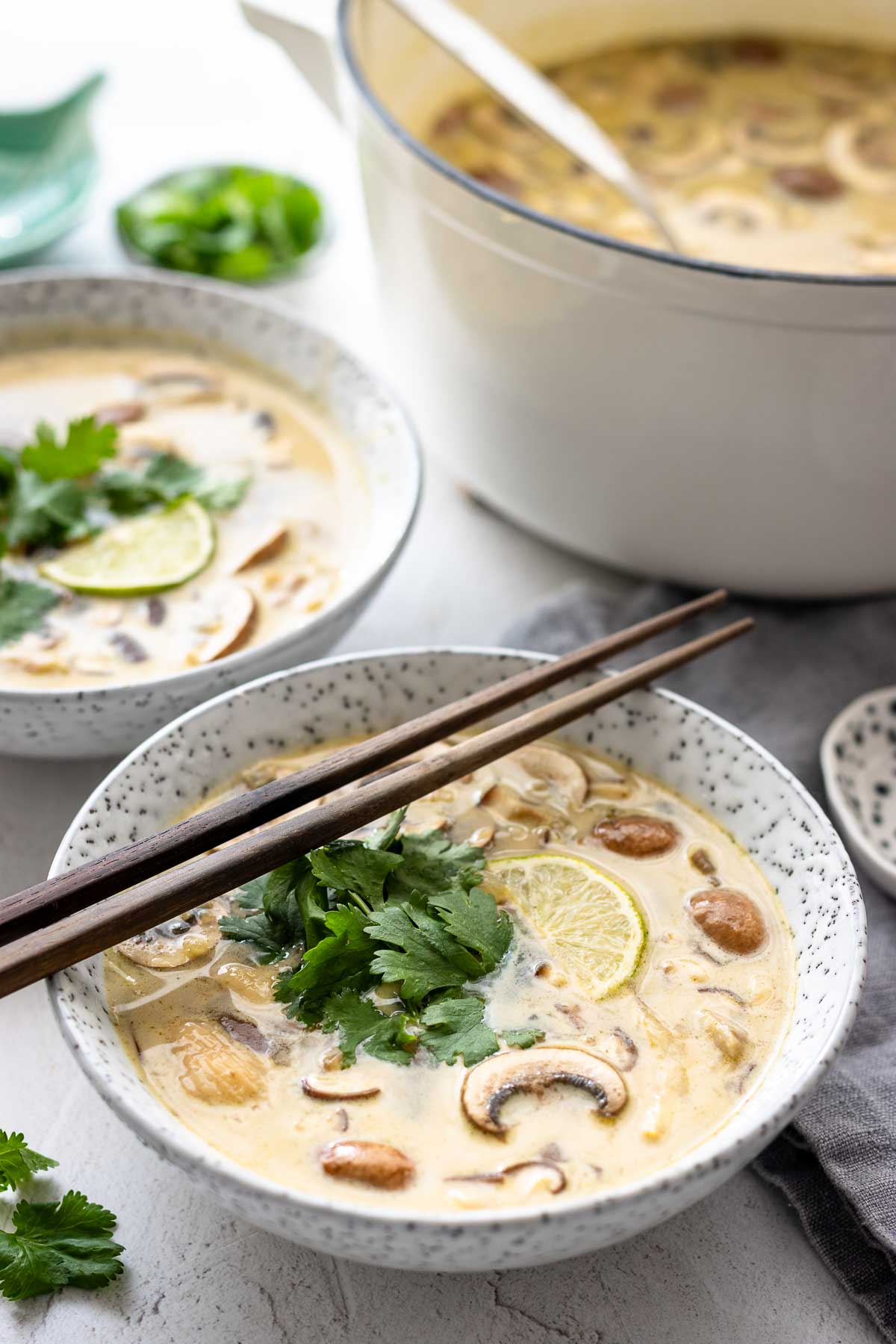 Looking for other Thai-inspired recipes?
Try one of these favourites: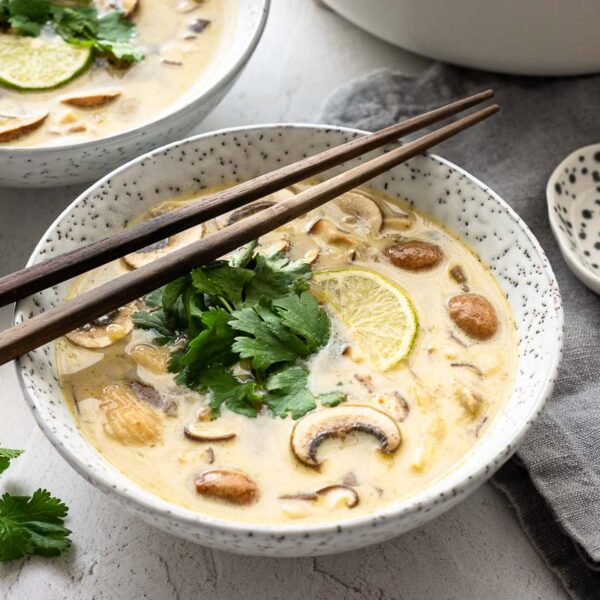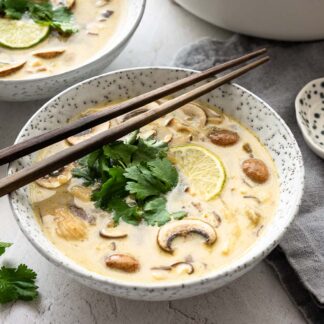 Vegan Thai Tom Yum Soup
Thai Tom Yum soup made with coconut milk (much lighter than Tom Kha), Together with umami-rich tofu and mushrooms it still has that authentic flavor you expect in a restaurant!
Ingredients
4

stalks lemongrass,

ends trimmed

1

tablespoon

olive oil

3

small yellow onions,

diced

4

cloves

garlic,

minced

1

tablespoon

peeled and grated Galangal root

(alternatively use fresh ginger)

6

cups

vegetable broth

1 to 2

Thai red chilis (birds eye),

seeded, pith removed and finely chopped

10

Thai kaffir lime leaves,

fresh or frozen

50

g

shiitake mushrooms,

stemmed and chopped

100

g

oyster mushrooms,

torn

100

g

cremini mushrooms,

sliced

1

x 160 g package

baked tofu / gebratener Tofu,

cubed (see tips below)

100

g

cherry tomatoes,

halved

4

tablespoons

freshly squeezed lime juice,

from 2 limes, or more to taste

2

tablespoons

soy sauce

1/2

tablespoon

muscovado brown sugar

(or coconut palm sugar)

1

x 165 ml can

coconut milk

(Asian market)

1/2

small bunch fresh coriander,

to garnish
Method
To prepare the lemongrass, use the back of your knife to crush each stalk (this helps release the oils and their aroma). Cut each stalk in half, then cut the thick ended piece in half lengthwise. Set aside.

In a large heavy bottomed pot (or Dutch oven), heat the oil over medium to medium-high heat. Add the lemongrass and sauté, until fragrant, about 3 minutes.

Add the onion, sauté until softened, about 6-8 minutes. Then add the garlic and galangal (or ginger), sauté, stirring constantly, until fragrant, about 1 minute.

Add the vegetable broth, red chili, and lime leaves and bring to a simmer. Reduce heat to medium-low, cover with a lid, and cook at a light simmer for 20 to 25 minutes. This will allow the flavours to develop and meld with one another.

Use kitchen tongs to remove the lemongrass from soup (and any lime leaves along the way). Discard.

Add the mushrooms, tofu and cherry tomatoes. Simmer, uncovered, until the mushrooms have softened, about 5 minutes. Add the lime juice, soy sauce, sugar and coconut milk. Stir to combine. Taste and add an extra squeeze of lime juice, if desired.

Ladle into bowls and garnish with a little cilantro on top. Serve and enjoy!
Notes
You can find lemongrass, galangal, and Kaffir lime leaves at your local Asian markets. Some well-stocked supermarkets will also carry these items. See tips above on how to substitute these ingredients.
You will also find baked tofu blocks at your Asian market or your local health food which stocks many types of tofu products. Alternatively, you can use firm tofu, cube it and simply pan fry it in in a little oil or bake it in the oven before adding it to the Tom Yum soup.
For a relaxing atmosphere in the kitchen I recommend my personal Elle Republic: Chilled Out Kitchen Tunes Playlist on Spotify.
Did you try this recipe?
Then tag @ellerepublic on Instagram and hashtag it #ellerepublic
How did you like it?
Please let me know how this Vegan Thai Tom Yum Soup recipe turned out for you! I would love to hear how you liked it. Simply rate it with the stars above ⭐ or leave me a comment and rate it below.
Did you make any changes to this recipe?
If you have tips for other readers, let me know! It helps me and other readers so much. Sharing is Caring :-).