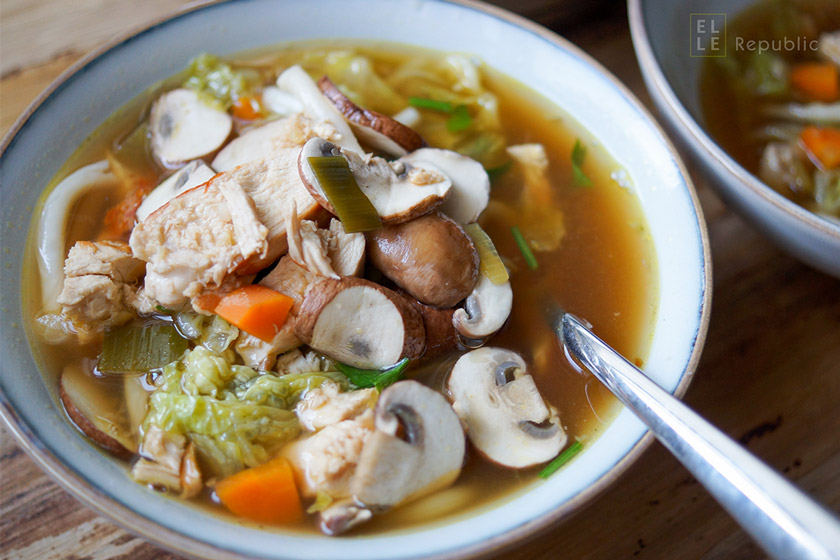 Ridiculously delicious. That's what this Asian chicken noodle soup is. Not only is it the best thing ever for fighting off a summer cold, but it tastes amazing! Loaded up with magical umami-power, a healthy dose of vegetables, immune boosting garlic and ginger, it'll keep you hydrated while delivering the same promise every chicken noodle soup makes – to get you back up on your feet in no time at all.
So just now, you may be wondering how it's possible to get a cold in the middle of a heat wave. Well, this time it was my favourite Schwabe. After an ambitious bike ride in 34°C to his office along the Elbe, yes, a mere 7km, but a-sweaty-like-a-pig 7km, only to spend an afternoon of meetings in a breezy air-conditioned room. And anyone who knows what it is like to sleep in a hotel room with air-conditioning and no fresh air has experienced themselves how this wreaks havoc. Okay, on this particular day, the tipping point may very well have been an evening of birthday celebrations. And when I say evening, I mean until sunrise. So when I returned from my weekend in Geneva, the dear Schwabe was only half the person he was when I left. Dare I "man cold"? Okay, not fair colds suck, even for us girls. And when was this particular heat wave? Well, it lasted maybetwo days… and that was a little more that a week ago. Sadly, weather-wise summer decided to leave us just as September entered the scene.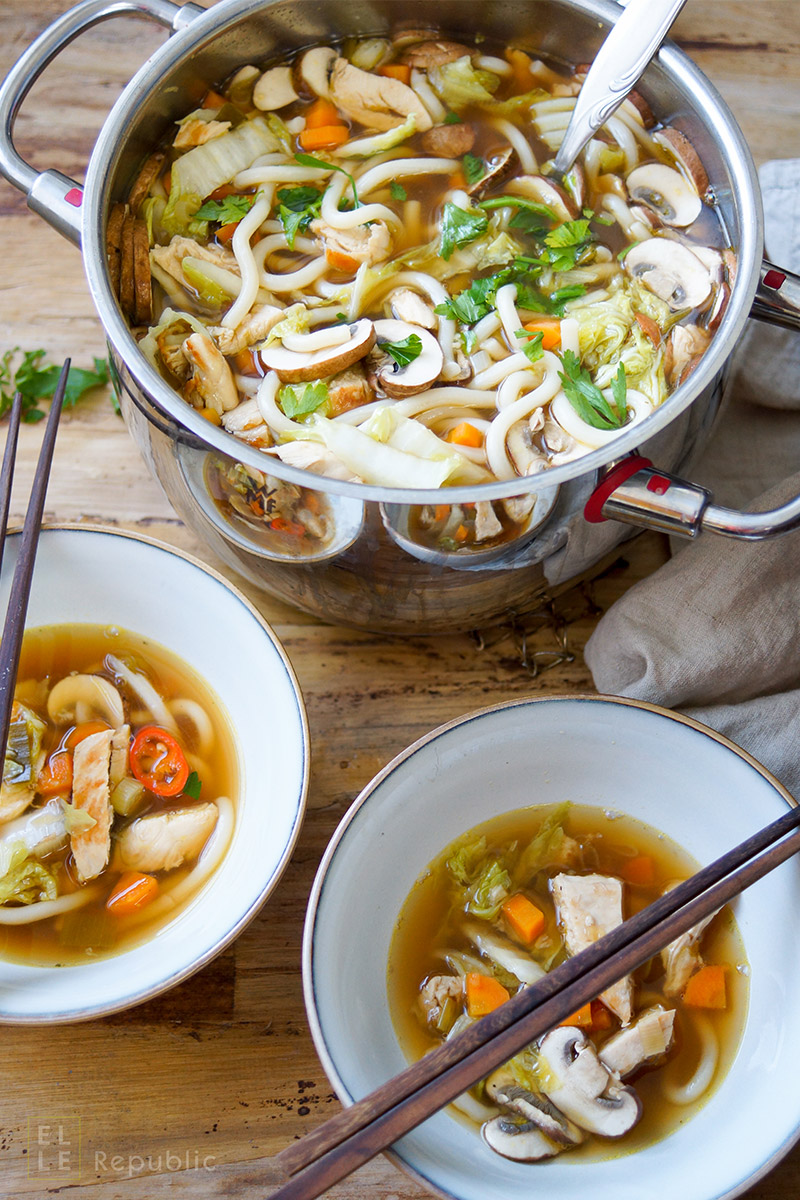 Asian chicken noodle soup – a cold remedy that tastes awesome!
So armed with a good dose of healthy green smoothies (bravo) and Nutella bread (booo) cold-inflicted cohabitator (BIG love) just wasn't able to ward off this cold. Step in: magical chicken noodle soup. Not like your childhood favourite but a tasty immune-boosting grown-up version with strips of sautéed chicken, crimini mushrooms, Napa cabbage, carrots (cause they are good for you) and oooh-so-awesome udon noodles in an Asian flavoured garlic ginger broth. Oh, and I like to throw in a handful of fresh cilantro cause it looks and tastes awesome. But in this case, I was late shopping and missed out (sold out!) so parsley had to suffice.
Udon noodles – a foundation for greatness!
What could be better than comforting bowl of homemade chicken noodle soup? Everything is better homemade, right? Yeah well, udon noodles — could be homemade but mine aren't — taste amazing despite being store-bought. And if you haven't tried them than you might want to give them a try – go ahead have a noodle moment – you'll love it! Udon noodles are thick wheat noodles that are ridiculously delicious. Soft and chewy, they have a neutral flavor and make the perfect choice for stronger flavored dishes like Asian type soups or stir-fries (even cold in salads!). Whether in an Asian chicken noodle soup like this or any other way, trust me you'll love them!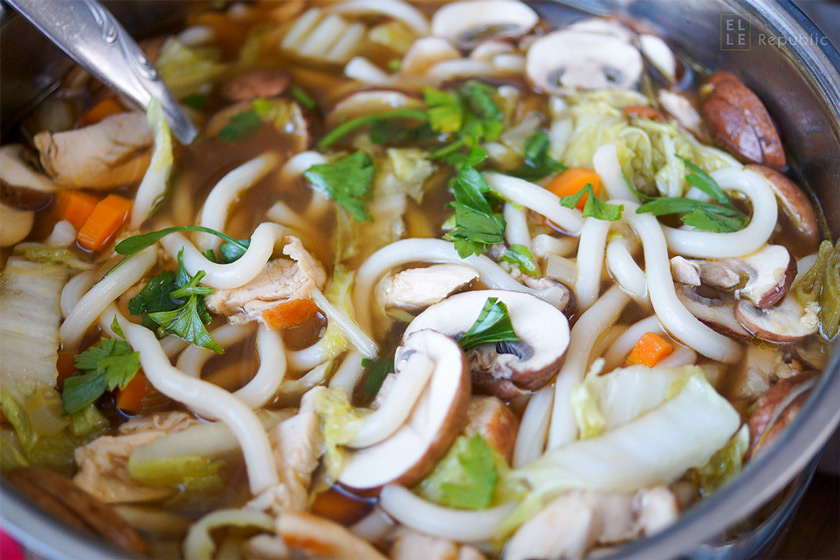 Lust auf mehr leckere und gesunde Suppen-Ideen?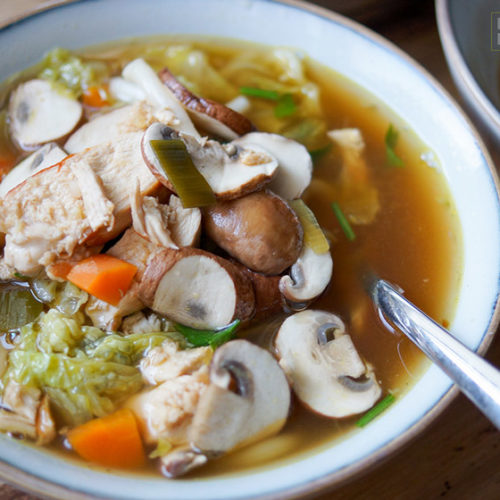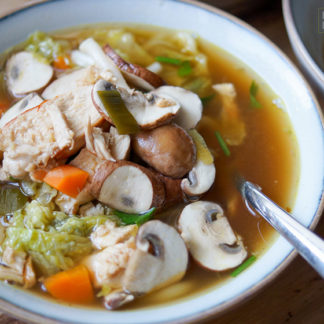 Asian Chicken Noodle Soup
Full of Asian flavours, this quick and easy soup is undeniably delicious and filling. Loaded with plenty of good-for-you ingredients and ready-made udon noodles. it's the perfect comforting and healthy soup to keep you satisfied through cool fall and winter nights.
Ingredients
2

tablespoons

extra-virgin olive oil,

divided

500

g

organic boneless skinless chicken breasts

sea salt and freshly ground black pepper,

to taste

2

large carrots,

diced

1

bunch green onions,

chopped

4

large cloves garlic,

minced

2

tablespoons

freshly grated ginger

1

fresh red chilli,

finely sliced (for less heat, scrape out the seeds and pith)

4 1/2

cups

chicken broth

(1.125 litres)

2

cups

water

(500 ml)

2 1/2

tablespoons

soy sauce

2

tablespoons

mirin,

Japanese plum wine *see notes below

2

tablespoons

unseasoned rice vinegar

(Japanese)

1

tablespoon

toasted sesame oil

1

tablespoon

coconut palm sugar or muscovado sugar

200

g

crimini mushrooms,

sliced

1

medium head Chinese/Napa cabbage,

shredded

2

x 200 g packages udon noodles

1

generous handful fresh chopped cilantro

(or parsley)
Method
Place a chicken breast half between 2 pieces of plastic wrap and pound lightly with the flat side of a meat mallet (or empty wine bottle!) until the chicken is even in thickness. Proceed with the remaining chicken, remove from the plastic and set aside.

Heat 1 tablespoon olive oil in a large non-stick skillet over medium-high heat. Season both sides of chicken lightly with salt and pepper, then add to the skillet and cook until browned on both sides and JUST cooked through; about 3 minutes per side (adjust time according depending on size of breasts). Remove from the heat and let chicken rest in the pan.

Meanwhile, in a large pot, heat the remaining 1 tablespoon olive oil over medium-high heat. Add the carrots and sauté, stirring occasionally, for 3 minutes. Add the green onions, garlic, ginger, and fresh chilli; sauté for a further 2 minutes.

Add the broth, water, soy sauce, mirin, rice vinegar, and sesame oil. Bring to a boil then reduce heat to medium-low, cover and cook for 3 minutes.

Meanwhile, transfer chicken to a cutting board and slice into strips.

Stir in the sugar, mushrooms and cabbage and return the soup to a boil. Add the noodles and chicken and cook for 3-4 minutes longer until noodles are tender.

Serve this Asian chicken noodle soup warm sprinkled with cilantro (or parsley). Enjoy!
Notes
If you don't have mirin in your pantry, no worries! There are some simple ways to substitute it. You can mimic its sweet-tangy flavor by using dry sherry, sweet marsala wine, vermouth or dry white wine. Just be sure to add about 1/2 teaspoon coconut palm or muscovado sugar per tablespoon to balance out the acidic and sweet flavor of the broth.
Mirin, rice vinegar and udon noodles are available at your local Asian market or the Asian food section of larger supermarkets.
I buy my toasted sesame oil at my local organic food store, otherwise, look online. It is fabulous tasting – I use it a lot in salad dressings. Alternatively, try your local Asian market or substitute with regular sesame oil.
Did you try this recipe?
Then tag @ellerepublic on Instagram and hashtag it #ellerepublic
How did you like it?
Please let me know how this Asian Chicken Noodle Soup recipe turned out for you! I would love to hear how you liked it. Simply rate it with the stars above ⭐or leave me a comment and rate it below.
Did you make any changes to this recipe?
If you have tips for other readers, let me know! It helps me and other readers so much. Sharing is Caring :-).
This post contains affiliate links. If you decide to make a purchase through my link, Amazon will pay me a commission for it. This doesn't cost you anything additional and the price remains the same. More about advertisements on Elle Republic.