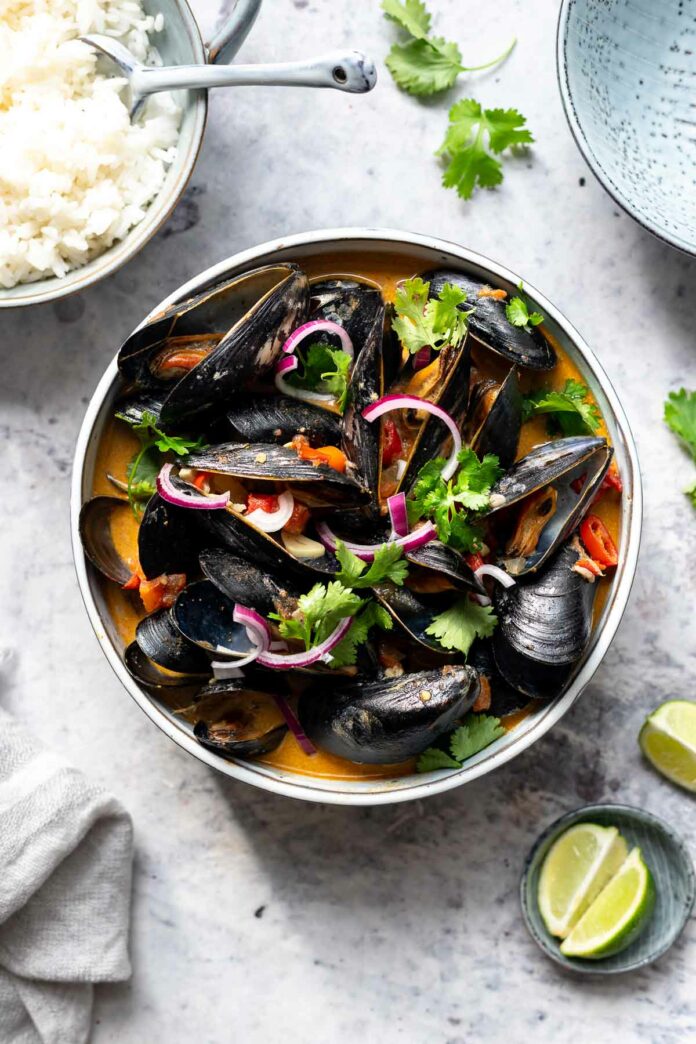 These juicy coconut curry mussels are quickly cooked in a delicious broth made from tomatoes, ginger, garlic, chili, coconut milk and warming spices. Serve them with a squeeze of lime and a side of steamed rice or crusty bread for a delicious and simple dinner.
A French classic
Steamed mussels are a traditional favorite in the South of France, and served in many restaurants in different variations with a classic pairing of French fries — called Moules frites (mussels and fries). They are inexpensive, easy to prepare and cook in no time at all. Once you know how, you can easily cook them at home (or as we also like to do, while on vacation since no special ingredients or equipment is needed).

Mussels are also at home in the North and Baltic Seas
Fresh blue-black mussels are also available to those of us living in the north. Typically, the period between late September and April is considered mussel season. On the coast you may find mussels cooked in "ostfriesische Art" or "à la GOSCH". I, however, decided to go the less traditional route and share this recipe for coconut curry mussels, which was inspired by my French friend, Magali, who first taught me how to make coconut mussels at home.
East Frisia — fresh mussels and more
Otherwise, if you are planning to do a trip to East Frisia during the fall holidays, since its the start of the season, you can find fresh off the boat mussels on a number of menus. Not only is the seafood great, but the coast and the neighbouring islands offer lots of activities and nature. So if you are looking thinking of a making a trip, then check out the Ostfriesen-Liebe digital Magazine (German) for more tips, plus you'll also find my recipe for Baked Plaice with Parmesan-Panko Crust in their magazine. It's another delicious recipe inspired by our North Sea coast!
Tips for buying mussels
Look for mussels that are tightly closed with shiny shells that do not have any chips or cracks. Be sure to toss any mussels that are badly damaged or open (if the shell is open, tap it on the counter to see if it closes. If it doesn't close, then discard it) before you cook them. And under no circumstances should the mussels have a strong fishy smell — they should only have a light ocean fragrance.
For the best experience, you should buy mussels the same day that you plan to cook them. Otherwise, you can store them in the fridge overnight (1-3 days) in a bowl covering them with a clean damp cloth. Do NOT soak mussels in water or clean them until ready to cook.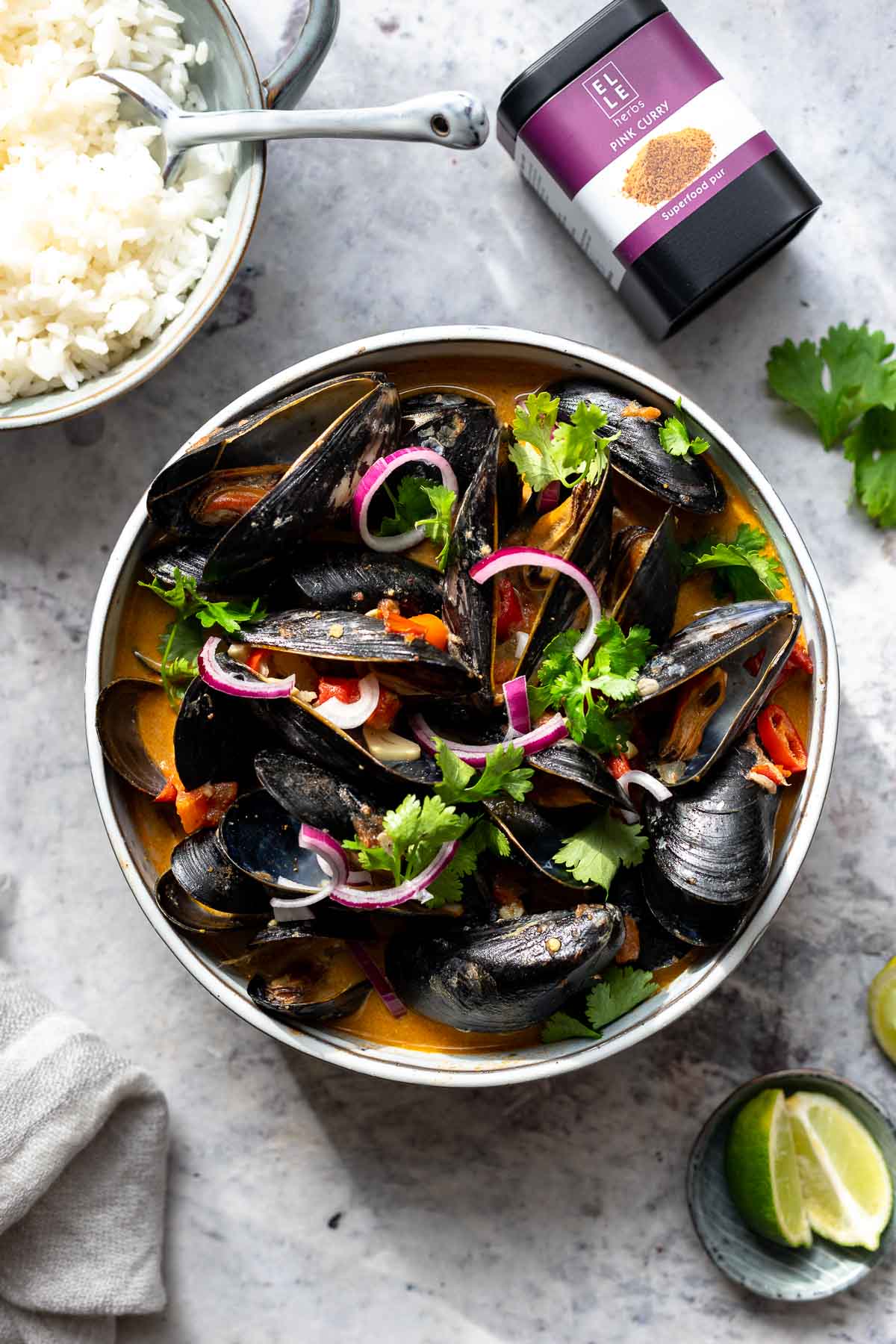 Scrub the shells with a bristle brush to clean and remove the beard (fibrous brown stringy bits coming out from the side) and rinse with cold water. Once the beard is removed, the shellfish will only be alive for a short period so cook immediately.
Tips for cooking mussels
The mussels take around 6 minutes to cook in a covered pot. You can check them after 3 minutes, giving them a stir to mix the ingredients, then recover the pot for a few minutes, until you see that mussels have opened. Any unopened shells should be discarded.
Tips for enjoying steamed mussels
I like to you an empty shell as a pincher to eat the mussels, but a small fork is also fine.
The broth can be enjoyed spooned over rice, as a dip for bread, or with French fries. Not only does it give the mussels some extra flavor, but the cooked mussels also add a delicious and subtle seafood flavor to it during steaming.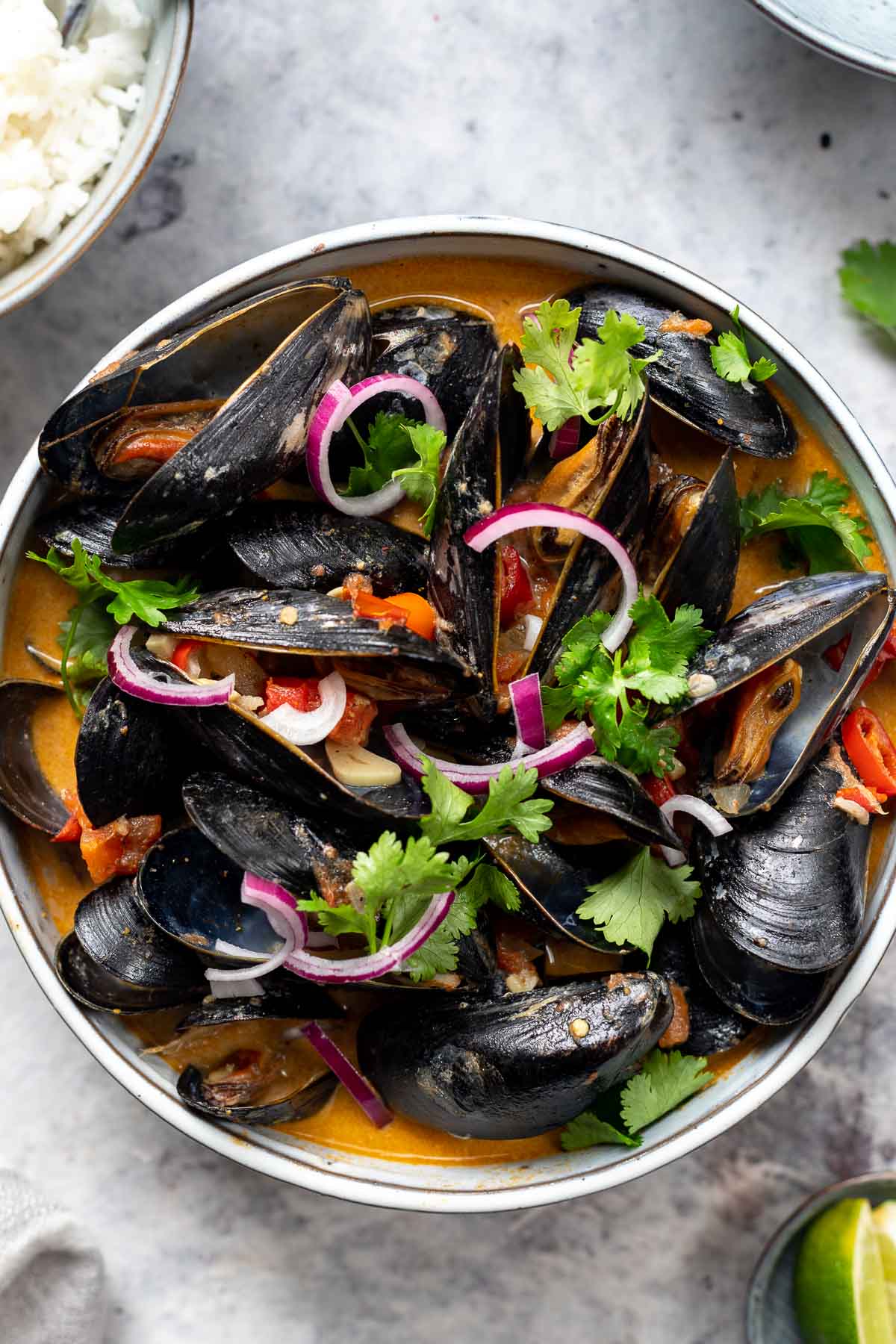 If you like this recipe, then you might also like to try my recipes with North Sea shrimp: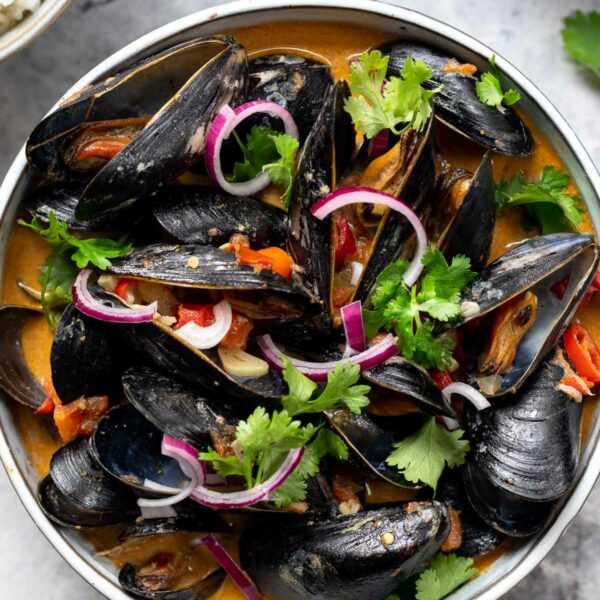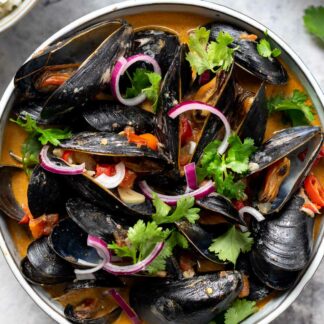 Coconut Curry Mussels
Fresh mussels are cooked in a delicious coconut curry broth with ginger, garlic, chili, tomatoes and spice. A quick and easy recipe. Serve with rice or bread for dipping into the broth. Appetizer for 4 for main for 2.
Ingredients
2

tablespoons

extra-virgin olive oil

1

small yellow onion,

diced

6

cloves

garlic,

thinly sliced

1

fresh red chili,

thinly sliced

1

thumb-size piece ginger,

peeled and thinly sliced

2

teaspoons

garam masala or curry spice

3

roma tomatoes,

chopped

1

pointed red pepper,

sliced

1

x 400 ml can

organic coconut milk

sea salt

to taste

2

kg

fresh mussels,

scrubbed and debearded

1

small bunch cilantro,

chopped

1/2

small red onion,

thinly sliced

Lime wedges
To serve:
Steamed rice or bread or dipping into sauce
Method
In a large saucepan, heat the oil over medium-high heat. Cook the garlic, chili, ginger, and onion until golden, 5–6 minutes. Add the garam masala (or curry spice) and tomatoes; cook, stirring occasionally, until tomatoes begin to soften, 5–7 minutes.

Add the coconut milk, salt, and 1/4 cup water. Bring to a boil. Add mussels; cook covered with a lid, stirring after 3 minutes, and occasionally shaking the pot, until all mussels are opened, about 5-6 minutes. Garnish with cilantro and red onions; serve with lime wedges and rice (or bread for dipping), if desired. Enjoy!
Did you try this recipe?
Then tag @ellerepublic on Instagram and hashtag it #ellerepublic
How did you like it?
Please let me know how this Coconut Curry Mussels recipe turned out for you! I would love to hear how you liked it. Simply rate it with the stars above ⭐ or leave me a comment and rate it below.
Did you make any changes to this recipe?
If you have tips for other readers, let me know! It helps me and other readers so much. Sharing is Caring :-).