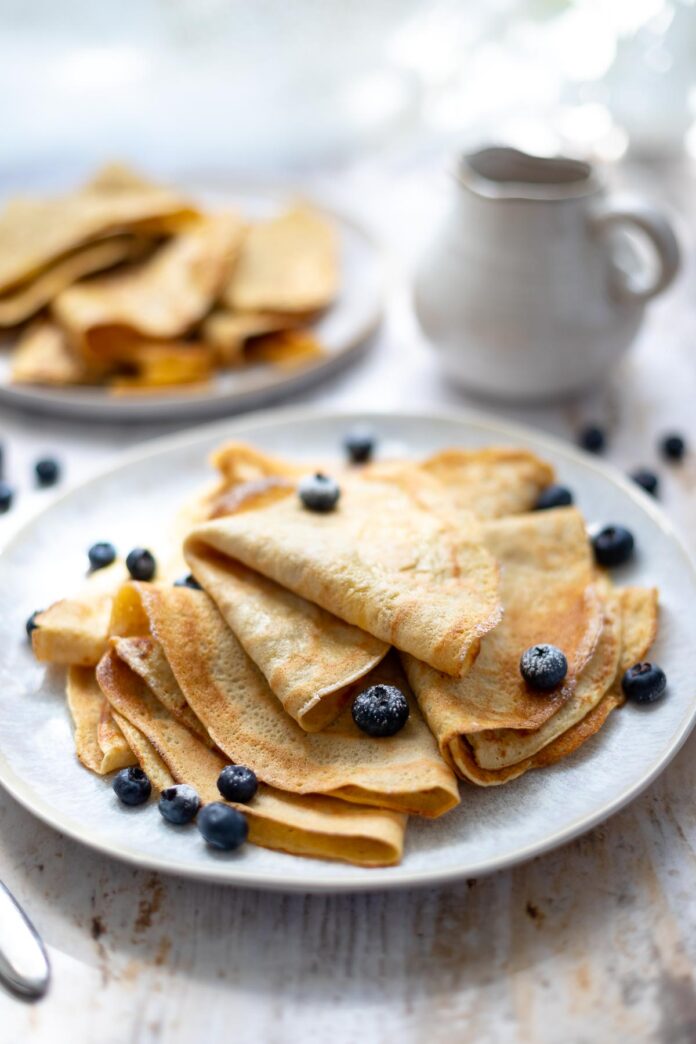 Traditional French Crêpes just like in France! With this basic recipe for crêpes batter, you can easily make these thin pancakes yourself! These homemade crêpes are ultra thin, with buttery crisp edges. They are super easy to make, and can be filled with your choice of sweet or savory fillings and toppings.
And when I say easy, I mean super easy. With the right recipe for crêpes they are even easier than making classic pancakes. The batter is made with just 4 ingredients, unless you want sweet crêpes, then you can up that to 4 or 5 ingredients (sugar and maybe a little vanilla, or simply vanilla sugar!).
How to prepare crepes batter
Preparing the batter is simple. You can use an electric mixer or an immersion (or even a blender) for a guaranteed smooth and lump-free batter, or you can simply use a whisk. The trick here is to whisk together the eggs, then add the flour and just one third of the milk. Once it is well combined you can add the remaining milk, plus the butter and continue to whisk until smooth. This is my method of choice. And a word about the butter in the batter, it helps so that the crêpes aren't tough or rubbery.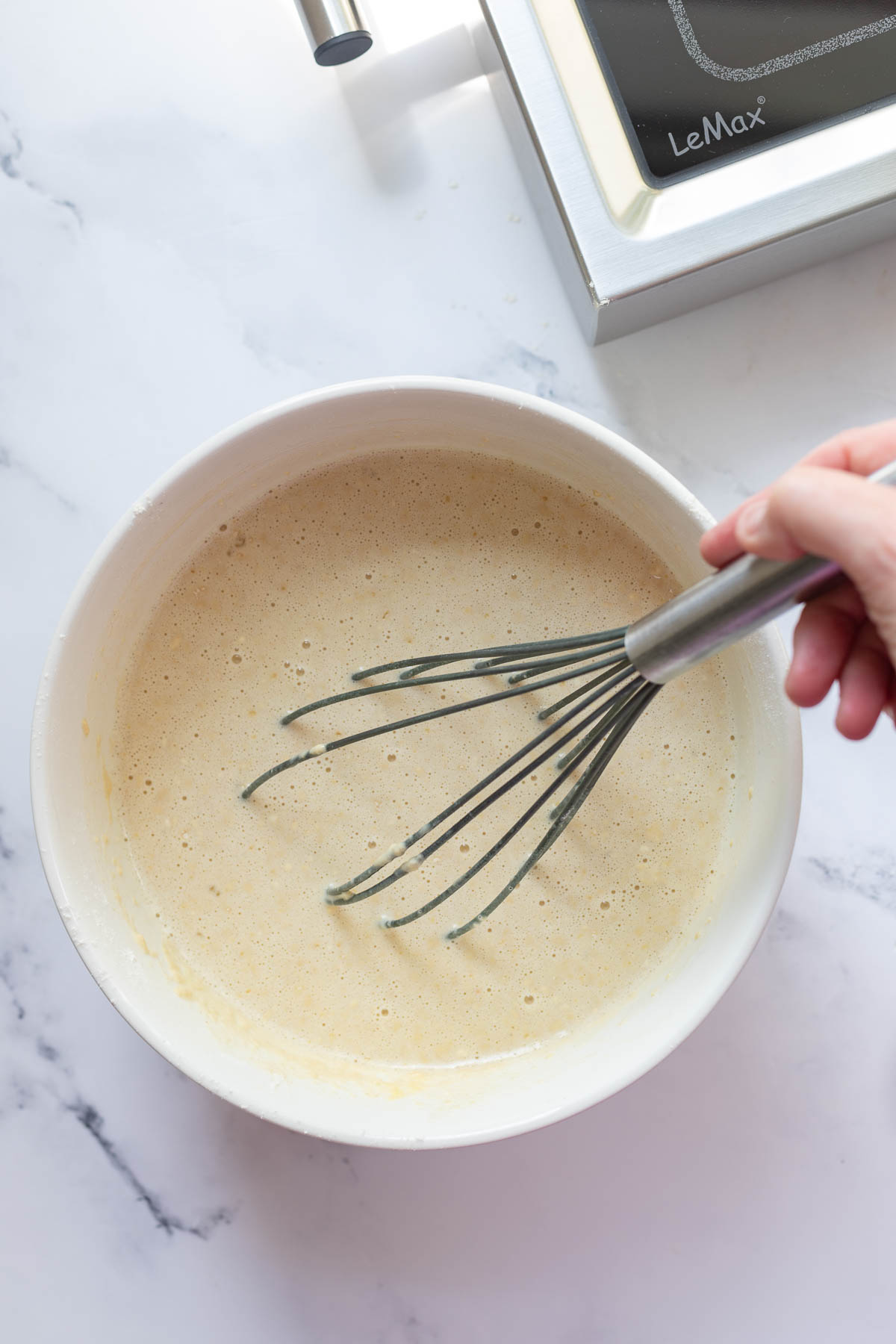 Sweet or savoury?
Although you will find many recipes for savoury crêpes made with all-purpose flour, traditionally savory crêpes are made with buckwheat flour and called galettes. In the French Brittany region, you'll find them served as a meal, filled with eggs, ham, and cheese. Though, as not everyone is a fan of buckwheat, you can also make savoury crêpes by following a classic sweet crêpes recipe by simply omitting the sugar.
How to cook the crêpes
You can use a regular non-stick skillet, a French crêpe skillet, a flat cast-iron griddle, or you can even use a glass-ceramic tabletop grill (like my LeMax grill) which I tend to do, since the large smooth surface give you plenty of space to cook more thane crêpe at time or make it as large as you like.
Preparing crêpes in a skillet
When using a skillet, make sure the pan is preheated and hot, then lightly butter the pan before adding a ladle full of the batter, while also tilting and swirling the pan in a circular motion at the same time to evenly spread out the batter in a thin layer. Keep in mind, you need to do this with a little speed to get a thin spread before it cooks.
Preparing crêpes on a griddle or grill
If you are using a griddle or a smooth surfaced tabletop grill, you will also need to preheat the surface and lightly grease it before preparing the crêpe. Working quickly, using a ladle, pour the batter in the middle of the surface and using the underside of the ladle, quickly spread the batter in a circular motion towards the outside, until it reaches 15-17 cm in diameter. This is a great size for homemade crêpes.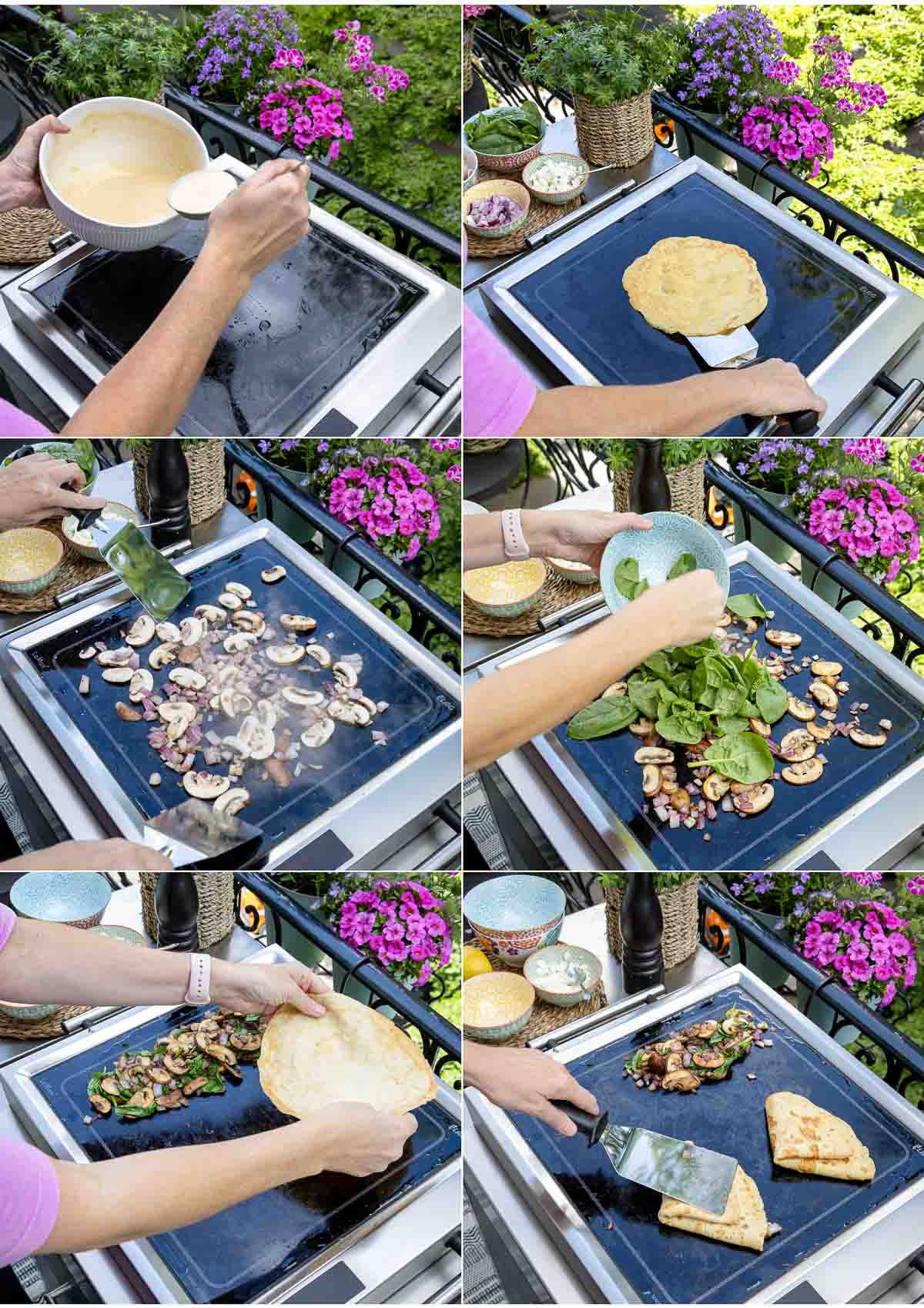 Ideas for savory fillings for crêpes:
Fill with sautéed spinach, mushrooms, onion and feta cheese, plus a squeeze of lemon juice.
Line with a slice of ham, sprinkled with grated cheese and then fold into a triangle, and heat until the cheese melts.
Brie and pear
Bacon and a fried egg
Serve cold spread with herbed cream cheese, followed by a layer of thinly sliced smoked salmon. Roll and cut into bite-sized slices as an hors d'oeuvre.
Ideas for sweet fillings for crêpes:
Spread with sweetened cream cheese or creamy ricotta with a little lemon zest.
Fill with sautéed banana slices and a drizzle of melted chocolate.
Mascarpone and berries
Apple sliced tossed in vanilla sugar, with a pinch of cinnamon and squeeze of lemon and then sauteed until soft. Then topped on the crêpes with a drizzle of maple sryup.
Stuff with pears, peaches, or ripe fresh berries that have been cooked with a little sugar. Serve with whipped cream or ice cream.
A squeeze of fresh orange juice, sprinkled with a little sugar, then rolled up and served with orange slices on the side.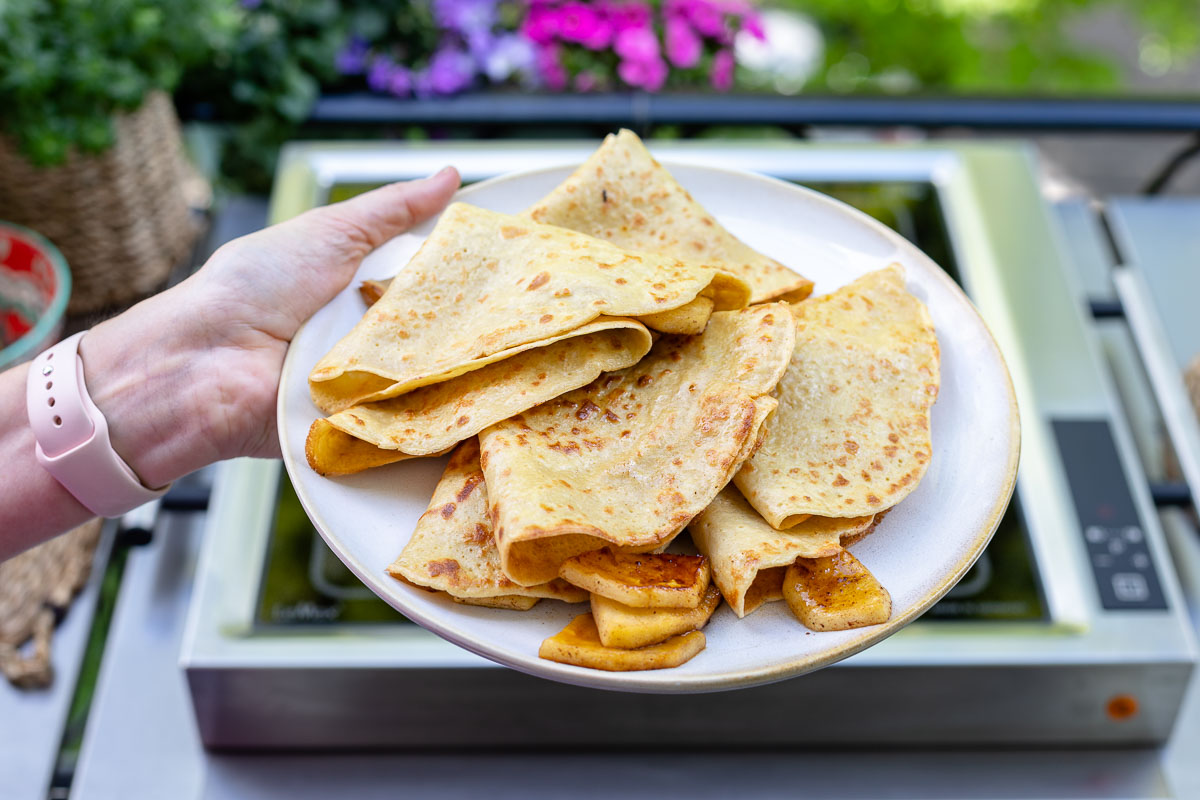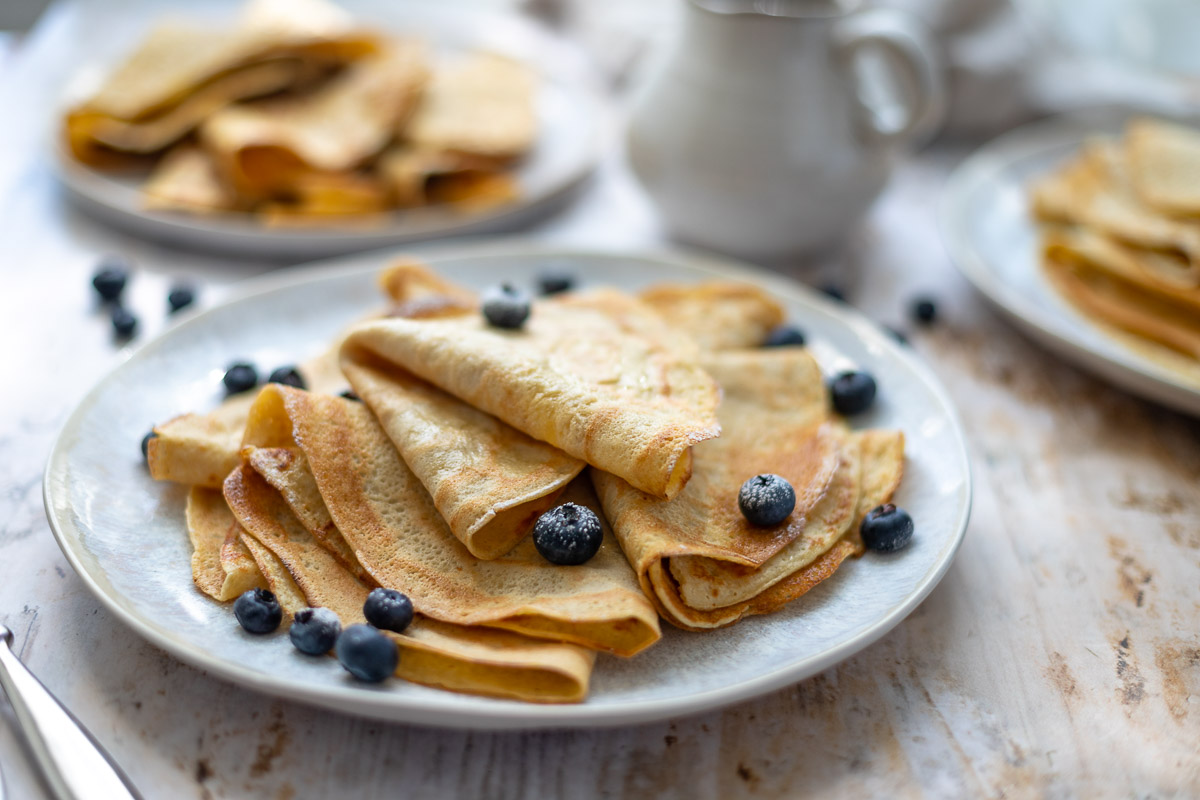 A great make ahead treat
As the crêpes come off the heat, you can eat them right away rolled around your favorite filling. Or you can let them cool and add your filling later. Or simply reheat them in a pan or and even bake them. And you you want to really plan ahead, you can refrigerate or freeze them for future use. Crêpes will keep for months in the freezer. Defrost them in the refrigerator before use.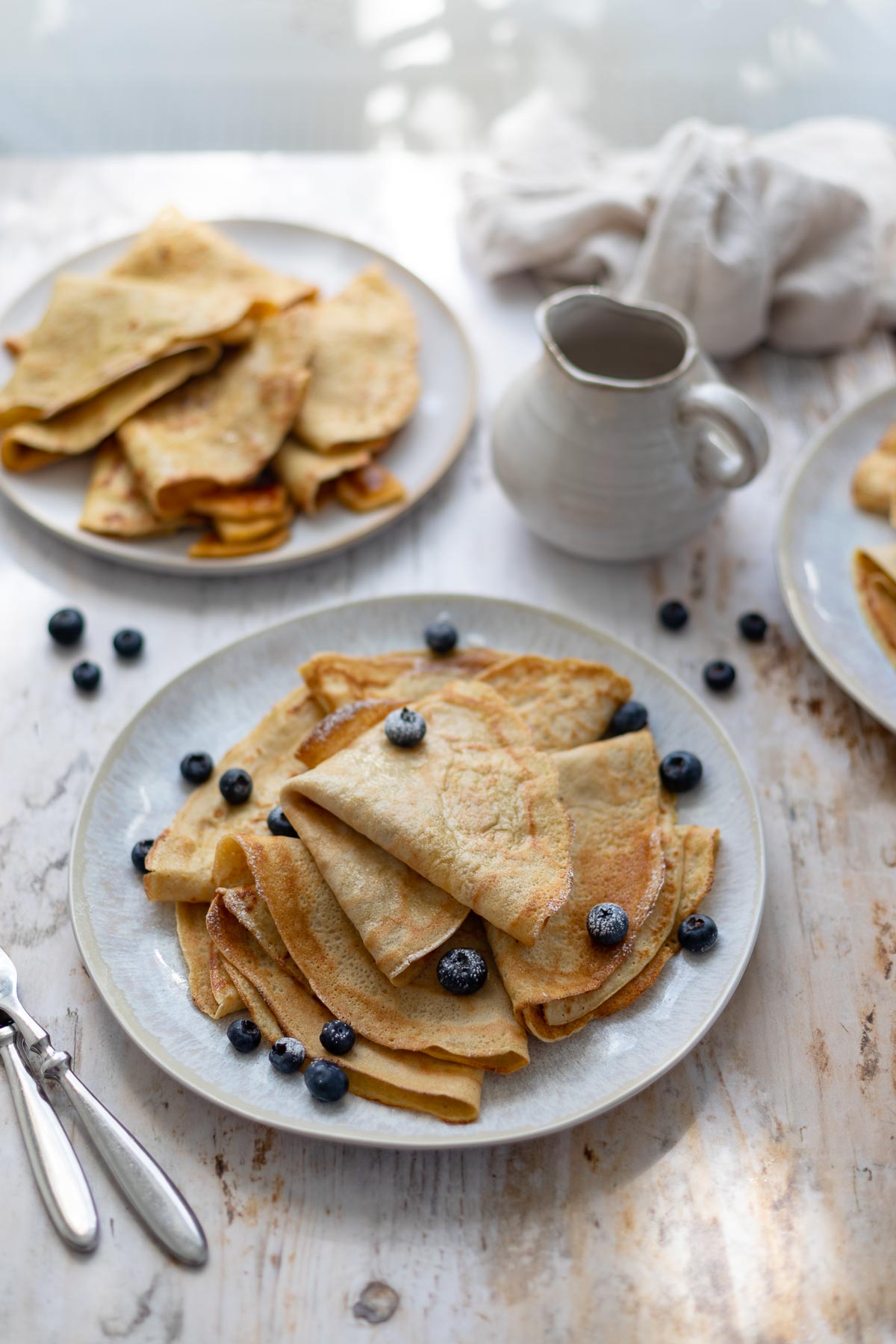 Looking for more recipe ideas like this?
Try one of these delicious recipes: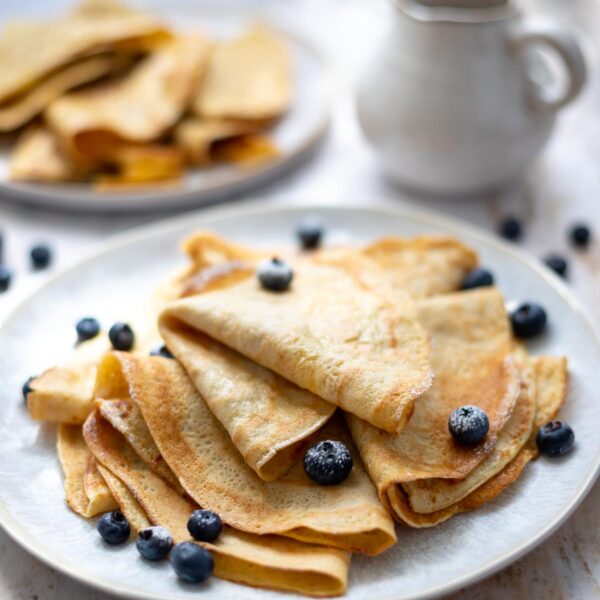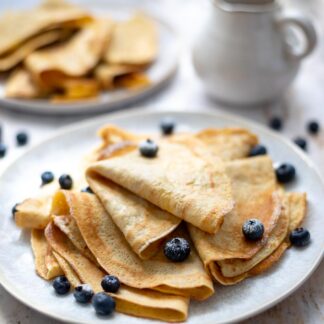 French Crêpes (Classic Recipe)
Classic French crêpes are simple to make. With this basic recipe you can enjoy sweet or savoury homemade crêpes with your favourite fillings.
Prep Time
1
hour
10
minutes
Total Time
1
hour
20
minutes
Ingredients
For the crêpes batter:
2

cups

all-purpose flour

(300 g)

1

tablespoon

sugar,

or more (if making sweet crêpes, see tips below)

6

medium eggs

3

cups

milk

(750 ml) unsweetened plant-based milk also works well

2

tablespoons

unsalted butter,

melted and cooled

butter or ghee,

for cooking
Method
In a large mixing bowl, whisk together the eggs and then add the flour, sugar (if using) and 1/3 of the milk (250 ml). Use a whisk, immersion blender or electric mixer to combine and mix all the ingredients until you have a smooth mixture.

Add the remaining 2 cups of milk (500 ml) and melted butter and mix until completely smooth. Let stand at room temperature for 30-60 minutes or refrigerate up to 1 day; stir for a few seconds before using.

Note: Resting the batter allows the flour to fully absorb the liquid and gives the gluten a chance to relax. If making a day ahead, you may need to add a little more milk to thin.

Heat a medium-sized non-stick skillet (20-22 cm) over medium heat (for the LeMax grill, level 8). Lightly coat with butter or ghee.

Pour a ladle full (about 80 ml) of the batter to the center of the pan, immediately tilt and swirl to coat the pan. If using a smooth-surfaced griddle or tabletop grill pour a ladle full of the batter into the center and using the back of the ladle, spread the mixture out in a circular motion. Cook until the outer edges are golden brown, crispy and begin to lift.

Slide a flat spatula gently underneath the crepe, flip it and cook it on the other side until golden. Remove and transfer to a plate. Repeat until you are done with all the batter, stacking the crêpes on top of each other on the plate.

Either roll the crêpe or fold it into quarters with your choice of filling or topping if desired. Serve warm. Enjoy!

If you're not serving them right away, let the crêpes cool, then cover the stack of crêpes with plastic wrap and refrigerate for up to 3 days. Leftovers can be easily be reheated.
Notes
For sweet

crêpes

, you could add 1-2 tablespoons of sugar, depending on desired sweetness, plus a pinch of pure vanilla powder (optional). Alternatively, add a sachet of vanilla sugar, for a hint of sweetness and vanilla flavor.
I like to use unsweetened soy milk for my

crêpes recipe

. Unsweetened almond milk would also be good choice.
See above for more tips and ideas for both savoury and sweet fillings.
For a relaxing atmosphere in the kitchen I recommend my personal Elle Republic: Chilled Out Kitchen Tunes Playlist on Spotify.
Did you try this recipe?
Then tag @ellerepublic on Instagram and hashtag it #ellerepublic
How did you like this crêpes recipe?
Please let me know how this buckwheat bread recipe turned out for you! I would love to hear how you liked it. Simply rate it with the stars above ⭐ or leave me a comment and rate it below.
Did you make any changes to this recipe?
If you have tips for other readers, let me know! It helps me and other readers so much. Sharing is Caring :-).
This post contains affiliate links. If you decide to make a purchase through my link, Amazon will pay me a commission for it. This doesn't cost you anything additional and the price remains the same. More about advertisements on Elle Republic.
Many thanks to ELAG Products GmbH for sponsoring this recipe.