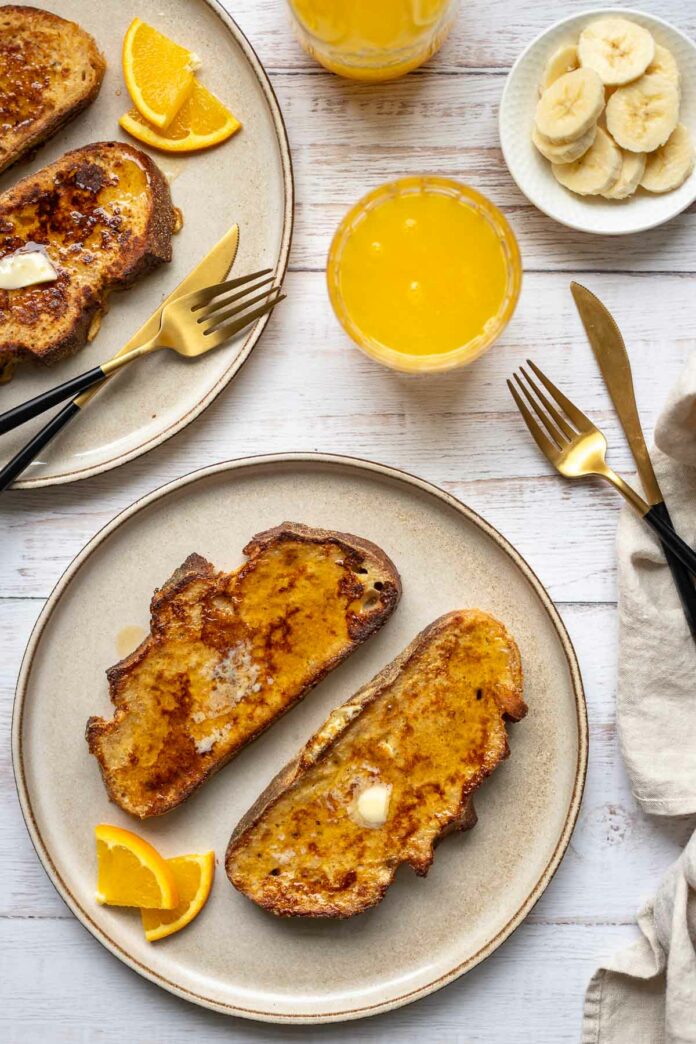 French toasts — what could be more delicious on a Sunday morning? Thick slices of your favourite bread, soaked in a mixture of beaten eggs with milk, nutmeg and a dash of cinnamon. Cooked till toasty golden brown and served with a little butter and maple syrup. So simple and tasty, this has been a family favorite throughout the generations.
The basic rule of thumb
With just a hand full of ingredients you almost don't even need a recipe. On the most basic level, you can rely on the rule of thumb — one egg and 60 ml liquid per two slices of bread. It doesn't get simpler than that. For the liquid you can use any milk of choice, whether it be full-fat, or decadently mixed with a little cream, a plant-based alternative like almond, soy or coconut-rice milk, or even buttermilk for a tart flavor.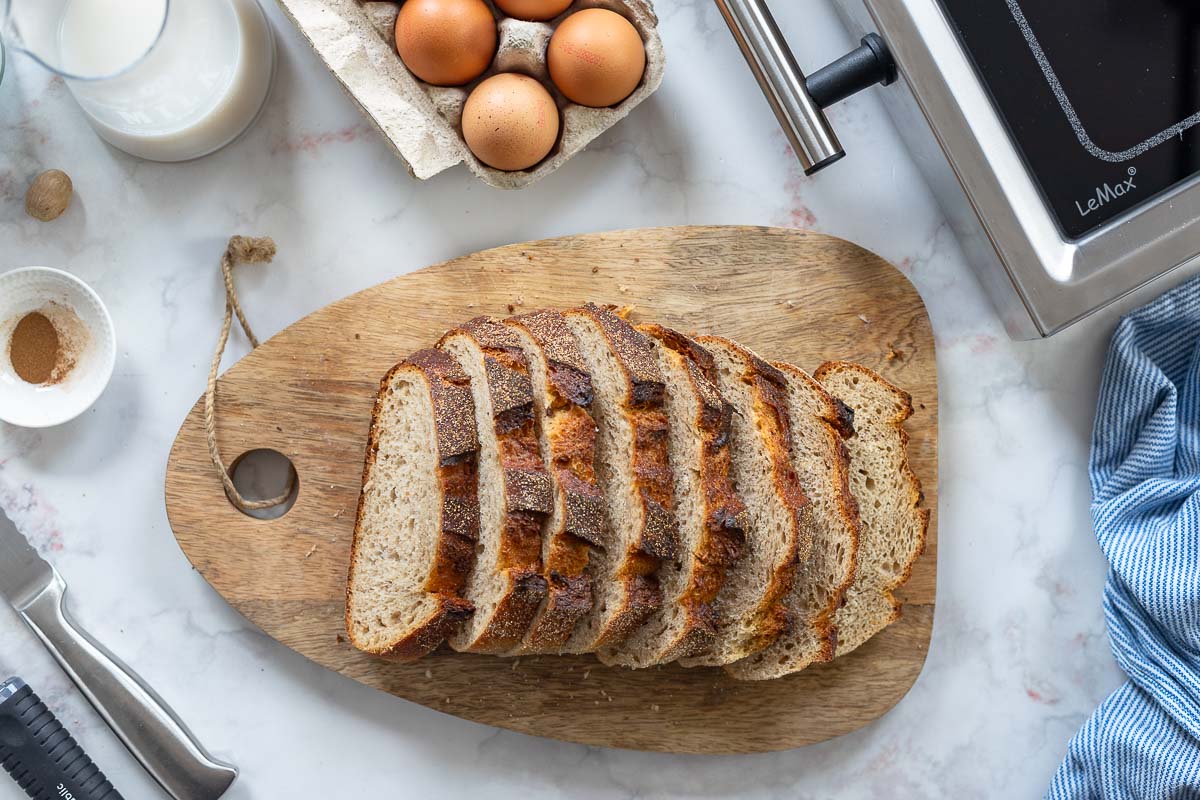 French toast ingredients
Eggs: you'll need 2 eggs for this French toast recipe. I like to use large eggs, but any size will do..
Dairy-free milk: I love to use unsweetened coconut-rice milk (for extra flavor) or unsweetened soy milk which are staples in my home. Use any milk you have on hand.
Cinnamon and nutmeg: use one or both for a subtle but perfectly spiced French toast.
Optional sweetener: a little brown sugar can be used to lightly sweeten the egg-milk mixture. I find maple syrup as a topping sweet enough.
Optional add-in: freshly grated orange zest. This is especially grid if using a coconut flavoured milk.
Bread: You'll need 8 slices of thick cut bread. My family loves to use thickly cut French bread or sourdough bread. Challah and brioche are also great choices. If you want to make this a little more nutritious, use whole grain bread.
Toppings: I love a tiny bit of butter, along with a drizzle of pure maple syrup — a classic combo. But feel free to get creative and add banana slices or berries. A drizzle of almond butter or chocolate-hazelnut spread is also delicious.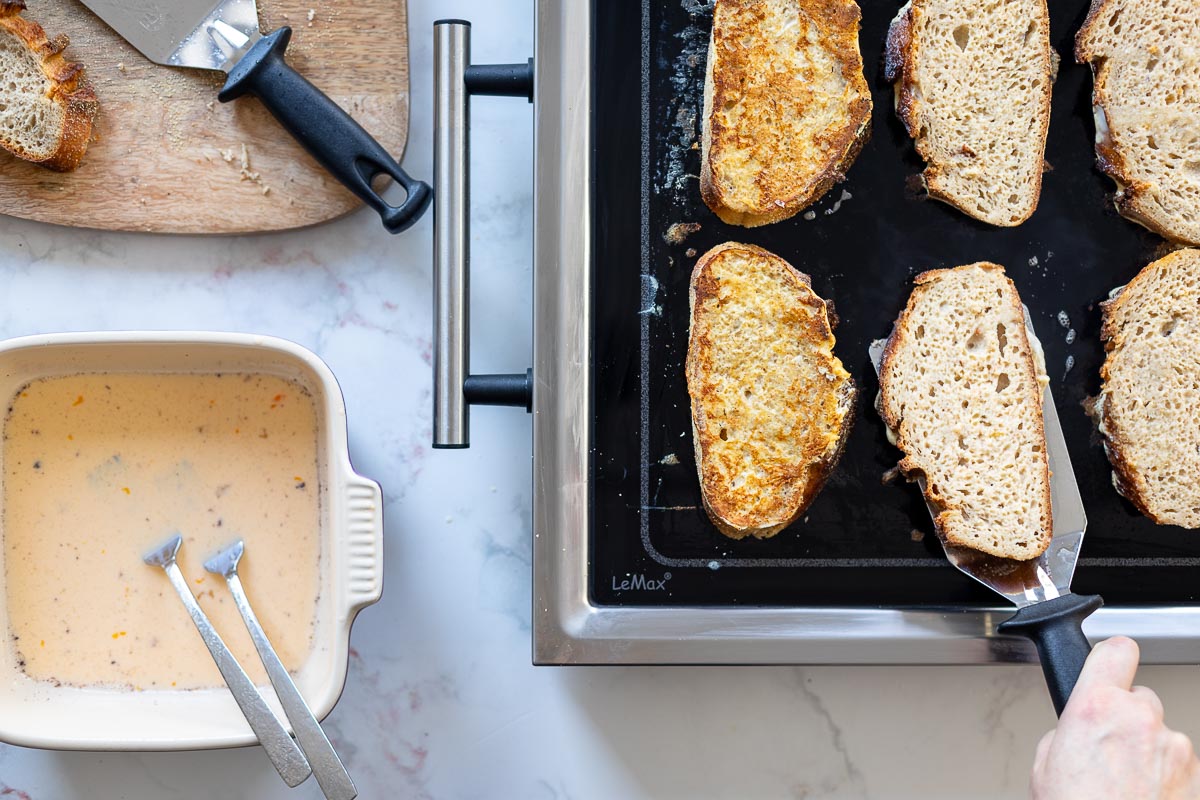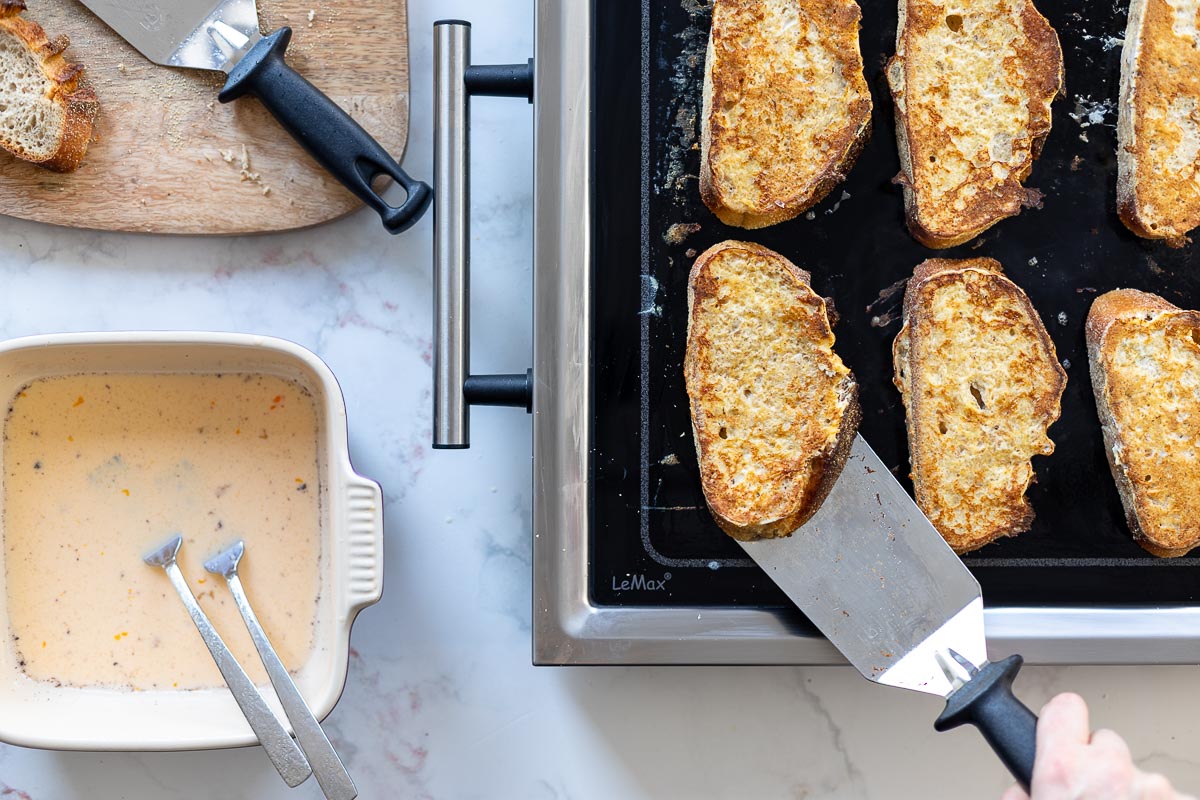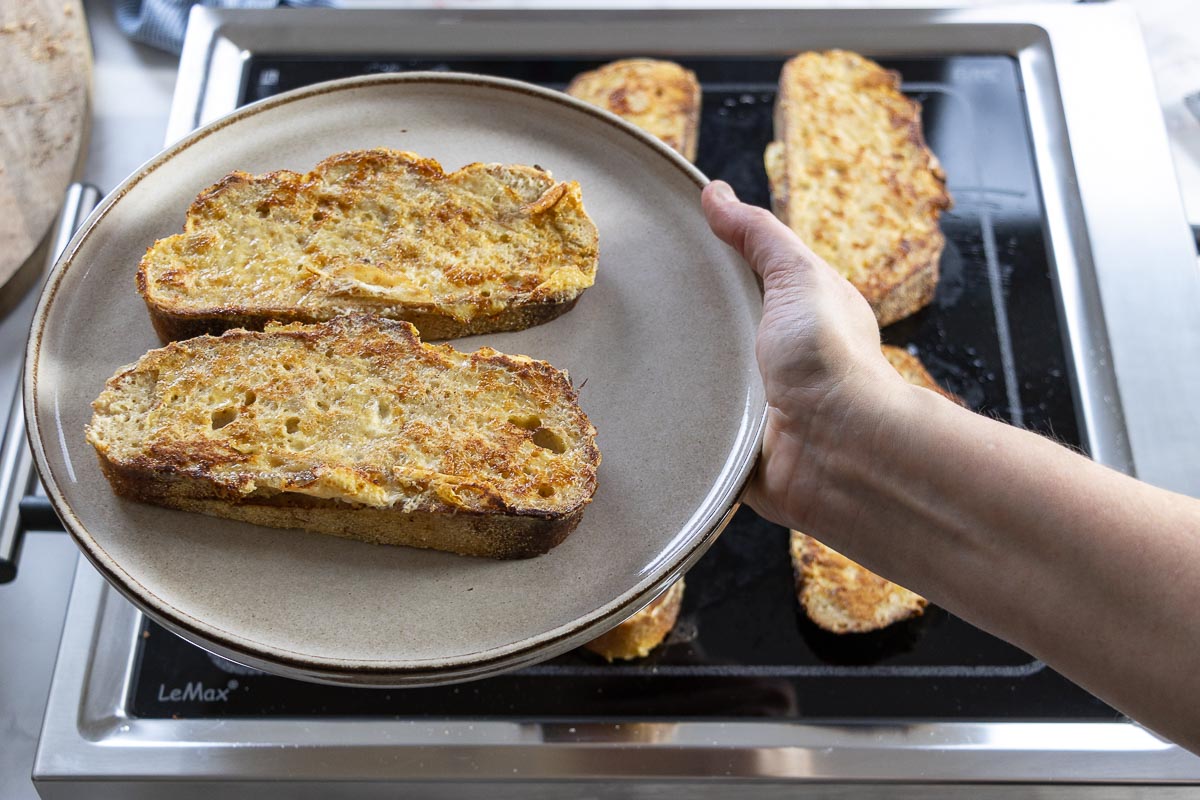 Tips for making the best french toast
French toast comes out best if you use bread that are a day or two old. Slightly stale bread absorbs the egg mixture better and yields a crispy outside while still having a fluffy inside. Plus the slices hold up better, without getting too soft, after being soaked with the egg-milk mixture.
Cut your bread into a thickness of about 2 cm. Thin slices risk falling apart. This goes for pre-packaged toast bread as well.
When you dunk your slices of bread in the egg mixture, be sure to only leave it in for 10-15 seconds to avoid them getting overly soggy.
Toast your french toast in a skillet over medium-high heat with butter. The butter gives it a delicious flavor. I use my LeMax tabletop grill to prepare French toast, as it has lots of room and can cook a whole batch in one go. Though, if you are working in batches you can easily keep the already prepared slices warm in the oven.
How to keep French Toast warm
Simply, preheat your oven to 170°F / 80°C and place a clean baking sheet on the middle rack. Then once each slice of French toast are cooked and ready to serve, transfer them to the baking sheet (in a single layer) to keep warm as you cook the remaining slices. Even if you feel inclined, do not place the slices on top of each other, otherwise they will get soggy.
Looking for other breakfast recipes?
Try one of these family favourites: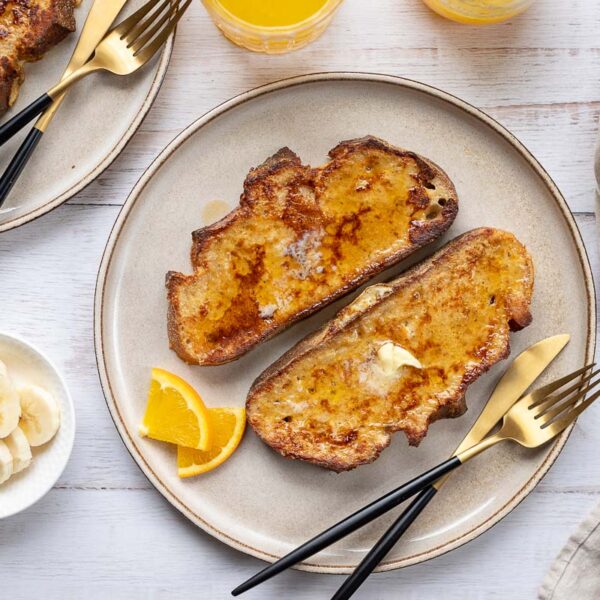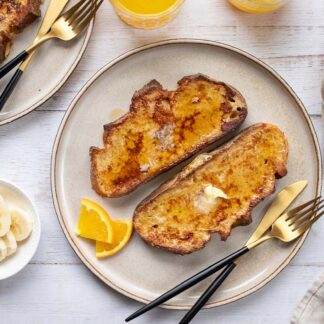 Simple and Easy French Toast
French toast is a great way to use up stale bread, and it's a breakfast treat the whole family loves.
Ingredients
4

large eggs

1

cup

milk of choice

(250 ml)

Pinch

of salt

Pinch

of cinnamon and nutmeg

Butter,

for the pan

8 to 10

slices

bread,

preferably day-old bread
Method
Heat 1 tablespoon butter in a large skillet, griddle or tabletop grill over medium heat (for the LeMax level 8).

Beat the egg in shallow dish with a whisk. Stir in milk, salt, cinnamon, and nutmeg.

Place the bread slices, one at a time, into the dish with the egg mixture. Let the bread soak for a few seconds, then flip it to coat the other side.

NOTE: Coat only as many slices as you will be cooking at one time to prevent them going soggy.

Add soaked bread to skillet or grill and cook, until browned on bottom side, about 3 minutes. Turn and brown the other side. Then transfer to serving plates or keep warm on a baking sheet in a single layer at 170°F / 80°C.

Add more butter and continue with remaining slices. Serve the French toast with pats of butter and maple syrup. Enjoy!
Did you try this recipe?
Then tag @ellerepublic on Instagram and hashtag it #ellerepublic
How did you like it?
Please let me know how this French Toast (without added sugar) recipe turned out for you! I would love to hear how you liked it. Simply rate it with the stars above ⭐ or leave me a comment and rate it below.
Did you make any changes to this recipe?
If you have tips for other readers, let me know! It helps me and other readers so much. Sharing is Caring :-).
This post contains affiliate links. If you decide to make a purchase through my link, Amazon will pay me a commission for it. This doesn't cost you anything additional and the price remains the same. More about advertisements on Elle Republic.
Many thanks to ELAG Products GmbH for sponsoring this recipe.