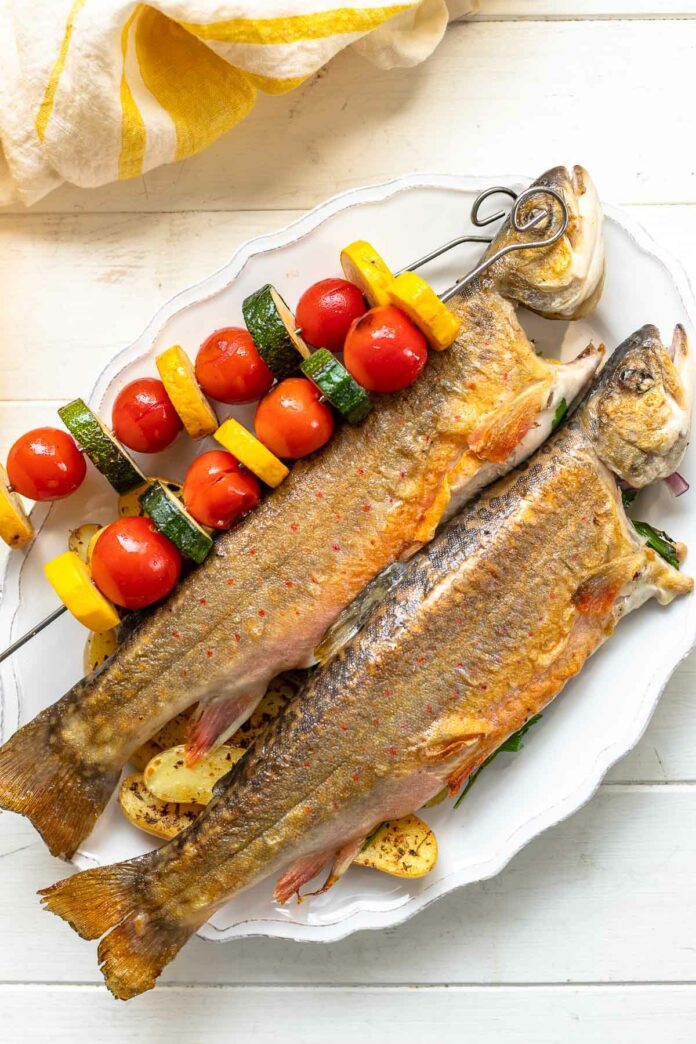 Grilled char is one of my absolute favourite types of fish to enjoy whole. And the beauty of cooking whole fish is that it's one of the easiest things to do in the world. Whether you are using a BBQ, an electric grill or a cast iron grill plate or skillet. The method is the same. And in terms of flavor, I have to say that grilled whole fish taste the best. The intense grill heat adds another dimension of flavor and creates a wonderfully tasty, crispy skin.
Grilling options for whole fish
For this recipe, I use my LeMax glass ceramic electric grill, which has a large cooking surface, making it perfect for preparing vegetables along with the fish. Whole grilled char can also be prepared on the BBQ following the same method, or using a cast iron grill plate on the stove, as I do with this grilled sea bream recipe. Whatever your preferred tool for grilling, the result is the same: an absolutely delicious meal made with fresh fish.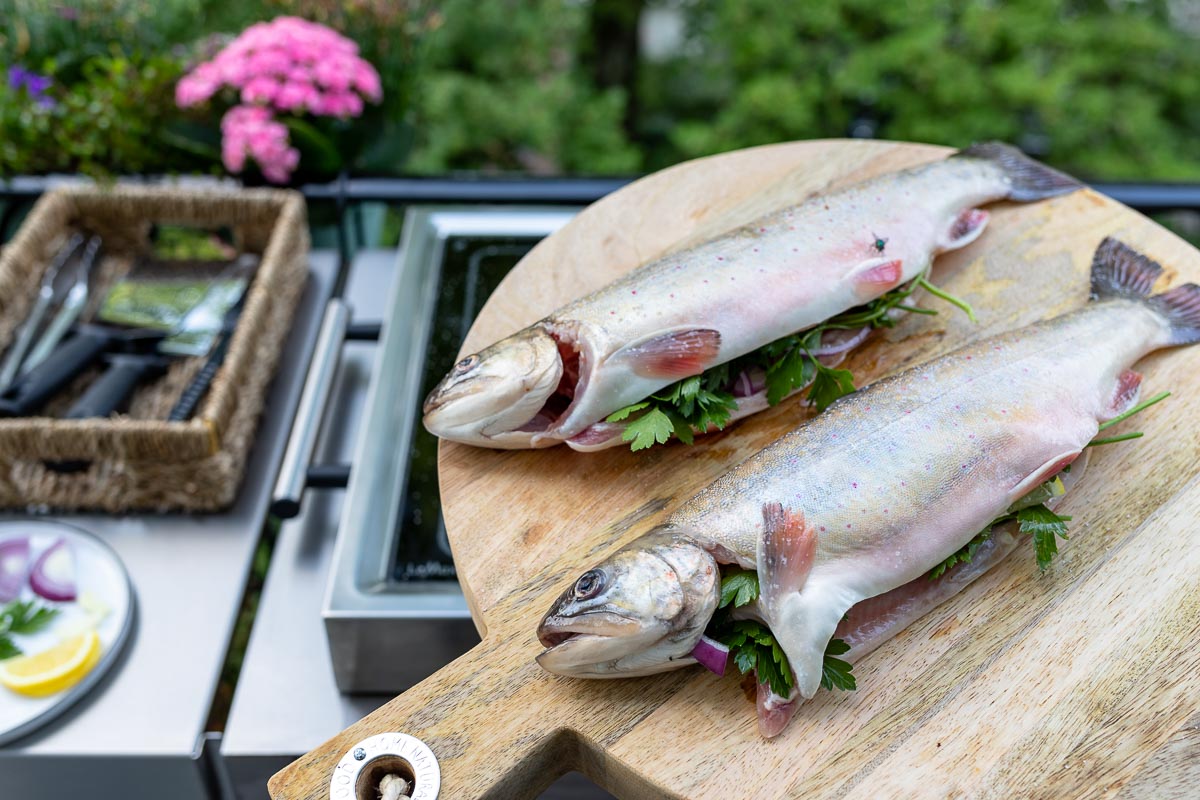 Tips for perfect grilled char or trout
Here's what you need to know to become a fish-grilling master:
Let your fish warm slightly at room temperature before you grill it. The fish shouldn't be ice cold otherwise it will create condensation and steam. Moisture is not our friend here. A wet fish sticks to the grill! This will also ensure that the fish is evenly and fully cooked to the bone. Take the fish out of the refrigerator about 15 or 30 minutes before grilling it.
Get your fish dry as possible. I always rinse my fish and then pat it dry with paper towels until its completely dry before seasoning it with salt.
Get your grill hot enough. The grill needs to be hot before you place your fish on it. When it is, it will cauterize the fish's skin which prevents it from sticking to the grill.
Get ready to grill. Brush either the grill OR both sides of the fish with oil before seasoning and grilling it.
Wait before you flip the fish. This is properly the most important tip. Once a whole fish has cooked long enough on one side, it will easily release from the grill and can be flipped onto the other side, WITHOUT sticking. Once you see the skin has browned nicely, try lifting it gently with a spatula; if it doesn't cleanly lift off grill, continue to cook, checking at 30-second intervals, until it releases. Then you can flip it.
Do you need a grill basket?
Nope. You don't need a grill basket or even a grill mat to grill a fish successfully. Just follow the tips above and you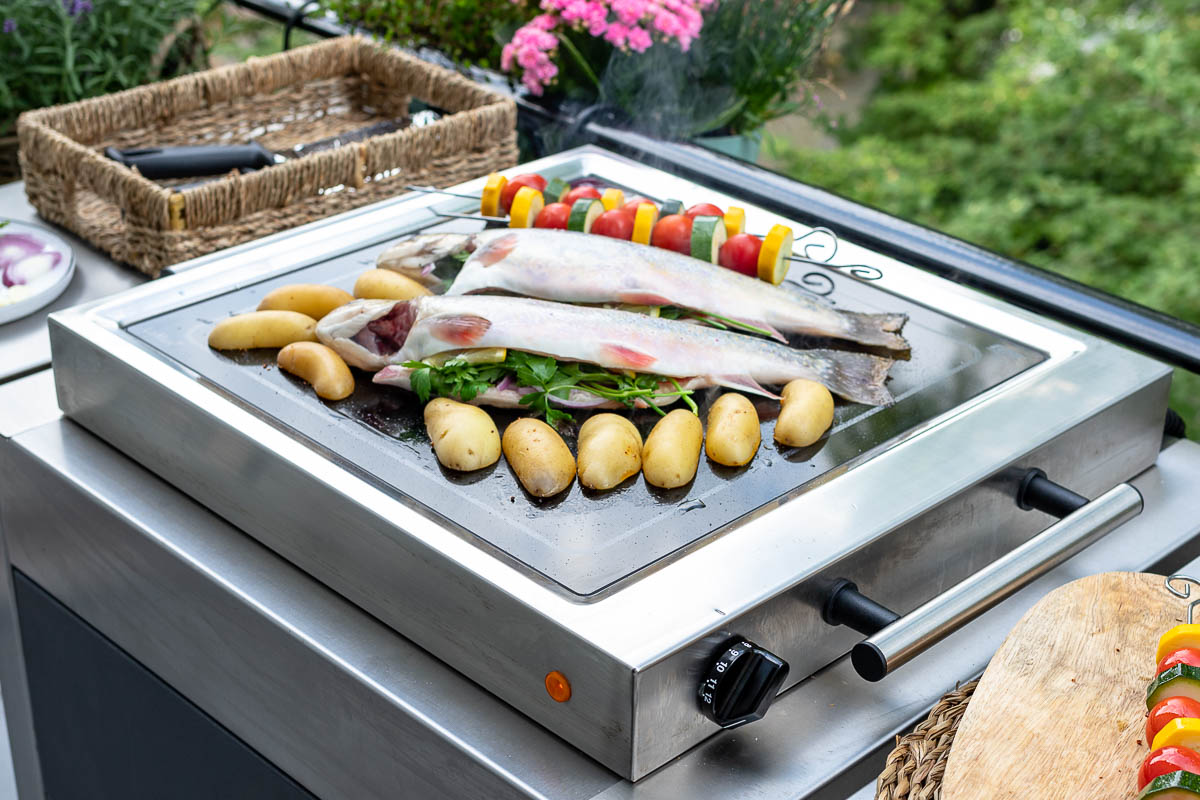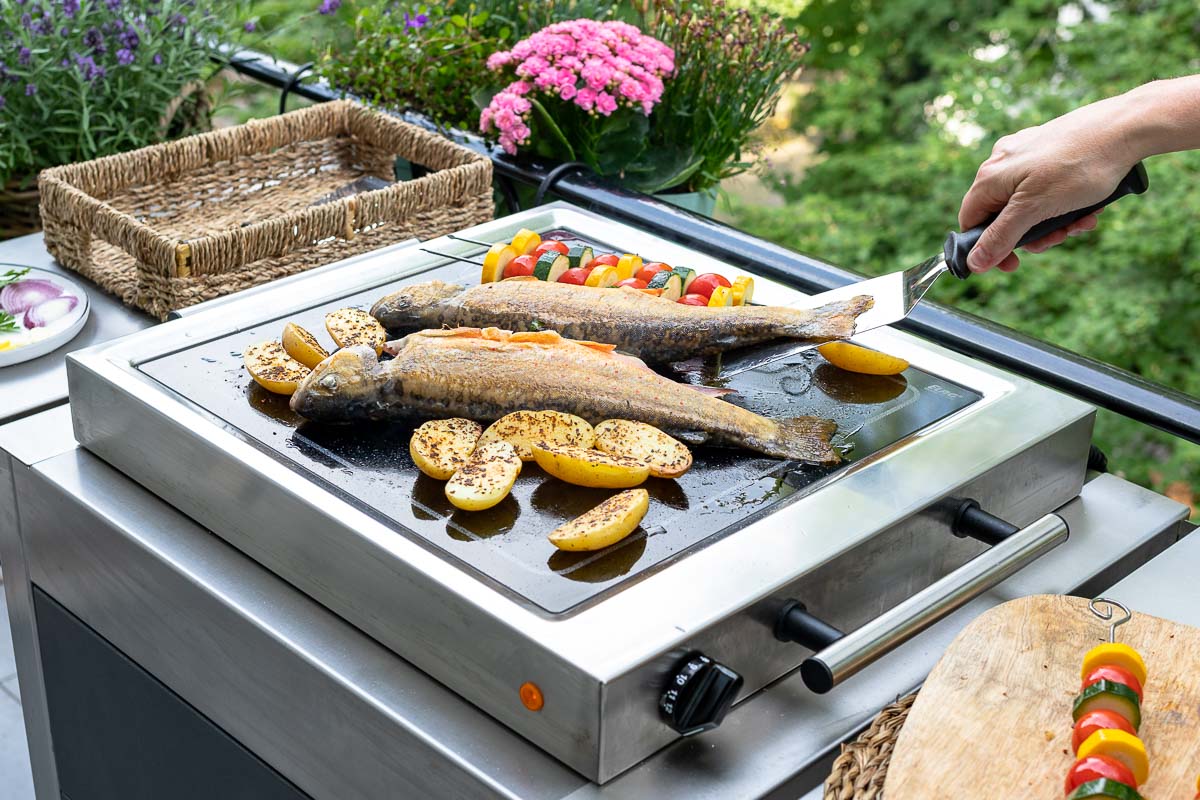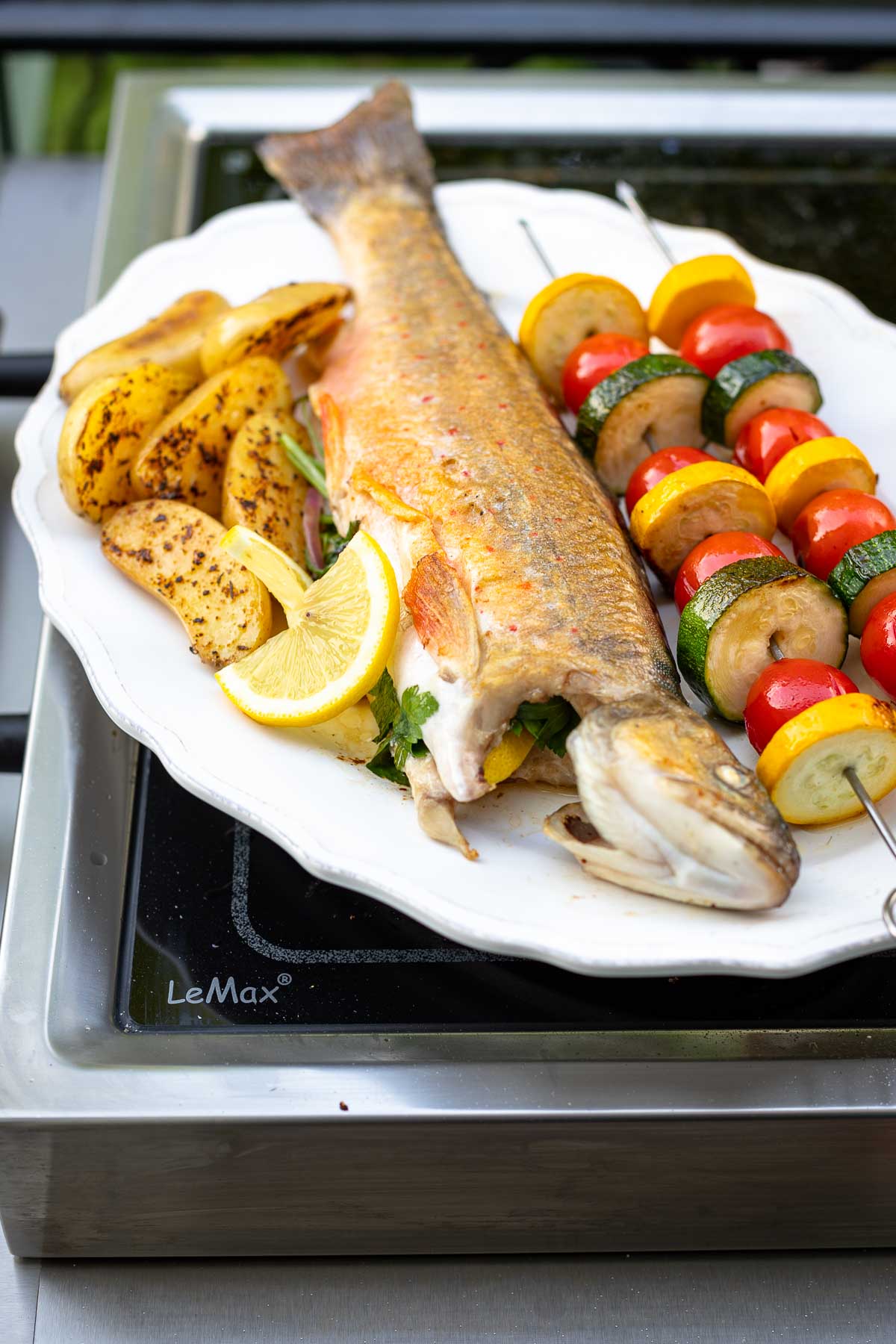 What to serve with grilled char?
Grilled char pairs best with sides that are filling without being heavy. Grilled vegetables are always a great choice, as is a mixed salad and steamed rice. Or try one of these tasty side dishes: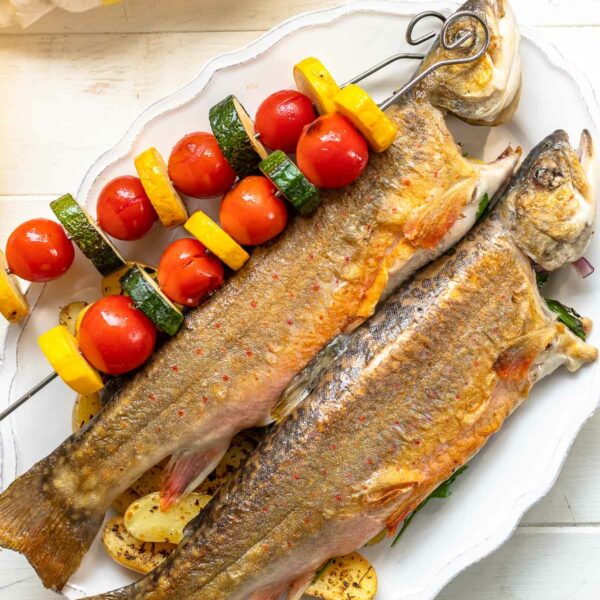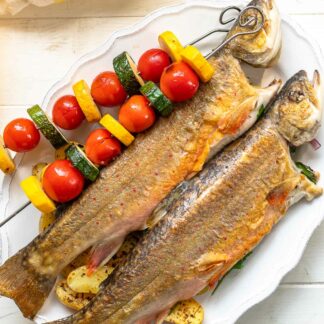 Grilled Char: Whole Grilled Fish
Grilling whole fish is easier than you think, and this Grilled Whole Char recipe is the perfect summer meal to pair with other grilled sides or a refreshing salad.
Ingredients
2

whole char (or trout),

gutted and cleaned, from sustainable sources

Handful parsley sprigs

½

red onion,

thinly sliced

½

lemon,

cut lengthwise, thinly sliced

Handful of fresh herbs

(e.g. parsley, chives, dill)

Sea salt and freshly ground pepper

extra slices of lemon to serve
Method
Bring the fish to room temperature 20-30 minutes before grilling. Dry the inside of the fish with paper towel, then do the same on the outside.

Season the outside of the fish well with salt.

Season the inside cavity with a sprinkle of salt and pepper and stuff the cavities with the onion, garlic, lemon slices and herbs.

Preheat the grill to medium-high heat, equivalent of 450°F/230°C (for the LeMax level 9 for five minutes, then reduce heat to level 8). Lightly brush the cooking surface with heat resistant oil.

Place fish onto grill and leave to cook, undisturbed, for 6-7 minutes, until the skin is charred, crisped, and fully cooked on one side. When the fish is ready to flip, the skin will release easily from the grill surface. Gently flip the fish using tongs and a metal spatula. If the fish sticks, don't force it. Wait another minute or so and then try again.

Continue grilling until just cooked through and firm to the touch, another 5 to 7 minutes, undisturbed.

The fish is cooked when it is completely white and opaque, and flakes easily.

Use the spatula to transfer the fish onto one large serving platter (or two large plates). Serve with your choice of side dishes and enjoy!
Notes
Oiling your fish before seasoning it rather than the grill also helps the fish not to stick.
For a relaxing atmosphere in the kitchen I recommend my personal Elle Republic: Chilled Out Kitchen Tunes or Lounge Kitchen Tunes Playlist on Spotify.
Did you try this recipe?
Then tag @ellerepublic on Instagram and hashtag it #ellerepublic
How did you like it?
Please let me know how this buckwheat bread recipe turned out for you! I would love to hear how you liked it. Simply rate it with the stars above ⭐ or leave me a comment and rate it below.
Did you make any changes to this recipe?
If you have tips for other readers, let me know! It helps me and other readers so much. Sharing is Caring :-).
This post contains affiliate links. If you decide to make a purchase through my link, Amazon will pay me a commission for it. This doesn't cost you anything additional and the price remains the same. More about advertisements on Elle Republic.
Many thanks to ELAG Products GmbH for sponsoring this Grilled Char: Whole Grilled Fish recipe.