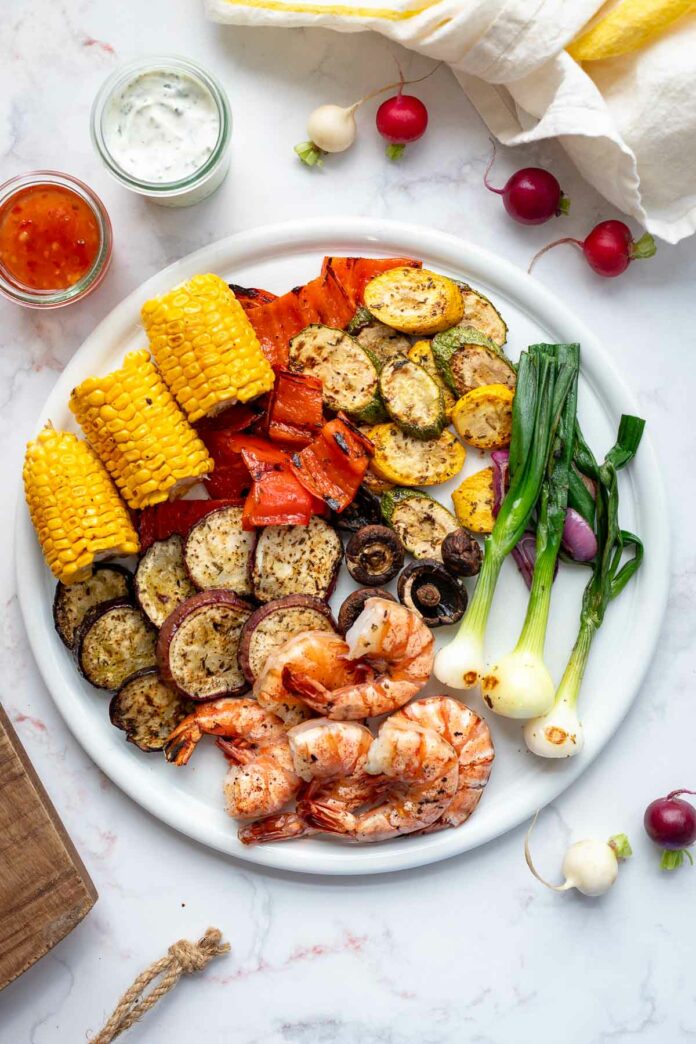 A grilled vegetable platter is so colorful and delicious. Using an assortment of your favourite vegetables, it's easy to create your own homemade vegetable antipasto platter. I made this summer side dish with corn on the cob, assorted summer zucchini, sweet red pepper, eggplant, red and green onion, mushrooms, plus jumbo tiger prawns to turn it into a meal-worthy antipasto platter. Add some of your favourite dips, some crusty bread, good company and a crisp wine and the evening is set!
Choosing vegetables for your antipasto platter
While the most commonly grilled vegetables are eggplant, zucchini, red pepper and onion, you can grill almost any vegetable! Try adding green asparagus, parboiled potatoes, Pimientos de Padrón, broccolini, or cherry tomatoes…or whatever veggies you have on hand and feel like grilling.

Seasonings for a grilled vegetable platter
In addition to a a drizzle of olive oil, a sprinkle of Mediterranean or Middle Eastern seasonings are a great way to give grilled vegetables a fresh twist. I choose za'atar seasoning and a squeeze of lemon juice, but you could also try tossing the vegetables with Italian herb mix, olive oil and a drizzle of balsamic vinegar, or let them shine on their by simply tossing them (or brushing them) with olive oil and seasoning with a little salt and pepper.
How to grill vegetables
You can use a gas or charcoal grill, with or without a grill pan, or an electric tabletop grill (I like to use my glass ceramic LeMax grill — it's spacious, easy to clean and great for indoor or outdoor grilling)… anything works! Over medium-high heat start grilling the vegetables that will take longer to cook—in this case, that means the corn on the cob — it takes about 15 minutes, which give you a chance to rotate through grilling the rest of the vegetables.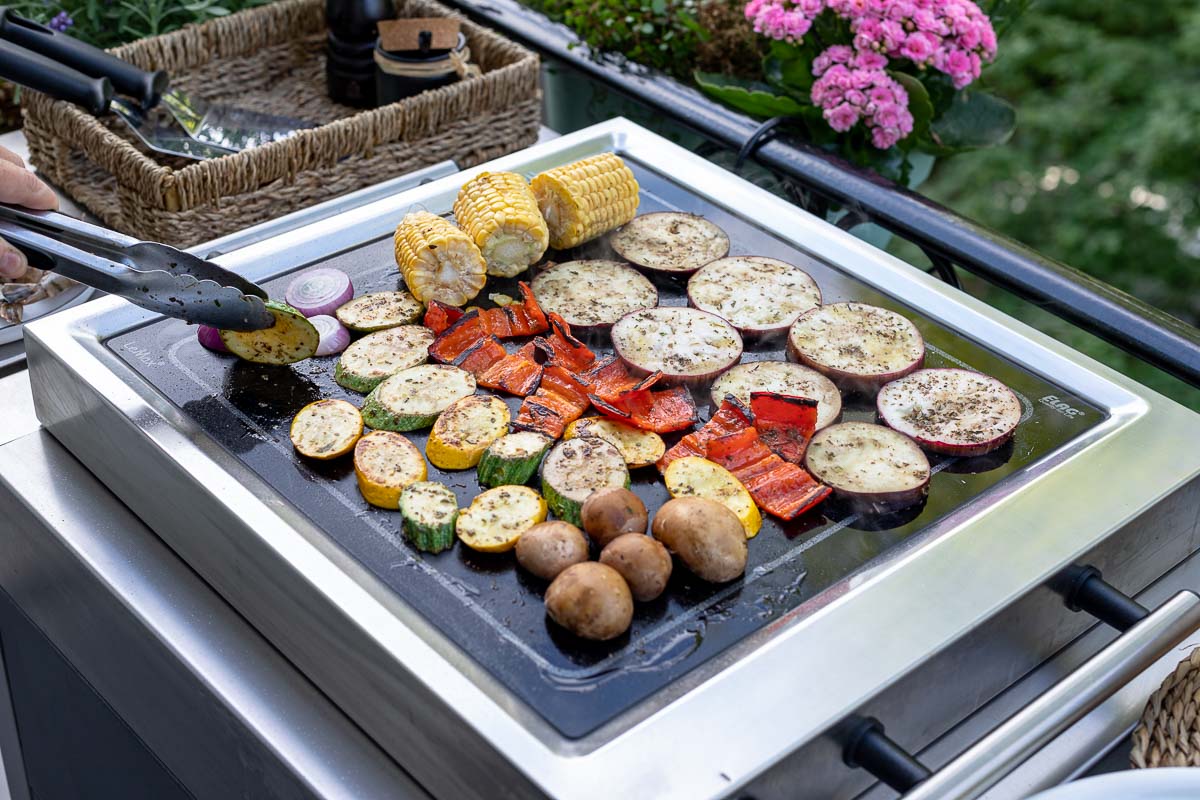 Cooking times for grilled vegetables
Most vegetables will need 3-5 minutes per side, but of course, this will vary according to your grill and your preference on how well done you like them grilled. My advice is to keep your eyes on the grill and remember that a little practice makes perfect.
Ears of corn: 15-20 minutes, turning occasionally while it cooks.
Eggplant: 4-5 minutes per side. Make sure it's coated with oil otherwise it tends to stick.
Sweet red peppers: about 3-4 minutes per side (I like mine lightly charred).
Zucchini: about 3-5 minutes on each side.
Mushrooms: 4-7 minutes per side, depending the size.
Onions: For red onion, 4-5 minutes per side. Green onion will be a little quicker.
Ideas for dips:
Lemon-Feta Dip: crumbled feta, Greek yoghurt, lemon juice, salt and pepper.
Herb-Yoghurt Dip: Greek yoghurt, fresh mint (or other herbs of choice), garlic, lemon, drizzle of olive oil, salt and pepper.
Or your favourite store-bought dip or chili sauce.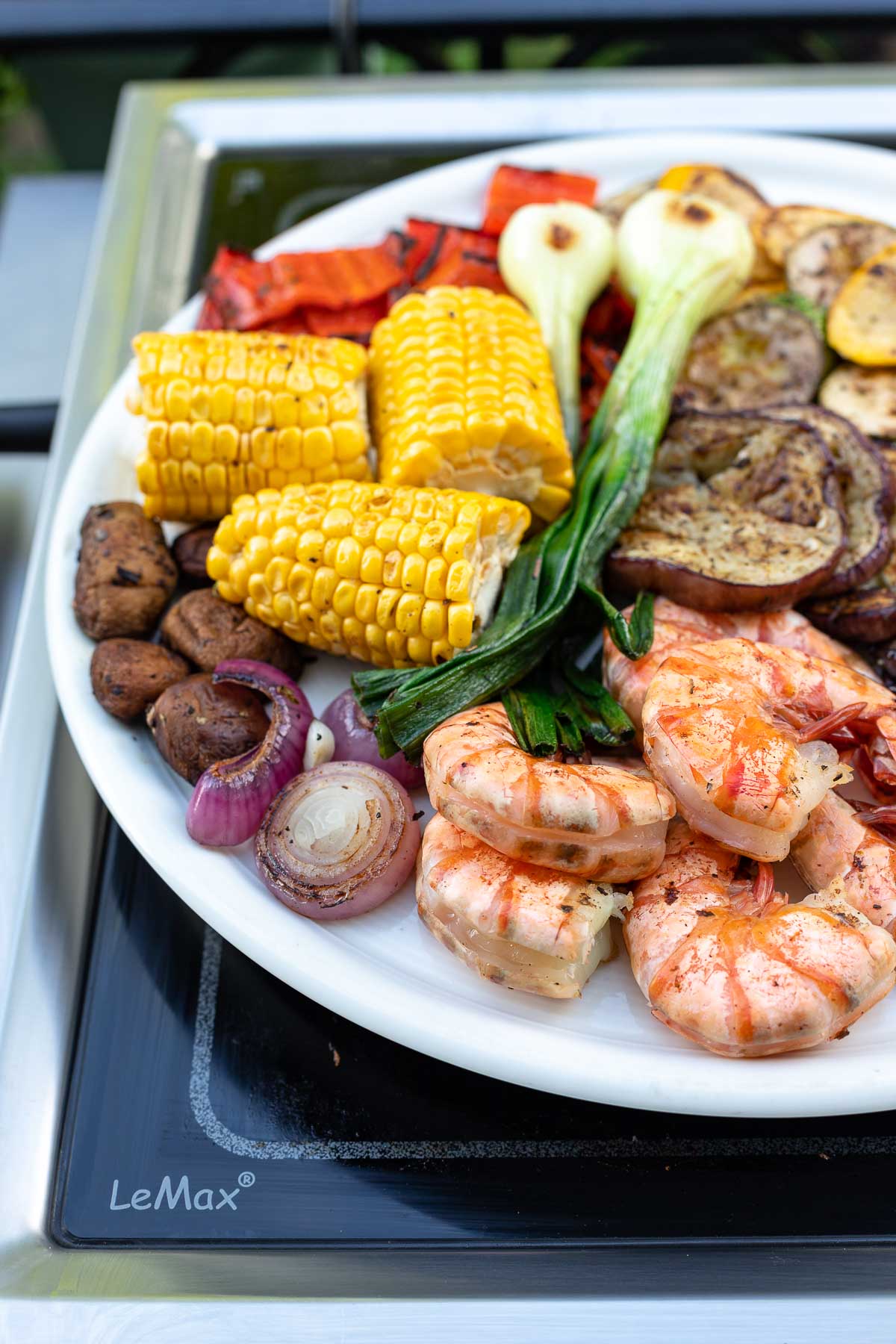 How to serve grilled vegetable antipasto
They can be enjoyed at room temperature as part of an antipasto platter or in many other ways! You can even remove the corn from the cob and use it for other dishes. Try serving them:
As filling for quesadillas, burritos and sandwiches
Added to a green salad
As a topping for pizza
Added to a grain bowl
As part of a vegetarian quiche or frittata
As topping for a Kumpir (baked potato with fillings)
With pasta or layered in lasagna
As a side accompaniment to grilled poultry, fish or meat
Or any other way you might imagine.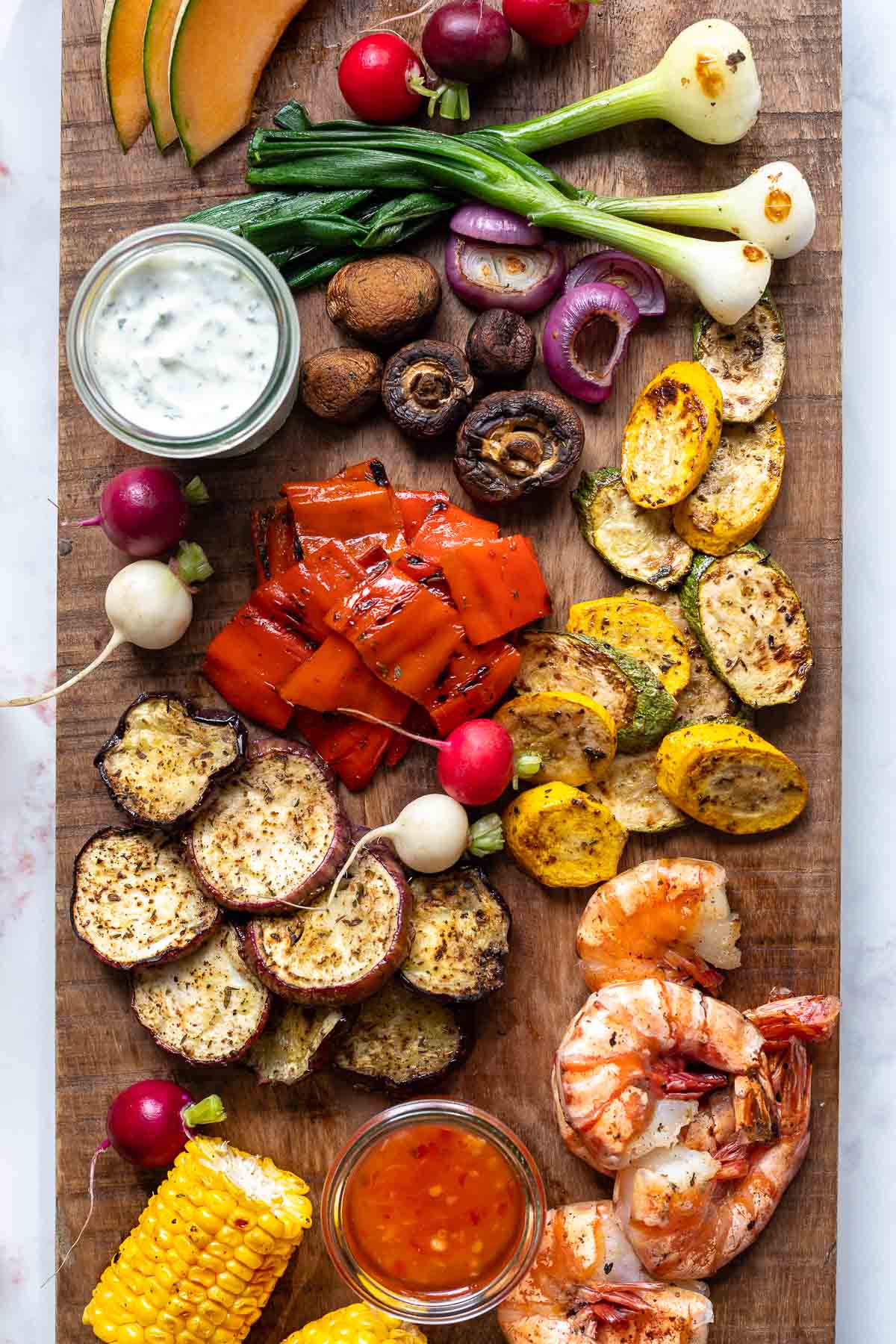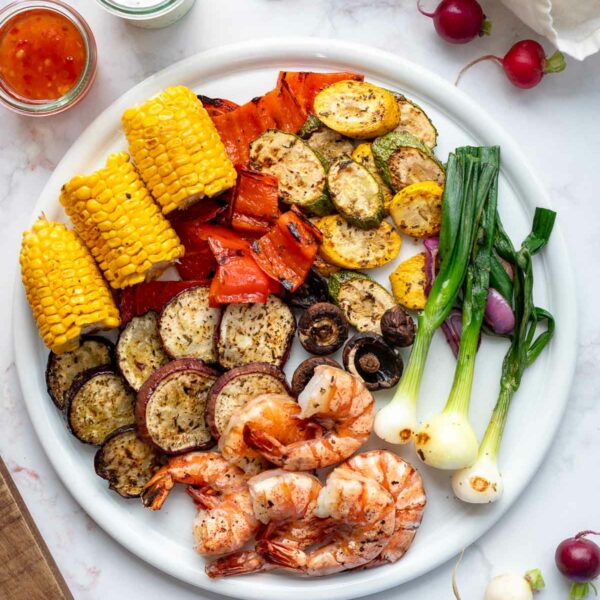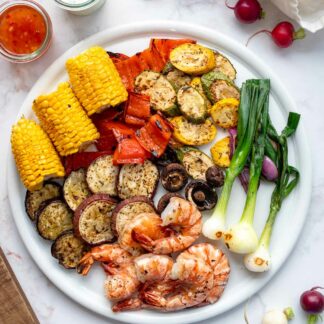 Grilled Vegetable Platter with Tiger Prawns
A grilled vegetable platter makes for easy, summer entertaining. Serve an assortment of grilled vegetable antipasto together with prawns, dips and some crusty bread for a no-fuss dinner.
Ingredients
Marinade for vegetables:
2

tablespoon

extra virgin olive oil

2

tablespoons

lemon juice

1

teaspoon

za'atar seasoning

Sea salt and freshly ground pepper,

to taste
For the grill:
Eggplant,

cut into rounds

Zucchini,

cut into rounds

Sweet red pepper,

cut into strips

Corn on the cob,

cut into pieces

Mushrooms,

stems trimmed

Green onions,

trimmed

Red onion,

cut into rounds

Shell-on tiger prawns,

preferably deveined

Heat resistant oil,

for the grill
For serving:
Homemade herb-yoghurt dressing, hummus, or dips of choice.
Method
In a medium bowl, mix together the olive oil, lemon juice, za'atar, salt and pepper. Add the eggplant, zucchini and red pepper, and set aside.

Preheat the grill to medium-high heat (for the LeMax level 9 for five minutes, then reduce heat to level 8). Lightly brush the cooking surface with heat resistant oil.

Start by placing the corn cob on the grill (as it will grill the longest), brush with olive oil and season with salt and pepper. Then add the marinaded vegetables and grill turning occasionally, until lightly charred, about 6 to 10 minutes. Transfer to a platter and work in batches to grill the remaining vegetables.

Place the prawns on the grill and cook turning occasionally, until shells are bright red and meat is cooked through (it will look slightly opaque), about 5 minutes.

Arrange on a platter with with the vegetables and choice of dips. Serve and enjoy!
Notes
Be sure to read the entire post for tips on cooking times for vegetables and how to serve this vegetable platter.
For a relaxing atmosphere in the kitchen I recommend my personal Elle Republic: Chilled Out Kitchen Tunes or Lounge Kitchen Tunes Playlist on Spotify.
Did you try this recipe?
Then tag @ellerepublic on Instagram and hashtag it #ellerepublic
How did you like it?
Please let me know how this Grilled Vegetable Platter with Tiger Prawns recipe turned out for you! I would love to hear how you liked it. Simply rate it with the stars above ⭐ or leave me a comment and rate it below.
Did you make any changes to this recipe?
If you have tips for other readers, let me know! It helps me and other readers so much. Sharing is Caring :-).
This post contains affiliate links. If you decide to make a purchase through my link, Amazon will pay me a commission for it. This doesn't cost you anything additional and the price remains the same. More about advertisements on Elle Republic.
Many thanks to ELAG Products GmbH for sponsoring this Grilled Vegetable Platter with Tiger Prawns
recipe.