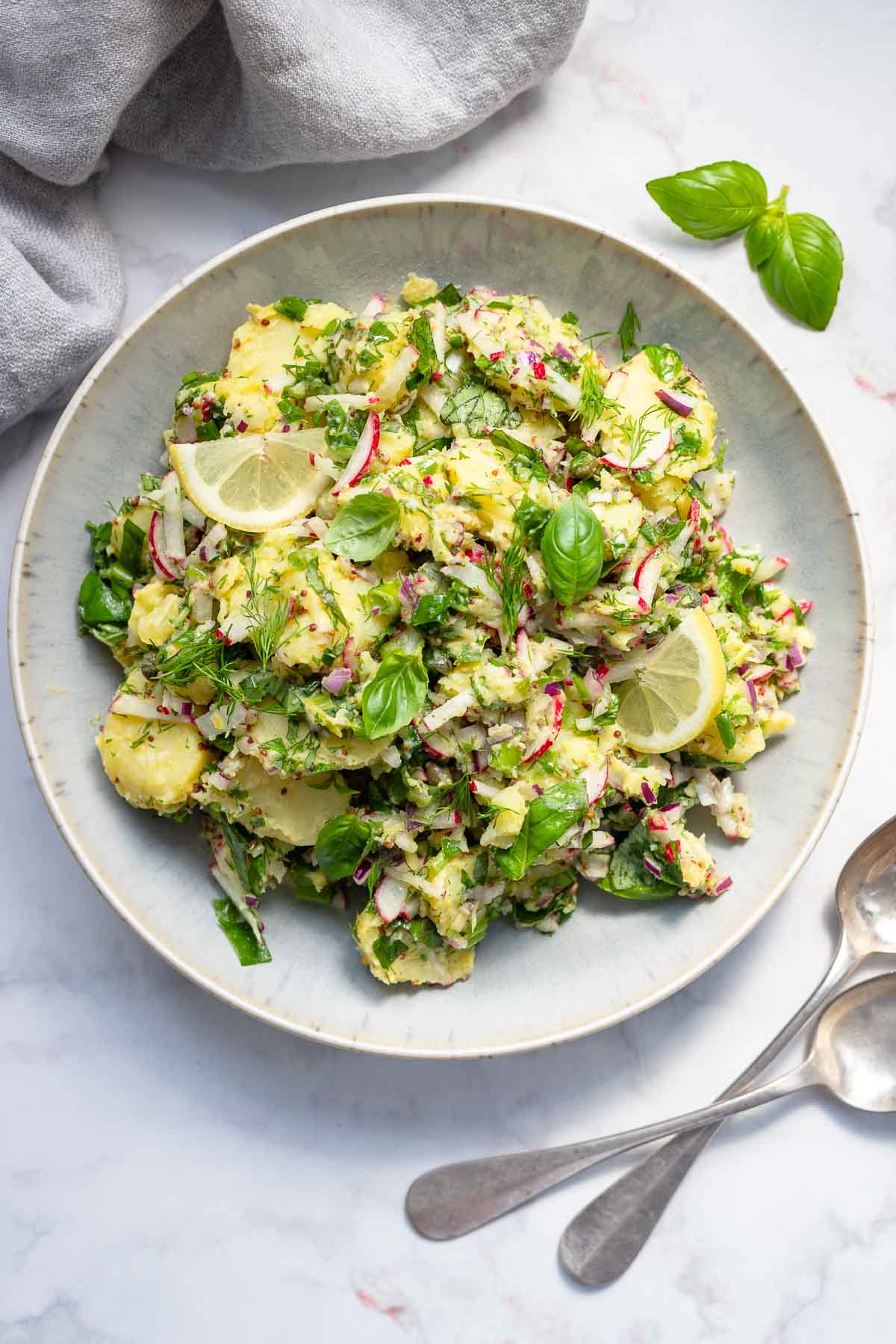 This healthy potato salad with mustard and capers is packed with good-for-you ingredients. It's mayo-free, and beaming with freshness from spring onions, radishes, and fresh herbs. This light potato salad has less calories than many classic versions since it made without eggs or mayonnaise AND because of that, it's perfect for anyone with special dietary needs, as it's also gluten-free, vegetarian and vegan.
What kind of potatoes to use?
Waxy, thin-skinned potatoes, like new potatoes (or red potatoes), are great for this potato salad recipe because they have less starch, which allows them to hold their shape well. Plus, you don't have to peel them, if you don't feel like it!
I prefer to either use red-skinned new potatoes, or new potatoes such as Annabelle (very early), Goldmarie and Sieglinde (early), Charlotte and Allians (mid-season new potatoes). For this recipe I used regional Sieglinde potatoes, which soak up the dressing very nicely.

A light potato salad thanks also to chemistry
Because of the high starch content, potatoes are particularly filling. We digest their long chain carbohydrates (also known as complex carbs) slowly. During the digestive process, enzymes convert starch into sugar and if our body doesn't need the sugar right away, it stores it. And in excess this converts to fat.
But there's a little secret: when the carbs in potatoes (and any starchy food like pasta or rice) cool, the starch changes its chemical structure, it becomes what is known as resistant starch. The enzymes in the stomach can barely digest resistant starch; it gets into the intestines as a prebiotic fiber, which which results in fewer calories to keep you feeling full while also supports a healthy microbiome.
Tips for the best potato salad
Like I said earlier, choose the right potato. Waxy is the way to go!
Peel the potatoes while they are still hot. A little tip: before adding them to the pot, cut the potato peel very finely, completely around the middle. After they finish cooking, you can easily slip off the skin.
Pour the dressing over the hot potato slices. This is an important one! Adding the dressing while thy are still somewhat hot will help them absorb the flavor better.
Boost the flavor. Some may think the dressing adds enough flavor but I think fresh herbs, spring and red onion and radishes add a lot of freshness (and texture) herbs (dill and parsley) for added freshness and color. Capers add a little Mediterranean flair (as well as well as a bit of saltiness and tanginess).
Allow the potato salad to rest before serving. Leave it at room temperature to stand for 15-20 minutes allows the flavours to meld (or refrigerate for 1 hour or longer. But be sure to bring it to room temperature before serving).

Adapting this potato salad with mustard and capers
Every family has their go-to potato salad recipe and when trying something new you may want to adapt it a little to your own taste or to whatever you have on hand. Some ways I like to mix things up are:
Trade out basil for parsley (and even add a little mint — a mix of your favourite herbs!).
Use only green onion or red onion, instead of a mix.
Instead of radishes, use celery stalks — they add lots of crunch. Fennel is also a nice choice.
Add steamed green beans or French Haricots Verts.
Trade out capers for a little chopped dill pickle (plus you'll get some good for you probiotics you choose lacto-fermented ones).
Use red-skinned potatoes and leave the skin on.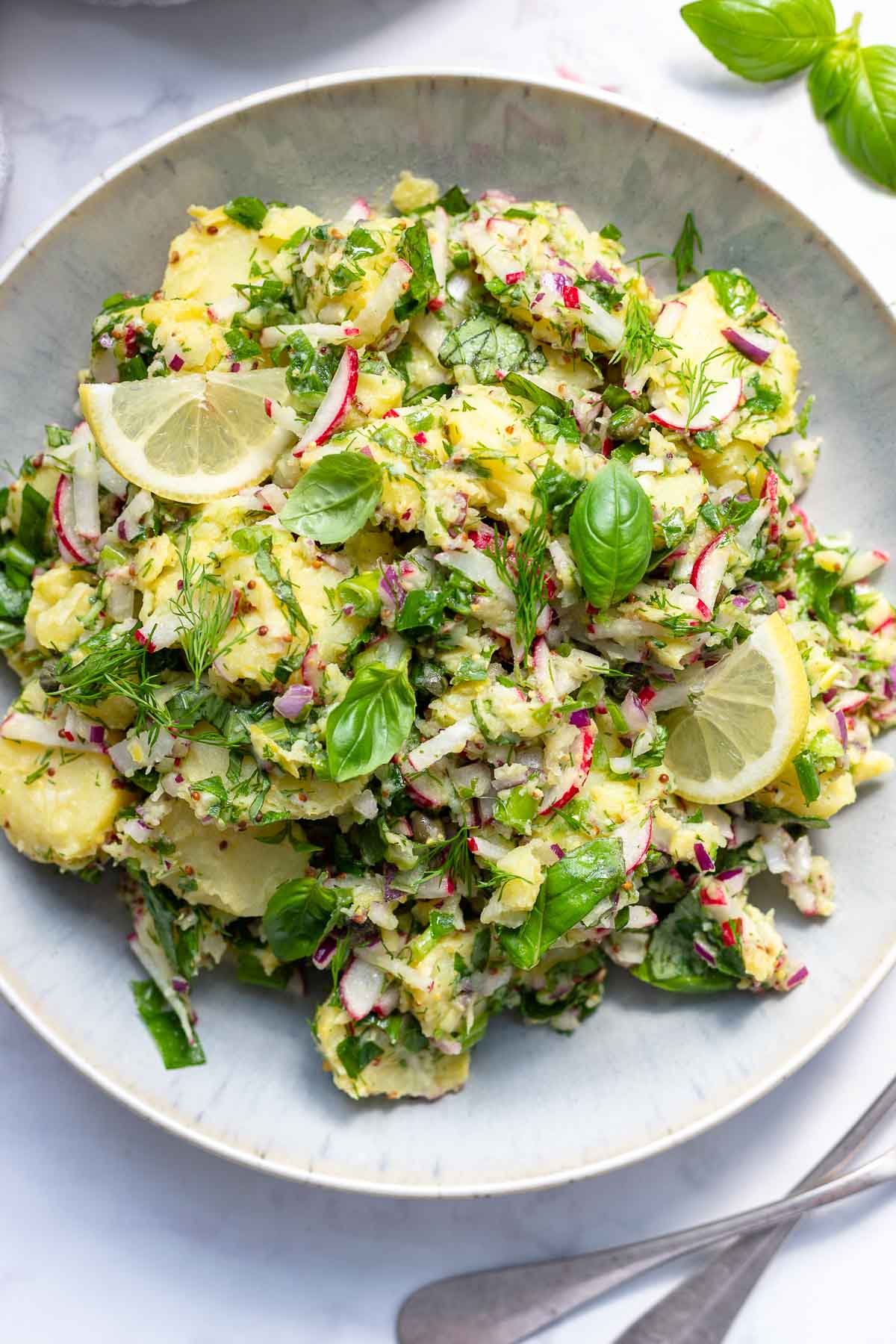 Looking for other potato salad (without mayo) recipe ideas?
Try one of these recipes: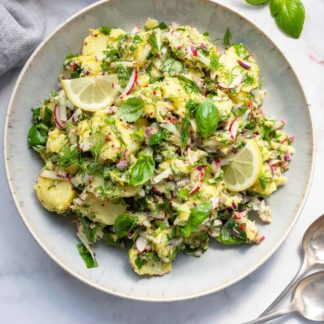 Mediterranean Potato Salad with Mustard and Capers
Healthy, light potato salad with mustard dressing tossed with fresh herbs, spring onion, radishes and capers. Easy vegan/vegetarian BBQ or picnic salad.
Ingredients
For the salad:
800

g

new potatoes,

scrubbed clean (e.g. Sieglinde)

2

green onion,

finely chopped

1

small red onion,

finely chopped

5-6

radishes,

thinly sliced and julienned

1

small bunch fresh basil leaves,

chopped (4 tablespoons)

1

small bunch fresh dill,

chopped (4 tablespoons)

1

tablespoon

capers (in brine),

drained
For the dressing:
5

tablespoons

extra virgin olive oil

Finely grated zest from 1 organic lemon

2

tablespoons

freshly squeezed lemon juice

1

garlic clove,

minced

1

tablespoon

grainy Dijon Mustard

1

tablespoon

Dijon mustard

Sea salt and freshly ground pepper,

to taste
Method
Place the potatoes in a large pot of cold, salted water. Bring to a boil and simmer until fork tender (15-20 minutes, depending on size). Drain, then peel the potatoes while they are still hot.

Meanwhile, in a small bowl, add the dressing ingredients, whisk to combine and set aside.

Slice the warm potatoes into a large serving bowl. Pour over the dressing and toss gently to combine. Set aside for 5 minutes to allow them to absorb some of the dressing.

Add the onion, radishes, herbs and capers to the bowl with the potatoes. Toss well and let this salad sit for at least 10 minutes before serving in order for the flavours to meld.
Notes
Peeled vs. unpeeled new potatoes: This depends on how you like your potato salad. But ways are fine.
Other Ingredients: chopped celery is a great addition to to this healthy and light potato salad recipe. See tips above for more ideas!
For a relaxing atmosphere in the kitchen I recommend my personal Elle Republic: Chilled Out Kitchen Tunes Playlist on Spotify.
Did you try this recipe?
Then tag @ellerepublic on Instagram and hashtag it #ellerepublic
How did you like it?
Please let me know how this Mediterranean Potato Salad with Mustard and Capers recipe turned out for you! I would love to hear how you liked it. Simply rate it with the stars above ⭐ or leave me a comment and rate it below.
Did you make any changes to this recipe?
If you have tips for other readers, let me know! It helps me and other readers so much. Sharing is Caring :-).
This post contains affiliate links. If you decide to make a purchase through my link, Amazon will pay me a commission for it. This doesn't cost you anything additional and the price remains the same. More about advertisements on Elle Republic.