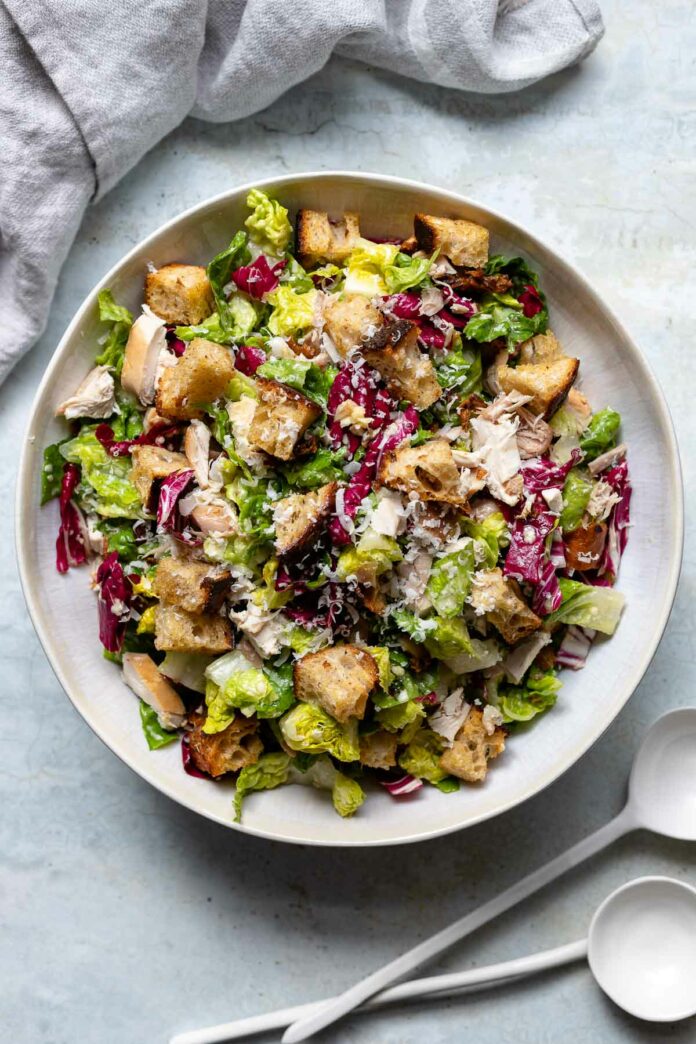 This classic caesar salad with romaine lettuce, radicchio (for a pop of color) homemade croutons, Parmesan cheese, and rotisserie chicken is tossed with delicious homemade caesar dressing.  The dressing is my family's own traditional caesar salad recipe which has been passed down over the generations. It's anchovy-free, quick and easy to make, and is a crowd pleaser, guaranteed to impress guests.
Traditional caesar dressing relies on egg yolk for creaminess
Depending on where you come from, you may have experienced a creamy or non-creamy caesar dressing. However, a truly original caesar dressing contains olive oil, egg yolk, Worcestershire sauce, lemon, mustard, garlic and pepper. There is no mayonnaise, sour cream or yoghurt, despite how often restaurants serve this version. Contrary to what some may think, a creamier dressing is simply achieved by adding more egg yolks.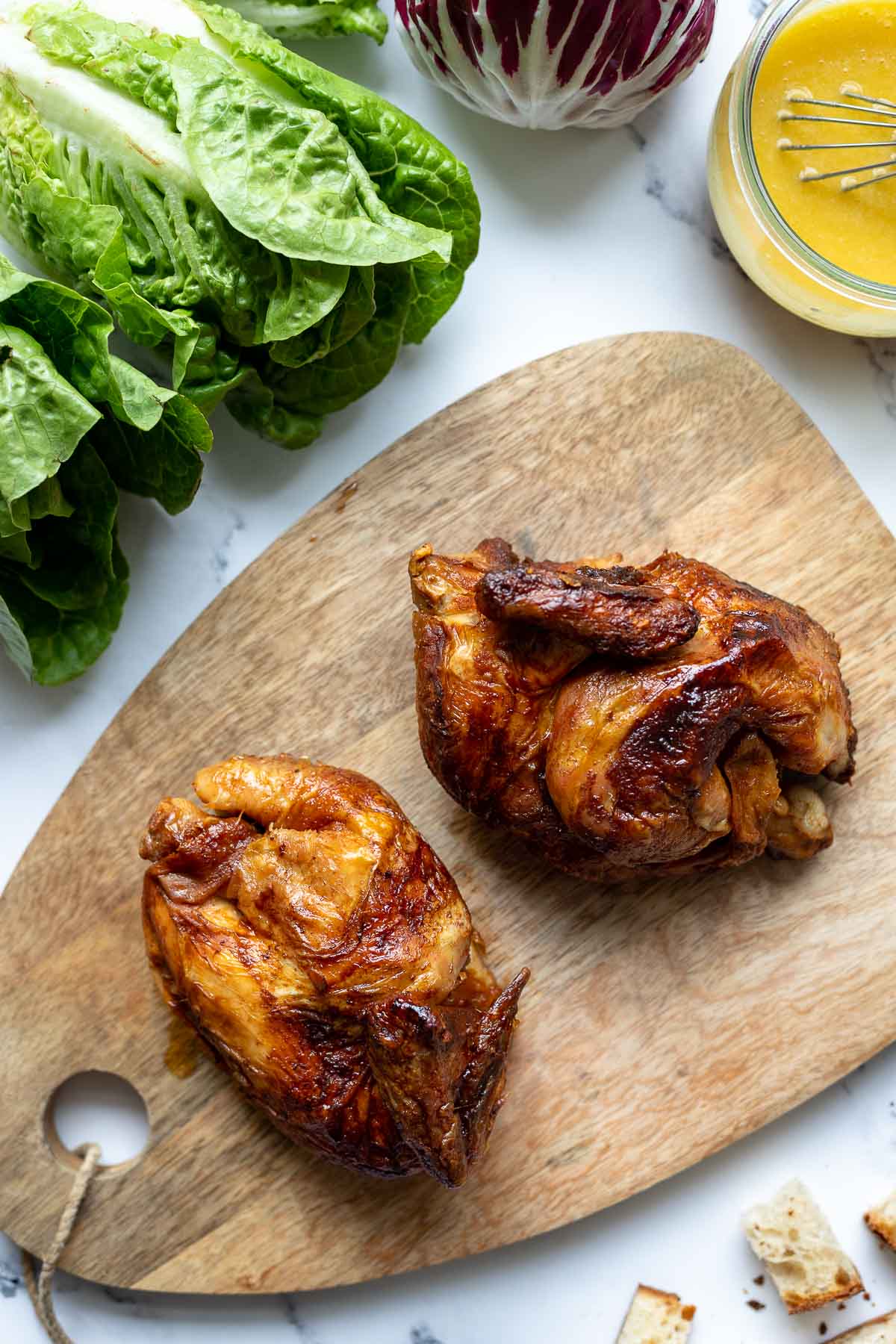 This caesar dressing recipe is made with an old family recipe (Aunt Ilse's Original Caesar Dressing) and doesn't make the distinction of separating out the egg yolk from the white and uses dry mustard. However, dry mustard isn't easy to find here in Germany, so I use either Dijon or grainy Dijon for my version. It's one of my favourite salad dressings, one they gets made over and over again. So, if you are looking for an easy caesar salad dressing recipe, this is it!
Brilliant rotisserie crouton inspiration
The idea for the croutons baked with the chicken skin isn't actually a fantastic, original idea of mine. Instead, it was inspired by the food writer and cookbook author Melissa Clark. She makes a mixed vegetable roasted chicken salad with croutons baked this way and it's absolutely brilliant! Especially, since the skin is what some consider the best part of rotisserie chicken — so why toss it! And, since both the cubed bread and the skin are baked in the oven, it gives the chopped up pieces of skin a chance to crisp up as the croutons get their characteristic crunch.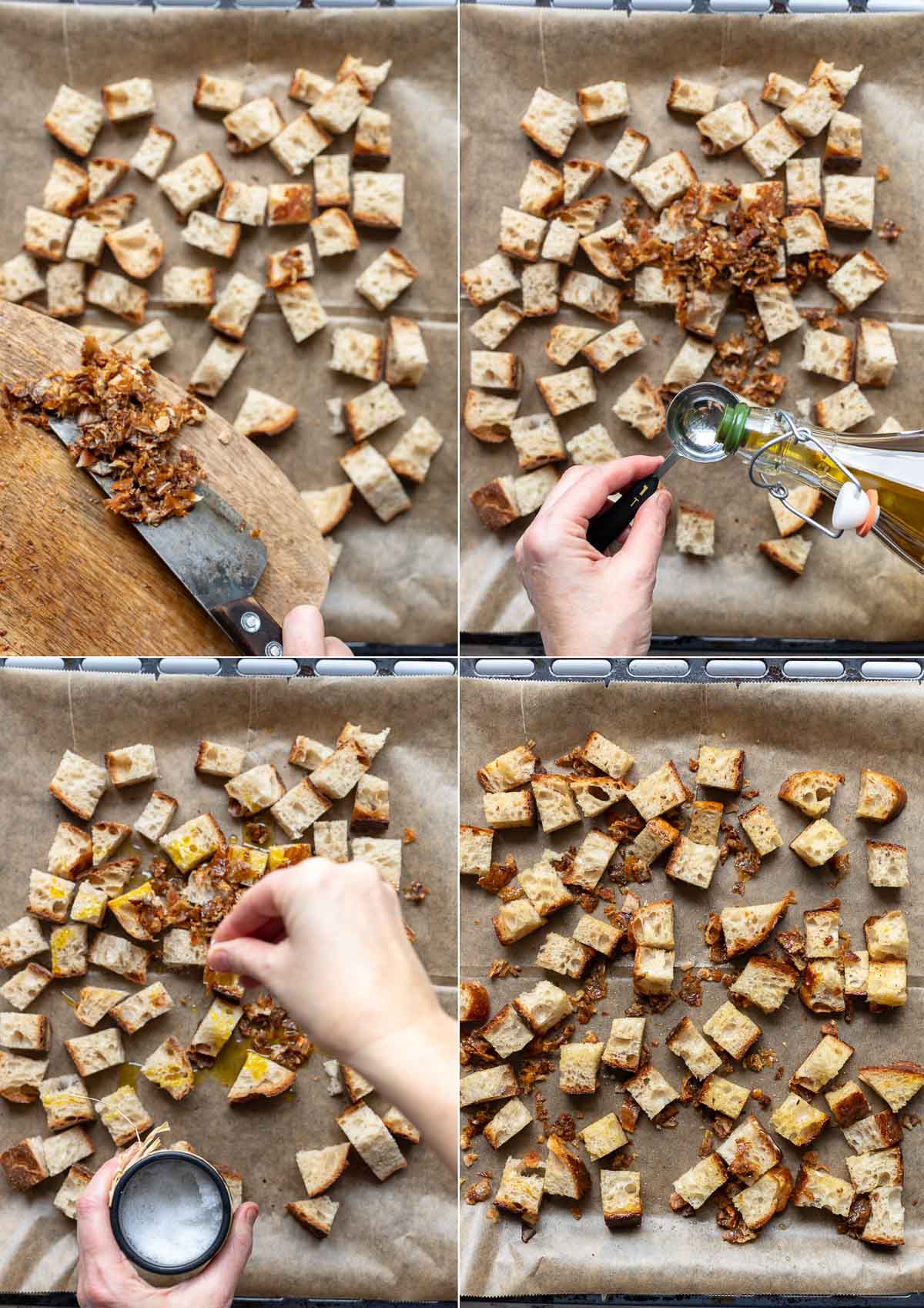 Variations to classic caesar salad recipe with grilled chicken
This classic caesar salad recipe can also be made with grilled chicken breast, or blackened cajun chicken, or of course, you could absolutely leave out the chicken and go with a simplified lettuce-based version of classic caesar salad.
You could also add roasted chickpeas to the salad for a little extra plant-based protein and fibre. I also have a vegan caesar pasta salad recipe, that makes a great plant-based alternative to this chicken caesar salad recipe.
The croutons are just as simple to prepare the classic way. To do so, just toss the bread cubes in olive oil and add a little minced garlic, dried herbs (such as thyme, oregano or an Italian mix) and a sprinkle of salt. It's that easy!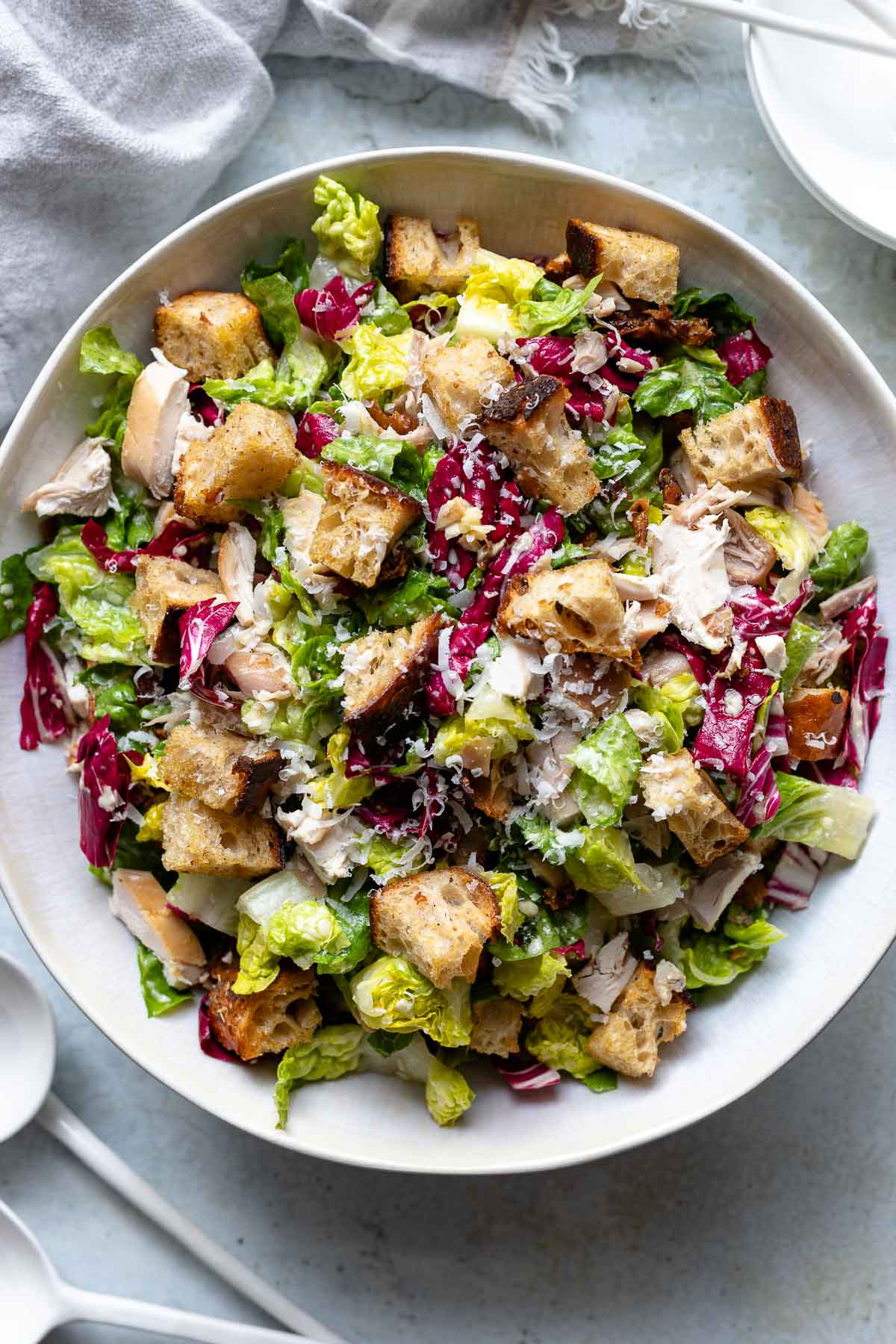 Looking for other salad inspiration?
Try one of these favourite salad recipes: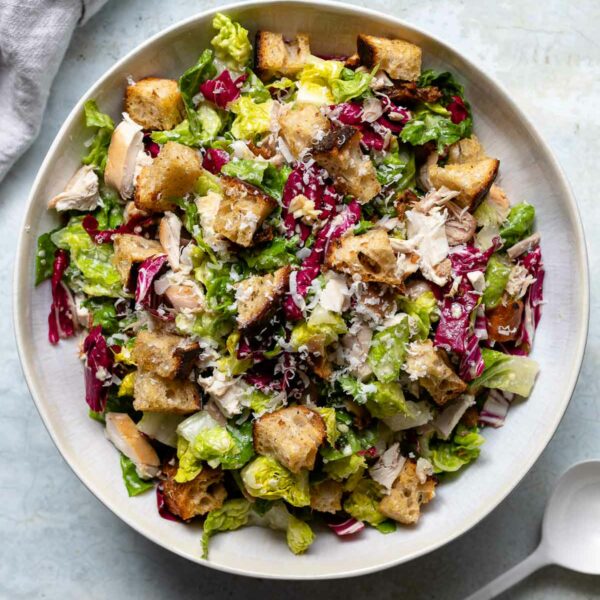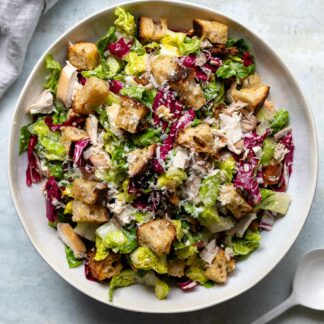 Classic Caesar Salad with Roasted Chicken
Classic caesar salad recipe with romaine lettuce, radicchio, homemade croutons, parmesan cheese, and rotisserie chicken tossed with a traditional caesar dressing.
Ingredients
For the salad:
150

g

bread,

preferably a day old loaf (z.B. ciabatta or crusty loaf), cut into 2,5 cm cubes

1

roasted rotisserie chicken,

skin removed and chopped

2

tablespoons

extra-virgin olive oil

1

large romaine lettuce (or 2 small heads romaine),

chopped

Handful chopped radicchio leaves

30

g

freshly grated parmesan cheese,

plus more to serve

Freshly ground pepper,

to taste
For the dressing:
2

cloves

garlic,

minced

6

tablespoons

extra-virgin olive oil

2

tablespoons

good-quality red wine vinegar

1

tablespoon

lemon juice

1

teaspoon

Dijon mustard

1/2

teaspoon

sea salt

1/2

teaspoon

Worcestershire sauce

1

raw egg
Method
Preheat heat oven to 350°F / 175°C (155°C fan-assisted).

On a baking sheet lined with parchment paper, use your hands to toss together the cubed bread with the chopped chicken skin and 2 tablespoons olive oil. Season with salt and pepper, to taste.

Transfer to the preheated oven and bake, tossing occasionally, until the croutons are golden and the chicken skin is crispy (12-15 minutes).

Meanwhile, prepare the dressing. Add the ingredients into a jar, close, and shake well to mix, then set aside.

Pull the chicken meat off the bones and roughly chop it into pieces.

In a large serving bowl, add the romaine lettuce, radicchio, and parmesan cheese. Drizzle over the dressing, season with freshly ground pepper and toss well. Add the chicken and croutons, and toss again to combine.

Garnish with extra parmesan, serve and enjoy!
Notes
Since this simple caesar salad dressing uses raw egg, it is important to use a very fresh egg. Some people have a concern when it comes to using raw eggs in dressings, however I can saw that I have been making this salad for over 20 years and have never had a problem. If making a batch of the dressing, it should be used within 24 hours.
For a relaxing atmosphere in the kitchen I recommend my personal Elle Republic: Chilled Out Kitchen Tunes Playlist on Spotify.