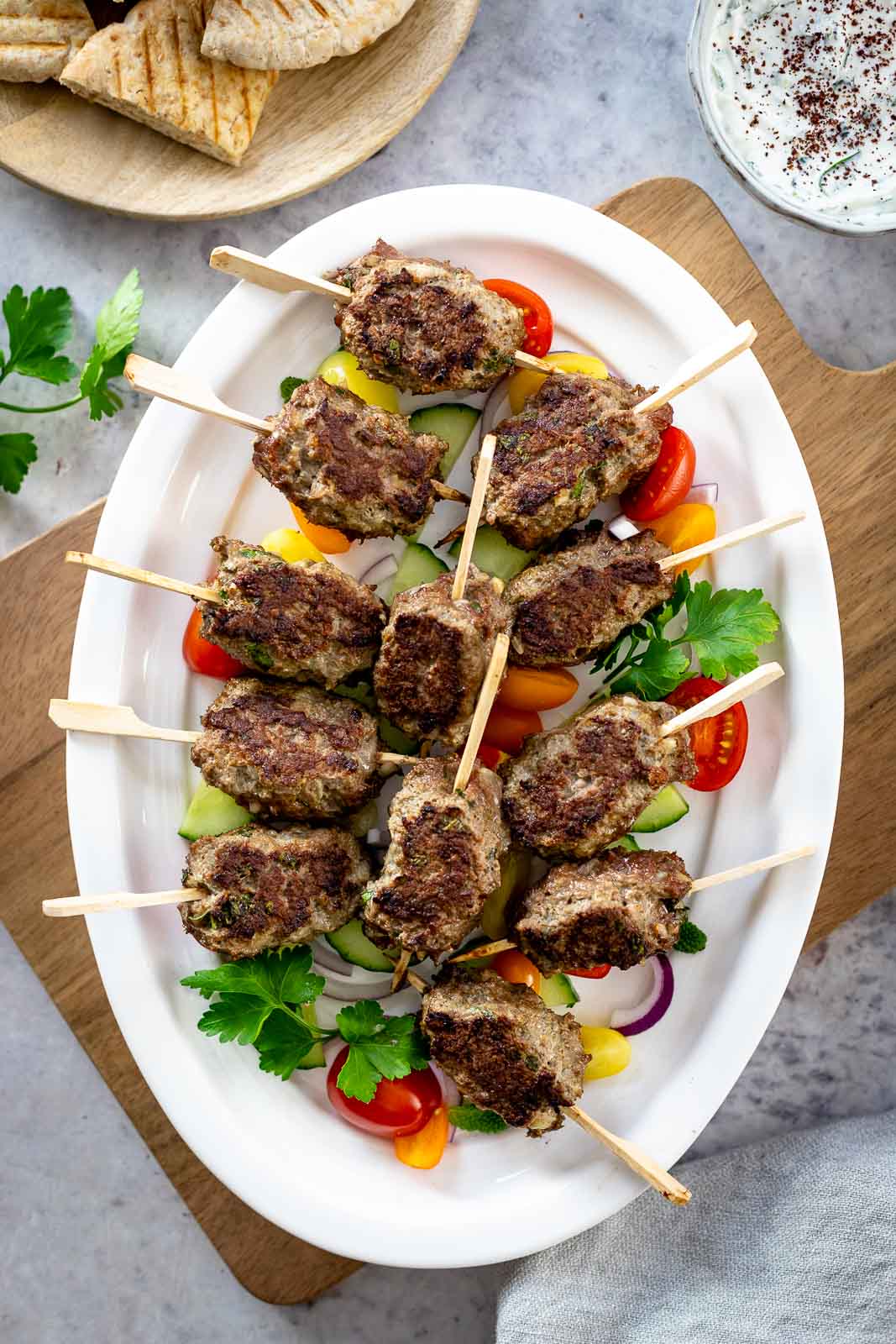 Lamb Kofta is bursting with warm aromatic spices and Middle Eastern flavours. Juicy and delicious, these mini-sized kofta make for a fantastic appetizer that is easily prepared in advance. And best yet, you don't need to search long and hard for ground lamb to make this recipe!
Grilled lamb kofta is a crowd pleaser!
What I particularly love about kofta is that the concept is simple but so much more interesting than a simple plain hamburger patty or meatballs. A mix of of warm spices, herbs and aromatics transform it into something interesting and delicious. And they are a crowd pleaser! You can easily serve them as an appetiser or alongside a buffet with a few other sides dishes and salads.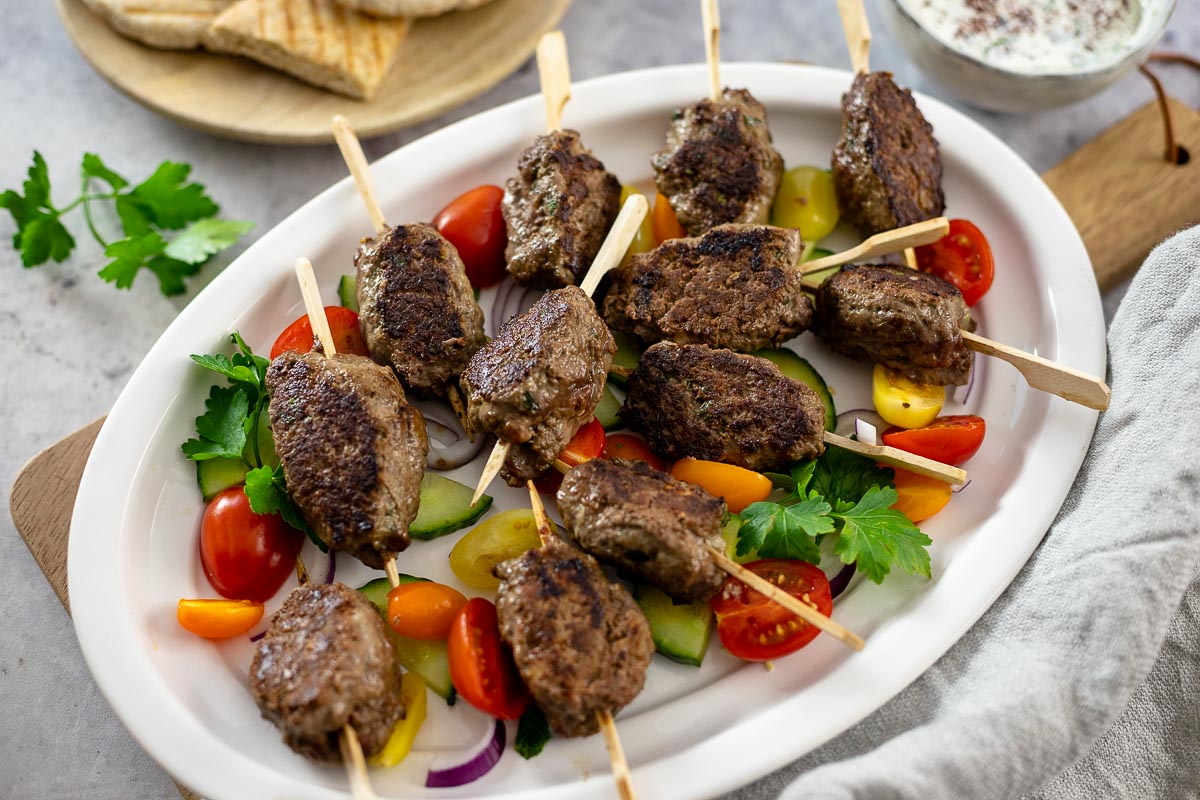 LeMax to the Test
Once again my ELAG LeMax tabletop grill takes the win for making it so easy to prepare a dish all in one go. Just like pancakes, latkes and co. it's simply better when you can prepare everything at once instead of doing batch cooking. And that is just one of the reasons I love using the LeMax. With it's large glass-ceramic cooking surface, you can do batch cooking, or even prepare an entire meal all at once. Like I do when I am grilling fish with vegetables, or preparing pizza with the kids. Even tasty dishes like fajitas and quesadillas are a cinch.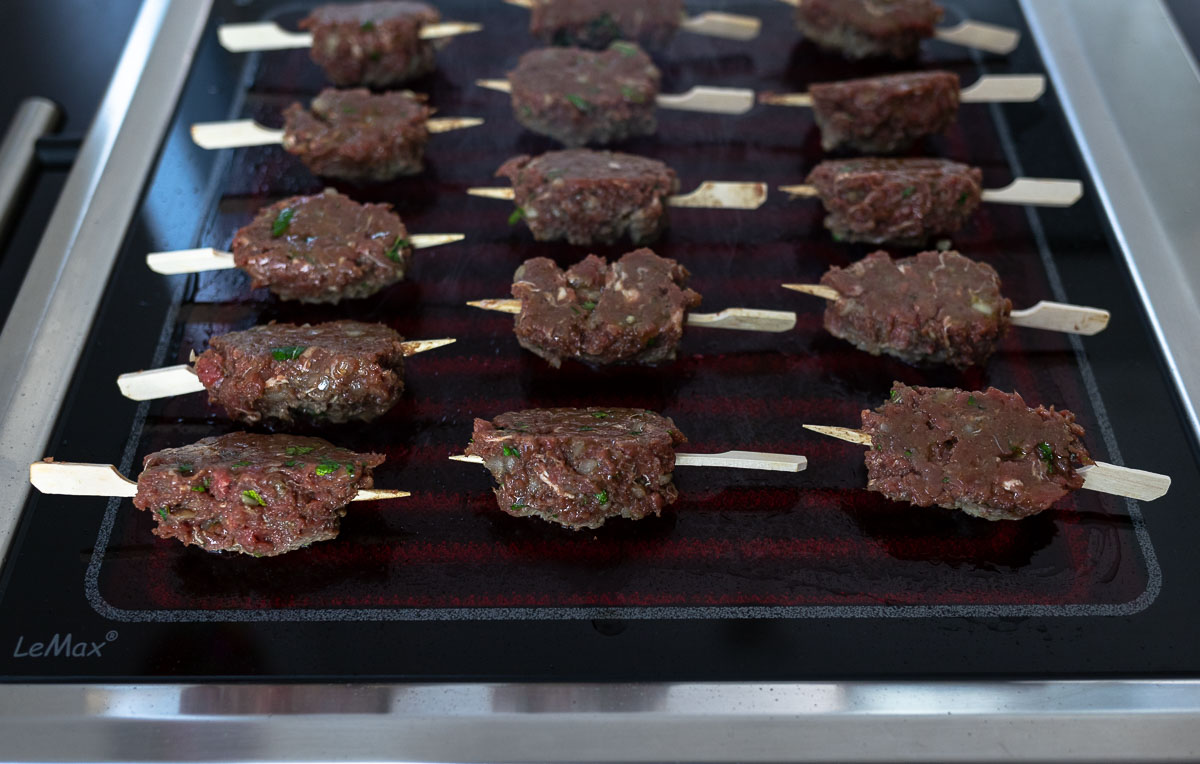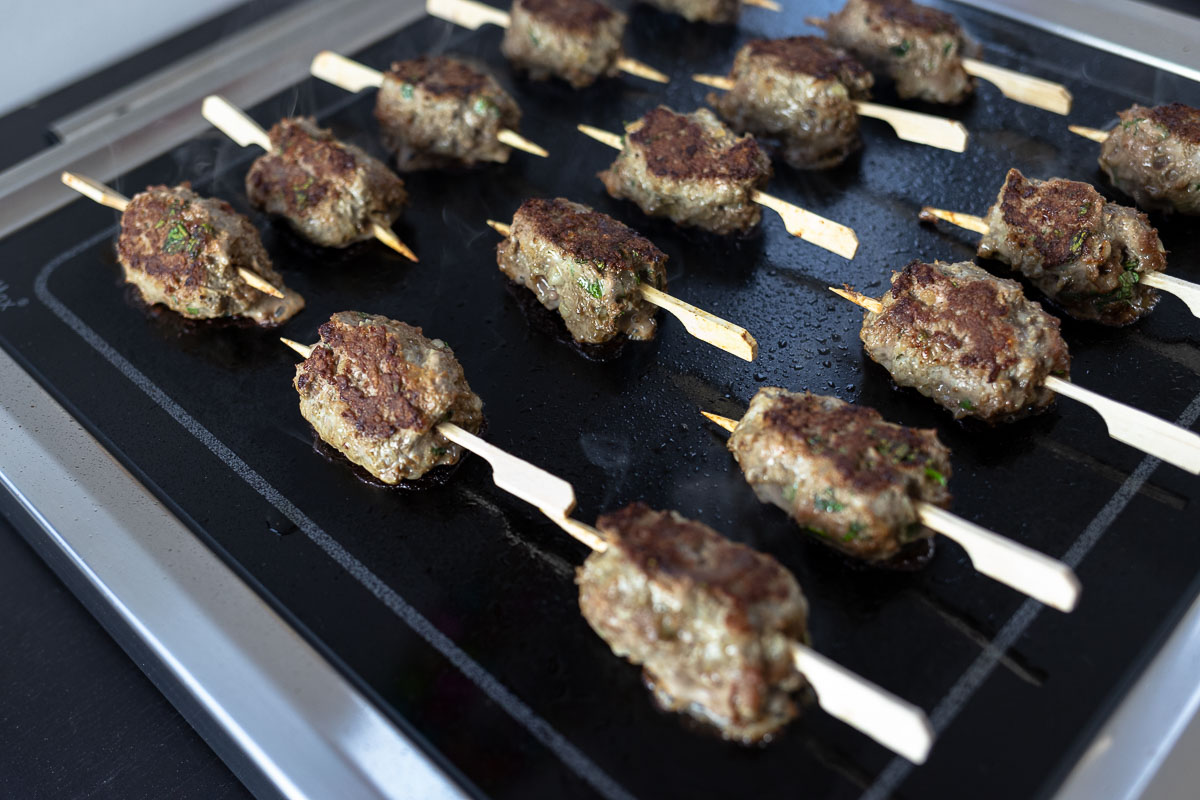 Tips for how to make the best grilled lamb kofta
For the best tasting kofta, you will want a cut of lamb with a little fat. It's the fat that makes it juicy and it's best for grilling. If the meat is too lean, then the kofta will not stick together properly. This is why, I find lamb hip works the best.
Of course, minced lamb from the butcher would also be fine, but it isn't always easy to find. Great thing is, it's easy to make your own, by simply chopping the lamb, and then processing it in the food processor along with the spices, garlic and onion.
Once the meat and seasoning are mixed, and the mixture it formed into skewers it's important to chill it for at least an hour. Not only will this make them less delicate, but it will give the flavours time to develop and infuse.
Get your LeMax grill nice and hot. The searing of the meat gives it a concentrated, complex flavors. I find this works best when I brush the kofta lightly with oil beforehand, and the hot grill just before placing them on it.
Add the lamb to the grill, and let it sit without turning until they release from the grill. This takes 3-4 minutes. Try and turn them any sooner, and they may stick. Then cook on the other side, until they reach the desired doneness. This should not take more than 8 minutes in total (so careful not to overcook — this results in dry kofkas!).

What to serve with grilled lamb kofta
A home-made yoghurt dip, traditional tzatziki or tahini sauce are really delicious accompaniments.
Serve warm pita or flatbreads.
Sliced cucumbers, cherry tomatoes and red onion are a great addition. You can make a simple cucumber salad or a simple chopped Greek salad.
For something a little unexpected, you can also serve it with this carrot and beet salad.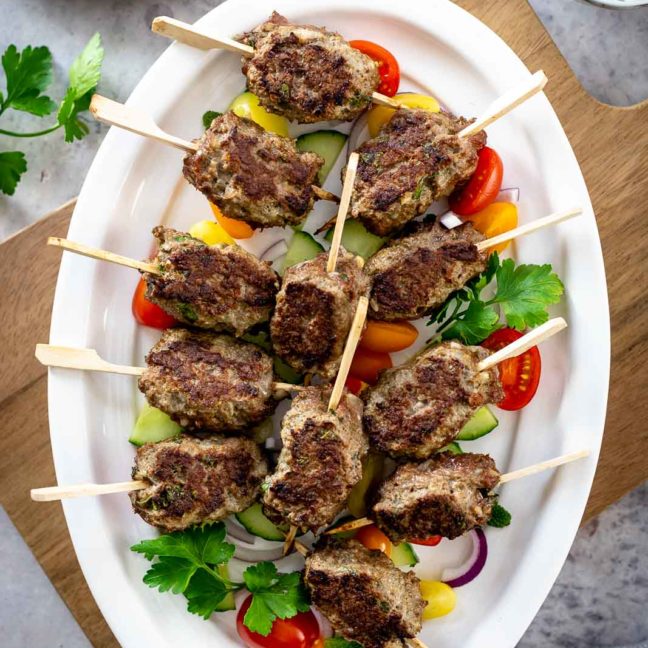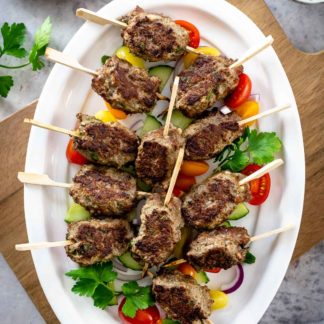 Grilled Lamb Kofta
Grilled lamb koftas made with Middle Eastern flavours, served with a herb yoghurt dip make for a quick, easy and tasty appetiser. Plan ahead: the kofta need to chill for at least 1 hour before grilling.
Prep Time
1
hour
15
minutes
Total Time
1
hour
25
minutes
Ingredients
For the kofta:
600

g

lamb rump

, diced 1-2cm

1

large egg

1

small yellow onion,

diced

1

clove

garlic,

minced

2

teaspoons

ground cumin

2

teaspoons

ground coriander

1

teaspoon

ground cinnamon

pinch

of cayenne pepper

1

teaspoon

sea salt

Freshly ground pepper,

to taste

1/2

bunch mint,

finely chopped (2-3 tablespoons)

1

tablespoon

extra-virgin olive oil

oil,

for the grill
For the yoghurt dip:
150

g

Greek yogurt

1

clove

garlic,

minced

1

tablespoon

flat-leaf parsley,

chopped

1

tablespoon

mint leaves,

chopped

1

teaspoon

freshly squeezed lemon juice,

or more to taste

Sumac,

to garnish (optional)
Method
Add the chopped lamb, egg, onion, garlic, spices, salt to a in a food processor and process until finely chopped. Transfer to a bowl, add the mint and knead together until well-incorporated.

Divide lamb mixture into 15-16 portions for appetiser size or 8 for meal size. Form each portion into a sausage-like shape. Insert a skewer lengthwise through each portion. Cover and chill for at least an hour, or up to 24 hours.

When ready to grill, brush each kofta lightly with oil and set aside and prepare the yoghurt dip.

Mix together the yoghurt, garlic, herbs, and lemon juice in a small bowl. Season with a little salt and garnish with sumac.

Preheat a tabletop grill over medium-high heat (setting 10 on the LeMax grill. Once hot, reduce heat to setting 9). Brush the grill lightly with heat resistant oil. Transfer the lamb to the hot grill, and cook for 3-4 minutes per side, until just cooked through.

Transfer to a platter and serve with warm pita and yoghurt dip. Enjoy!
Notes
Note: if preparing the kofta on an outdoor barbecue, use metal skewers or soak wooden ones in water for 30 minutes beforehand.
Tips for cleaning the LeMax:
While the surface is still warm, use a scraper or spatula to remove any excess food debris. If you are entertaining, you can simply cover the still slightly warm (not hot!) surface with damp paper towel. Then wipe away any remaining cooking residue later on, before thoroughly cleaning the surface. Once the surface is cool, apply a little glass-ceramic stovetop cleaning solution or a scouring liquid. Using a standard kitchen sponge, with the coarse side, scrub the surface to remove any cooking residue. The surface is scratch resistant, so it's fine to apply pressure when cleaning. Just be careful not to use the scratchy side of the sponge on the aluminum, as it will scratch. After you have cleaning away or grease or residue, wipe with surface lean with a kitchen cloth, and finally with a kitchen towel or paper towel.
Did you try this recipe?
Then tag @ellerepublic on Instagram and hashtag it #ellerepublic
How did you like it?
Please let me know how this buckwheat bread recipe turned out for you! I would love to hear how you liked it. Simply rate it with the stars above ⭐ or leave me a comment and rate it below.
Did you make any changes to this recipe?
If you have tips for other readers, let me know! It helps me and other readers so much. Sharing is Caring :-).
This post contains affiliate links. If you decide to make a purchase through my link, Amazon will pay me a commission for it. This doesn't cost you anything additional and the price remains the same. More about advertisements on Elle Republic.
Many thanks to ELAG Products GmbH for sponsoring this Grilled Lamb Kofta with Herb-Yoghurt Dip recipe.