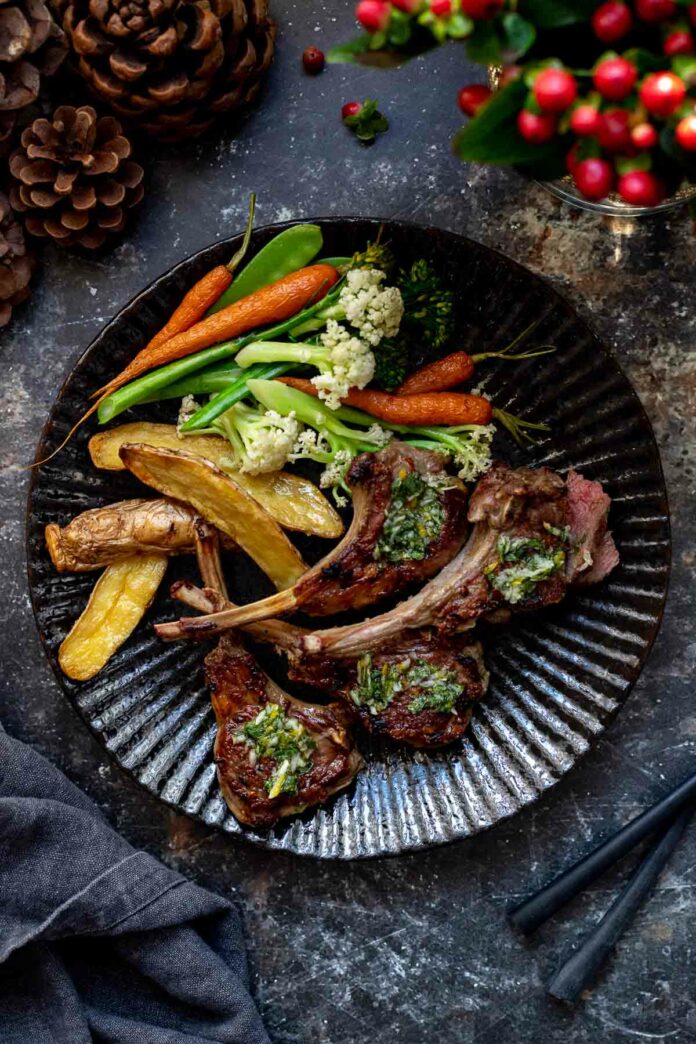 Sizzling grilled lamb chops topped with a lemon-mint gremolata makes for a fast and stunning meal. Whether you are looking for a holiday-worthy meal or a super quick weeknight dinner, lamb chops are the way to go!
Easy lamb chop recipe
Cooking lamb chops might sound intimidating, but it's actually not. They are one of the easiest and quickest things to grill. And they are highly versatile. You can marinade them in fresh herbs and oil, or give them an Asian spin, or simply sprinkle them with a little salt and pepper and toss them on the grill or prepare them in a skillet. With only 10 minutes of your time you can easily impress your family or guests.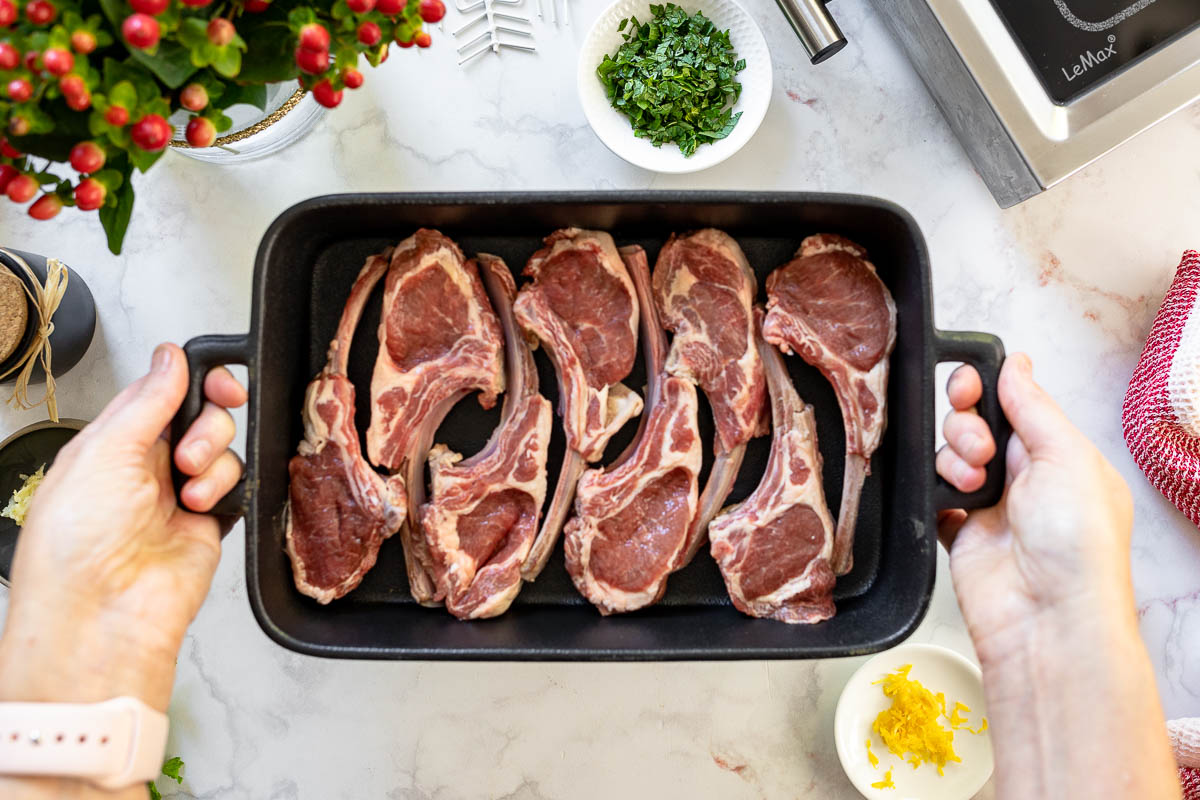 Perfect grilled lamb chops in minutes
Lamb chops should be cooked over a high heat, quickly — which means they are quick to prepare. Though, whether you are preparing them on the grill or in a pan on the stove: It is important not to cook the chops for too long, otherwise they will dry out quickly. Rare or medium-rare is the way to go, so 3 minutes per side is all you need for perfectly juicy medium-rare lamb chops, depending on thickness of course.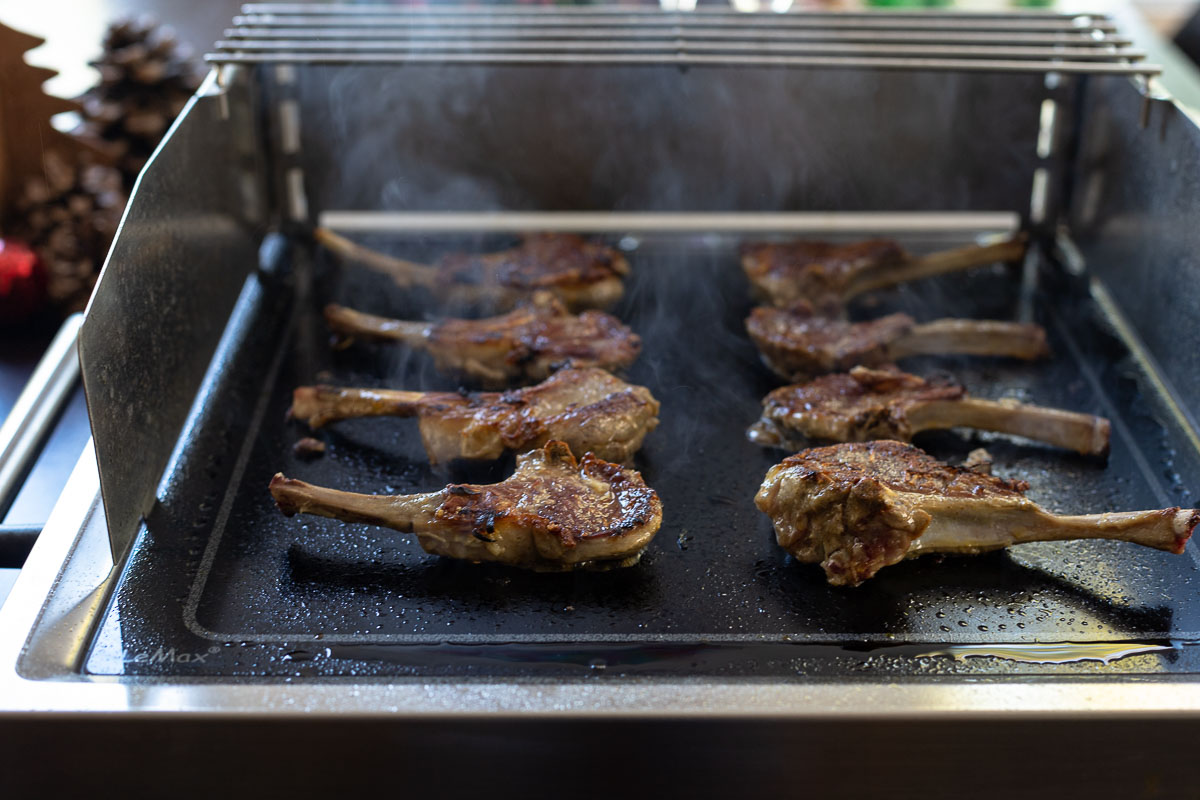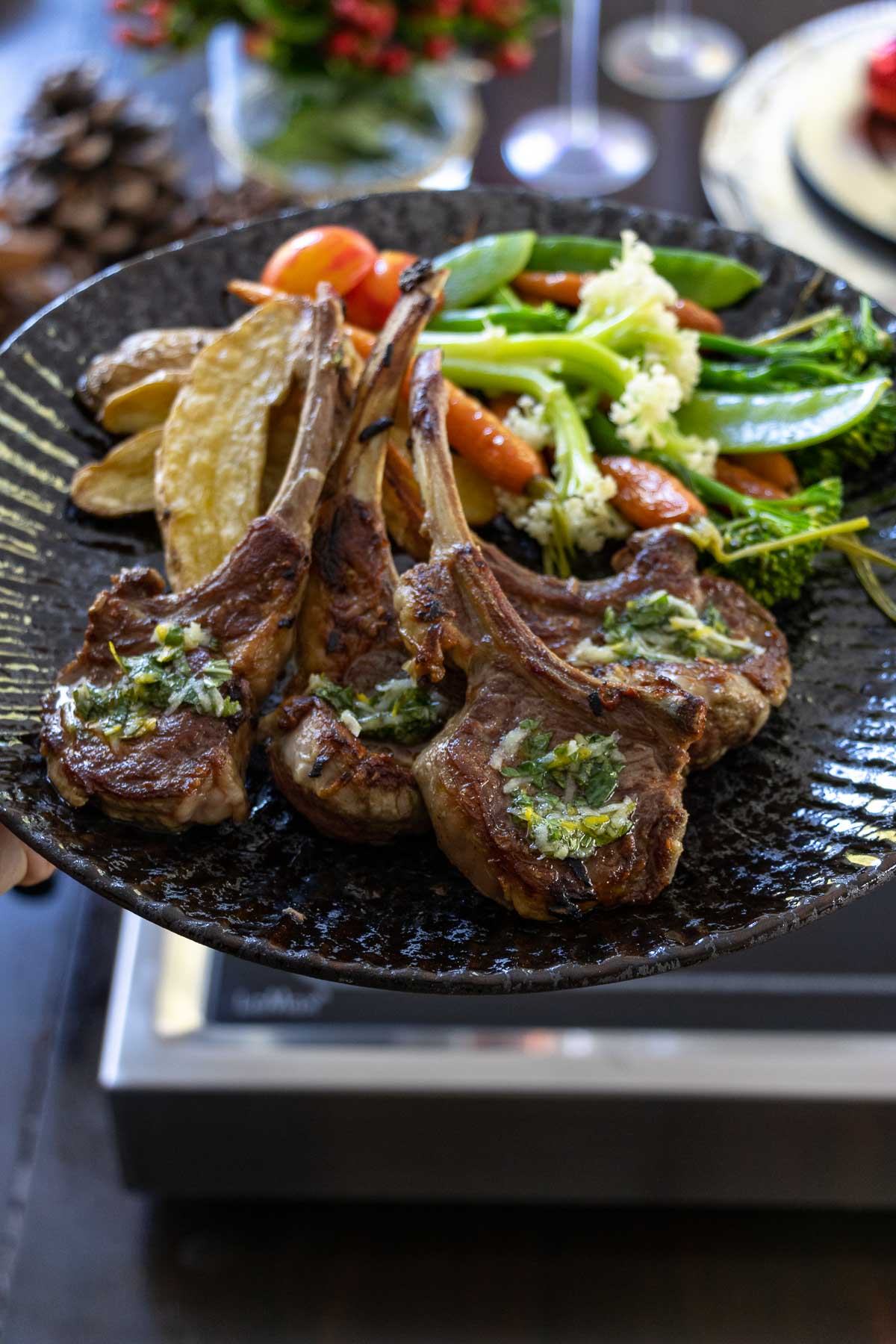 I like to use my LeMax glass ceramic grill, as it has a large surface which makes it easy to prepare 8 chops (or more) all in one go. Otherwise, you can prepare this recipe using a BBQ or cast iron skillet preferably or grill plates, over medium-high heat.
What herbs and spices go well with lamb?
If you are wanting to marinate your chops, then herbs and spices together with olive is a great way to go. Lamb is robust in flavor, so it can stand up to strong earthy herbs and spices. Herbs that work well are rosemary, oregano, basil, sage, or mint. Spices like coriander, cumin, cayenne, chili powder or paprika will also add extra flavor. And aromatics like garlic and onions, whether fresh or powdered spice, are truly welcomed.
What to serve with lamb chops
Rosemary potatoes and green vegetables go really well with lamb chops. Or try a green bean salad, butter peas, steamed green asparagus, a simple risotto, polenta, mashed potatoes, roasted vegetables, sweet potato fries, or crispy potato wedges. And don't forget: homemade tzatziki also goes wonderfully with lamb and potatoes.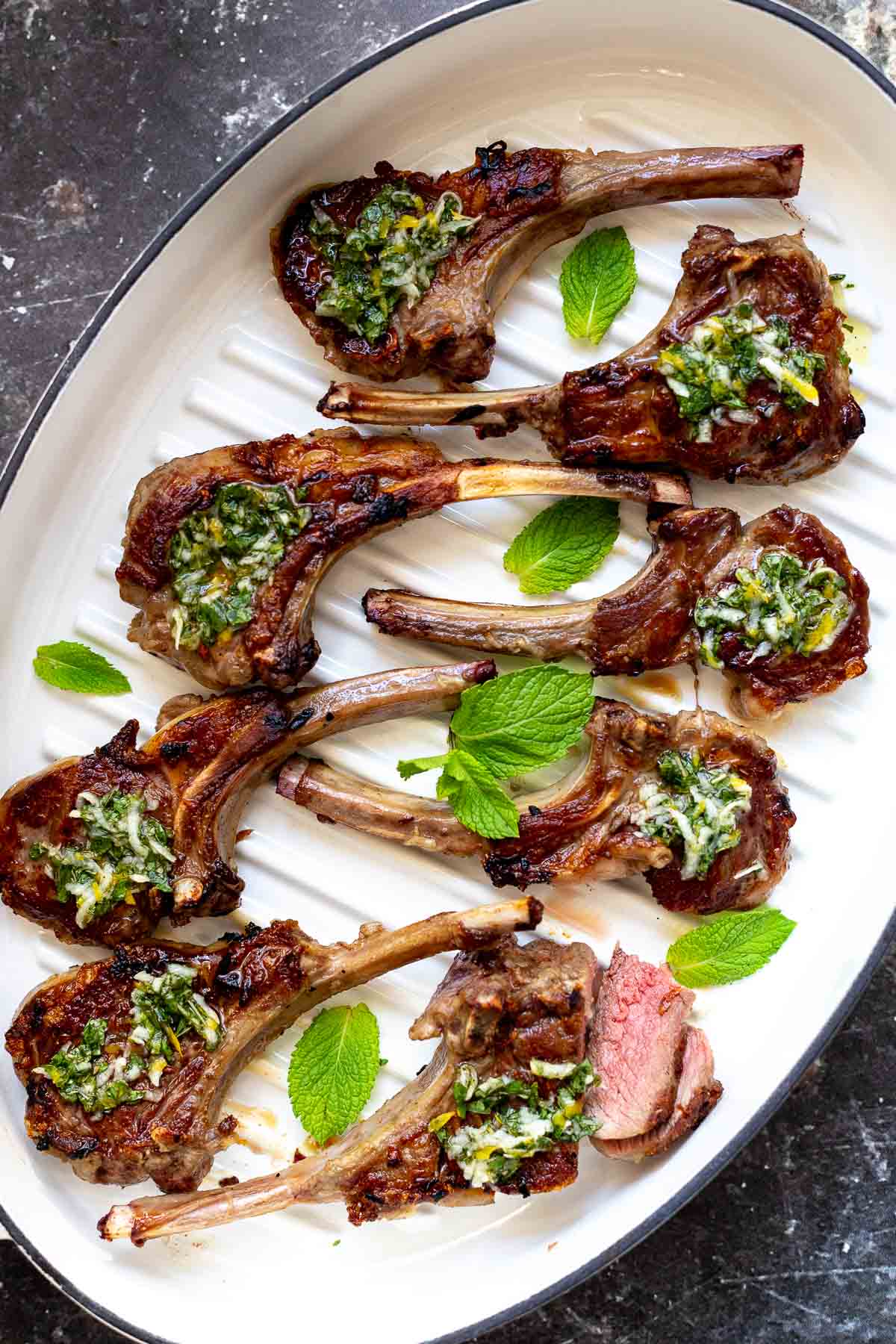 Looking for other lamb recipe inspiration?
Try one of these delicious recipes: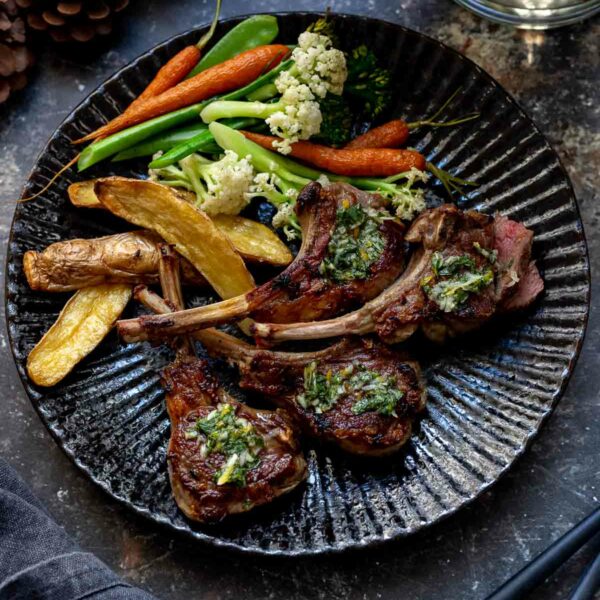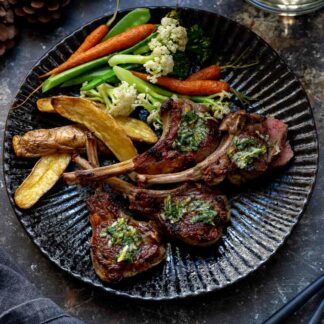 Grilled Lamb Chops with Lemon-Mint Gremolata
Serve up grilled lamb chops for an easy weeknight dinner or as a holiday-worthy meal for guests. Quick, easy and impressive.
Ingredients
For the mint gremolata:
2

garlic cloves,

minced

2

tablespoons

finely chopped fresh mint leaves

2

tablespoons

extra-virgin olive oil

Zest from 1 organic lemon

1

teaspoon

freshly squeezed lemon juice

Sea salt and freshly ground pepper,

to taste
For the lamb chops:
8

lamb chops

(about 550 g)

4

tablespoons

olive oil

2

cloves

garlic,

minced

1/2

teaspoon

sea salt

1/4

teaspoon

fresh-ground black pepper
Method
Prepare the gremolata: in a small bowl, add the garlic, mint, olive oil, lemon zest, and lemon juice. Season with salt and pepper. Whisk to combine and set aside.

Prepare the lamb chops: Before cooking, take the lamb out of the refrigerator and let sit at room temperature for about 30 minutes before grilling.

In a shallow dish, combine the olive oil, garlic, salt, and pepper. Add the lamb chops and turn to coat.

Preheat a grill or skillet (cast iron preferably or grill plates) on medium-high heat (for the LeMax level 10 for 7-8 minutes, then reduce to level 9).

Place the lamb on the hot grill and cook until browned on the outside but still pink in the center (about 3 minutes per side for medium-rare). Transfer to a platter, cover loosely with foil and set aside to rest (5-10 minutes).

Serve warm with roasted fingerling potatoes and a side of your favourite in season vegetables.
Notes
When grilling quick-cooking items such as chops, turn them ONLY once. If you leave the meat alone for a few minutes, it will have a chance to form a nice brown crust. If you move it too soon, it will stick. Once it has had a chance to brown, it is easy to move.
When you do turn the meat, use tongs or a spatula. Poking it with a fork will allow precious juices to escape.
I recommend 4–5 lamb chops per person (2 cm thick). If cutting the chops from the lamb carré yourself, you will need about 1.2 kilogram for 4 persons.
For a relaxing atmosphere in the kitchen I recommend my personal Elle Republic: Chilled Out Kitchen Tunes or Lounge Kitchen Tunes Playlist on Spotify.
Did you try this recipe?
Then tag @ellerepublic on Instagram and hashtag it #ellerepublic
How did you like it?
Please let me know how this Grilled Lamb Chops with Lemon-Mint Gremolata recipe turned out for you! I would love to hear how you liked it. Simply rate it with the stars above ⭐ or leave me a comment and rate it below.
Did you make any changes to this recipe?
If you have tips for other readers, let me know! It helps me and other readers so much. Sharing is Caring :-).
This post contains affiliate links. If you decide to make a purchase through my link, Amazon will pay me a commission for it. This doesn't cost you anything additional and the price remains the same. More about advertisements on Elle Republic.
Many thanks to ELAG Products GmbH for sponsoring this recipe.