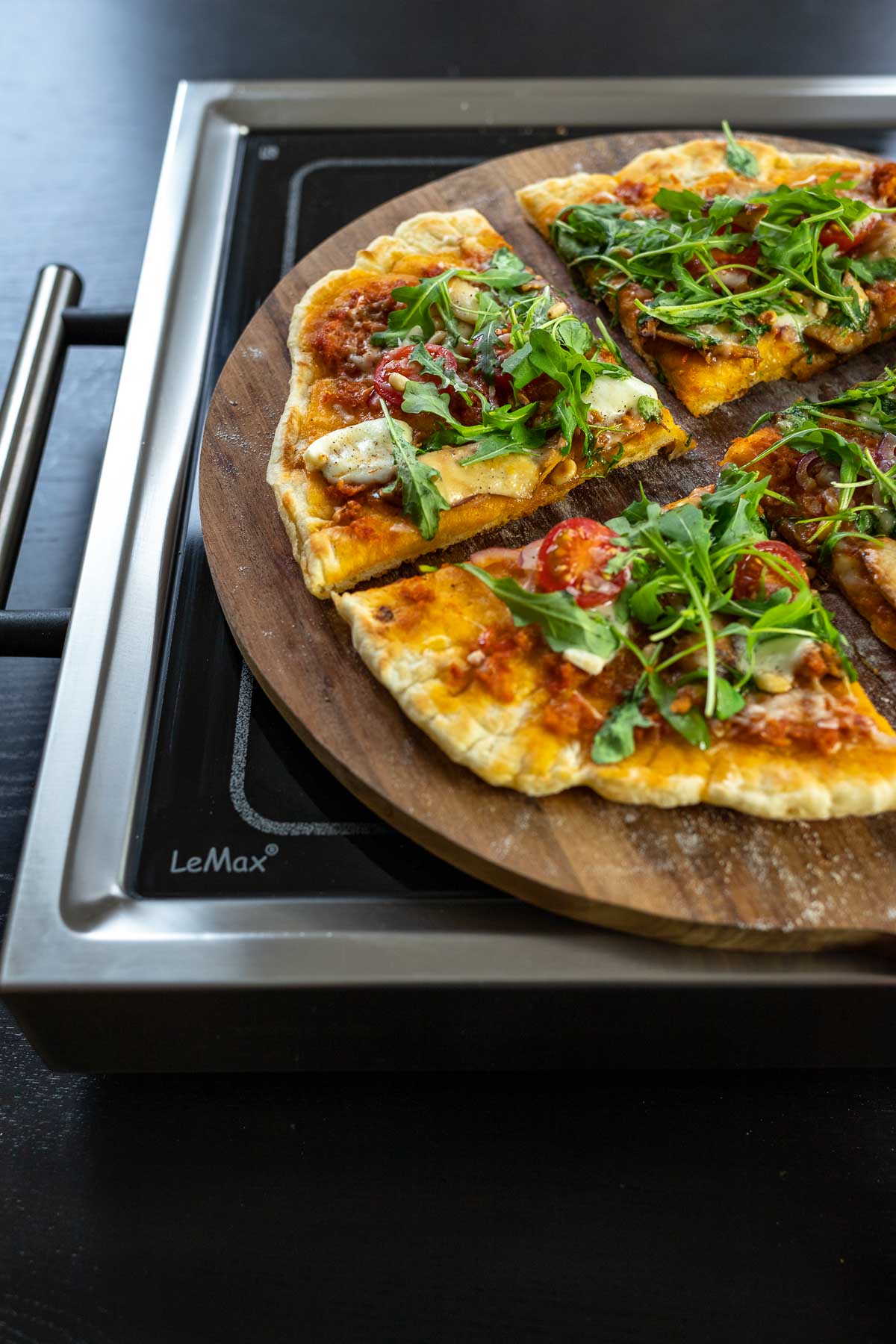 If you're craving brick-oven crispy pizza crust, you can get the same results right a home with grilled pizza. And this pizza is everything! It's not just any pizza. It's a thin crust pizza! A thin and crispy crust pizza. Grilled to perfection on my ELAG Lemax glass ceramic electric grill.
Who would have thought that you can make restaurant quality pizza right here at home? Yes, it's true. A homemade pizza crust prepared on the grill gives you that delicious crispy crust that you can only expect in an Italian restaurant with a proper pizza oven. Hallelujah to that!
My two favourite veggie-packed pizza recipes
I've been making a lot of pizzas lately, but these are my two favourite healthy pizza ideas that are so delicious, you'll want to make a second batch — of each! The first is made with a traditional pizza sauce, dried herbs, grilled eggplant, olives, capers, arugula, and pine nuts — cheese of course (buffalo mozzarella and parmesan).
And the second is slightly different. It's made with an umami-rich sun-dried tomato pesto, sautéed mushrooms and red onion — and of course a little cheese. And just like the first, it's topped with arugula and pine nuts. I'm undecided to which one I love more. So I had to share both of them with you!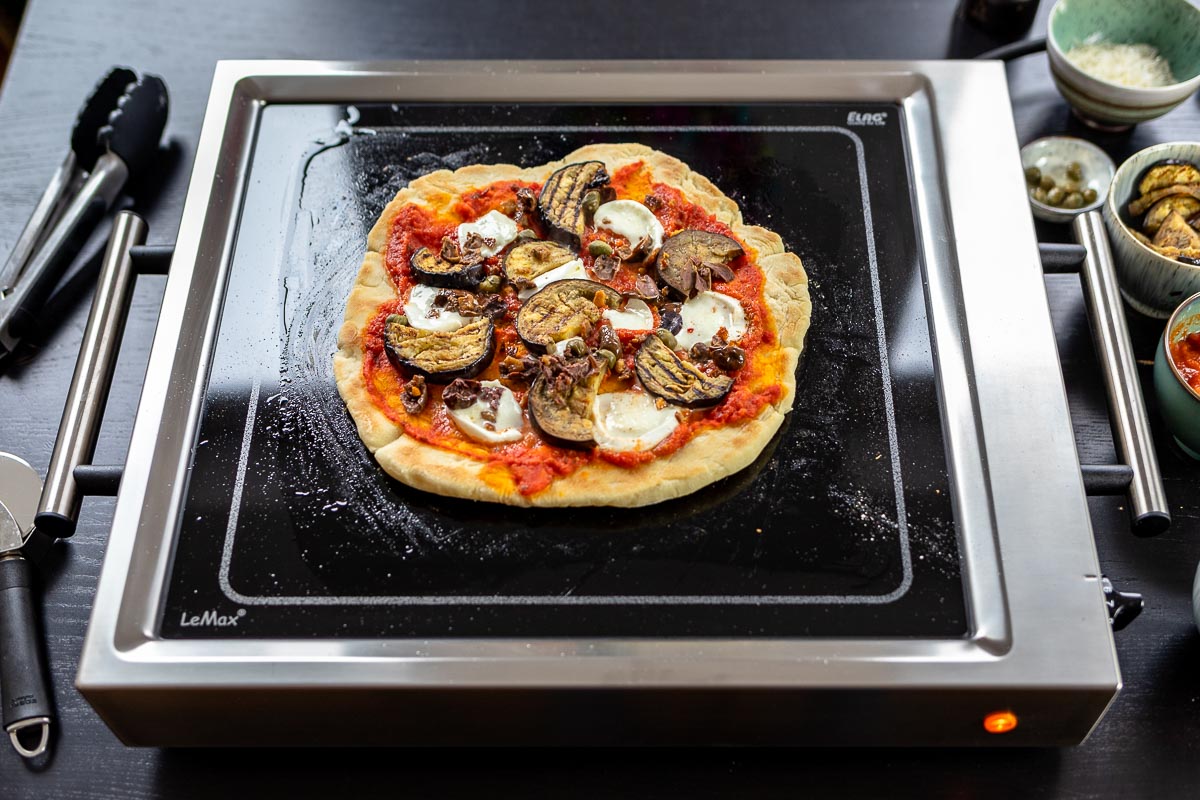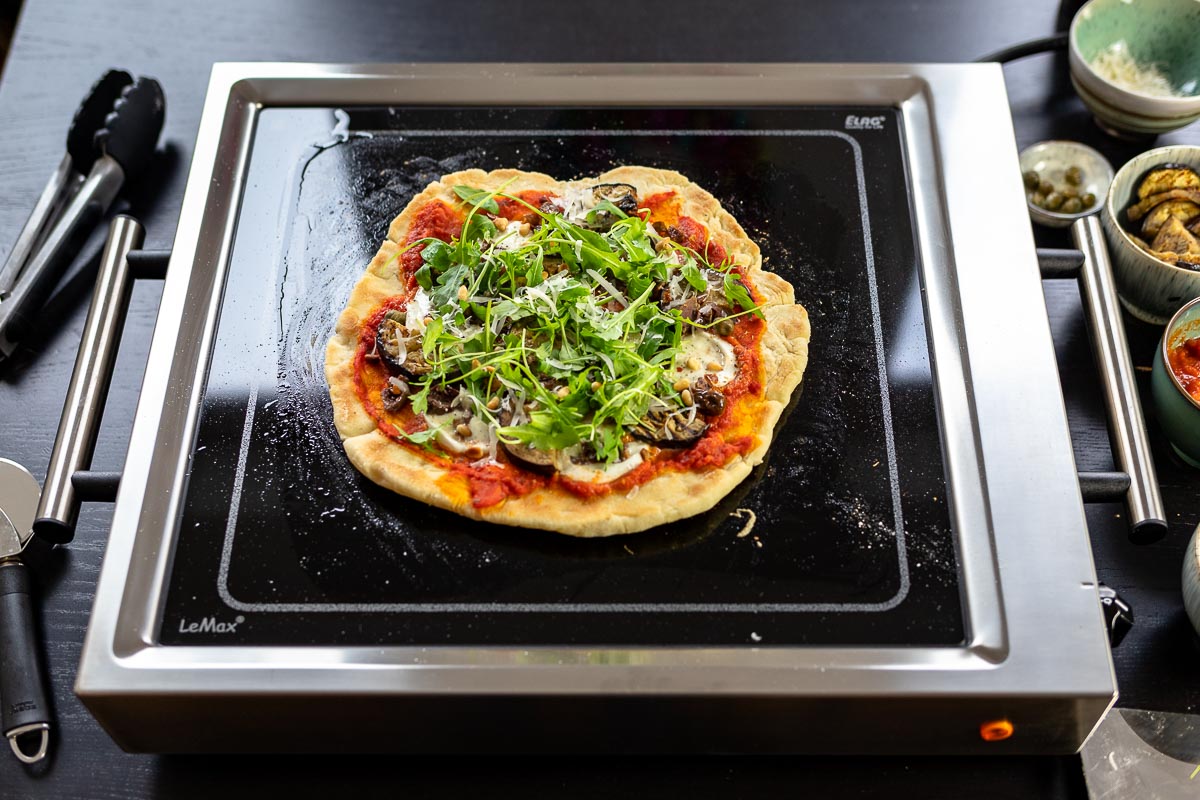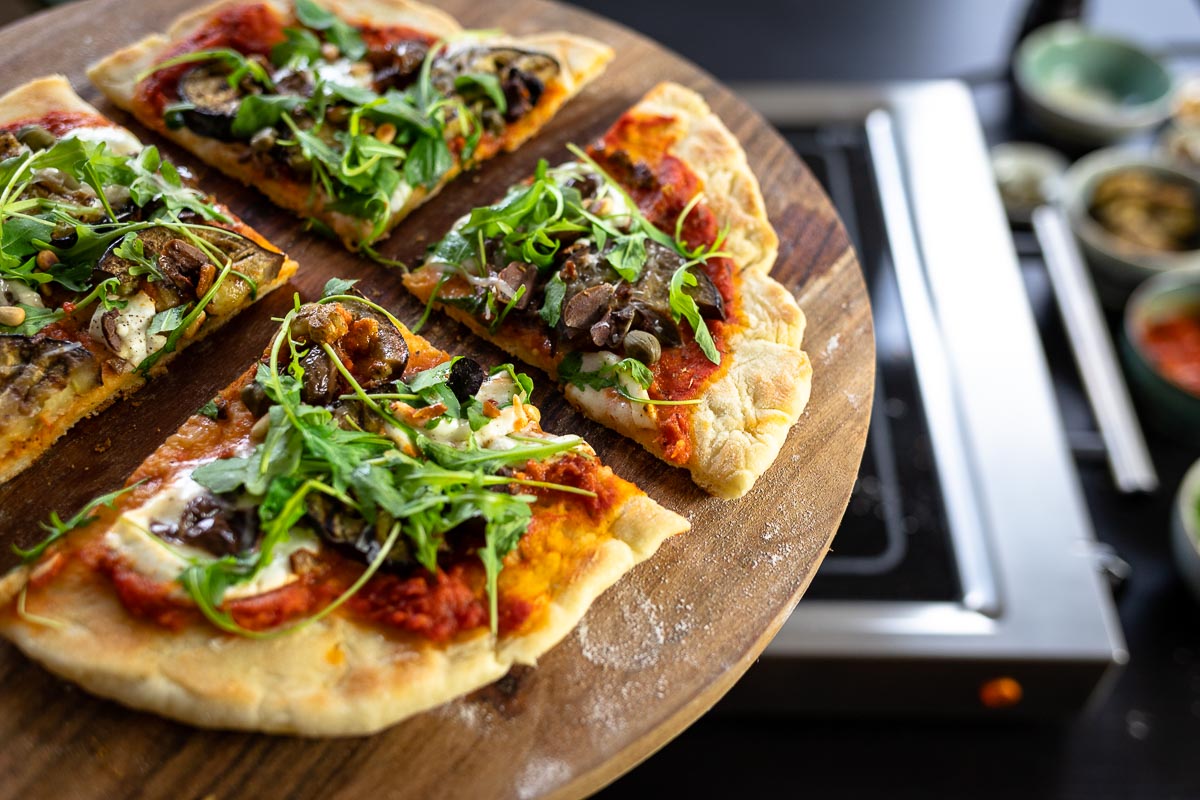 Homemade pizza – made your way
Grilling pizza indoors on the LeMax grill is a favourite past-time for my family. And now that the kids are teenagers, and there tastes have changed we have finally moved on from Pizza Hawaii or Salami Pizza to healthier options. Transition: no meat, less cheese, more veggies. The kind of pizza I truly love. And the best thing about making pizza at home is that you can make it exactly as you like it. The most important step is the preparation and cooking of the pizza dough so that you can get that restaurant quality taste and texture that keeps you coming back for more.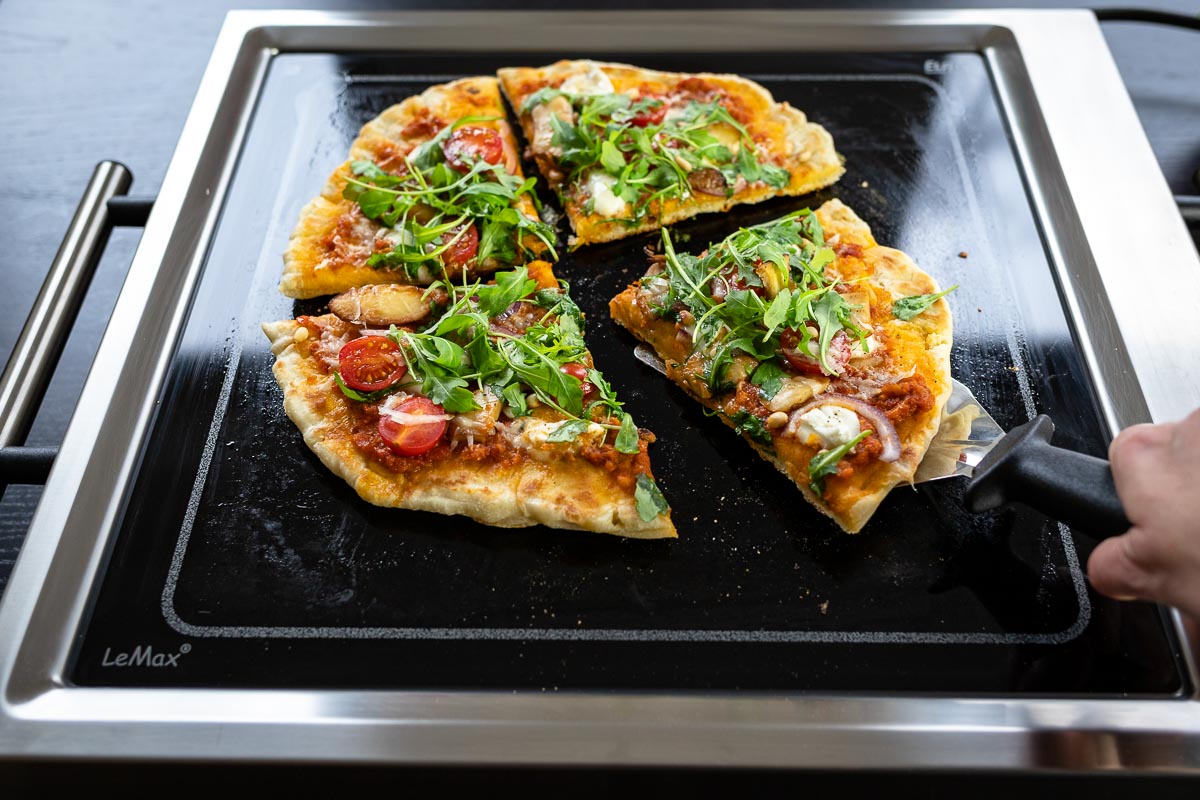 Grilled Pizza and LeMax to the test
And grilling pizza is easy. Really easy. And that's why I want to share with you my step-by-step instructions (and video!) for using your tabletop grill to make homemade pizza.
There's a trick of course, but it's an easy one. The secret is first grilling the pizza crust on medium-high heat (level 8 on the LeMax) for a mere 3 minutes, then flipping it and reducing the heat (level 5), add your sauce base and choice of toppings, then increase the heat just slightly (level 6) and continue grilling until the cheese is melted and the base is golden brown (about 5-6 minutes in all). Yep, it's that easy.
All you need is a hot grill and all of your toppings measured out and prepped before beginning. It's heavenly. And if you have a pizza peel that's a bonus, but it's not needed at all. Even if your pizza doesn't look exactly perfect once getting it on the grill, it'll taste just as amazing. Trust me!
You can make pizza dough from scratch using my grill pizza dough or your own family favourite recipe. Alternatively, I can recommend preparing your own using a package of organic spelt pizza dough, found at your local supermarket.

LeMax tips:
The great thing about grilling pizza on the LeMax grill is that you can do this anywhere in your home. You don't need to worry about any smoke from grease or fat cooking (this also means quick and easy clean-up). So you also don't need a fan. Of course, you will smell the pizza as it cooks, but this smells delicious! And naturally, when weather allows, the LeMax is also perfect for grilling outdoors.
Looking for other recipe ideas using the LeMax glass ceramic grill?
Then try one of these delicious and easy recipes, and be sure to check out my YouTube for the videos: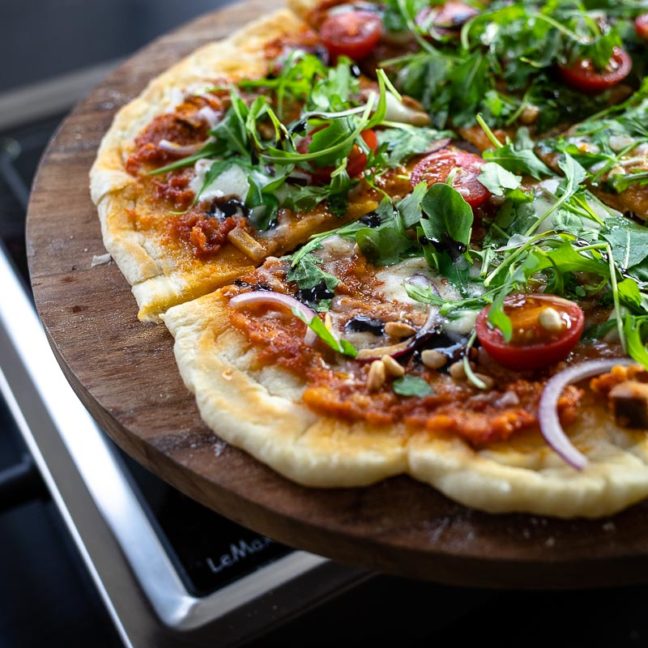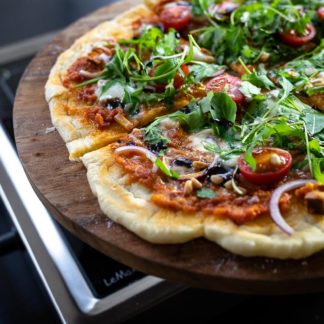 Grilled Pizza on the LeMax Grill
Grilling pizza at home is easy and will satisfy any craving for a thin crust brick-oven pizza. Here are my two favourite plant-based healthy pizzas — less cheese, more vegetables!
Ingredients
For the pizza dough:
1

Package (483 g)

Organic Spelt Dough or homemade pizza dough

Heat resistant oil for the grill
Topping variation 1:
1

small eggplant,

sliced in ca. 0.5 cm rounds

Olive oil,

for grilling the eggplant

3-4

tablespoons

pizza sauce

A couple pinches Italian mixed herbs or oregano

125

g

buffalo mozzarella,

cut into pieces (half a ball)

5-6

olives,

seeded and coarsely chopped (z.B. Kalamata)

5-6

capers (in brine),

drained

Handful grated parmesan,

plus more to garnish

Generous handful arugula leaves

lightly toasted pine nuts

Sea salt and freshly ground pepper
Topping variation 2:
Handful of kind trumpet mushrooms

(or other mushrooms of choice), thinly sliced

A little butter,

for frying the mushrooms

60

g

sun-dried tomato pesto

(half a glass, or more)

125

g

buffalo mozzarella,

cut into pieces (half a ball)

1/2

a small red onion,

thinly sliced

Handful grated parmesan,

plus more to garnish

Generous handful arugula leaves

lightly toasted pine nuts

Sea salt and freshly ground pepper
Method
Preparation for variation 1:
Preheat your grill plate or grill pan to medium-high heat and lightly brush with high-heat cooking oil. Brush the eggplant slices with olive oil and season with salt and pepper. Grill on both sides for about 3 minutes or until the eggplant becomes a little tender and grill marks are pronounced. Transfer to a bowl.

Prepare the rest of the topping, so that you can easily and quickly add them to the pizza as it is cooking.
Preparation for variation 2:
In a small non-stick skillet, heat a little butter over medium to medium-high heat. Add the mushrooms, season with a sprinkle of salt and sauté until golden brown. Toss the mushrooms from time to time so they color evenly. Transfer to a bowl.

Prepare the rest of the topping, so that you can easily and quickly add them to the pizza as it is cooking.
To grill the pizza:
Preheat the LeMax grill on level 8 for about 5 minutes, then lightly brush the cooking surface with heat resistant oil.

While the grill is preheating, prepare the dough for grilling. On a floured surface, use a rolling pin or your hands (see video) to form the dough into a diameter of approx. 24-28 cm.

TIP: for my dough recipe, smaller is better, as it will stretch out as you transfer it to the grill (unless you have a pizza peel, in which case you can lightly flour the surface and slide the pizza right onto the grill).

Now carefully transfer the dough to the preheated grill, using your hands to spread out or adjust the shape of the dough, if needed. Grill the pizza dough at level 8 for 3 minutes, until the bottom is golden brown (if any bubbles appear in the dough, gently prick with a fork to release the air). Using a spatula or cooking tongs, gently flip over the pizza base.

After flipping, immediately reduce the heat to level 5. Start by spreading the sauce evenly over the base (plus seasonings for the tomato sauce), then top with the mozzarella, and finally arrange with rest of the toppings (excluding the arugula and pine nuts). Increase the heat to level 6 and continue cooking until the cheese is melted and base golden brown, about 5-6 minutes in total. Finally, top with fresh arugula leaves, pine nuts, an extra sprinkle of parmesan and freshly grated pepper.

Either transfer to a large wooden cutting board or using a pizza cutter, slice the pizza directly on the surface and serve onto plates. Enjoy!
Notes
For a relaxing atmosphere in the kitchen I recommend my personal Elle Republic: Chilled Out Kitchen Tunes Playlist auf Spotify.
Did you try this recipe?
Then tag @ellerepublic on Instagram and hashtag it #ellerepublic
How did you like it?
Please let me know how this Grilled Pizza on the LeMax Grill recipe turned out for you! I would love to hear how you liked it. Simply rate it with the stars above ⭐ or leave me a comment and rate it below.
Did you make any changes to this recipe?
If you have tips for other readers, let me know! It helps me and other readers so much. Sharing is Caring :-).
This post contains affiliate links. If you decide to make a purchase through my link, Amazon will pay me a commission for it. This doesn't cost you anything additional and the price remains the same. More about advertisements on Elle Republic.
Many thanks to ELAG Products GmbH for sponsoring this Grilled Pizza recipe.